<! cd = 07/21/14 > <! MP3 07/21/14 > <! outside 07/21/14 - WP > <! pix 00/00/00 > <! 208-pix: 00/00/00 > <! styles: Alt, Hippiebilly > <! UPDATES: 07/21/14 - posted w/ links to Alt, Hippiebilly >
---
James Luther Dickinson (1941-2009), aka Jim Dickinson was a veteran studio pro from the Southern rock/soul scene, known for his work in the early 1970s backing numerous soul singers on Atlantic Records, and later as a rock producer, working with indie icons such as Big Star and the Replacements, as well as a slew of rootsy/bar band artists who could be considered in the vanguard of the "Americana" genre to come. As a performer Dickinson established himself as an idiosyncratic oddball, a ballsy roots-rocker with some of the kaleidoscopic, avant edge of Swamp Dogg and Frank Zappa. He released several solo albums, as well as fronting the weirdo-rocker, Mudboy And The Neutrons.
His sons, Luther and Cody, backed Dickinson on various albums and live gigs, and formed their own band, the North Mississippi All-Stars, which is known in part for its preservation of obscure regional African-American blues and roots music, and for playing really loud. Luther Dickinson joined a late edition of the Black Crowes jam band, and the All-Stars became the backing band for roots-rocker John Hiatt for some of his later albums.
---
Discography - Albums
---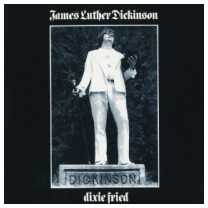 James Luther Dickinson "Dixie Fried" (Atlantic, 1972)



A wildly eclectic, amazingly challenging album. On this groundbreaking record, Dickinson fused gospel, blues and real-deal country with a wild, weirdo-rock ethos, suggesting what Jerry Lee Lewis might have sounded like if he'd dropped acid and hung out with Bootsy Collins... The album opens with a standard-sounding boogie-rock rave-up, on "Wine, Wine, Wine," but quickly moves into more experimental territory, with wacked-out renditions of well-known folk, blues and R&B oldies. Perhaps the most strikingly original arrangement is his aggressive take on Paul Siebel's Louise, though his version of "Dixie Fried" is fun, and the carnival barker send-up on "O How She Dances" is a guaranteed novelty favorite. Although his later work got too nutty for the sake of nuttiness for me, this early album is a doozy, managing to be both kooky and truly rockin'... Definitely worth a spin!


<! Produced by James Luther Dickinson ? >

Jim Dickinson "Free Beer Tomorrow" (Artemis, 2002)


Fun stuff! Rugged, bluesy, unruly, rambling roots tunes featuring the solid piano work and throaty vocals of Jim Dickinson, a Memphis old-timer who's worked extensively as a session player and way back when was a producer who worked with Ry Cooder, Big Star and others. The Cooder connection is readily heard here, with these wild, wildly inventive songs, tunes that take what they want to from various musical styles, and weave it all together in an eclectic, compulsively listenable performance. He's joined here by his sons, Luther and Cody, who are also members of the North Mississippi All-Stars. Steel guitar, mandolin, horns, a snappy drum set, all dance around Dickinson's deft piano work... The songs themselves are pretty kooky and stream-of-consciousness, but that's definitely part of the charm... The guy's sort of like the Captain Beefheart of country. Recommended!

James Luther Dickinson "Jungle Jim" (Memphis International, 2006)


In a three decade-plus career, producer/sideman Jim Dickinson has only put out three albums under his own name... But he's worked with a slew of top talent in the worlds of blues, country and rock, a wealth of experience that he brings to bear on this fine, funky set. Like his others, this record draws on a wide range of sources and the set list is equally far-flung, from greasy-spoon soul and barband blues, with some country stuff at the album's start. Outlaw fans will relish the opening track, "Red Neck, Blue Collar," while Dickinson's grungy, bluesy cover of Terry Fell's "Truck Drivin' Man" is probably the grittiest version I've ever heard -- this time you'll really believe it was sung by a guy who lived his life in and out of greasy truckstops... Most of the other tunes on here are too blues-oriented for me (Dickinson's tenure as a Muscle Shoals mainstay pays off handsomely; if you're a fan of the style, it doesn't get much better than this...) but there's plenty here to keep an Americana/twang fan like myself engaged, particularly the eerie, mournful "Out Of Blue" and a playfully ragged, rough version of Luiz Bonfa's "Samba De Orfeu," one of the wackiest cover tunes I've heard in years. It's catnip for roots music fans. Meow.
James Luther Dickinson "Fishing With Charlie, And Other Selected Readings" (Birdman, 2006)



James Luther Dickinson "Killers From Space" (Memphis International, 2007)


Another weird, arresting and oddly abrasive album from veteran Memphis record producer/guitarist James Luther Dickinson. His last couple of records were smoother and more conventional; this one is crotchety and querulous, with enough axes to grind to stock a full lumber mill. Fake roots music, dying traditions, lying lovers, lying politicians... Dickinson apparently has a laundry list of things that kinda bug him, and plenty of mojo to help him project his 'tude upon the world, backed up by wicked, bluesy riffs and gravel-laced vocals that could peel the paint off the side of a barn. He seems to be a sort of Swamp Dogg-type character: a talented Southern roots musician who has decided to be a big, old weirdo as well. The slashing blues and rhythm riffs give this music potency, although it's not the kind of thing you'd put on for recreational listening. But you'll also be hard pressed to find anything like it, as well -- if you heard this on the radio, you'd definitely sit up and pay attention. Well suited for Hasil Adkins fans, perhaps?


<! 08/10, 07/14: no MP3 >
James Luther Dickinson "Dinosaurs Run In Circles" (Memphis International, 2009)


(Produced by Kevin Houston)
A surprising and delightful album which defies the preconceptions of folks (like me) who had Dickinson pegged as a willful rock-blues oddball, ala Swamp Dogg or Captain Beefheart, and expected more of the same. On his last album, Dickinson dipped lazily into the wellspring of classic jazz standard of the Hoagy Carmichael variety, as well as numerous R&B oldies from the likes of Louis Jordan and Lucky Millinder. These are fun old songs, including raunchy novelty numbers like "Save The Bones For Henry Jones," and goofy tunes such as "A Chicken Ain't Nothing But A Bird," along with sentimental ballads such as "It's The Talk Of The Town" and "When You Wish Upon A Star," all played in an offhanded, uneven tempo, with gloriously quiet, relaxed vocals and sparsely plunked-out piano... Dickinson seems to have taken the same approach Thelonoius Monk sometimes used on the ivories, of letting what you leave out of a melody be just as suggestive as what you put in. His familiarity with and affection for these oldies comes through on every track, and the songs are made all the sweeter by knowing just far in the other direction he could go, into his own brand of defiantly avant, virtually unlistenable roots-rock 'n' Southern soul. A lovely album, delivered with an ease that would have made Hoagy proud.
James Luther Dickinson & The North Mississippi Allstars "I'm Just Dead, I'm Not Gone" (Memphis International, 2012)





<! Jim Dickinson "Dixie Fried" (1972, Atlantic) Mudboy And The Neutrons "Known Felons In Drag" (New Rose, 1986) Mudboy And The Neutrons "Negro Streets At Dawn" (New Rose, 1993) Mudboy And The Neutrons "They Walk Among Us" (Koch, 1995) James Luther Dickinson "A Thousand Footprints In The Sand" (Last Call/Sony-France, 1997) B0000049Z3 - live at Slim's, with Chuck Prophet James Luther Dickinson "Free Beer Tomorrow" (Artemis, 2002) James Luther Dickinson "Jungle Jim And The Voodoo Tiger" (Memphis International, 2006) James Luther Dickinson "Fishing With Charlie" (Spoken Word) (Birdman, 2006) James Luther Dickinson "Killers From Space" (Memphis International, 2007) James Luther Dickinson "Dinosaurs Run In Circles" (Memphis International, 2009) B0020G5LL0 James Luther Dickinson & The North Mississippi Allstars "I'm Just Dead, I'm Not Gone" (Memphis International, 2012) B0083TS7OQ >

---
Links
---
---