<! cd = 10/16/11 > <! MP3 10/16/11 > <! update 10/16/11 > <! outside 00/00/00 > <! pix 00/00/00 > <! 208-pix: 00/00/00 > <! icons 10/16/11 >
---
I've got a real soft spot for 1990's chart-topper Joe Diffie, a champion of bubbadelic country who managed to be all working-class dude-ly and lowbrow without falling into a gimmicky, antagonistic redneck-political mode, ala Hank, Jr. or Aaron Tippin. Naw, Joe's just a regular old guy -- his songs are generally humorous and easygoing, and the best ones have a real country feel, sort of like Moe Bandy's old stuff. I like him. Here's a quick look at his work...
---
Discography - Best-Ofs
---
Joe Diffie "Greatest Hits" (Sony, 1994)


Joe Diffie "16 Biggest Hits" (Sony, 2003)


Joe Diffie "The Essential Joe Diffie" (Sony, 2003)


---
Discography - Albums
---

Joe Diffie "A Thousand Winding Roads" (Epic, 1990)


(Produced by Bob Montgomery & Johnny Slate)
A promising debut... Diffie kind of turned the typical hard country-to-soft pop formula on its head, in that his first album was ballad heavy, while his sophomore effort (below) was packed with romping honkytonkers... At any rate, even with the slow pace, this is a pretty nice country record, with strong George Jones/Lefty Frizzell-inspired vocals throughout, balanced against a subtly contemporary-tinged production style. Nothing that rocked my socks off, but I didn't have to go running for the fast forward button, either.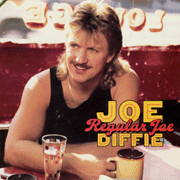 Joe Diffie "Regular Joe" (Sony, 1992)



(Produced by Bob Montgomery & Johnny Slate)
Highly recommended! This is possibly Diffie's best album, at least from a true, hard country perspective. This was actually the first Joe Diffie album I ever heard and I thought, Hey! This guy's pretty good! He's another Moe Bandy! Then, when I tracked down a few others, I was bitterly, bitterly disappointed. This one, though, is a winner. Check it out!
Joe Diffie "Honky Tonk Attitude" (Sony, 1993)



Joe Diffie "Third Rock From The Sun" (Epic, 1994)



(Produced by Johnny Slate & Joe Diffie)
Once a superior heartsong stylist, Diffie went all Bubba and opted for the lowest common denominator, which is a real shame, considering how good he had proved himself before. Songs like the title track and "I'm In Luv With A Capital 'U' " are hardly timeless classics, and things get even dopier on novelty tunes like "Good Brown Gravy" and "Junior's In Love" (which is "funny" because the Junior character is such a cloddish, redneck-y auto mechanic type that the thought of him going for some girl is laughable to all his good old buddies...) The big ballads are pretty damn syrupy, although there's a glimmer of Diffie's original strength as a balladeer on "From Here On Out." Still, this album is far from a classic; it's mostly kinda sad.

Joe Diffie "Life's So Funny" (Sony, 1995)



(Produced by Johnny Slate & Joe Diffie)
Pretty sad. After a good run of rootsy records, Diffie wimped out and came up with this cloying set of lowest-common denominator Bubba anthems and sensitive-guy, weepy, self-help ballads. The half-hearted attempts at injecting a little machismo into the proceedings, such as the literally Neanderthal, Southern-rock-ish novelty song, "Back To The Cave," are equally dismal and dispiriting. The whole thing just sounds so forced and pathetic. An eminently skippable album.
Joe Diffie "Mr. Christmas" (Sony, 1995)


Joe Diffie "Twice Upon A Time" (Sony, 1997)



Joe Diffie "A Night To Remember" (Sony, 1999)



(Produced by Don Cook & Lonnie Wilson)
He sure is a good singer, but this sure is the wrong album for him to sing. I mean, these are tightly crafted pop songs and all, but should a true country crooner really be chirping out glossy little ditties like "It's Always Something" and "The Quittin' Kind," or simpering soft pop like "Not In This Lifetime?" It's just a terrible, terrible mismatch. Diffie makes some of these songs work, but only as far as the producers allow him to, and some of the songs are just outright dogs. Even on good country material that plays to his strengths, like "Are We Even Yet," the cloying production style drag him down... It's all just so unnecessarily glossy and randomly, inappropriately ornate. Oh well, I guess we have to assume Diffie knows what he's doing, and just learn to live with it.

Joe Diffie "In Another World" (Sony, 2001)



(Produced by Don Cook & Lonnie Wilson)
Oh, but wait... it gets worse...!! I mean, I guess in some ways, the dense, high-tech pop of the title track represents a triumph of sorts -- he sounds less out of place on this album than on others; Diffie has conquered the postmodern production style. But why? He's still obviously better suited to sing the real stuff: even a tightly crafted tune like "Hollow Deep As Mine," tilting as it does towards a simpler ttraditional sound is just so much better than the Keith Urban-ish glossy stuff. It's all just a bit much, if you as me... But Diffie is still a mighty fine singer.

Joe Diffie "Tougher Than Nails" (Broken Bow, 2004)



(Produced by Joe Diffie & Lonnie Wilson)
Finally, Diffie gets back to basics on this album... A fairly rugged neotrad album, pretty much in keeping with his best old stuff. The title track -- Diffie's first Top Ten hit in ages -- is a Christian-themed novelty song with a catchy hook... See, that Jesus dude was actually pretty tough... tougher than nails... Get it? There's another religious tune later on in the album that is more subtle, "Something I Do For Me," with some rowdier stuff in between... George Jones guests on "What Would Waylon Do," which has a nice feel (though it doesn't quite live up to Waylon's standards...) and "The More You Drink, The Better I Look," which is one of the kind of honkytonk no-brainers that put Diffie on the map, all those years ago. For me, the most solid song on here is probably "Am I," a weeper that holds up pretty well to repeat listens. All in all, a nice return to form for Diffie, who's been kind of up-and-down for the last few years... It's commercial, but better than average, I'd say.
Joe Diffie "The Ultimate Collection" (Rounder, 2009)



Re-recorded versions of twenty of Diffie's old hits...

Joe Diffie "Homecoming: The Bluegrass Album" (Rounder, 2010)



(Produced by Joe Diffie & Luke Wooten)
I've always had a soft spot for good ol' Joe Diffie... Of the more modern bubbadelic novelty singers who came in the wake of Moe Bandy, Diffie always sounded a notch or two above everybody else. In his 1990s heyday, he clearly knew his honkytonk history, but modernized the music without sacrificing its soul. Still, who knew he'd also have such an affinity for bluegrass and backwoods twang? This is a sweet, solid acoustic album from a former Nashville Top 40 star who's clearly making the most of his newfound indie career. It's stands up well to repeat listenings and sure has me curious about where Diffie will go from here. Definitely worth checking out.
Joe Diffie/Sammy Kershaw/Aaron Tippin "All In The Same Boat" (Big Hit Records, 2013)


---
Links
---
---