<! cd 08/08/10 > <! MP3 08/08/10 > <! outside 00/00/00 > <! pix 00/00/00 > <! 208-pix: 00/00/00 > <! icons 03/14/11 > <! UPDATES: 02/04/14 - added pre-Eagles albums from Hippiebilly section, producer info 04/24/14 - upped 144s to faux-160s >
---
The Eagles (or rather, "Eagles," since the band annoyingly insists that there's no "the" article before their name...) were one of the key groups in the country-rock sound of the early 1970s. They were not, by a longshot, responsible for the creation of the genre, but from their perch atop the booming Los Angeles pop scene, they were able to refine that sound, distill it into pure pop formula and take it to the top of the charts. The group combined the talents of Glenn Frey, Don Henley, Bernie Leadon and Randy Meisner, who had all been recruited as a back-up band for Linda Ronstadt, who was also a key member of the country-rock crowd. They soon spun off into their own orbit, and became rock royalty for the rest of the decade.
Although they were royalty in the '70s commerical rock scene, the Eagles had surprisingly little direct impact on the Country charts -- in their twangy early years, the band was too hippie-counterculture, and Nashville was too conservative -- although they did have one big crossover hit in 1975. However, the band's enduring influence was on future generations of country musicians, as the mellow country-rock style filtered into the mainstream, particularly from the 1990s onwards. The newer artists who point to the Eagles as an influence is far greater than their limited success on the Nashville charts would imply. Anyway, for some listeners the Eagles are a cultural touchstone, for others a nostalgic guilty pleasure, and for others still, they were malevolent, demonic harbingers of the disco-era musipocalypse... I personally float from point to point along the full range of that spectrum, depending on my state of mind. Here's a quick look at my Eagles-related mood swings...
---
Discography - Best-Ofs
---

Eagles "Their Greatest Hits: 1971-1975" (Asylum, 1976)



Here's an amazing fact: this best-of collection from the Eagles is (apparently) the best-selling album ever in the history of American popular music: over 27 million customers served. Wow. Life is scary. Anyway, this record distills the best of their early work; almost every song was a hit and all the tracks are memorable, even for those who recoil at the sounds of those oh-so-familiar notes... Really, considering how uneven the original albums are, this is a pretty strong option for checking out or reliving their hits. There are some lesser-known tracks on their albums that are also worth tracking down, but also a lot of drek that you can forget about... Really, it's your call. But this record does deliver a lot of bang for your buck. See below for comments about individual albums and songs.


<! 144 x 144 >

Eagles "Their Greatest Hits, v.2" (Asylum, 1982)






<! 144x144 uploaded 08/10 >
Eagles "Selected Works: 1972-1999" (Asylum, 2000)



A 4-CD box set? Yikes!
Eagles "The Very Best Of..." (Elektra, 2003)


This 2-CD set is a healthy upgrade of the two original best-of albums, although maybe a little too much Eagles for all but the true believer...
---
Discography - Pre-Eagles
---
Longbranch Pennywhistle "Longbranch Pennywhistle" (Amos, 1969) (LP)


A pre-Eagles Glenn Frey and songwriter John David Souther formed this late-'60s duo, playing gigs in the nascent SoCal country-rock scene... I haven't heard this one, but I'm sure curious about it...


<! Longbranch Pennywhistle was a country rock/folk music group consisting of Glenn Frey and John David Souther. They played as a duo in the late sixties at Doug Weston's Troubadour Nightclub in West Hollywood, CA. They released a self-titled album in 1969 under the Amos Records label. However, the label dissolved a couple years later in 1971, and the group split up. Shortly thereafter, Frey formed The Eagles, after meeting Don Henley at the Troubadour bar in 1971. Souther and Frey would continue to collaborate, also with fellow Eagle Don Henley, occasionally on such Eagles classics as "The Best of My Love", "New Kid in Town", "Victim of Love", "The Sad Café", and "Heartache Tonight". They also recorded the song "I Can't Believe It" used in the 1971 film Vanishing Point. This song does not appear on Longbranch Pennywhistle's only album. >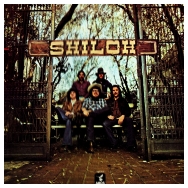 Shiloh "Shiloh" (Amos, 1970) (LP)


Another missing link in the Southern California country-rock saga... This band featured a pre-Eagles Don Henley, in a band anchored by Al Perkins on pedal steel guitar. Dunno what it sounds like, but I guess hardcore Henley fans would want to track it down...


<! country-Folk-Rock swarmer feat. Al Perkins on steel-guitar, Don Henley (of future Eagles-fame) on drums... plus organ, piano, bass 'n additional acoustic/ electric guitars; breezy, melodic songs w/some fine orchestral strings >

---
Discography - Albums
---

Eagles "Eagles" (Asylum, 1972)



(Produced by Glyn Johns)
Their debut record includes two of their biggest and best hits, iconic country-rock standards "Take It Easy" and "Peaceful Easy Feeling," as well as the moody "Witchy Woman," which, after all these decades, is still a super-irritating pop song. The disc also includes a cover of the Byrds song, "Train Leaves Here This Morning," which is okay, though not as groovy as the original. Like many of the group's early records, this is an inconsistent effort, with some great pop tunes on it, and some stuff that's kind of so-so... But it was enough to launch their trajectory into the rock royalty stratosphere, and to help assure the ascendancy of their manager, patron and Asylum record label owner, David Geffen, who went on to become one of the most powerful men in the entertainment industry. It all ties into what was to come for the band: the bigger they got, the crappier they sounded, with some of the most bloated rock star excess imaginable. Oh, maybe I shouldn't be so grumpy, but they were definitely a big part of the oppressive mainstream marketing that made the '70s pop scene so claustrophobic and dull. Listening back, they still can be pretty annoying.


<! 144 x 144 >

Eagles "Desperado" (Asylum, 1973)



(Produced by Glyn Johns)
On their second album, the lads penned "Desperado," a big hit that they also passed along to their old boss, Linda Ronstadt. I prefer her performance, but both versions remain big parts of the '70s AOR landscape. "Tequila Sunrise" is another great song, and I kind of like "Twenty One" as well. But there's also a lot of drek on here: "Outlaw Man"? "Out Of Control"? Three versions of "Doolin' Dalton"? Blech. Leave 'em on the scrapheap, I say. The twangy, bluegrassy touches sound forced, but still, this was influential stuff.


<! 144 x 144 >

Eagles "On The Border" (Asylum, 1974)



(Produced by Glyn Johns & Bill Szymczyk)
The big hit here was the super-sappy "Best Of My Love," which I have to confess, I like a lot. It's just sweet and sentimental and easy to sing along with. A bit florid, yes, but that's kind of the point. (And if you tell anyone I like it, I'll track you down, stand outside your house and start singing: whoa, whoa, whoa, sweet darlin', you get the best of my luvv...) The album's big uptempo country-rock anthem, "Already Gone," doesn't hold up as well, nor does the jittery, ephemeral "James Dean," which was co-written with their LA bud, Jackson Browne. In terms of class, the big news here is their version of an early Tom Waits song, "Ol' 55," which Waits had recorded earlier, on his debut album, but which got much wider attention here. I also enjoy Paul Craft's "Midnight Flyer," which holds up pretty well as a off-the-radar country tune. Sigh. Okay, maybe they're not so bad, after all.


<! 144 x 144 >

Eagles "One Of These Nights" (Asylum, 1975)



(Produced by Bill Szymczyk)
Strangely enough, the Eagles never really made that big an impact on the Country charts -- they brought a fair amount of twang to the ears of mainstream America, but Nashville wasn't terribly interested in opening its arms to welcome these druggie longhairs into the fold. The big exception comes from this album: "Lyin' Eyes" cracked into the Country Top 10, and it is a finely crafted song, although if the truth be told, I personally don't need to hear it again anytime soon. This record also includes "Take It To The Limit," another big pop hit which pointed to the bombastic direction of their later work. Another uneven album, with several strong pop songs on it.


<! 144 x 144 >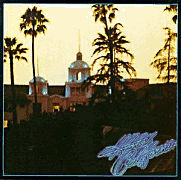 Eagles "Hotel California" (Asylum, 1976)



(Produced by Bill Szymczyk)
A bazillion years later and "Hotel California" (the song) remains a still-heavily overplayed rock standard, although Hotel California (the album) yields a few jolts of pleasure. The addition of guitarist Joe Walsh adds some oomph to their sound, particularly on "Life In The Fast Lane," although like all their records, it doesn't really hold together. The first three songs -- "Hotel," "New Kid In Town," and "Life In The Fast Lane" --are all good for a shot of '70s nostalgia but the rest of the record is kind of blah. Hmmm. Actually, now that I think about it, maybe "Fast Lane" is the only song still worth it on this one... And maybe I'd be better off just getting a Joe Walsh record instead.

Eagles "The Long Run" (Asylum, 1979)



(Produced by Bill Szymczyk)
If anyone actually doubted whether the Eagles really and truly sucked, this record settles the question. It's horrible. And it was a huge commercial hit, filled with anthemic, prefab crap like "Heartache Tonight" and "The Long Run," as well as whiny ballads such as "I Can't Tell You Why." And "The Disco Strangler?" Puh-leaze. They may have managed to keep their sales up during the disco years, but these are all super-tiresome songs, exactly the kind of stuff that made punk rock and DIY so very, very necessary.


<! 144 x 144 >
Eagles "Eagles Live" (Asylum, 1980)



(Produced by Bill Szymczyk)
Whatever.

Eagles "Hell Freezes Over" (Geffen, 1994)


(Produced by Carol Donovan, Rob Jacobs, Stan Lynch & Elliot Scheiner)
Ha, ha. As in, "we'll never get back together again until..." But really, who cares? Please don't get back together again. Please? Please please please? Oh, thank you, thank you, thank you.
Eagles "Long Road Out Of Eden" (Self-Released, 2007)



(Produced by the Eagles, Steuart Smith, Richard F.W. Davis, Scott Crago & Bill Szymczyk)
Oh, damn it. They're back. It's another reunion album... and a 2-CD set, too! Anyone know if it's any good? Because I'm sure never going to listen to it. Never, ever, ever.
---
Links
---

Wikipedia: The Eagles


---