<! cd = 05/25/14 > <! MP3 06/06/14 > <! outside 06/06/14 - WP > <! pix 00/00/00 > <! 208-pix: 06/16/14 > <! styles: Hippiebilly, Real Hicks > <! UPDATES: 06/06/14 - posted. need more reviews, better bio, bigger pix >
---
Jonathan Edwards emerged in the early 1970s to be one of the leading lights of the "singer-songwriter" scene... His first album included the song "Sunshine," a melancholy tune with an ebullient folk-pop melody that swept into the Top Five... Afterwards, Edwards delved into more idiosyncratic, country- and folk-oriented material, shunning the chart success in favor of artistic expression. Here's a quick look at his work...
---
Discography - Albums
---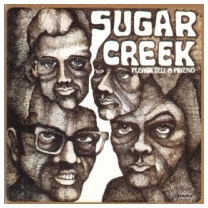 Sugar Creek "Please Tell A Friend" (Metromedia, 1969)



(Produced by Peter Casperson)
Jonathan Edwards' rocker roots are heard on this bluesy album... Sugar Creek was a college band that Edwards started with a bunch of guys in Ohio, including Joe Dolce and Gary Gans. They headed East for the bright lights of boston and changed the group's name a couple of hundred times before cutting this disc and greadually spinning apart. Edwards left not long after this album came out, and refashioned himself as an acoustic performer, eventually hitting it big as one of the vanguard of '70s singer-songwriters.
Jonathan Edwards "Jonathan Edwards" (Atlantic, 1971)



Back in 1971, Jonathan Edwards broke through with the breezy Top Ten hit, "Sunshine," and helped define the early-'70s singer-songwriter/roots revival. Early albums combined country and country-rock with wimpy (but pleasant) folkie love songs; gradually Edwards drifted more solidly into the folk circuit and left the other stuff behind. These are his first two albums -- some of it's dorky hippie folk-rock pop (which I like anyway) and some of it has a pleasant true-country feel and rich, satisfying arrangements, sort of a refinement of the eclectic retro-isms of the early 'Sixties jug band scene. The albums are definitely worth checking out, though you have to be willing to go back into that goofy Woodstock Nation vibe and soak up a little love and good vibes... But if you do, these are pretty rewarding albums.


<! (Produced by Peter Casperson) >
Jonathan Edwards "Honky Tonk Stardust Cowboy" (Atlantic, 1972)



Dude, just look at that album art: Edwards is so stoned in this picture he can barely open his eyes. Made some pretty music, though: I'll admit that a lot of this album is a little too pretty-sounding and twee, but it's got a nice, twangy acoustic sound and plenty of good picking. These aren't his most memorable songs, but it's a nice record, and a fine example of the strengths of the early-'70s experimental folk scene. The title track, "Honky-Tonk Stardust Cowboy," is the strongest song on here (and the most country) but the rest of the record is pretty easy on the ears as well.


<! (Produced by Peter Casperson) > <! Bill Keith - Banjo, Steel Guitar, Pedal Steel Guitar - all the early albums >
Jonathan Edwards "Have A Good Time For Me" (Atco, 1973)



Yay. This one of Edwards' best records -- a stonerbilly gem sporting a solid country feel, with fiddles, twang and pedal steel galore. It's a longtime favorite of mine -- an album that I am very, very happy to see in print on CD. The title track is as savagely bitter and sarcastic a song about a dead love affair as ever was made... from there it drifts into some sappy, spacy, hippie-folkie tunes (which I actually like, but can't really recommend) until Edwards hits the country vibe again with a great cover version of Jimmie Rodgers' "Travellin' Blues." The album's true gem, though, is a Joe Dolce song called "My Home Ain't In The Hall Of Fame," which was a perfect statement of purpose for a guy whose debut album had put him in the Billboard Pop chart's Top Five, but whose subsequent releases were about as anti-commerical as you could get... It went on to become an alt-country anthem, both through Edwards's excellent version, and a fine cover by bluegrasser J. D. Crowe... That song alone is worth the price of admission for this fine old hippie album. Recommended!


<! (Produced by Peter Casperson) Cooperson? >
Jonathan Edwards "Lucky Day" (Atco, 1974)






<! a live album? > <! 208 online >
Jonathan Edwards "Rockin' Chair" (Warner Brothers, 1976)



(Produced by Brian Ahern)



<! 208 online >
Jonathan Edwards "Sailboat" (Reprise, 1977)



(Produced by Brian Ahern)

Jonathan Edwards "Live!" (Chronic, 1980)

Jonathan Edwards & The Seldom Scene "Blue Ridge" (Sugar Hill, 1985)



A collaboration with The Seldom Scene, one of the leading progressive bluegrass bands of the 1970s...
Jonathan Edwards "Little Hands" (American Melody, 1987)



A children's music album...
Jonathan Edwards "The Natural Thing" (MCA, 1989)


Jonathan Edwards "One Day Closer" (Rising Records, 1994)


Jonathan Edwards "Man In The Moon" (Rising Records, 1998)


Jonathan Edwards "Cruising America's Waterways" (Media Artists, 2001)


A live album which was also connected to a PBS program...
Jonathan Edwards "Live In Massachusetts" (Rising Records, 2006)


Jonathan Edwards "Rollin' Along: Live in Holland" (Strictly Country, 2009)


Jonathan Edwards "My Love Will Keep" (Appleseed, 2011)


---
Links
---
---