<! cd = 05/25/14 > <! MP3 00/00/00 > <! outside 00/00/00 > <! pix 00/00/00 > <! styles: Steel Guitar, Real Hicks(?), Hippiebilly, Top 40 > <! UPDATES: 06/15/14 - posted 07/31/15 - RIP > <! 208-pix: 00/00/00 > <! More albums to be added >
---
Buddy Emmons (1937-2015) was one of the all-time great country pedal steel players... In the 1950s and '60s he played with a many of the biggest stars of the era, notably in Little Jimmy Dickens band (where he established his reputation as a leading steel guitarist) as well as for Ray Price and in Ernest Tubb's Texas Troubadours. In the late '60s, Emmons moved to Los Angeles and was a ubiquitous session player as well as an influential presence in the growing West Coast country-rock scene. Emmons is one of several steel players who set the standards for the instrument in the 'Fifties and 'Sixties, playing classic licks on countless hit records. Here's a quick look at his work...
---
Discography - Best-Ofs
---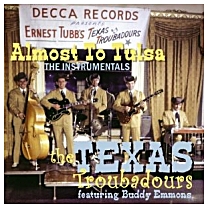 The Texas Troubadours "Almost To Tulsa: The Instrumentals" (Bear Family, 2008)


The ultimate Texas Troubadours collection: this generously-programmed single-disc CD gathers together three dozen instrumental tracks from various Troubadour albums, including a bunch of songs that were previously only available as part of Bear Family's massive Ernest Tubb box sets. Fans of country instrumentals will appreciate having all this stuff in one place, and with fab Bear Family sound quality to boot. Nice chance to hear some early work by pedal steel player Buddy Emmons, too! I suppose a 2-CD set with the vocal tracks from their albums would have been nice, too, but so far I haven't heard anyone complaining.
---
Discography - Albums
---
Buddy Emmons "Steel Guitar Jazz" (Mercury, 1963)



A veteran of the hillbilly and honkytonk bands of Little Jimmy Dickens and Ernest Tubb, pedal steel virtuoso Buddy Emmons also branched out into jazz (and, some might say, into easy listening...) as on this legendary crossover album. Emmons covers the work of some real jazz heavyweights -- Sonny Rollins, Horace Silver and others -- with sympathetic backing on bass, drums, piano, and saxophone. Might not be everyone's cup of tea, but folks who are into the instrument will definitely want to check this one out.
Buddy Emmons "Steel Guitar" (Flying Fish, 1975)



One of the preeminent steel players of his generation, Emmons did tons of studio work, notably for Emmylou Harris and her country-rock crowd. Here he relaxes and works his way through a nice set of instrumental tunes, backed by fiddler Johnny Gimble and some of their pals. This is best when it showcases Emmons alone, as on slower numbers such as "Wild Mountain Time," where Emmons' precision and tonal control are best showcased.... The faster numbers, such as his version of "Sugarfoot Rag," with a drum kit rushing him along, are far less interesting, but still of a high caliber of musicianship.
Buddy Emmons "Sings Bob Wills" (Flying Fish, 1976)



A hippie-era homage to western swing legend Bob Wills. This mid-'70s usual-suspects ensemble, featuring steel guitar whiz Buddy Emmons, along with fiddlers Johnny Gimble and Buddy Spicher, Pig Robbins and others, hits the right marks and doesn't bump into the furniture, but somehow I don't think they got the Bob Wills vibe down right. It's all just too clean and clever: where's the rowdy, disshevelled, blues-soaked fervor of the old Wills/Duncan days? This album has its heart in the right place, but I don't think they were wild enough to really capture the easygoing beauty of the Texas Playboys sound.
Buddy Emmons & Lenny Breau "Minors Aloud" (Flying Fish, 1979)


(Produced by Michael Melford)
Like Emmons, jazz guitarist Lenny Breau had deep country roots... His parents were the Canadian/American country duo of Betty Cody and Hal Lone Pine (nee Harold Breau), who had considerable success in the 1940s as a regional hillbilly act. Breau emerged early on as a musical prodigy, and in his teen years turned to jazz after already playing in the family band for several years. Here he explores both worlds, twang and bop, with pedal steel player Emmons, who had similar inclinations, but stuck closer to the country stuff. A nice meeting of the minds that wil make fans of instrumental country-jazz feel all warm and fuzzy.
Buddy Emmons "Amazing Steel Guitar: The Buddy Emmons Collection" (Razor & Tie, 1997)


Buddy Emmons "Christmas Sounds Of The Steel Guitar" (Step One, 1987)


Pedal steel whiz Buddy Emmons rings in the holidays with a luxurious set of sweet standards on steel... It's kinda cheesy, but hey -- isn't that what we expect from our Christmas records?
---
Tributes & Related Records
---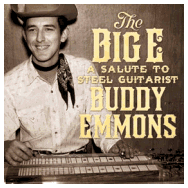 Various Artists "THE BIG E: A SALUTE TO STEEL GUITARIST BUDDY EMMONS" (Warner/MPI, 2013)



An homage to Emmons, with performances by some of country music's elite, including a number of artists who had the good fortune to work with Emmons back in the day. John Anderson, Rodney Crowell, Vince Gill, Emmylou Harris and Willie Nelson are some of the star singers, while a number of superpickers also pay tribute, including guitarists Duane Eddy and Albert Lee, as well as steel players such as Greg Leisz and Jay Dee Manness, with a nice mix of vocal tracks and instrumentals. One of Emmons' first major gigs was with '50s honkytonk singer Little Jimmy Dickens, an old Opry star who summons himself to appear on this album, singing "When Your House Is Not A Home," with some assist by Duane Eddy... I'll always like hearing Emmons' original work (who wouldn't??) but this tribute album has lots of nice stuff on it, and if it'll steer more listeners towards Emmons' classic performances, well hooray for that! Give her a spin.
---
Links
---
---