<! cd = 12/20/15 - discovered he was Sheepskin Pat! > <! MP3 00/00/00 > <! outside: 12/20/15 - AM, G, EB - no PF, no discography online - a lot of his hits seem to have been singles-only > <! pix 00/00/00 > <! 208-pix: 00/00/00 > <! styles: Locals, Top Forty > <! UPDATES: 12/21/15 - posted >
---
In some ways, Pat Garrett was Pennsylvania's answer to Buck Owens -- not necessarily in the kind of country music he sang or the level of fame he enjoyed, but more in the way he rode out his career. Garrett's real name was Pat Sickafus, and he was a highly successful real-life sheep rancher, having created his own business in Strausstown, PA, selling sheepskin clothing, rugs, bed covers and other accessories... He also dabbled in music, playing in rock bands as a kid, and drifting towards country when he got older. He had a few modest hits in the 1970s and '80s, and with one foot in the world of industry and the other in show business, Garrett bought a couple of radio stations and also became a regional media mogul, and in 1994 opened his own Pat Garrett Amphitheatre. Not only that, but Garrett once sponsored a talent contest that an 11-year old Taylor Swift won and has even had one of his songs, "Bad Woman," recorded by the band Artic Monkeys(!) Okay... so you got all that? Good! Here's a quick look at his career...


<! http://www.examiner.com/article/local-country-singer-had-a-role-taylor-swift-s-success >

---
Discography - Albums
---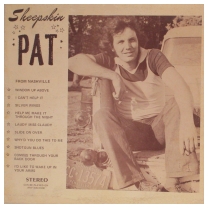 Sheepskin Pat "From Nashville" (Red Barn Recording Company, 19--?) (LP)


This was, I think, his first album, recorded under his real name, Pat Sickafus, most likely while he was playing bass for the Shorty Long band. Despite the album title, this record came out on a label based in Pennsylvania, where Sickafus has deep roots, though he probably made the record when he was in Nashville as part of the Shorty Long band. This includes several originals such as "Slide On Over," "Why'd You Do This To Me" and "I'd Like To Wake Up In Your Arms," as well as covers of country classics like "Silver Wings" and "Help Me Make It Through The Night." As to his nickname, "Sheepskin Pat," well, it turns out he actually was (and is) a real-life sheep rancher, and created his own business in Strausstown, PA, selling sheepskin clothing, rugs, bed covers and other accessories... So maybe his song, "Why'd You Do This To Me," was written from the sheep's point of view? One wonders.
Pat Garrett "Record Number One" (Kansa Records, 1977) (LP)
This was his first album using his more compact, gunslinger-delic stage name, and the song "A Little Something On The Side" was Garrett's first entry on the Billboard charts, coming in at #98... He never broke out of the Back Forty but this indie album is what got the ball rolling.


<! - no ASIN 12/20/15 - private press country Lebanon PA A1 I'm Coming Through Your Back Door A2 Slide On Over A3 Laudy Miss Claudy A4 A Little Something On The Side A5 Coldest Toes In Town B1 I Got To Touch You Again B2 So Alone Again B3 I Can't Help It If I'm Still In Love With You B4 I'd Like To Wake Up In Your Arms B5 Why'd You Do This To Me http://www.patgarrett.com/band/patbio.htm - different guy?? http://www.wfmz.com/news/news-regional-berks/Local/Pat-Garrett-new-owner-of-classic-rock-station-in-central-Pa/18264946 "..."I may be a country boy, but rock n' roll is here to stay!" said Garrett, who also owns WWSM 1510 AM, a classic country music station near Palmyra, Lebanon Co. WTPA, Garrett said, also "comes in like gangbusters here in northern Berks County." Garrett has been a fixture in the Strausstown area, owning the former Pat Garrett Amphitheater, where he hosted concerts and performed with the likes of Merle Haggard, Johnny Cash and Willie Nelson. It's also where Taylor Swift, at the age of 11, competed in karaoke contests. Garrett also performs with his five-piece country music group, the Pat Garrett Band." > <! next album on Gold Dust, then Compleat (1986), them MDJ in '87 - or was it only singles??? >
Pat Garrett "Dancing With A Cowboy" (Gold Dust Records, 1980) (CD)


This includes his second chart entry, "Sexy Ole Lady," which hit #80 on Billboard. Reissued on CD.
Pat Garrett "20 Country Love Songs" (Gold Dust Records) (CD)


One this album, Garrett covers a bunch of country standards -- "Making Believe," "Sweet Dreams," "Help Me Make It Through The Night" -- along with versions of a few of his hits, such as "Sexy Ole Lady" and "Jumpin' John."


<! 1. Keep Turnin; Me On, 2. Let Me Be The Last One To Know, 3. - 5. Your Cheatin' Heart (medley), 6. Love Me Tender, 7. Loving You, 86. Making Believe, 97. Blue Bayou, 10. Help Me Make It Through The Night, 11. Am I Losing You, 12. Crazy, 13. Love Letters, 14. When My Blue Moon Turns To Gold, 15. Sweet Dreams, 16. Wake Up In Your Arms, 17. I Can't Help, 18. Cruisin', 19. Jumpin' John, 20. Sexy Ole Lad >

Pat Garrett "On The Stage" (Gold Dust Records, 2001) (CD)



<! - no ASIN 12/21/15 >

---
Links
---
---