<! cd = 01/27/12 > <! MP3 01/27/12 > <! update 01/27/12 > <! outside 00/00/00 > <! pix 00/00/00 > <! 208-pix: 00/00/00 > <! icons 01/27/12 >
---
In the late 1990s and early 2000s, singer-songwriter Mary Gauthier emerged as one of the most powerful artists of the contemporary Americana scene. Here's a quick look at her work...
---
Discography - Best-Ofs
---
Mary Gauthier "Genesis (The Early Years)" (In The Black, 2008)


A sampler from her first three albums...
---
Discography - Albums
---
Mary Gauthier "Dixie Kitchen" (In The Black, 1997)


Mary Gauthier "Drag Queen In Limousines" (In The Black, 1999)


A striking, strikingly downcast set of well-crafted Americana ballads. The title track is an acerbic recollection of high school days in the South, with various brands of freaks running around, getting high or drunk any which way they can. Even more forceful is Gauthier's tribute to Karla Faye Tucker, the Texas convict whose death sentence became a national issue, particularly when (then Governor) George W. Bush refused to commute her sentence. Gauthier tells the story of Tucker's heroin addiction, the drug-fueled murder that sent her to prison, and of the jailhouse conversion that made her a devout born-again Christian, and finally of the hardness of heart that Texas justice provided. Most of the songs on here are similarly downer-iffic, though several, like "Lucky Stars," have a soft touch that shows the hand of a masterful songwriter... Comparisons to Lucinda Williams are inevitable, and Gauthier more than holds her own, infusing her songs with a similar white-hot intensity and glum, reflective passion... This is a very impressive album, with plenty of emotion backed by very solid songcraft... Recommended!

Mary Gauthier "Filth & Fire" (Signature Sounds, 2003)


A super-mournful, entropy-ridden set of alt.country sadcore, heavily laced with themes of ruefullness and thwarted redemption. With Gauthier's connection to Gurf Morlix (he produced and played on this album) I made the inevitable Lucinda Williams comparison, then found my thoughts drifting to the similarly mopey, spiritually-inclined Canadian folksinger, Ferron, and finally was able to hear Gauthier as her own artistic voice. She's pretty downerific, and the religious bent of this album can also be a little offputting (although Gauthier's not so much proselytizing as lamenting her own perpetual fall from grace, also potentially alienating for the casual listener...) Her songs are well-crafted, although not necessarily melody-driven: fans of the late Townes Van Zandt will probably find a lot to cheer about here. Good stuff, kinda high-concept and forlorn, but gritty, engaging and intelligent as well.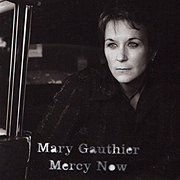 Mary Gauthier "Mercy Now" (Lost Highway, 2005)


(Produced by Gurf Morlix)
This album has been hailed, rightly, as a modern-day Americana masterpiece. I'd recommend you skip the opening track, a plodding, interminable piece of Gothic twangery, derived from the Townes Van Zandt/Robert Earl Keen school of lofty 'billy poetics -- I know some folks love that kind of highbrow stuff, but it strikes me as unnecessarily dreary and difficult to slog through. I, for one, don't need to hear anybody sing dense, impenetrable songs to prove that roots music is "real art" -- I already know it is -- but if they can craft a few concise, well-chiseled stanzas and wed them to a memorable melody, well then I'm happy as a clam. Fortunately, Gauthier hasn't lost her touch in this regard, and this record is also packed with the same sort of deftly drawn songs that wowed me on her earlier albums... Songs like "Mercy Now," "Your Sister Cried" and "I Drink" are compact gems crafted with the same level of skill as Guy Clark or Lucinda Williams (back when she was still keeping things simple...) That's mighty high praise in my book, and sure enough, this record has stood up to several auditions and just keeps sounding better each time I listen. Produced by the ubiquitous Gurf Morlix, this has a streamlined simplicity and light melodic touch that'll keep you coming back for more... Recommended!

Mary Gauthier "Between Daylight And Dark" (Lost Highway, 2007)


So, like, is Ms. Gauthier in competition with labelmate Lucinda Williams to be the biggest, saddest bummer queen in Americana music today? I'm a big fan of Gauthier's skills as a songsmith, but while the quality of writing remains high here, the emotional tenor is unrelentingly and repetitively bleak. I found this a difficult album to get into -- the half dozen tracks that open it have ostensibly different topics, but the tone and the message is always the same: life is hard, life sucks, I'm not having fun and, really, neither are you. As the album title implies, the weary voices in her songs arise from Limbo, a joyless purgatory where nothing ever changes: life is hard, life sucks, I'm not having fun and, really, neither are you. It isn't until midway through that a sliver of hope appears, as she utters the words, "it's okay," and while the clouds don't entirely clear, at least the songs start to sound a little different from each other. The set closes with "Thanksgiving," a bitter working-class dirge about a family's holiday visit to a convict in prison -- with the oblique sadness channeled into anger, it actually is one of the more uplifting songs on the album. Fans of well-crafted, highbrow Americana will appreciate this record, although the utter lack of levity or reprieve may make it rough going for most of us.
Mary Gauthier "The Foundling" (Razor & Tie, 2010)

Mary Gauthier "The Foundling Alone" (In The Black, 2011)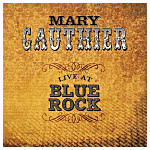 Mary Gauthier "Live At Blue Rock" (In The Black, 2013)



A solid live album from one of Americana's great bummer-queens, sounding just as Lucinda-ed-out, super-serious and severe as ever. These are strong performances, but I have to confess, I find her work a little too joyless to get into... Still, these stripped-down acoustic versions capture her at her most immediate and direct, and if you're looking for poetic, soul-searing gloom and doom, you can definitely get your fix here.
---
Links
---
---