<! cd = 10/13/11 > <! MP3 10/13/11 > <! update 10/13/11 > <! outside 10/13/11- WP > <! pix requested portrait from Red House 10/13/11 > <! 208-pix: 00/00/00 > <! icons 10/13/11 >
---
In the 21st-Century, as folk music stretches its elbows and becomes comfortable in the new media landscape -- where pop/rock and rap/R&B slowly teeter into the same sort of niche markets that folk and blues have been in for years -- singer/songwriter Eliza Gilkyson has taken on the stature not only of a folk-scene elder, but as a paradigm of what "Americana" music can and ought to be. A searching and contemplative composer, Gilkyson is the daughter of '50s/'60s folk icon Terry Gilkyson (as well as sister of rock guitarist Tony Gilkyson) and while her career has sometimes led her towards more pop-related material, she has firm footing at the top of the folk music food chain. Here's a quick look at her work...
---
Discography - Best-Ofs
---
Eliza Gilkyson "RetroSpecto" (Realiza, 2005)

---
Discography - Albums
---
Lisa (Eliza) Gilkyson "Love From The Heart" (Helios, 1979) (LP)





<! or is it "Hello Records"? >

Eliza Gilkyson "Pilgrims" (Gold Castle, 1986)

Eliza Gilkyson "Legends Of Rainmaker" (Gold Castle, 1988)

Eliza Gilkyson "Through The Looking Glass" (Private Music, 1992)

Andreas Vollenweider "Eolian Minstrel" (Capitol, 1993)

Although not credited as a main artist, Gilkyson is a major contributor on this album, adding vocals, guitar and lyrics for most of the record; Carly Simon also appears for a tune or two.
Eliza Gilkyson "Undressed" (Realiza, 1993)

Eliza Gilkyson "Redemption Road" (MTI/SilverWave, 1994)



Eliza Gilkyson "Misfits" (Realiza, 1999)



Both the songwriting and the production on this album seem a bit dense -- not impenetrable, but slightly cluttered. I came to this record late, after having reviewed some of her more recent releases which floored me (see below), and I can see there was definitely an artistic growth curve that she went on, mainly learning how to simplify and chisel good ideas down to better ones. Nonetheless, there are some memorable songs on here, generally the ones where she slows down a bit, as on "Love's Shadow" and "Bad Boy/Good Man." Her brother Tony Gilkyson and DJ Bonebreak (both of the band X) are among the musicians pitching in... As on her later albums, Gilkyson delves into deep issues of sorrow, existence and spirituality... it's just she got better at making her point as time went on. If you're on her wavelength already, this is certainly worth tracking down and checking out...

Eliza Gilkyson "Hard Times In Babylon" (Red House, 2000)



The album opens with (what I believe is) an autobiographical nod towards Gilkyson's father, and her thoughts on life in show biz ("Beauty Way") then moves on to familiar themes of despondency in the midst of spiritual decay ("Hard Times In Babylon," "Coast," and others) This album is very well constructed, very precise, and very compelling, and she seems to have a new band, which provides the strong, subtle accompaniment that her songs needed, particularly the haunting, thoughtful melodic refrains that build her songs into haunting elegance. A fine record with a deep emotional core... Recommended!
Eliza Gilkyson/Iain Matthews/Ad Vanderveen "More Than A Song" (Perfect Pitch, 2001)


Eliza Gilkyson "Lost And Found" (Red House, 2002)



Eliza Gilkyson "The Land Of Milk And Honey" (Red House, 2004)



For some odd reason, this album kept sliding to the bottom of my "listen to" pile; I dunno why, since I really liked her last record a lot. Well, I like this one even more. It's great. Go out and get it. Now. Before it's too late. Gilkyson is, of course, the daughter of '50s/'60s folksinger Terry Gilkyson, and while her career has led her towards more rock-related material, here she returns solidly to her folk-scene roots, with a searing, heartfelt, and emotionally powerful set of topical, social-political songs, each of which carries considerable impact. The album opens with "Hiway 9," which refers to the main transportation corridor in Iraq -- the song is a blistering indictment of the Bush League's war plans, and their impact on our two nations; similarly, on "Tender Mercies" she explores the emotional deadening of terrorists and the world around them. Even on the one topical song where she seems to overplay her hand, "Ballad Of Yvonne Johnson," about a woman convicted of murder after enduring a lietime of abuse, Gilkyson sticks to a smouldering emotional core that keeps the music compelling. There are also several songs of a more purely emotional/confessional style -- "Separated," "Dark Side Of Town" -- and these are similarly drenched with a dark, contemplative, largely pessimistic maturity: this is an album made by and for adults, and the quality of the craftsmanship is never sub-par. Helping her out are some of the cream of the contemporary roots-music scene -- Slaid Cleaves, Jon Dee Graham and others -- and the musicianship, with the smooth, moving guitar work, is what makes this disc a real gem. Gilkyson is also joined by a powerhouse trio of folkie gals (Mary Chapin Carpenter, Iris Dement and Patti Griffin) who trade verses on a newly unearthed Woody Guthrie song, "Peace Call," which ends the album on a hopeful, spiritual note, underscoring the reflection and soul-searching that suffuses the whole record. All in all, I give this album a big thumbs-up. It's message is timely and urgent, and the delivery is powerful and sincere. It may be kind of a bummer, but it is real art.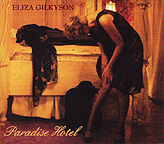 Eliza Gilkyson "Paradise Hotel" (Red House, 2005)



It took me a long time to be able to review this disc... I had been so thoroughly floored by her previous two albums -- particularly 2004's Land Of Milk And Honey -- that it was hard to get past my initial impression that this album was kind of a retread of her earlier work. In many ways, that's still true: this album has a very familiar tone, a mix of richly melodic, well-produced, electrified roots-folk and a clear-eyed, insistent, bitter political vision... When the melodies take hold, these songs emanate sheer beauty, although some of the social content does have a grinding quality to it, and lacks the incandescence of her previous work... This is especially true of the overly blunt "Man Of God," which skewers the religious hypocrisies of the Bush administration -- it's not the content I object to, just the artlessness with which it's presented. Afterwards, the persistent lacing of socially-oriented themes throughout the rest of the record makes it seem of a piece, but then, with subsequent listens, it becomes clear that this album is, indeed, like Gilkyson's others, another minor masterpiece. The spiritual yearning of the epic, Dylanesque "Is It Like Today," the compelling country stylings of "Calm Before The Storm" and the gentle, hymnal grace of "Requiem" -- all songs that bring the album to a close -- are among the finest folk music you'll hear in your life. Gilkyson may be grinding an axe, but she's justified to do so, and she also manages to craft great art and beauty out of her anger and narrowly averted despair, and to offer a doleful, weary hopefulness to anyone with the heart to listen. This is a very rewarding album, well worth checking out.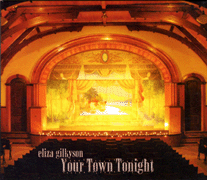 Eliza Gilkyson "Your Town Tonight" (Red House, 2007)



(Produced by Mark Hallman)
Recording live with a hometown crowd in Austin, TX, Eliza Gilkyson demonstrates yet again her complete command of an audience... The songs are familiar, a mix of confessional songs and searing, politically-themed social commentary. There are also several songs that draw on the legacy of her father, pop-folk songwriter Terry Gilkyson, and her fond introductions to this material are a big part of the charm of her stage show. Gilkyson's rapport with her listeners is complete -- and, thankfully, that extends to those of us who are listening to the record, as well. Her recent studio albums have been quiet contemporary folk masterpieces, and this live set is icing on the cake. Recommended!
Eliza Gilkyson/John Gorka/Lucy Kaplansky "Red Horse" (Red House, 2010)



Three big-name, A-list folk scenesters collaborate on this fine, sparsely arranged summit-meeting set. Gilkyson and Kaplansky harmonize particularly well, particularly as heard on the opening track, "I Am A Child." A lot of this modern, introspective folkie stuff is too verbose for me, but the music on here is sweet and compelling. If you like any of these three artists on their own, you'll definitely want to check this collaboration out.

Eliza Gilkyson "Roses At The End Of Time" (Red House, 2011)



(Produced by Cisco Ryder & Eliza Gilkyson)
Another great record that shows Gilkyson head and shoulders over many of her contemporaries. This album opens with the evocative and elegant "Blue Moon Night," where Gilkyson muses, surprised, on the good things in life, on how sometimes we realize that things can actually be okay, and that life can feel blessed or even just in balance; one brief line about how we've had it good reflects, perhaps what many of her generation may feel, that an America in decline was still a great place to be. This, however, is far less political than previous albums, the sense of immediacy and anger that the Bush years brought having faded to bring about a more subtle form of dread. The introspective, personal narratives work better for her here, and the title song, "Roses At The End Of Time," is a gorgeous love song, built at first on well-known poetic and folk refrains, then launching into a richly original romantic metaphor. By comparison, topical songs such as "Slouching Towards Bethlehem" (about the financial crisis) and "Vayan Al Norte" (about immigrant labor) seem clumsy by comparison. Between these two poles lies Gilkyson's apparent concern with reclaiming the spiritual sphere from the predations of zealots and hate-mongers: "2153" is a harsh lampoon of rapture-bound fundamentalists whose references I don't quite get, while in "Death In Arkansas" she seems drawn to tradition and to the comforts of church, while still obligated to criticize the fire-and-brimstone crowd. Perhaps most interesting is the approach of "Slouching Towards Bethlehem," which characterizes the greed of Wall Street as pure, unmitigated Evil, as the very Beast itself, a wicked presence that must be confronted, not simply morally, but religiously, spiritually. It's an odd fit for the folk scene, which has so long been identified with the supposedly secular Left, but I think Gilkyson is right: the distortions of religion -- Christianity in particular -- have to be confronted within the same institutions where these distortions take place. Lefties and liberals who also identify themselves as religious people need to do so publicly and actively reclaim this part of the public sphere, and rescue religion from the intolerant. This is difficult because many Americans, particularly those born of an earlier era, were raised to believe that religion is a private thing, and that proselytizing and bringing spirituality into public life is unseemly and rude. Obviously that sense of propriety and restraint has left middle America defenseless against the current wave of fundamentalists who seek to establish theocratic litmus tests throughout our society, and leaves the God-in-politics field open to our most crass, belligerent elements. Honest, searching, gentle reflections such as Gilkyson's (as well as Steve Earle's recent album...) seem like a good start in helping even out this imbalance. Here's to hoping that it will be enough.


<! Cisco Ryder is also her son >
Eliza Gilkyson "The Nocturne Diaries" (Red House, 2014)


---
Links
---
---