<! cd = 01/30/14 > <! MP3 01/30/14 > <! outside 01/30/14 - PF, WP, GG disco > <! pix 00/00/00 > <! 208-pix: 00/00/00 > <! styles: Hippiebilly > <! UPDATES: 01/30/14 - posted; need to review some solo albums >
---
Fiddler Gib Guilbeau was one of the most prolific studio musicians in LA's booming country-rock scene, backing countless star artists while pursuing his own myriad projects, including the resuscitation of the post-Gram Parsons Flying Burrito Brothers band in the mid-1970s, a group he helped anchor for many years to come. Guilbeau was born in Louisiana, and brought a healthy dose of Cajun cool along with him when he headed West to Southern California. He found ample employment backing a near-endless parade of influential artists, on major labels and cheapie fly-by-nights alike. His own band Swampwater, formed with guitarist John Beland, was originally a backup group for Linda Ronstadt. Later, Beland and Guilbeau formed the core of the new Burrito Brothers band, and the duo worked together on numerous side projects. Guilbeau also recorded several albums under his own name... here's a quick look at his work...
---
Discography - Best-Ofs
---
Gib Guilbeau "Classic Guilbeau: 1968-1986" (Beau Town, 2003)


Gib Guilbeau "Cajun Man" (Suite 102, 2009)



Guilbeau & Parsons "Louisiana Rain" (Ace/Big Beat, 2002)



This disc gathers a trove of dimly-remembered 1967-70 work on Gary Paxton's independent Bakersfield International label, which served as a fermenting pot of the nascent hippiebilly sound... These guys'll sound instantly familiar to anyone who's grooved to Gram Parsons or the country-era Byrds, with the same whiny, wandering vocals and tentatively twang and slightly constricted pedal steel playing, and -- of course -- guitarist Clarence White anchoring the later sessions. Guilbeau, who had been working as a country and folk singer for over a decade before hooking up with Parsons, wrote almost all of the material and added a cajun flair to many of the songs, also writing plenty of spaced-out, searching lyrics. In country terms, it's not great material (though there are a few catchy tunes), but seen as a stepping stone into the bigger LA country-rock scene, this material is historically quite important. It's also pretty good for what it is -- just 'cause I have trouble getting into this kind of stuff doesn't mean you shouldn't check it out. If you're a Byrds fan, in particular, you're gonna love it.


<! 144 x 144 >

---
Discography - Albums
---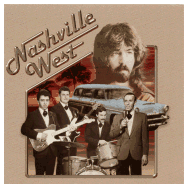 Nashville West "Nashville West" (Sierra Briar, 1978)


These loose, easygoing sessions were recorded on the fly in 1967 during the short, mayfly lifepsan of Nashville West, an early, influential country-rock combo that featured Guilbeau on vocals, along with Clarence White on guitar, Gene Parsons playing drums, and Guilbeau's longtime friend Wayne Moore playing bass. The group broke up when White was tapped to join the Byrds, and their rehearsal tapes sat unused for over a decade until their release in '78.
Gib Guilbeau "Cajun Country" (Alshire, 1970) (LP) <! year? 1969? >

Swampwater "Swampwater" (King-Starday, 1970)



(Produced by John Wagner)
This album was recorded by country-rockers John Beland and Gib Guilbeau while they were working together as part of Linda Ronstadt's early backup band... It's an interesting example of early-vintage Southern California country-rock mixing with cajun country, with sort of a Doug Kershaw-meets-The Byrds vibe. The pop-rock production is a little on the light side, though the airy high harmonies are attractive -- sort of a bridge between the Hollies and the Eagles. There's also a relatively old-fashioned '60s folk vibe on several tracks... Several members of the band wound up working with Arlo Guthrie for a few years, while Beland and Gilbeau reunited years later in a commercially successful 1980's lineup of the Flying Burrito Brothers. But given that this album came out so early in the decade, it deserves its own special spot in the annals of country-rock. Certainly worth a spin!
Swampwater "Swampwater" (RCA, 1971)
(Produced by Larry Murray & Ken Mansfield)
The second Swampwater album gets lost in the shuffle a bit, but it featured a nice dose of the RCA studio sound, and rich contributions from guest musicians such as Herb Pedersen on banjo, steel guitarists Jimmy Day and Curly Chalker, and piano player Glen D. Hardin (who was later to join Elvis Presley's TCB band, and Emmylou Harris's Hot Band...) Quite a lineup! Around this same time the guys in Swampwater were trying to hustle up gigs anywhere they could, and worked as backup musicians on a bunch of budget-line albums. For more info about these records, check out the Gib Guilbeau discography site linked to below...


<! with: Gib Guilbeau, John Beland, Thad Maxwell, Stan Pratt Side one: Ooh-Wee California (Guilbeau) Headed for the country (Murray) Ol' papa Joe (Guilbeau) Mama Lou (Murray) A song I heard (Muehleison) One note man (Arnoldi) Side two: Back on the street again (Gillette) Dakota (Murray) Gentle ways of lovin' me (Guilbeau) Back porch harmony (Guilbeau) Medley: Swampdown (Trad. Arr.: Swampwater) The merry-go-round broke down (Friend/Franklin) >

Gib Guilbeau "Gib Guilbeau Sings" (Alshire, 1973) (LP)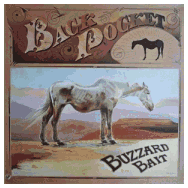 Back Pocket "Buzzard Bait" (Joyce Records, 1976) (LP)


(Produced by Pat Robinson & Pat Maroshek)
A one-off collaboration with various SoCal pickers who were in the Flying Burrito Brothers orbit, such as singer Pat Robison, guitarist John Beland and fiddler Gib Guilbeau, as well as bluegrasser Larry McNeely picking banjo, and some steel players on several tunes. This band never really went anywhere, but the album's probably worth checking out if you're a big fan of the Burrito Brothers.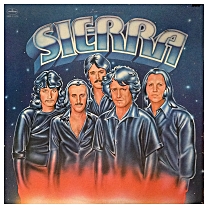 Sierra "Sierra" (Mercury, 1977) (LP)


(Produced by Felix Pappalardi & Don Gehman)
Apparently hoping for a hail-mary pass, the mid-'70s Gib Guilbeau/Sneaky Pete Kleinow lineup of the Flying Burrito Brothers changed their name to "Sierra" during the summer of '77 and cut this super-slick and terribly misguided pop record along with a slew of LA pop-scene rockstar guests... They indulge in bombastic disco-rock, bubblegummy AOR and a little bit of beer-ad blues. They were backing singer/guitarist Bobby Cochran, who had most recently been working in a reunited mid-'70s lineup of Steppenwolf, but who seems to have had a deep-seated desire to make it as a soft-rock star. I'd call these guys "a country-rock Bay City Rollers" except that their country influences are so deeply buried in the mix, they hardly factor in until the last half of Side Two. In theory, Sneaky Pete is playing pedal steel on every track on the album, but I'll be damned if I can hear it anywhere except towards the end. This incarnation didn't last long, although their regular Burrito gig was pretty rough sailing as well, with the band limping along without a major-label contract for several years... This album is mostly a historical curio; twang fans might enjoy a couple of Eagles-ish tracks that pop up on Side Two, with Guilbeau's "Don't Plant Roses" being the most memorable song on the album, and Cochran's "You Give Me Lovin' " being the most explicit Eagles ripoff. Otherwise, you can skip this one...
Gib Guilbeau "Gib Guilbeau" (Alshire, 1978) (LP)

Gib Guilbeau "Toe Tappin' Music" (Shiloh, 1978) (LP)

Gib Guilbeau "Songs I Like" (Beau Town, 2001) <! 2009? >


The Brothers "Children Of The Fifties" (Beau Town, 2002)



Gib and his brothers get together for a gentle (some might say snoozy) set of oldies cover songs, paying affectionate homage to country and pop icons such as Don Gibson, Buddy Holly, Johnny & Jack, Roy Orbison, Conway Twitty and even Slim Whitman. Added at the end is a bouns track of three of the brothers singing live on a Barstow, CA radio station in 1957, where they had a weekly broadcast, billed as the Hinkley Valley Boys...


<! We Shall Rise Above It All; Poor Boy's Dream; That'll Be The Day; It's Only Make Believe; Blue Blue Day; Teen Angel; You've Been Torturing Me; You're The Reason; Only The Lonely; Singing The Blues; Ashes Of Love; Donna; Just Before Dawn; Young Love; Danny Boy; Peggy Sue; Indian Love Call; Hinkley Valley Boys [Live Radio Broadcast 1957, Darrell, Gib And Ernie] – 02 >

Swampwater "Reunion" (Appaloosa, 1987/Akarma, 2004)



A 1979 reunion gig which was recorded but left in the can for the better part of a decade... It was re-released in 2004 with two bonus tracks.


<! Note: 2004 Akarma Records released the "Reunion" album with two bonus tracks on CD. The bonus tracks are "You" (but that's the same song as "There'll never be no getting over you" which is already on the "Reunion" album - same version) and the second bonus track is "Cheatin' kind of love" which is released on the "Hollywood nights" CD. >

---
Discography - Related Records
---
Chuck Morgan & The Front Page "Play And Sing" (Alshire) (LP)


This was sort of a Swampwater spinoff, with Guilbeau, Maxwell and others joining singer Chuck Morgan, with whome they had also apparently recorded a series of cheapie knockoff albums of cover songs, under the name "Lowell Bennett," though legend has it these albums went unreleased, so this is probably the closest we'll get to hearing what those sessions were like.


<! with: Chuck Morgan, Gib Guilbeau, Thad Maxwell and others >
Cold Steel "Cold Steel" (Ariola, 1974) (LP)
A short-lived, LA-based ensemble featuring pedal steel wiz Sneaky Pete Kleinow and fiddler Gib Guilbeau, jamming together just before the late-1974 regrouping of the Flying Burrito Brothers... (For Gilbeau's albums with the Burrito Brothers, check out the band's discography page...) Apparently Guilbeau only plays on a few tracks here...


<! with: Sneaky Pete Kleinow, Gib Guilbeau (on 3 tracks only - lead vocals & fiddle) Greg Attaway, Mike Bowden, Richard Bowden, David Lovelace > <! Various Artists "TRIBUTE TO WOODY GUTHRIE CONCERT" (Warner, 1970) B000002LJG - CD includes two albums, one at Carnegie Hall - In 1970 Gib and John Beland along with Ry Cooder and Chris Ethridge played behind Joan Baez, Pete Seeger, Odetta, Country Joe McDonald, Ramblin Jack Elliot and others at "The Hollywood Bowl" for the TRIBUTE TO WOODY GUTHRIE CONCERT. It was released 1972 as a live album (Warner 2586) that is now in the Library Of Congress. Various Artists: Celebration - The Big Sur Folk Festival 1970 (Ode, 1970) B000XHBKSG - Linda Ronstadt sings two songs, backed by Guilbeau and Swampwater Chuck Morgan & The Front Page "Play And Sing" (Alshire S-5286) (LP) B008H54E8E >

---
Links
---
Wikipedia: Gib Guilbeau
Thanks to the Gib Guilbeau discography which seems to be published in several different places for turning me onto several obscure records; the site has way more complete info about Guilbeau's recordings, including his anonymous session work for Custom and other cheapie labels. Also thanks to Praguefranks's Country Music Discography, which provided several release dates...
---