<! cd = 06/13/14 > <! MP3 00/00/00 > <! outside 00/00/00 > <! pix 00/00/00 > <! styles: Alt-Country, Western > <! UPDATES: 09/12/14 - plugged in bio - need to check his name, get Wiki link - then post 07/22/15 - posted > <! 208-pix: 00/00/00 > <! >
---
Wylie & The Wild West is the brainchild of Wylie Gustafson, a veteran of the Southern California alt-country scene that gave us Dwight Yoakam and Rosie Flores... Gustafson started off with a more general interezt in old-school country and hillbilly music, and gradually carved a niche in the more specialized "western" sound of cowboy music and yodeling. Here's a quick look at his work...
---
Discography - Albums
---
Wylie & The Wild West Show "Wylie & The Wild West Show" (Cross Three Records, 1992)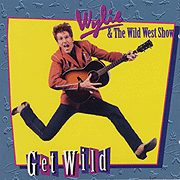 Wylie & The Wild West Show "Get Wild" (Cross Three Records, 1994)



This is his second album... Although he later turned to more specialized pursuits -- yodelling and cowboy songs -- here Gustafson shows a flair for old-school honkytonk and heartsongs, also dipping a bit into the proto-rockabilly country boogie sound of the early 'Fifties and a little Buck Owens-ish bounciness. There are a couple of swell cover tunes, including the Eddy Arnold hit, "Cattle Call" and Marty Robbins' "Devil Woman," and a guest appearance by Merle Haggard, who lend his unique vocal presence to the Gustafson original, "Ugly Girls." If, like myself, you've only heard the later albums by W&TWWS, you might want to check this early stuff out... It's kinda fun!
Wylie Gustafson "Glory Trail: Cowboy And Traditional Gospel Songs" (Cross Three Records, 1994)


Wylie & The Wild West "Way Out West" (Rounder, 1997)



This was the first album I'd heard by W&TWW, and though I no longer have a copy I remember not being very impressed; it seemed gimmicky and flat, and I wasn't really that into Wylie's yodeling capabilities. Wonder if I'd feel any differently about it now?
Wylie & The Wild West "Total Yodel" (Rounder, 1998)


Wylie & The Wild West "Ridin' The High Line" (Rounder, 2000)


Wylie & The Wild West "Paradise" (Rounder, 2001)


Wylie & The Wild West "Hooves Of The Horses" (Dualtone/Western Jubilee, 2004)


Wylie & The Wild West Show "Bucking Horse Moon" (Western Jubilee, 2006)


---
Links
---
---