<! MP3 03/09/13 > <! outside 00/00/00 > <! pix 04/09/11 - need bigger first album; 03/09/13 > <! 208-pix: 00/00/00 > <! icons 04/09/11 > <! UPDATES: 03/09/13 - new add, fixed some pix, left some 130's >
---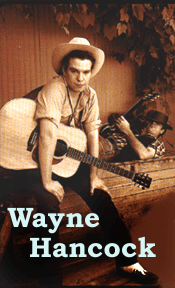 One of the most striking and powerfully authentic hard country artists to come out of the '90s alterna-scene, Wayne "The Train" Hancock sorta came out of nowhere... A latter-day reincarnation of Hank Williams, Hancock has the voice and the writing chops that set him apart from almost all his contemporaries... His voice is so desolate, so whiny, and so damn needy that it's hard to mistake or forget, once you've heard it. And seeing him live -- wooof! That's a show you don't want to miss!
I was already a big fan the first time I met & interviewed Hancock, and have been ever since. Even though I felt like he might have been putting me on when he over-mythologized himself as the all-American fuck-up (drinking too much, hoboing around, quarrelling with bandleaders and record labels...) I knew that when he talked about his dedication to real, hard country music, this guy wasn't fooling around. One of the best young singers to burn rubber out of Nashville, this Texas honkytonker is the guy to keep your eyes on.
---
Discography
---

Various Artists "SONGS FROM CHIPPY" (Hollywood, 1994)


Wayne's debut! This is the soundtrack to a country music play put on down Texas way. If I hadn't noticed the artsy-billy duo of Terry and and Jo Harvey Allen on the track listings, I don't know that I would have paid this album much mind... And then there was this Hancock feller -- who was he? Butch Hancock's little brother? Well, as it turned out, Wayne The Train, though no relation to Butch, was hands-down the best thing on this disc, with a piercingly nasal, ultra-hick whine that just had to be the real deal. Plus, the songwriting on his tunes (later reprised on his first album) was pretty damn good. Me and my pals played those songs a lot, for a long, long time, and just waited for his solo record to come out.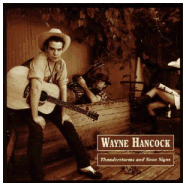 Wayne Hancock "Thunderstorms And Neon Signs" (Deja Disc, 1995)



Fortunately, we didn't have to wait long. This is the sort of country album I just fall in love with -- sheer, uncompromised honkytonk, with plenty of twang and pedal steel. And damn, if Wayne's vocals on the title track wasn't the most convincingly Hank Williams-y thing to come out on record in the last three decades. Although the pacing of the album is a little unrelenting and the tone doesn't vary much, the material and the conviction with which it's delivered should knock any hard country fan flat on their ass and make 'em wonder: why aren't all records this good?? Highly recommended!

Wayne Hancock "That's What Daddy Wants" (Ark 21, 1997)



Between albums, I had a couple of opportunities to meet Wayne, talk to him about his music, and have him play on my show... So I got it from the horse's mouth that he had grown up listening to a lot of different styles; Hank Williams, sure, but also Glen Miller and a bunch of big band stuff. That's why I was so psyched to hear those influences come out on this record. Not in big, trendy, Brian Setzer-y ways, but in the heartwrenchingly sweet, slow ballad, "Lea Ann," which Bob Eberly coulda had a high time with back in the old days. But even while making room for such classy material, Hancock never lost sight of his hard country horizons, and this album sure made fans of the first one happy. If anything, this record is even better. Honkytonk hillbilly with a hefty dose of '50s rock thrown in on top -- also highly recommended!

Wayne Hancock "Wild, Free And Reckless" (Ark 21, 1999)



It certainly is a joy to hear Hancock belting away on this set of relaxed, boozy country tunes... Backing off from the semi-rockabilly feel of his last record, this new release is a joyful throwback to the goofy feel of late '40s hillbilly boogie -- when all that really mattered was that your band could kick ass and your audience knew how to have a good time. The lyrics are silly, almost nonsensical reworkings of old blues and country verses, a collection of oddball roadsongs about losing your love, losing your wages, losing your job, losing your sobriety and losing all track of time while you pick and plunk with the boys on the back porch. There are also several really nice love songs, such as "You Don't Have To Cry," which recalls the sweet, jazzy lyricism of "Leann," on the last album. I also dig how Hancock has started yelling shout-outs to his band, calling, "Misssster Wakefield -- on the steel guitar!!" with the same sort of wide-eyed enthusiasm as Bob Wills... It's as if he were winking at the listener, saying, "Hey, watch what happens when I do THIS!" Speaking of the band, Jeremy Wakefield and guitarist Dave Biller tear it up along with the rest -- other notables include squeeky fiddler player Erik Hokkanen and pianist T. Jarrod Bonta, who's got the whole plinky-plink honky-tonk style down pat. This disc is a real treat!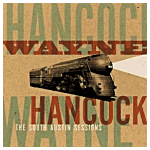 Wayne Hancock "South Austin Sessions" (Bloodshot, 2001)


A nice 6-song EP that explores Wayne's love of jazz standards and rockabilly. A couple of tracks are a little loosey-goosey, but others really swing. Definitely worth checking out if you're a diehard Wayne fan (like me!)

Wayne Hancock "A-Town Blues" (Bloodshot, 2001)



Another fine album from this Austin, Texas marvel. One assumes that Wayne The Train is happy as a clam to be roosting at Bloodshot, the home of the scrappy alt-country sound. Of course, his sound hasn't changed much -- he's still got the same crackerjack band behind him, including the guitar/steel duo of Biller & Wakefield, and super-producer Lloyd Maines is still making mixing magic in the booth. Wayne's infatuation with Tin Pan Alley jazz phrasing continues to deepen, shifting his honkytonk bluesiness into a subtler, jazzier direction. Undiminished and uncompromised, Wayne Hancock continues to be one of the most authentic voices in today's modern hard country scene.

Wayne Hancock "Swing Time" (Bloodshot, 2003)



A great live set recorded down in Austin by Wayne The Train and his band, featuring Dave Biller on guitar, a bit of trombone tootling by Bob "Texaco" Stafford, and solid, lively backing by all the others. From the album title, I had expected Hancock to indulge his interest in jazz-standards and swing, but I ain't complaining that this is a strait-up country album instead -- not by a longshot! Really, it's amazing to hear anyone playing such as rough and rowdy, yet accomplished and historically aware kinda country these days, and this disc captures the energy and charm of Hancock's live shows pretty well. High points include his new version of "Thunderstorms And Neon Signs," which may actually outdo the original; the album's low point comes on the screechy female vocals on a hidden bonus track version of the Gershwin standard, "Summertime..." (It's nice to be all DIY and support your friends, but geez... that really could've -- and probably should have -- been left off the album.) Otherwise, a top-notch release! Highly recommended.


<! 130 x 130 >
Wayne Hancock "Tulsa" (Bloodshot, 2006)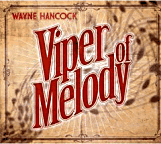 Wayne Hancock "Viper Of Melody" (Bloodshot, 2009)



(Produced by Lloyd Maines)
Once a honkytonk hero, scrappy singer Wayne Hancock has been digging deeper and deeper into a love of kooky, old-fashioned wester swing... Not the sort of we're-alt-rockers-who-are-now-going-retro swing of recent years, but more the I'm-a-yahoo-from-Texas western swing of years gone by: I bet Wayne and Hank Penny would have had a lot of fun hanging out together. Anyway, you'll have a lot of fun putting this on and cranking up the volume -- it's scrappy, boisterous, rough'n'tumble small-ensemble swing-twang with a bunch of original songs and lively performances all around. Classic Hancock!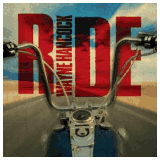 Wayne Hancock "Ride" (Bloodshot, 2013)



New stuff from Wayne "The Train" Hancock, a guy who still sets the gold standard for alt-twang authenticity... This album is as strong as anything he's ever done... On a couple of tracks he digs into a surprisingly grungy rockabilly/rock sound (hanging out with that Chicago crowd at Bloodshot, I guess...) but mostly this is the same great acoustic hillbilly retro he's been making all these years, with a dash of Tin Pan Alley swing in there for good measure. Great stuff... highly recommended!
---
Related Records
---
Wayne Hancock "Best Of" (Bloodshot, 2005)



Biller And Wakefield "The Hot Guitars Of..." (HighTone, 1999)



The pedal steel-and-Fender Telecaster duo of Biller and Wakefield first met while playing back-up for Wayne The Train... This is a lovely, mostly instrumental, album which starts off on an EZ mellowtone that would have made Russ Morgan envious, and swiftly gallops off into twangier territory. By and large this is a lot more engaging than other recent entries in the instrumental chic arena... However, there are also some cool vocal tracks, including two by the briefly reunited Dave and Deke, as well as the super-hummable "Steel Crazy," which Big Sandy claims he wrote in the car on the way to the recording session. Well, if that's what his toss-offs are like... no wonder we love him so!


<! 130 x 130 >
Hank Williams III "Risin' Outlaw'" (Curb, 1999)



Shelton Williams (aka Hank Jr.Jr.) has an uncanny vocal likeness to Wayne The Train, a fact that is duly acknowledged by three cover songs on this fine debut, and a shout-out in the liner notes. By sheer virtue of his willingness to embrace the dopier side of old-fashioned hard country, on songs like "Lonesome For You," "If The Shoe Fits" and "What Did Love Ever Do To You," Williams places himself outside the pale of the current Nashville mainstream, yet is close enough to Music City to provide aid and comfort to alties like Hancock by putting their songs on his records. This is a surprisingly strong album, packed with good-natured, catchy tunes and raggedy, breakneck performances by his scrappy-sounding band. Admittedly, Jr.Jr. doesn't have a great voice, but he's got the right spirit, and he carries the message of each song quite well. And, hey -- anyone who covers Terry Fell's "You're The Reason" is alright by me. I think pappy and grandpappy should be proud. Jr.Jr.'s next record was a big disappointment, but this one's a doozy.


<! 130 x 130 >

---
Links
---
Bloodshot Records also hosts a nice artist profile page... with links to info about their other artists and albums...
Cosmik.com e-zine has nice interview article... Informative and well worth checking out...
Likewise, Pop Matters has a good article, also worth checking out...


---