<! cd = 07/25/09 > <! MP3 07/25/09 > <! update 07/25/09 > <! outside 00/00/00 > <! pix 00/00/00 > <! 208-pix: 00/00/00 > <! icons 03/24/11 >
---
Johnny Horton (1925-1960) rode on the edge of the '50s rockabilly boom, Louisiana's Johnny Horton is a much-beloved and much-mythologized country legend, at least in part because he lived fast and died young, in a 1960 car crash. At the time of his death, the robust, good-natured Horton was on the peak of commercial success, having recorded a series of #1 hits such as "North To Alaska" and "The Battle of New Orleans" which defined the early-'60s fad for "historical" saga songs. He had also recorded some of the funnest, most swinging honkytonk pop of the late 'Fifties, notably the irresistible "Honky Tonk Man," one of the all-time great country singalong songs. Horton's career was brief, but his music was great... Here's a quick look.
---
CD Discography
---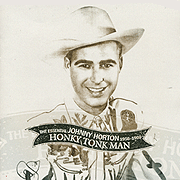 Johnny Horton "Honky-Tonk Man" (Columbia Legacy, 1996)



Thankfully, this 2-CD set doesn't focus solely on those recordings (which get a little corny), but also includes an impressive sweep of his earlier, more country, material from the late 'Fifties, when he first signed to Columbia. Horton wasn't a very powerful or emotive singer, but he sure did record a lot of great tunes. His connections to promoter Tillman Franks (who earlier helped Webb Pierce break into the business...) ensured that Horton had access to great material from some of the best hick songwriters of the late 1950s. There are other Johnny Horton reissues out there, but this is the one to shoot for.

Johnny Horton "Greatest Hits" (Columbia, 2004)



This standard-issue best-of came out right after Horton died, and it still stands up as a strong, if short, introduction to his considerable talents. Maybe a few more of the "historical" ballads that shot him up into the charts, but also some of his catchy honkytonk hits as well.
Johnny Horton "16 Biggest Hits" (Sony, 1999)



More of the same. This is a more generous sampling than the original Greatest Hits album, but not as much depth as the 2-CD Honky-Tonk Man collection listed above. A good, solid budget-line best-of.

Johnny Horton "Rockin' Rollin' Johnny Horton" (Bear Family, 1981)


Good old Bear Family, the best of the European country reissue labels, did a fine job delving into Horton's early rockabilly/hard country roots. Includes the ever-addictive "Honky Tonk Man," as well as great songs of equal caliber, such as "I'm A One Woman Man," "I'm Coming Home" and "Honky Tonk Hardwood Floor." There are also a bunch of more overtly teen-oriented rockabilly nuggets, songs that slipped through the crack when the Nashville establishment took over Horton's legacy, and concentrated on the softer stuff he'd recorded. These tunes are fun, fast and full of life, a vigorous collection of songs that mix the ruggedness of beer-soaked hillbilly dancehalls with the smooth, rootsy savvy of pop-oriented pioneering rockers such as Buddy Holly and Gene Vincent. Nice stuff!

Johnny Horton "The Early Years" (Bear Family, 1998)


Picking up where the original Rockin' Rollin' album left off, this 4-CD box set delves deep into Horton's early work, gathering all the hits as well as demo versions and alternate takes. It's the most complete, exhaustive look at this work to date, complete with extensive, well-researched liner notes and tons of archival photos, as well as Bear Family's trademark high-quality sound. Some of this material is a bit ough around the edges, but with a great performer such as Johnny Horton, who had clear country roots that were tempered by pop leanings, hearing the rougher stuff is kinda cool. This is probably only for the most hardcore fans, but if you count yourself among that number, you'll definitely want to check this out!
Johnny Horton "1956-1960" (Bear Family, 1991)


A 4-CD box set gathering prime material from his hitmaking years... yow!

Johnny Horton "Live Recordings From The Louisiana Hayride" (Scena, 2004)


This set of archival recording captures late-'Fifties honkytonker Johnny Horton at the height of his powers, playing on the KWKH Louisiana Hayride program, which once competed with The Grand Ole Opry for preeminence among the live hillbilly radio shows... Horton was one of the Hayride's biggest draws, a fiery good ole boy whose delivery was just inches away from the rockabilly sound of the times, and this disc gives a great sense of his style and charisma, as well as what his live repertoire was like. There are rollicking versions of his big hits -- "Honky Tonk Man," "Honky Tonk Hardwood Floor," "Battle Of New Orleans," etc. -- as well as amped-up versions of folk tunes like "John Henry" and "Rock Island Line." The between-song banter and emcee introductions also give a glimpse into the was live performances felt on the Hayride stage... Fine sound quality, too! Horton fans and honkytonk aficionados alike should get a real kick out of this disc.

Johnny Horton "Country Legend" (Varese Sarabande, 2005)


This single-CD set is a good alternative to the more exhaustive Bear Family Early Years box set listed above. All of these songs -- recorded between 1951-52 on the independent Abbott and Cormac labels -- are included in that set as well, but this is a more compact reading of that era. This disc concentrates solely on Horton's hillbilly roots, with the thumping beat of rockabilly still a few years in the future. Nice stuff!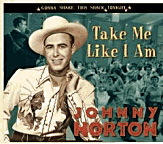 Johnny Horton "Take Me Like I Am" (Shake This Shack Tonight series) (Bear Family, 2009)


Bear Family has recently been whittling its magnificent multi-disc box sets down to a more manageable size, and this single-CD collection is a pretty tasty look at Johnny Horton's early years. It concentrates on his pre-rockabilly country stuff, with some fine hillbilly recordings that'll get your toes tapping and your mouth thirsty for a couple of beers. Great stuff!
Johnny Horton "I WonÕt Forget" (BACM)


(Available through the British Archive of Country Music specialty label.)


<! CD D 087 >

---
Albums
---

Johnny Horton "The Spectacular Johnny Horton" (Columbia, 1959)


Johnny Horton "Johnny Horton Makes History" (Columbia, 2004)

Johnny Horton "Honky Tonk Man" (Columbia, 1962)

Johnny Horton "I Can't Forget You" (Columbia, 1965)

Johnny Horton "Johnny Horton On Stage" (Columbia, 1967)

Johnny Horton "The Unforgettable Johnny Horton" (Columbia, 1968)
Who...??
Johnny Horton "On The Road" (Columbia, 1970)

Johnny Horton "The Legendary Johnny Horton" (Columbia, 1970)

Johnny Horton "The Battle Of New Orleans" (Columbia, 1971)

Johnny Horton "The World Of Johnny Horton" (Columbia, 1971)
A sort of hodge-podgy collection of Horton's material, from various phases of his career. It's nice that Columbia decided to dig deeper into the vaults for the benefit of fans, but this doesn't quite have the cohesive feel that later reissues in the CD era would bring. Worth picking up, though, if you're a vinyl fan.
---
Links
---

<! Johnny Horton "The Spectacular Johnny Horton" (Columbia, 1959) Johnny Horton "Johnny Horton Makes History" (Columbia, 1960) Johnny Horton "Greatest Hits" (Columbia, 1961) Johnny Horton "Honky Tonk Man" (Columbia, 1962) Johnny Horton "I Can't Forget You" (Columbia, 1965) Johnny Horton "Johnny Horton On Stage" (Columbia, 1967) Johnny Horton "The Unforgettable Johnny Horton" (Columbia, 1968) Johnny Horton "On the Road" (Columbia, 1970) Johnny Horton "The Legendary Johnny Horton" (Columbia, 1970) Johnny Horton "The Battle of New Orleans" (Columbia, 1971) Johnny Horton "The World" (Columbia, 1971) >


---



Hick Music Index



---

<! cd=07/26/09 >