<! cd = 09/15/13 > <! MP3 09/15/13 > <! outside 09/15/13 - WP > <! pix 00/00/00 > <! 208-pix: 00/00/00 > <! icons 00/00/00 > <! UPDATES: 09/15/13 - posted, newer albums not reviewed >
---
Norah Jones is American-born daughter of the late Indian classical master musician Ravi Shankar. She grew up in Texas and like oh, so many folks from the Lone Star State, she's got that country vibe running in her soul. Even if she broke through as a "jazz" artist, released on a jazz label, Jones started out playing roots music and blues, and it shows. At any rate, even though she's undeniably on the slick side I think there's room for her in the Americana annals... Here's a quick look at her work, as viewed from a twangfan's perspective...
---
Discography - Albums
---
Norah Jones "Come Away With Me" (Blue Note, 2002)



What a pretty record. 22-year old Norah Jones broke through with this truly lovely record, marred only by its runaway commercial success, and the resulting tiresome, endless public bashings that followed. Other folks can hate her 'cause she's successful -- that's their business -- but I like her because I think she's really quite good. Sly, sultry, sophisticated and well-framed by her producers, Jones deserved the attention she's got, and the hopes that have been pinned on her ever since.
Norah Jones "Feels Like Home" (Blue Note, 2004)



Following the amazing commercial success of her debut album, Come Away With Me, the sultry Ms. Jones drew the fire of many sniffy, snobby jazz fans who grumbled that her vocals simply were not up to snuff, and that, perhaps, she shouldn't be called a "jazz" singer at all. Well, boo-hoo. Then maybe we of the "Americana" camp should claim her instead. Her second album, Feels Like Home, certainly supports this theory, and as a certified, board-approved Americana know-it-all, I feel compelled to comment on what I think is, quite simply, a gem. Echoing Phoebe Snow, Seventies-era Bonnie Raitt, and hinting ever so slightly at the sharper attack of Mose Allison, Jones presents as fine, subtle and eclectic a set of roots-jazz music as you're ever likely to hear, one which draws on the inventive, introspective spirit of the early '70s singer-songwriter and acoustic rock scenes... Slipping fluidly between reference points and influences, she seamlessly melds the styles, with an air of effortless authority and joyfulness... The album's musical tone is downbeat, but the undercurrent is ecstatic, and much of this is due, I think, to the obvious self-knowledge that what she's doing is very good, and that this far-ranging, boundary defying music -- which would have been far, far off the radar had it not been for her success on the prior record -- has finally found a wider audience. This album came after several tantalizing country-related one-offs, in particular a couple of fine live duets with Willie Nelson that really made me sit up and take notice (I would love it if those two did a whole album together!). Willie didn't make it onto this album, but Jones does duet with Dolly Parton, on the bouncy "Creepin' In," which was a minor hit on the Americana radio scene. I wouldn't argue that this album is more, or less "jazz" than the last, but it certainly shows a growing confidence and comfortablity on Jones's part, and steady growth as an artist. I'll also be interested in her future efforts... and I'm very much hoping that there really will be a Norah Jones-Willie Nelson duets album, someday soon.
The Little Willies "The Little Willies" (Milking Bull, 2006)


Norah Jones "Not Too Late" (Blue Note, 2007)



Norah Jones is a hard act to follow... especially when you are Norah Jones. The vast, universal commercial success of her first album set Jones up for endless sniping from the too-cool set, the would-be giantkillers of indiedom whose sworn duty is to find fault with anything successful or sellout-y... Yet, despite the obligatory sniping and second-guessing, Jones continues to rise above the flood and do what she does best: make good music. Not Too Late is another fine, narcotically alluring album, with a few rough edges thrown in to keep folks on their toes. On several songs Jones displays a strong I-wanna-be-Tom-Waits, Kurt Wiell-ish streak, including the softly apocalyptic "Sinkin' Soon" and the politically-themed "My Dear Country." She also takes nods towards classic rock, lifting phrases from Neil Young's "Helpless" and Steely Dan's "Dirty Work," along with her own trademark mellow mix of jazz, country and soul. It's this kind of cheerful, unapologetic acknowledgement of the past that makes Jones so special: while the American entertainment industry continues to pump out endless die-stamped, personality deficient overnight stars, Jones is a throwback to a time when musicians studied music. If you can believe her press, she hangs out with friends, goes to bars, jams a lot, and (obviously) listens to a lot of cool old stuff from a lot of different genres. It shows in her music, and Jones -- no matter what her detractors may say -- remains one of the most substantive performers of our time. Once again, she has crafted an album that lulls listeners into a trance... After the first couple of tunes, it grows soft and fuzzy around the edges and suddenly ends before you've realized the time has gone by. This speaks, I think, to her ability to craft a fine album, rather than a few salable singles. Not Too Late may not have the snuggly universal appeal of its predecessors, but it is a very good record, one that will hold up over the years and shows continued growth from one of America's best, most intelligent young artists.
Norah Jones "The Fall" (Blue Note, 2009)


Norah Jones/Varous Artists "...Featuring Norah Jones" (Blue Note, 2010)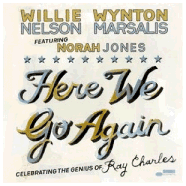 Willie Nelson/Wynton Marsalis/Norah Jones "Here We Go Again: Celebrating The Genius Of Ray Charles" (Concord, 2011)



(Produced by Jeff Jones)
Willie Nelson doing a Ray Charles tribute? Sounds pretty cool. Willie doing more stuff with Norah Jones? I'm all for it. Both of them working with fly-in-amber jazz preservationist Wynton Marsalis and having his band anchor the project? Hmmmm. Well, I don't want to prejudice myself against this concert album before giving this a fair shake... I mean, two out of three ain't bad, right? So here's the deal: Willie and Ray are a good combo: starting out in the early 1960s, they were both cross-stylistic trailblazers who mixed country, jazz and pop in unexpected ways, and they both know how to play hard as well as croon a sweet tune. They worked together in the '80s, and if anyone's going to have a handle on the less-obvious aspects of the Ray Charles canon, it should be Willie Nelson. And indeed, both he and eclectic folk-jazz-pop diva Norah Jones deliver sweet, soulful, subtly funky vocal performances, all of which is routinely overshadowed by Marsalis and his band, who take a sledgehammer approach to the music -- mechanical, unimaginative, "funky" and "swinging" in only a narrow, technical sense, generally heavy-handed and full of note-heavy, showboating solos. The musicians alternate between sleek, tight arrangements -- which feel canned and inert, as opposed to Charles's sleek, economical originals -- and intrusive, cookie-cutter jazz solos which pull the listeners out of song after song. Repeatedly, just as I found myself being seduced by a song, someone in Marsalis's crew would cut in with an emotionally flat but musically dominating riff that would break the spell. They're trying to generate heat, when they should be playing it cool. Finally, I gave up and took most of these songs out of my playlist, hanging on to a few of the tracks that showcase Jones: "Come Rain Or Come Shine," "Cryin' Time," and -- reluctantly, perhaps out of a sense of obligation -- "What'd I Say." Willie sings really well on several songs, but they are inexorably ruined by the uber-professional jazz cats, and I couldn't hang with it. Oh, well.
The Little Willies "For The Good Times" (Milking Bull, 2012)


Norah Jones "Little Broken Hearts" (Blue Note, 2012)


Norah Jones & Billie Joe Armstrong "Foreverly" (Reprise, 2013)



If you asked me, I would have had a pretty hard time coming up with a more unlikely vocal duo than Green Day's Billy Joe Armstrong and roots-jazz chanteuse Norah Jones... And the two of them doing an Everly Brothers tribute album? Oy geyvalt! Maybe Jones is no big surprise here -- she's long since proven herself one of the most eclectic artists in contemporary American pop -- but Billie Joe has always had unexpected depths as well, and I say more power to him for going all roots-twang for a change.
---
Links
---
---