<! cd=11/20/05> <! MP3 04/19/09 > <! update 00/00/00 > <! outside 00/00/00 > <! pix 00/00/00 > <! 208-pix: 00/00/00 > <! icons 03/29/11 >
---
Texas singer-songwriter Robert Earl Keen is one of the iconic figures of the Texas/altie/Americana scene...
---
Discography
---

Robert Earl Keen, Jr. "No Kinda Dancer" (Rounder, 1984)



The first album by this Texas indie icon, well-known pal of Nanci Griffith and Lyle Lovett, Panhandle poet, songsmith and troubadour... I gotta say, this is something of a hit-or-miss affair as far as I'm concerned. I appreciate the indieness of it all, but many of the songs seem a bit strained, and lack the simplicity I yearn for in music, particularly music of the singer-songwriter variety. I liked the faux-gospel novelty song, "Swervin' In My Lane," the gentle "Young Lovers Waltz," and the relaxed vibe of "Rolling By..." But a lot of the more self-consciously poetical songs, like "The Armadillo Jackal" and "No Kinda Dancer" hearken back to the strained, overly "literary" profundity of Townes Van Zandt, and simply feel too workmanlike, and not that much fun to listen to. I suppose you can appreciate the craftsmanship, but it's also nice to have that special magical ease as well... I dunno. Maybe I'm just too picky, but I can't say I've ever been all that drawn in by Keen's work... You have to try too hard to get into it...

Robert Earl Keen, Jr. "The Live Album" (Sugar Hill, 1988)



Keen plays to an appreciative hometown audience in Dallas, Texas' Sons of Hermann Hall, running through some of the best song of his career to date. This stripped-down acoustic set is a nice format to capture his strengths -- you can hear the smile in his voice and sense the twinkle in his eye... Includes a fine version of "The Front Porch Song," wherein he gives the song's back story, all about the good old days with Lyle Lovett, when they were pickin', plunkin' college buddies. The band is basically a bare-bones three-piece, with Keen on vocals and guitar, Roy Huskey, Jr. thumping on the bass, and Jonathan Yadkin sawing on the fiddle and strumming the mandolin. It's pretty good... If you're looking for a place to start exploring Keen's ouvre, I'd say this disc is a mighty fine choice. Very nice version of "I Would Change My Life," by the way.

Robert Earl Keen, Jr. "West Textures" (Sugar Hill, 1989)



This is a solid, well-sculpted album of story-songs and catchy country ditties that follows very much in Guy Clark's singer-songwriter footsteps... Keen does have a tendency to over-write his material, though, which is accentuated here by the Sugar Hill label's tilt towards too-perfect production. Several of the musicians on here are bluegrass-mafia heavyweights: Jerry Douglas, in particular, overplays horrendously on several otherwise subtle tunes. All in all, though, this is a pretty nice record, and a fave of many in the Americana orbit. Definitely worth checking out.
Robert Earl Keen, Jr. "A Bigger Piece Of Sky" (Rosetta, 1993)


Robert Earl Keen, Jr. "Gringo Honeymoon" (Sugar Hill, 1994)


Robert Earl Keen, Jr. "No. 2 Live Dinner" (Rosetta, 1996)



Robert Earl Keen, Jr. "Picnic" (Arista, 1997)



This is a pretty glossy effort, with Keen trying out a new, big, rock-tinged approach. It's nice to hear him concentrating more on the melodies, but the production may be more of a distraction than a selling point. Still, it ain't bad. If you like brainy roots-rock, this is a fine record to check out.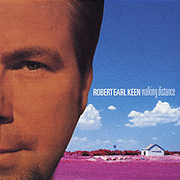 Robert Earl Keen, Jr. "Walking Distance" (Arista, 1998)



Fellow Texan Gurf Morlix helps craft a friendly, bouncy, melodic sound on this funky, freewheeling country-rock outing... Keen's vocals (and his lyrics) get a little buried in the mix, but the record has a nice fun feel to it. It's one of his best and most accessible albums... Recommended!

Robert Earl Keen, Jr. "Gravitational Forces" (Lost Highway, 2001)



Robert Earl Keen, Jr. "Farm Fresh Onions" (Koch/Audium, 2003)



In a whimsical mood, Keen croons some funky, goofy ditties like "Floppy Shoes," "Gone Again," and the title track... He's got a way with the glib, catchy melodies and kooky turns of phrase, and though none of these songs really grab me on an emotional level, they all feel kind of jaunty and fun, which is a nice change of pace from the would-be profundity of Gravitational Forces. Standout tracks include "Here In The Middle," which laments the plight of everyday folks, those of us without ridiculous amounts of power and wealth (the ones Bill Clinton famously defended for "playing by the rules," then getting screwed by those who don't...), who can't get ushered into private rooms at posh restaurants, or count on their cars being safe when they park on the streets... Some of the trippier rock-flavored passages (as on "Beat The Devil") are stylistically alienating, but the acoustic based tracks are pretty captivating. Worth checking out.
Robert Earl Keen, Jr. "Live From Austin, TX" (New West, 2004)



Robert Earl Keen "What I Really Mean" (Koch, 2005)



(Produced by Rich Brotherton)
As wordy and Jerry Jeffish as ever, good ole REK is looking back on wild times and youthful love of music's romance, with a solid backing band that helps him get a little funky and loose, as well as back to a more "country" sound, anchored to twang in a way his last couple of records were not... Ex-Bad Liver leader Danny Barnes is there, pitching in on banjo, and bandmember Marty Muse adds some solid steel licks that sweeten many a song... Standout tracks include absurdist ditties like "Mr. Wolf And Mamabear," which paraphrases urban grit into storybook language, and "The Great Hank," which pictures a phantasmic, cross-dressing ghost of Hank Williams as a spirit of country dreams gone by, and "A Border Tragedy," yet another tale of Tex-Mex alcohol adventuring, with a cameo vocal by the great Ray Price... I still can't really get on Keen's wavelength, but this new disc will provide grist for his fans and adds a few new good singalong tunes for his live shows... Folks who were turned off by the pop leanings of Gravitational Forces and Farm Fresh Onions will be cheered by the twangier inclinations of this new album.
Robert Earl Keen "Live At The Ryman: The Greatest Show Ever Been Gave" (Koch, 2006)


Robert Earl Keen "The Rose Hotel" (Lost Highway, 2009)


Robert Earl Keen "Ready For Confetti" (Lost Highway, 2011)



(Produced by Lloyd Maines)

---
Best-Ofs & Tributes
---
Robert Earl Keen, Jr. "The Party Never Ends" (Sugar Hill, 2003)



A best-of collection

Robert Earl Keen "Best" (Koch, 2007)



A rock-solid set, highlighting songsmith and Americana auteur Robert Earl Keen at his best. Includes fan faves such as "Merry Christmas From The Family," "Corpus Christi Bay," "Ride" and Keen's homage to the alt-country elders, "Willie." There are studio tracks and bravura live performances alike, with contributions from folks like Joe Ely, Nanci Griffith, Lyle Lovett, pedal steel whiz Lloyd Maines, and ex-Bad Liver Danny Barnes, plunkin' a mean banjo. This is a great portrait of a key alt-Texas artist... the perfect introduction to his work!
Various Artists "UNDONE: A MUSICFEST TRIBUTE TO ROBERT EARL KEEN" (Thirty Tigers, 2009)


---
Other Media
---
Robert Earl Keen "Live From Austin, TX" (DVD) (Rosetta, 2001)


Taken from a performance on the fabled Austin City Limits TV show...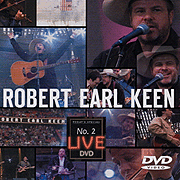 Robert Earl Keen "No.2 - Live" (DVD) (Koch/Rosetta, 2005)



Keen plugs away during an intermission show at a Texas rodeo... The repertoire features some tried and true oldies and some newer tunes... The filming is professional and solid, though also willing to embrace the unglamorousness of the setting, even giving glimpses of detached audience members (including a small boy who had fallen asleep), all of which adds to the just-normal-folks vibe that this Americana icon has embodied for years. A good, solid performance from under the Nashville radar.
Robert Earl Keen "Live At The Ryman: The Greatest Show Ever Been Gave" (DVD) (Koch, 2006)

---
Links
---
---