<! MP3 04/20/09, 11/29/10- several adds, 03/26/11 - links to numerous Dualtone albums kaput > <! update 04/20/09, 11/29/10, 03/26/11 > <! outside 00/00/00 > <! pix 11/29/10 - a couple of adds > <! 208-pix: 00/00/00 > <! icons 11/29/10 >
---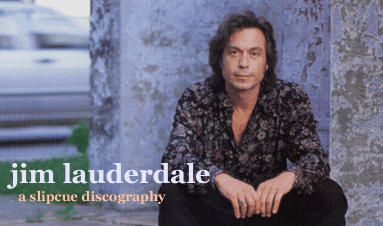 Jim Lauderdale is a super-successful yet idiosyncratic Nashville songwriter who has enough of a hard country streak that his own work qualifies as "alternative country" for anyone who's paying attention. Lauderdale's songs have been covered by Top 40 stars such as George Strait, Mark Chesnutt, the Dixie Chicks and Vince Gill, yet his own records have an unpolished, scraggly quality which belies this mainstream success. Lauderdale's voice is also a little iffy around the edges, which, for folks coming from the "altie" side of the tracks, is a big part of his appeal. Country fans of any stripe who are checking this guy's work out will find a lot to reward them.
---
Discography
---
Jim Lauderdale "Point Of No Return" (1989/Westside, 2001)


Originally this album remained unreleased after it was recorded in 1989, but is now available as a British import. I haven't heard it yet, but when I do, I'll give you all a full report.

Jim Lauderdale "Planet Of Love" (Reprise, 1991)


(Produced by Rodney Crowell & John Leventhal)
In retrospect, Lauderdale's debut album, co-produced by John Leventhal and Rodney Crowell, has an air of improbability to it... what were they thinking, recording this fella with the weird voice? But in the wake of Dwight Yoakam's neotrad triumphs, and Rodney's own unexpected Top Ten success, who knew what to expect?? The rocker-ish album art is a little embarrassing, but the music inside is a gas, even with the trappings of commercial country that come with it. It definitely gave the world a sense of what to expect from this iconoclastic tunesmith... Plus, I find a lot of it to be pretty fun!


<! original issue: B000008HLI >

Jim Lauderdale "Pretty Close To The Truth" (Atlantic, 1994)


A fairly conventional sounding neo-country Nashville album, with arrangements that range from catchy to mildly dreary. Alt-y pickers Gurf Morlix and Buddy Miller both pitch in, along with a bunch of other hotshot pickers; Lauderdale has some swell songs on here, though his vocals seem a bit stiff, as though he hasn't quite given himself full permission to just kick back and enjoy himself as a performer, so he stumbles and exaggerates his twanginess instead. Still, this ain't a bad album if you can still track it down, particularly with songs like "Don't Trust Me," on it (probably the album's highlight). When he croons or tries to get all soul-singerish, he kind of reminds me of J. D. Souther. Definitely worth checking out.

Jim Lauderdale "Every Second Counts" (Atlantic, 1995)


This one's an out-and-out disaster, at least to my way of listening. It seems like a sincere attempt to package Lauderdale as a marketable Top 40 artist, rather than as an oddball songslinger with one foot firmly planted in the alt.country scene. The production is simply too brawny and unrelenting, a roots-rock wall of sound that leaves Lauderdale's somewhat, um, idiosyncratic vocals hanging in the wind. He simply doesn't have the vocal smoothness to pull something like this off, and the overall effect -- of his odd, individual vocal style pitted against some gigantic Nashville wall'o'sound -- is rather alienating. It's lamentable, yet I suppose inevitable, that he'd have to take this path at least once.

Jim Lauderdale "Persimmons" (Upstart, 1996)


One of Lauderdale's best albums! Another fine set of his unique brand of propulsive, soulful country toungue-twisters... Hard to imagine how many other artists could wrap themselves around these lyrics, but it sure is fun listening to Lauderdale dance his way through the melodies. The band is consistently bouncy, with Al Perkins playing pedal steel on several tracks, and Emmylou Harris and Buddy Miller chiming in on a song or two. A solid production -- definitely worth checking out!

Jim Lauderdale "Whisper" (BMG/BNA, 1998)


This disc starts off on very solid footing, with throaty renditions of songs that you could easily imagine them Top 40 fellers covering. Among the opening gems is "She Used To Say That To Me," recorded in a gender-flipped version by Kelly Willis, one of Lauderdale's fellow semi-alt country cohorts. The arrangements are all pretty straightforward -- tightly-crafted, melodic hard country that can rest comfortably inside the "new traditionalist" Top 40 sound, but is sweet and old-fashioned enough to make honkytonk fans happy as clams. A few songs fall a little short, as Lauderdale strains to get us past the set up, but things perk up again by album's end, especially on the closing track, "I'll Lead You Home," a bluegrass number with Ralph Stanley and the Clinch Mountain Boys in tow. The only thing that could top that little trick is if he did a whole album with Ralph Stanley!

Jim Lauderdale & Ralph Stanley "I Feel Like Singing Today" (Rebel, 1999)



Seek and thou shalt find; ask and thou shalt receive. This is a really, really, surprisingly great record. Lauderdale says he's been a Stanley Brothers fan since he was a teenager, and it's clear listening to this disc that he has a real feel for the style. But Lauderdale's take on bluegrass is unique: he doesn't exactly follow the same path as other Stanley devotees might. As with his country material, his bluegrass songs run slightly off-kilter, taking strange momentary diversions and digressions. For the most part he sings heart songs, with a couple of well-chosen gospel tunes thrown in for good measure, but his original tunes are a little bit weird, and a little bit haphazard, sort of in a throwback to the asymmetrical meters of the pre-bluegrass old-timey music. What's amazing is how well his style meshes with that of a hyper-traditionalist like Ralph Stanley, and how original his approach is. The two sound totally at ease with each other, and even though the song structures are sometimes a little weird, it all sounds completely fluid and natural. In addition to a bunch of Lauderdale originals, there are also a couple of collaborations with Dreadful Grate lyricist Robert Hunter, and well-chosen covers of songs by the like of Alfred E. Brumley and Harold Hensley, as well as the expected, obligatory Stanley Brothers tune. It's all really good. Highly recommended.

Jim Lauderdale "Onward Through It All" (BMG/RCA, 1999)


I think this may be my favorite Lauderdale album, overall... It's packed with punchy, propulsive, clever, playful, skillfully melodic songs, and has the feel of an actual band making music for fun. I dunno; it just works; it sounds fun. Lauderdale kind of lets go of his love of intentionally awkward passages, and plays it straight for once -- the results are definitely worth it. Highly recommended -- other than the albums made with Ralph Stanley, this is the Lauderdale record I would steer folks towards first.

Jim Lauderdale "The Other Sessions" (Dualtone, 2001)



Lauderdale sticks to a hard country, honkytonk muse on this one, a back-to-basics Texas shuffling album that sure made my ears perk up. There are glossy Nashville touches, sure, but if only every Nashville album sounded so vigorous and fun. Includes goofy pop material like "First Things First," and world-class weepers like "I'd Follow You Anywhere..." You just gotta love a record like this! ...At least I do!


<! 03/11: B002OQLZFW MP3 link kaput :-/ >
Jim Lauderdale & Ralph Stanley "Lost In The Lonesome Pines" (Dualtone, 2002)



The followup to the first Stanley-Lauderdale album is nothing if not even more fabulous, if for no other reason than that there are even more of Lauderdale's compositions on here. Yeah, sure, there's one Bill Monroe cover, but otherwise it's all new, original material. There are a couple more collaborations with Robert Hunter, as well as with the under-recognized country songwriter, Shawn Camp. Once again, Lauderdale's unique, slightly askew take on bluegrass and old-timey music is both wholly convincing and wholly original. It's fun to listen to, but also a bit of a mind-bender when you realize how unconventional these songs are, and yet how soulful and authentic sounding -- it's almost as if some Tom Waits-y bohemian oddball had been plunked down in the Appalachians a century ago, ala "A Connecticut Yankee," and had rewritten the bluegrass canon, starting back in the year zero. It's cool stuff. Highly recommended.


<! 03/11: B002OLET9G MP3 link kaput :-/ >

Jim Lauderdale "The Hummingbirds" (Dualtone, 2002)



Hmmm. I dunno. For some reason this album seems a little scattershot, particularly as it comes in the wake of several excellent previous album, and was co-released at the same time as the Lost In The Lonesome Pines bluegrass album, which is nothing short of stellar. Here Lauderdale bobs back and forth between styles -- Nashville neotrad, but with a spazzy urgency, indie-ish acoustic material, even a stab at swing ballads. I guess it strikes me as sounding too self-conciously craftsmanlike, with the additional twist that the songs don't hang together too well. I might just be being a little too harsh, though, and will give this a few more listens when time allows...


<! 03/11: B002ORT71A MP3 link kaput :-/ >

Jim Lauderdale & Donna The Buffalo "Wait 'Til Spring" (Skycrunch, 2003)



An unusual and surprisingly effective pairing of Lauderdale, the square-peg Nashville songwriter, and bluegrass jam band, Donna The Buffalo. It's kinda weird, but I guess I like it: I can't say as I've ever been that impressed by DTB's work to date (though Tara Nevins' solo albums have been pretty impressive...) yet working with Lauderdale puts a whole new spin on their sound. This album has a pronounced boogie-blues, roots-soul feel to it, sounding vaguely Van Morrison-y at times, and with the band's more old-fashioned Dreadful Grate side coming through loud and clear (think: Cumberland Blues era Dead...) And, yet, there's something odd and spontaneous about this creative pairing that makes this album compelling -- I found myself caught up in most of the songs, during a couple of different auditions, and though there was a vague sense of it being a guilty pleasure, most of the album's songs are catchy and even downright hummable. Fans of Phish, Canned Heat, et al, will doubtless groove out on this, but there's plenty for Lauderdale fans to enjoy as well.


<! 03/11: B002OLGPRA MP3 link kaput :-/ >

Jim Lauderdale "Headed For The Hills" (Dualtone, 2004)



Lauderdale's been taking a somewhat hippie-ish bent recently, first on his preceding album made with the jovial jam band, Donna The Buffalo, and now with a set co-written with Dreadful Grate lyricist Robert Hunter. I gotta admit, this disc didn't really grab me -- it's not that I thought it was sucky or anything, rather that the songs all seem so amorphous and indistinct. The elements seem to be in place for the magic to happen, but it just didn't gel for me. Still, for those of us out in the Rainbow Nation, this record could be a real hoot. I'll try this again, though, and see if it grows on me...


<! 03/11: B00111VX44 MP3 link kaput :-/ >

Jim Lauderdale "Bluegrass" (Yep Roc, 2006)



(Produced by Jim Lauderdale, Randy Kohrs & Bil Vorndick)
Still one of the most idiosyncratic and successful artists working in country music today, Jim Lauderdale's also one of the most diverse, as this set of amped-up, oddball bluegrass originals amply reveals... Of course, his notion of "bluegrass music" goes well beyond the boundaries of what most folks working in the style would imagine, including the so-called "progressive" bluegrassers of the last few decades, who stretched the genre by incorporating a softer, folk-pop sound into the mix. As with his country compositions, however, Lauderdale goes off deep into the outfield, writing songs that have eclectic, obscure themes and lyrics that don't always rhyme or readily make sense the first few times you hear them. It's an often ungainly, assymetrical approach that nonetheless grabs your imagination: you might not be able to tell what he's talking about all the time, but you sure like listening to him sing. This disc hits closer to home, though, with original songs that evoke the mournful, country-tinged work of classic bluegrassers such as Jimmy Martin and Hylo Brown, with lost-love songs such as "I Shouldn't Want You So Bad" and "I'm Still Living For You..." You could just almost imagine them being recorded back in the 1950s, even with the extra little twists Lauderdale adds here and there... He's backed here by some fine session players, including guitarist Bryan Sutton and fiddler Luke Bula. Nice stuff... another winner from this American original!
Jim Lauderdale "Country Super Hits, Vol. 1" (Yep Roc, 2006)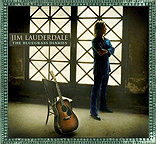 Jim Lauderdale "The Bluegrass Diaries" (Yep Roc, 2007)



(Produced by Randy Kohrs)
Lauderdale is an odd duck, that's for sure. He's written dozens of weird, asymmetrical twang tunes that shouldn't work as country hits, but do. In recent years, he's tilted towards bluegrass music, which in some ways is a much more conservative genre, and yet -- again -- his boundary-pushing songwriting style has been greeted with open arms, particularly after he cut two successful albums with trad-grass patriarch Ralph Stanley. This latest set seems geared towards Lauderdale's most faithful fans, although somewhere in the back of your mind you can imagine song after song working their way into the modern-day bluegrass canon. With solid pickers behind him and harmony vocals from folks like Cia Cherryholmes and Cody Kilby, Lauderdale sings with energy and authority... His style is still angular and idiosyncratic, but his vibe is just right. Plus, with songs co-written by Paul Craft, Shawn Camp and Melba Montgomery, this disc has talent to burn. Innovative and odd, like all his great records.
Jim Lauderdale/Various Artists "The American Beauty Project At Fine Arts Center, UMass, Amherst, MA: 11/16/07" (FestivaLink, 2008)


A Grateful Dead tribute project, featuring contributions from Jim Lauderdale and others...
Jim Lauderdale "FestivaLink Presents Jim Lauderdale At MerleFest: 4/26/08" (FestivaLink, 2008)

Jim Lauderdale "Honey Songs" (Yep Roc, 2008)


Jim Lauderdale "Could We Get Any Closer?" (Sky Crunch, 2009)


Jim Lauderdale "Patchwork River: Songs By Robert Hunter And Jim Lauderdale" (Emergent, 2010)



Jim Lauderdale "Reason And Rhyme" (Sugar Hill, 2011)



(Produced by Randy Kohrs)
Country auteur Jim Lauderdale's take on bluegrass music is as kooky and idiosyncratic as his approach to Top 40 songwriting, but since he's had so much success in both fields -- penning numerous Nashville hits and making two albums with the venerable Ralph Stanley -- I figure he's got the right to take a few liberties. This album is a collaboration with Grateful Dead lyricist Robert Hunter, who also takes a square-peg/round hole approach to Appalachian mountain music: the songs don't generally follow the standard-issue verse-chorus-verse/couplet/quatrain format, but somehow they all wind up being pretty compelling. I hear echoes of the blues-inflected, late-1950s/early '60s work of bluegrassers such as Jimmy Martin and Hylo Brown, both in the sincerity of Lauderdale's vocals, the purity of his sentiments and the caliber of the musicianship. A quirky, catchy album. Definitely worth checking out!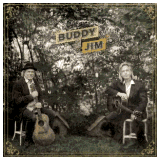 Jim Lauderdale & Buddy Miller "Buddy & Jim" (New West, 2012)



(Produced by Buddy Miller)
Two of Americana's most idiosyncratic country auteurs team up for an all-star twangfest that should turn a few heads... Both of these guys are old pros who are quite comfortable bending roots music's rules, and Lauderdale in particular can get pretty goofy when he wants to, but I think I detect Miller's hand at the helm as the album's producer, keeping them on track with solid, more traditional-sounding verse-chorus material, lines that rhyme and melodies that just won't quit. This album is packed with hard country twang, gritty blues and some subtle, sweetly romantic acoustic ballads to round things out. It's a rock-solid record, from start to finish, and sure to please fans from both sides of the fence. I'm hoping these guys will continue to collaborate, since this disc is a winner.
Jim Lauderdale "Black Roses" (Sky Crunch, 2013)



(Produced by Jim Lauderdale)



<! one of these was produced by Luther Dickinson, features Dickinson with Cody Dickinson, Spooner Oldham, Shannon McNally - includes the song "Taking The Rap" >
Jim Lauderdale "Blue Moon Junction" (Sky Crunch, 2013)



(Produced by Jim Lauderdale)

---
Links
---
Lauderdale's official website has all the usual -- a bio, discography, tour info and merchandising, and reflections on the art of writing popular country songs...
The Press Network has a nice profile of Lauderdale's career. Although it was originally posted in 1999, it's still well-written and a little more detailed than the one on Lauderdale's own site...
---