<! cd = 08/12/13 > <! MP3 08/12/13 > <! outside 00/00/00 > <! pix 00/00/00 > <! 208-pix: 00/00/00 > <! styles: Hippiebilly > <! UPDATES: 08/12/13 - posted, without post-Lowell live albums & best-ofs... also need new reviews for old albums >
---
Funky roots rockers Little Feat embodied the eclectic tendencies of the '70s, and the uneasy fate of artists who don't fit neatly into one little niche. Founded in 1969 by two SoCal alumni of Frank Zappa's Mothers of Invention, Little Feat laid down a sleek mix of funk, fusion, country and Southern rock. They were also possibly the hippest, most versatile rock band of the 1970s -- as loose and rhythmic as the Meters, but also as loud and rowdy as the Allman Brothers. The band flourished on freeform radio during the '70s and established itself as one of the best live acts in the country, grooving along until singer Lowell George's untimely death in 1979. The band, which had already been dealing with internal frictions, broke up after Lowell George passed away. They reformed in 1987, with a new lineup and took up touring and recording... Here's a quick look at their work...


<! Paul Barrere then released two solo albums, 1983's On My Own Two Feet (Mirage) and 1984's Real Lies (Atlantic). Richie Hayward was the drummer on Robert Plant's 1985 funk and new wave flavoured Shaken 'n' Stirred (Es Paranza). Keyboardist Bill Payne has always been a popular and busy session musician, as well as a songwriter, and during the band's first hiatus performed on a plethora of classic albums by many famous musicians including J.J. Cale, The Doobie Brothers, Emmylou Harris, Pink Floyd, Bob Seger, Linda Ronstadt, Jackson Browne, James Taylor, Bonnie Raitt, Stevie Nicks, and on and on. He was a guest performer on Bonnie Raitt's Sweet Forgiveness in 1977, which featured his composition "Takin' My Time." >

---
Discography - Best-Ofs
---
Little Feat "As Time Goes By: The Very Best of Little Feat" (Warner Brother, 1994)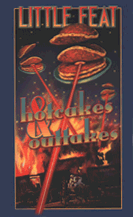 Little Feat "Hotcakes And Outtakes" (Rhino, 2000)


This 4-CD retrospective includes two discs of classic material, a third of rarities and outtakes, and a fourth featuring the 1990s work of the reformed outfit, this is a lavish treat for longtime fans, though it might be a little too much for newcomers. The band's original albums are also worth tracking down... in fact, they might be a little more fun!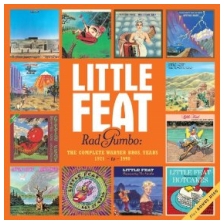 Little Feat "Rad Gumbo: The Complete Warner Brothers Years: 1971-1990" (Rhino, 2014)



The ultimate collection of classic Little Feat recordings... This 13-CD box set gathers all of their albums on Warner Records, including... well, you know -- all the good ones -- as well as an expanded, two-disc version of Waiting For Columbus, and a bonus disc of alternate versions and outtakes that were previously sprinkled throughout the Hotcakes & Outtakes collection, from 2000. If you thought Hotcakes was fun, but incomplete, well, this new monolith pretty much settles the question. All that's missing is Lowell George's fab solo album, though this is still pretty much everything hardcore Feat fans could hope for.
---
Discography - Albums
---
Little Feat "Little Feat" (Warner, 1971)


Little Feat "Sailin' Shoes" (Warner, 1972)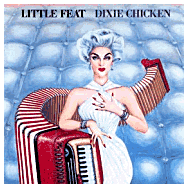 Little Feat "Dixie Chicken" (Warner, 1973)



Probably their best-known album, this includes the absolutely killer title track, and the equally dazzling "Two Trains," probably two of the tightest songs they ever recorded. This was their third album, recorded after the band briefly fell apart and came together again... Like most of their records, it's kind of uneven, but packed with interesting material and great musicianship. Worth it for those two songs alone.
Little Feat "Feats Don't Fail Me Now" (Warner, 1974)


Little Feat "Time Loves A Hero" (Warner, 1975)



Another uneven goodie from their early catalog... The title track is a classic, other nice tunes include the toss-off weeper, "Missin' You," "Old Folks Boogie," and their version of Terry Allen's "New Delhi Freight Train," one of their best "hits" of the decade. I like this album, but I also recognize its faults.
Little Feat "The Last Record Album" (Warner, 1975)


Little Feat "Waiting For Columbus" (Warner, 1978)



One of the great live albums of the 1970s...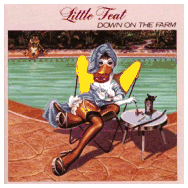 Little Feat "Down On The Farm" (Warner, 1979)



Mostly recorded before Lowell George's death, but completed and released posthumously, this is one of the band's poppiest (and most cohesive) records. I'm sure some Feat fans distain this album as being too wimpy, or too fluffy, but I totally dig it. There's plenty of great material on here, fun songs and strong performances. From the super-goofy title track to the heartfelt weeper, "Be One Now," this one's a winner.
Little Feat "Hoy-Hoy!" (Warner, 1981)



This live album was the second record posthumously released after Lowell George passed away, and it's another fine representation of the band's live chops...
Little Feat "Let It Roll" (Warner, 1988)


Little Feat "Representing The Mambo" (Warner, 1990)


Little Feat "Shake Me Up" (Morgan Creek, 1991)

Little Feat "Ain't Had Enough Fun" (Volcano, 1995)


Little Feat "Under The Radar" (CMC, 1998)


Little Feat "Chinese Work Songs" (Sanctuary, 2000)

Little Feat "Kickin' It At The Barn" (Hot Tomato, 2003)

Little Feat "Join The Band" (429 Records, 2008)


Little Feat "Rooster Rag" (Rounder, 2012)


---
Solo Albums & Related Records
---
Chico Hamilton "Chico The Master" (Stax, 1973)


The band's early lineup indulge their jazz chops, backing drummer Chico Hamilton on a funky early '70s set...


<! Payne, Gradney, Barrere, Clayton and George (credited as George Lowell) collaborated with jazz drummer on his Stax album >
Lowell George "Thanks, I'll Eat It Here" (Warner, 1979)



(Produced by Lowell George)
One of the great lost albums of the 1970s! On this solo outing, George let go of Little Feat's rougher edges, in favor of a mellower, more conventionally "pop" sound. The album covers blues, country and soulful rock -- plus, it's jam-packed with fun, enjoyable songs. My favorites include the mariachi-flavored "Cheek To Cheek," his versions of Rickie Lee Jones' "Easy Money," and the old Ann Peebles soul ballad, "I Can't Stand The Rain," as well as a great remake of the Little Feat classic, "Two Trains..." Heck, the whole album is great. Also includes a couple of mournful acoustic numbers that are some of the most melancholy tunes I know: "20 Million Things To Do" and "Find A River." A sweet, soulful album that stands up as one of his best efforts.
Paul Barrere "On My Own Two Feet" (Mirage, 1983) (LP)

Paul Barrere "Real Lies" (Atlantic, 1984) (LP)

Paul Barrere "If The Phone Don't Ring" (BMG, 1995)

Paul Barrere & Fred Tackett "Live From North Cafe" (Relix, 2001)

---
Links
---
---