<! cd = 08/13/14 > <! MP3 08/13/14 > <! outside 00/00/00 > <! pix 00/00/00 > <! 208-pix: 00/00/00 > <! styles: Alt-Country, Hillbilly Fillies > <! UPDATES: 08/13/14 - added, with link from Maria McKee >
---
One of the most dynamic (and successful) bands from the LA cowpunk scene of the 1980s, Maria McKee and Lone Justice vaulted out of the local clubs and onto the national stage, yowling out homemade rockers like "Soul, Soup And Salvation," to the eager ears of twangfans and rockers alike. The band was short-lived, but definitely left a mark -- here's a quick look at their work.
---
Discography - Best-Ofs
---

Lone Justice "This World Is Not My Home" (Geffen, 1999)



A dynamite best-of that includes some early, cowpunky demos, later live recordings (including a duet on "Sweet Jane," sung with Bono of U2) and all the hits and semi-hits the band had to offer. This is a very well-programmed collection which will keep you pumped up right up until the trio of tunes taken from the "Shelter" album, which suck the life out of the set as fast as you can imagine. But overall, this is a great document of a band in its prime.
Lone Justice "The Millennium Collection" (Geffen, 2003)


---
Discography - Albums
---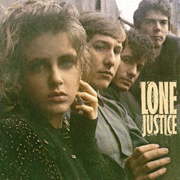 Lone Justice "Lone Justice" (Geffen, 1985)



When Maria McKee and her posse hit the scene with this slam-bang debut, they seemed like one of the most likely bands to bust LA's cowpunk scene wide open, bringing alt.country out onto the national stage. This album certainly had a lot of juice behind it: producer Andy Iovine had worked with Tom Petty and U2, and had plenty of rock'n'roll cachet; Geffen Records was a pretty spiffy gig, too, and then, of course, there was McKee herself, a snarly dynamo reminiscent of fiery country foremothers such as Wanda Jackson or the young Tanya Tucker. The album's highpoint is her twisting, explosive version of Petty's "Ways To Be Wicked," a clear indication of the firepower the band had at its disposal. They also had a mainstream feel to some of their songs, a too-smoothness to some of the production, that hinted at a possible switch to a more commercial, Nashville-ish country sound. But this disc still sounds pretty good, definitely worth picking up.

Lone Justice "Shelter" (Geffen, 1986)


Lone Justice "Radio 1: Live In Concert" (BBC, 1993)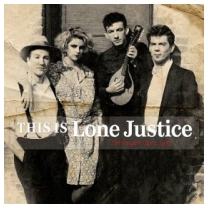 Lone Justice "This Is Lone Justice: The Vaught Tapes 1983" (Omnivore, 2014)



This album collects a dozen tracks recorded as demos in 1983, nearly two years before their 1985 major-label debut. The energy and audacity, the band's freshness and distinctive, sassy sound are all there, and fans will be pleased to hear how tight they sounded, even in the early days. What's not on display is much stylistic variety: the thumping bass/drum rhythm backbeats sound identical on pretty much every track, which in hindsight makes it easier for us to appreciate the interference of evil, meddling label execs who managed to take this explosive young band and give them a more subtle, varied sound. How much you "need" this new record depends on how devoted you were to the band in the first place: casual listeners who already own the first album might not find much new here, although diehard fans -- especially those who were turned off by the softer sound of their second album -- will delight in the pure twang on display here. A nice archival memento from an era when little old LA looked like it would revive West Coast country all by itself.
---
Links
---
---