<! cd=7/10/04> <! MP3 04/19/09, 10/01/10 > <! update 04/19/09, 10/01/10 > <! outside 00/00/00 > <! pix 00/00/00 > <! 208-pix: 00/00/00 > <! icons 10/01/10 >
---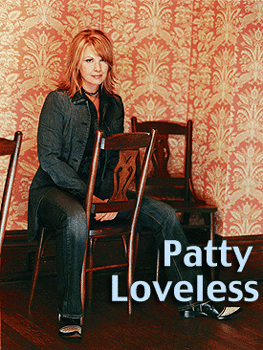 Patty Loveless is a trad-country lover's dream, a strong-voiced, soulful singer who's proud to call herself a hillbilly, and makes some kickass records to prove it... Although she's always been a gutsy, rootsy singer, yet she still did fine in the Nashville hit parade... After a flirtation with the glossier end of the modern country scene, Loveless regrouped and got back in touch with her honkytonk and mountain roots, and carries the torch for the hard country crowd. One of the consistently best-sounding top country artists I know, Loveless has had album after album of pure country goodness... Here's a quick look at her career...
---
Discography
---
Patty Loveless "Patty Loveless" (MCA, 1987)

Patty Loveless "If My Heart Had Windows" (MCA, 1988)


Patty Loveless "Honky Tonk Angel" (MCA, 1988)



Mostly, this is pure gold. Her trad-country tunes are a delight, with simple, straightforward production, and sweet guitar work by Albert Lee, fiddlin' by Mark O'Connor, and a crisp little band that follows her lead. She has her missteps (the dreadful, Aaron Neville-ish soul ballad, "If You Think," written by Kostas... bleahh!) but these are far outweighed by the pure, delicious country corooning that surrounds them. This album rocks!

Patty Loveless "On Down The Line" (MCA, 1990)



(Produced by Tony Brown)
Working once again with producer Tony Brown and with pretty much the same band, this time around Loveless takes a much more commercial approach, which is kinda weird considering what a big hit her previous album had been. Still, there are plenty of songs that work in a mindless, melodic toe-tapping kinda way; kinda Dave Edmunds-y, I guess. She's still cooler than many of her Nashville compatriots, but there isn't much on this album that really resonates with me. Seems kind of slapdash.

Patty Loveless "Up Against My Heart" (MCA, 1991)



(Produced by Tony Brown & Emory Gordy, Jr.)
Kinda of a mixed bag, but mostly a welcome return to form. A few songs, such as the album's opener, "Jealous Bone," seem a bit forced and overproduced, but others have a nice, relaxed true-country vibe. Interestingly enough this includes the biggest hit on the album, "Hurt Me Bad," and "Can't Stop Myself From Loving You," which has a super Patsy Clined-out vibe. Also includes a nice cover of Lyle Lovett's "God Will," and some other little gems. This time around, Tony Brown shared the production chores with her hubby, Emory Gordy, Jr.: wonder who was pulling her in which direction?

Patty Loveless "Only What I Feel" (Sony, 1993)



(Produced by Emory Gordy, Jr)
You hear that opening track, with its cluttered, schitzophrenic pop-crossover production, and you think, Uh-oh...!! But then as the album unfolds, a sigh of relief spreads as Loveless pulls out one true country gem after another. There are several grand heartsong ballads on here, material worthy of George Jones and his acolytes... Productionwise, there are some mild missteps on a couple of tracks, and the album ends with a synthy, syrupy ballad, "How Can I Help You Say Goodbye," which has a distinctly Nanci Griffith-ish air about it, yet the rest of the album has just the right amount of twang to it. Another surprisingly rootsy album that's worth checking out.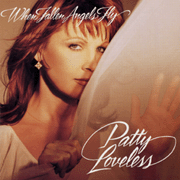 Patty Loveless "When Fallen Angels Fly" (Sony, 1994)



God bless Patty Loveless! At a time when so many of her country contemporaries were just phoning 'em in, Loveless still cared enough to record an album like this, a real country gem, with just a few minor nods towards pop commercialization. The inclusion of devastating ballads like "You Don't Even Know Who I Am," by Gretchen Peters, or Billy Joe Shaver's "Where Fallen Angels Fly" marks this album as a classic, while the perky, poppy single, "I Try To Think About Elvis" and bluesy material like "Old Weakness (Coming On Strong)" and "Feelin' Good About Feelin' Bad" add a rich stylistic depth. Even overtly sentimental fare such as the weepy "Ships" packs an emotional punch -- she's kind of like a more rugged-sounding Nanci Griffith, or Mary Chapin Carpenter with a better sense of humor. Anyway, this is another fine album, one with subtle charms and a powerful punch. Recommended!

Patty Loveless "The Trouble With Truth" (Sony, 1996)



Patty Loveless "Long Stretch Of Lonesome" (Epic, 1997)



(Produced by Emory Gordy, Jr.)
A fun, fulfilling album, easily one of her best, and miles beyond the formulaic efforts of most of her pop-oriented Nashville contemporaries. Loveless does right what the rest of Nashville does wrong: working with ex-Emmylou bandmember, producer Emory Gordy Jr., she strikes exactly the right balance between real roots and modern rock tendencies, keeping it country while finding a bright, contemporary feel. The anthemic upbeat numbers are all winners, and even the slower, more philosophical ballads are compelling, at least through the first couple of listens. George Jones, Kim Richey and Deborah Allen are among the guest performers, and several songs stand out, notably "I Don't Want To Feel Like That" and "You Don't Seem To Miss Me" (the duet with Jones). Recommended!

Patty Loveless "Strong Heart" (Sony, 2000)



(Produced by Emory Gordy, Jr.)
Her glossiest and most high-tech album, with sleek, shimmery arrangements courtesy of an EQ-happy Emory Gordy, Jr... Obviously they were hoping to hit a poppy formula ala Martina McBride, Sara Evans, Shania Twainet al, but they were only moderately successful, both aesthetically and commercially. Part of it may be Loveless' seeming inability to really throw herself into tacky-sounding arrangements; this album, though a turn-off to traditionally-oriented fans, may have been too tasteful and restrained to appeal to the modern Top Country crowd. For the territory, this sounds far better than many of the heavy-hitters in the genre: Loveless has a far superior voice to that of, say, Shania Twain, or any of the gals who resort to soul-inflected note-gliding to try and impress the rubes. Naw, Patty can actually hit any note she wants to, and sticks to each song's melodic and emotional core. Who the hell's gonna pay to hear that when they can listen to some Celine Dion wannabee instead? Nevertheless, Loveless manages to make this style sound good, in spite of itself, and while this disc is a mild letdown for folks who look to her as an avatar of true-country soulfulness, it's still relatively listenable, certainly not as repellant or shrill as so many other albums from the same era.

Patty Loveless "Mountain Soul" (Sony/Epic, 2001)



(Produced by Emory Gordy, Jr.)
An outstanding acoustic neotraditional album! Loveless is one of those folks inside Nashville's orbit who has always had just enough of an untamed edge to signal her enduring rural roots. Here, she lets her rough side drag, travelling the same backwoods path that Dolly Parton recently wandered, much to the delight of listeners who love old-style country and stringband music. Along on the ride are other neotrad types such as Alan O'Bryant, Ricky Skaggs and Emmylou's old pal, Emory Gordy, Jr., who helped produce the album. Several things stand out here: to start with, the material is all excellent, top-notch stuff, including bluegrass oldies by Don Reno and Ralph Stanley, as well as honkytonk songs like the old George Jones hit, "Just Someone I Used To Know" and a fine new-ish tune by Melba Montgomery. The music is also quite nice -- these are some of Loveless' most moving performances, perfectly framed by an understated, heartfelt band. Believe the hype on this one -- it's highly recommended!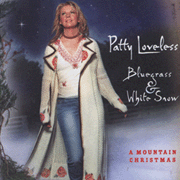 Patty Loveless "Blue Grass And White Snow: A Mountain Christmas" (Sony, 2002)



(Produced by Emory Gordy, Jr.)
It should come as no surprise that, as country Christmas records go, this disc by Patty Loveless is totally tops! Produced on the heels of her bluegrassy back-to-basics album, Mountain Soul, this is musically solid and pleasantly restrained, with simple, no muss, no fuss acoustic arrangements and heartfelt, sincere vocals. This doesn't sound like someone going through the motions and making a holiday record in order to cash in -- it sounds like someone who wanted to make a holiday record because they love the season, and they really wanted to have some fun, spreading a little holiday cheer. She mostly tackles standards -- "Silver Bells," "Silent Night," "Away In A Manger" -- and does it without making these old chestnuts sound drab or bombastic: it's down-to-earth and joyful, and just my kind of hillbilly holiday album! Recommended, and right at the top of the list. (PS - If you like Christmas records, you might also want to check out my Hillbilly Holiday section, which reviews plenty of other records with a yuletide cheer...)

Patty Loveless "On Your Way Home" (Sony/Epic Nashville, 2003)



(Produced by Emory Gordy, Jr.)
This 2-CD true-twang album is another Patty Loveless marvel, with a strong set of pure, rootsy, fiddle'n'steel drenched, downbeat-heavy neo-honkytonk/Americana tunes, with Loveless pledging her faith, once again in the holy power of good, old-fashioned, for-real hard country. This is a great record; way better than we've any right to expect for Nashville these days. This gal rocks.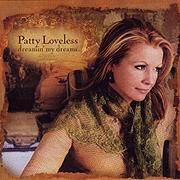 Patty Loveless "Dreamin' My Dreams" (Sony Epic, 2005)



(Produced by Emory Gordy, Jr. & Justin Niebank)
What with all the post-millennial hubbub over Nashville's Gretchen Wilson-inspired "return to roots" fad, you gotta figure a new Patty Loveless record will fit right in... And you'd be right! This disc isn't as raw as her Mountain Soul bluegrass album of a few years back, and it doesn't have many tracks that leap out as potential radio hits, but it's still pretty damn sweet, with Loveless showing a mastery over slow and mid-tempo material that few of her Music City contemporaries could hope to match. The record opens with a smouldering cover of Richard Thompson's "Keep Your Distance," setting the tone for an album that's got more depth than a wet well in West Kansas... The highlights include a couple of cover tunes, notably the title track, which matches the Waylon Jennings original in its mournful intensity, and a lovely duet with Dwight Yoakam on Bonnie Bramblett's "Never Ending Song Of Love," and a fine rendition of Steve Earle's "My Old Friend The Blues." Guitarist Albert Lee, a longtime collaborator in Loveless's sleek roots-pop mix, contirutes some fine licks while Jon Randall and Emmylou Harris also pitch in, but really the show is all Patty's. While this album is kind of low-key, it's a solid set that won't lose any of its luster as the years go by. Recommended! (One word of caution: folks who listen to music on their computers may be put off by the copy control encoding, so keep that in mind when considering picking this disc up...)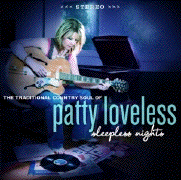 Patty Loveless "Sleepless Nights" (Saguaro Road, 2008)



(Produced by Emory Gordy, Jr.)
Awesome. Folks may hoot and holler about this or that new neotrad Top 40 star, but for good, old-fashioned, true-blue, dyed-in-the-wool, fiddle-and-pedal steel-drenched, real deal country music, I'll take Ms. Loveless over the whole lot of 'em. She and her husband, producer Emory Gordy, Jr., embrace the thumping backbeat and rugged simplicity of classic honkytonk like few of today's young'uns, and they feel little need to mix in modern R&B rhythms, synthesizers, or lofty, high-concept lyrics to make the music work. Indeed, they trust so thoroughly in the power of old-fashioned hard country music that they've recorded this gem of an album, which is packed with tough, heartfelt covers of a dozen classic hits from the 1950s and '60s, timeless songs like "Why Baby Why," "There Stands The Glass," "Window Up Above" "Please Help Me I'm Falling" -- old hits popularized by the stars of yesteryear such as Hank Locklin, Dolly Parton, Webb Pierce, Conway Twitty and Porter Wagoner. The spirit of George Jones, in particular, hovers over this celebratory hard-country lovefest -- Loveless taps into his sense of pathos and soulfulness, recapturing the emotional depths uncovered all those years ago, while putting her own indelible stamp on every song. To summon the sound of classic country, Gordy and Loveless enlist several old pros of the Nashvilel studio system, including Harold Bradley, Al Perkins and Hargus "Pig" Robbins -- familiar usual suspects who really know how to play this music right. A record like this is pure catnip for a traditionalist like me: this is Patty Loveless and country music at their best!

Patty Loveless "Mountain Soul II" (Saguaro Road, 2009)



(Produced by Emory Gordy, Jr)
A new set of richly-realized country ballads, with a firm root in country's twangy acoustic past. I'm a big Patty Loveless fan, and enjoyed many of the songs on here, although I have to confess that the album as a whole did not draw me in as much as I had hoped. Loveless and her producer-husband Emory Gordy, Jr. seem to be locked into a production style that, while it has given us many gorgeous recordings in the past, seems a bit static here. Perhaps best taken is small doses, this disc does offer some nice gems for fans of well-produced neo-trad country.


<! out Sept 29 >

---
Best-Ofs
---
Patty Loveless "Greatest Hits" (Universal, 1993)


Patty Loveless "Sings Songs Of Love" (MCA, 1996)



Patty Loveless "Classics" (Universal, 2000)


(Produced by Emory Gordy, Jr. & Tony Brown)
Nine big hits and three new singles: "Can't Get Enough," "I Just Want To Be Loved By You," and "My Kind Of Woman, My Kind Of Man," a duet with Vince Gill. It's a pretty cool collection, though there are a few songs they left out that'd be nice to have on here as well. Still, this is a mighty fine selection of her best-known work, and an excellent introduction to her work.
Patty Loveless "The Millennium Collection" (Universal, 2000)



A modest, 12-song best-of covering her early work on MCA... You might be better off checking ot the newer, more generous Definitive set, reviewed below.

Patty Loveless "The Definitive Collection" (Universal, 2005)



Well, now, wait a minute... If it doesn't have the George Jones duet, "You Don't Seem To Miss Me," on it, just how damn "definitive" can it be, really?? Oh wait, that was on a different label, right...?? So I guess we've gotta let it slide... Anyway, if you're looking for a good set of her early hits from 1985-92, on MCA Records, then this 22-song collection'll cover things pretty well... She started out with a heavy, heavy stylistic debt to Rosanne Cash, but found her own artistic voice soon enough... Pretty pop-oriented for the most part, but worth checking out. Includes all her Top Ten hits for MCA (as well as a couple from Epic, later on...) and some early singles as well, before she'd really made any big waves. Okay, I guess it is pretty definitive, after all...
Patty Loveless "16 Biggest Hits" (Sony-BMG/Epic-Legacy, 2007)


---



Hick Music Index



---
Top photo courtesy of FrontPage Publicity
---