<! cd = 11/22/03 > <! MP3 04/05/09 > <! update 00/00/00 > <! outside 00/00/00 > <! pix 00/00/00 > <! 208-pix: 00/00/00 > <! icons 03/14/11 >
---
Del McCoury is one of the great bedrock truegrass bandleaders, a disciple of Bill Monroe's generation of "high lonesome" performers who is also willing to branch out into new styles, while never losing the core of the music's sound. McCoury and his sons have emerged as leaders of the traditional bluegrass scene, and in album after album they have demonstrated their mastery of the style. Here's a quick look at their work.
---
Discography
---
Del McCoury "Del McCoury Sings Bluegrass" (Arhoolie, 1968)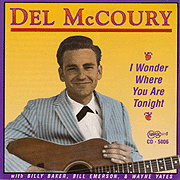 Del McCoury "I Wonder Where You Are Tonight" (Arhoolie, 1968/2002)



Del McCoury's very first recordings as a solo leader of his own band, working 'way up in the wastelands of the Northeastern USA... Along for the ride are bassist Dewey Renfro and banjo picker Bill Emerson (who is always a welcome presence on any bluegrass outing...) It's solid, rollicking, old-fashioned true-bluegrass made after McCoury's stint as a banjo plunker and guitarist with Bill Monroe's band, and it's very much in keeping with the classic Monroe "high lonesome" style. You can also hear McCoury's individual voice emerging, loud and clear, and even though these are early recordings made when he was really only a semiprofessional bandleader, you can easily understand how McCoury would become a major force on the bluegrass scene. Recommended!
Del McCoury "Collector's Special" (Grassound, 1971)

Del McCoury "Livin' On The Mountain" (Rebel, 1971)


Del McCoury "High On A Mountain" (Rounder, 1972)


Del McCoury "Del McCoury & The Dixie Pals" (Renovah, 1975)

Del McCoury "Live In Japan" (Copper Creek, 1980)

Del McCoury "Don't Stop The Music" (Rounder, 1988)



Del McCoury "My Dixie Home" (Rebel, 1990/2001)



Another rock-solid traditional bluegrass album, with one great song after another. Standouts include the sizzling title track, a murder ballad called "Eli Renfro," and "J.D. Jones," which updates old bootlegger stories for the '90s. What more can be said? This is great! (PS - the CD reissue includes a new, holiday-oriented track: "Call Collect On Christmas," a real tearjerker if ever there was one...)
Del McCoury "Blue Side Of Town" (Rounder, 1992)


Del McCoury "Deeper Shade Of Blue" (Rounder, 1993)


Del McCoury "Cold Hard Facts" (Rounder, 1996)


Doc Watson/Del McCoury/Mac Wiseman "Del, Doc & Mac" (Sugar Hill, 1998)



A swell collaboration between three of the most authentic, most moving, and most important traditional artists in the bluegrass/old-timey firmament. Each takes his turn singing, with accompaniment that is nothing less than stellar, and the results are precious and magical... Doc is sounding kind of old on here, but still drenched with soulfulness and warmth... And Del, of course, is rock solid. A very nice record... highly recommended!
Del McCoury "Family" (Ceili Music/Skaggs Family, 1999)


Del McCoury & Steve Earle "The Mountain" (E Squared, 1999)



Del McCoury "Del And The Boys" (Skaggs Family, 2001)



Flat-out, one of the best roots records you're going to come across, be it bluegrass, country, or folk. McCoury continues along in his country-flavored tradtionalism, a sound reminiscent of Jimmy Martin's glory years -- the band blazes away, and McCoury sings with unshakable emotion and conviction. The music is "modernized" by the introduction of new material into the bluegrass canon, but the music is solid high lonesome... One of the most electrifying moments on this new disc is a killer cover version of British folkie Richard Thompson's "1952 Vincent Black Lightning," an absolutely brilliant inter-genre move on McCoury's part... It's also a very moving song, in Del's ever-capable hands. The rest of the album is stunning as well: solid picking and great production. HIGHLY recommended!
Del McCoury "It's Just The Night" (McCoury Music, 2003)


Del McCoury "The Company We Keep" (McCoury Music, 2005)


Del McCoury "The Promised Land" (McCoury Music, 2006)


Del and the boys doing an all-gospel album? I am so in!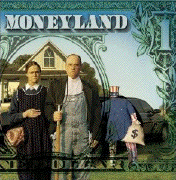 Del McCoury/Various Artists "MONEYLAND" (McCoury Music, 2008)



In a refreshingly angry album, bluegrass patriarch Del McCoury gives voice to the millions of Americans who are getting the the strong impression that we are all getting royally screwed, and that we may be seeing the death of the American Dream unfold before our eyes. With a few new songs of his own, and about a dozen tracks picked from albums by friends such as Merle Haggard, Marty Stuart, Mac Wiseman, Patty Loveless, Emmylou Harris and Gillian Welch, McCoury explores the burning shock and resentment that many people feel as they watch the federal government being used solely for the purpose of making rich people richer, while on numerous fronts -- education, disaster relief, flood prevention, clean air, clean water, clean food and other consumer protection -- the nation is failing to lift up and protect its citizens. Although he doesn't openly take sides politically, all that fingerpointing towards "fat cats" makes me suspect that Del might not be voting for McCain this year. The album opens and closes with snippets of two "fireside chat" radio speeches by Franklin Delano Roosevelt, inspirational, anti-monopoly messages that are still shockingly relevant here in the 21st Century. Although ballads about poverty and hard times were once art of the bedrock of country music, as the music "grew up" and became more pop, social messages started to become more like window dressing -- many of the Top 40 dudes like to sing gimmicky songs about the nostalgic joys of small town living, but their personal goals in life often include buying small islands and getting a nice tan in the Caribbean. Nashville is a notoriously conservative town, and it's refreshing (and surprising) to hear an album from a well-established musician (even a bluegrasser) that so forcefully criticizes a power structure in which the odds are so grotesquely tilted towards the upper, upper crust of the wealthy and powerful. In the liner notes, McCoury says this album is meant to stick up for the interests of rural America, folks on family farms, in small towns and mining communities, and for the old and infirm (his doleful version of "When I'm 64" gives the song a whole new shade of meaning...) While congratulating McCoury for the strength of his convictions, I'd also like to say that a lot of us who are living in the big cities are feeling the pinch, too. And we hear you guys, loud and clear.
Del McCoury "Old Memories: The Songs Of Bill Monroe" (McCoury Music, 2012)


Del McCoury "The Streets Of Baltimore" (McCoury Music, 2013)


---
Best-Ofs
---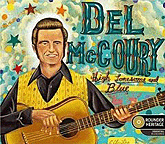 Del McCoury "High, Lonesome & Blue" (Rounder, 2004)


A tasty best-of set drawing on his Rounder years... (Terrible artwork, though... What were they thinking??)

Del McCoury "The Best Of Del McCoury - The Groovegrass Years" (Groovegrass, 2008)






<! Condon Music Group (?) > <! stripped-down recordings , with an electro-funk mix of "Can't You Hear Me Calling?" and a duet with Doc Watson on "More Pretty Girls Than One." >

Del McCoury & Preservation Hall Jazz Band "American Legacies" (McCoury Music, 2011)


---
Related Records
---

Ronnie & Rob McCoury "Ronnie & Rob McCoury" (Rounder, 1995)



The solo "debut" of Ronnie and Robbie, the mandolin pickin' and banjo-plunkin' progeny of truegrass elder, Del McCoury. Of course, these young'uns are long-seasoned performers, having played for years in their dad's band, but it's nice to hear the younger generation setting out on their own. Basically, this is a nice strong album, solidly rooted in tradition and full of good-natured, cheerful old-time twang. Some songs, particularly a few instrumentals, lack the drive and intensity of Del's best work, but even if these fellas sometimes sound more like the Osborne Brothers than their old man, that's still mighty fine company to keep.

Ronnie McCoury "Heartbreak Town" (Rounder, 2000)



Not straying far from the path laid down by his dad, Ronnie McCoury -- along with brother Rob, bassist Mike Bub, fiddlers Jason Carter and Stuart Duncan, guest pickers Bela Fleck, Jerry Douglas and David Grisman, as well as Papa Del -- has definitely got the real goods, and that true, blue high lonesome sound. Nice choice of material as well, including a Hoyt Axton tune, one by John Hartford's son, Jamie Hartford, and a slew of amazingly well-written originals. A relaxed, low-key album, but also a dazzler.
Parmley & McCoury "Families Of Tradition" (??)


Ronnie & Robbie McCoury partner up with David and Don Parmley for a sweet set of truegrass tunes... (Available through the Del McCoury website, below...)
Ronnie McCoury "Little Mo' McCoury" (McCoury Music, 2008)






<! kid's music >

---
Links
---
---