<! cd = 03/25/04> <! MP3 04/21/09, 03/27/11 > <! update 04/21/09 > <! outside 00/00/00 > <! pix 00/00/00 > <! 208-pix: 00/00/00 > <! icons 03/27/11 >
---
Look... Don't get me wrong: I'm not a diehard Reba McEntire fan or anything... far from it! This discography page came about as a result of working on my ever-expanding Commercial Country Guide, which, inevitably grew to include a bunch of Reba records. Now see, where I come from, all my snooty indie-country pals consider Reba to be a prime example of all that is worst about Top 40 country, but me being the broadminded fellow that I am, I figured, what the heck, give the gal a fair shake -- there must be something there I'll like. And there was... Not a whole lot (and far less than I expected) but some stuff that was okay to listen to from a traditionalist hick music perspective. Anyway, at a certain point I had so many Reba reviews that it just made sense to put them somewhere else, other than in the regular alphabetical reviews... So here ya go... An informed, critical opinion of the great Reba Nell McEntire, Oklahoma's homegrown Queen of Country Music...!
---
Reba McEntire Discography
---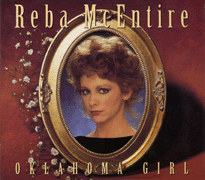 Reba McEntire "Oklahoma Girl" (Mercury/PolyGram, 1994)



A well-selected 2-CD set looking back at superstar Reba McEntire's early apprenticeship on the Mercury label, back in 1977-83, when her hitmaking career was at best a modest success -- once the #1 hits finally started coming in '82, '83, she jumped ship over to MCA, and really sank her teeth into the task of becoming a cheesy pop balladeer. Before that, Reba's rootsy side was much more prominent, and her pathway less sure. A rancher kid who worked the rodeo circuit as a teen, Reba was "discovered" by Western singer Red Steagall, who brought her to the attention of the folks at his label. On her early singles, she played all sorts of styles, including western swing and softcore honkytonk. She also took stabs at sounding like Loretta, Dolly and Patsy Cline, and finally landed one of her first Top 20 hits with a so-so cover version of "Sweet Dreams," a song most associated with Cline. In general, McEntire seemed caught between styles: her twangy country tunes had the most life to them, but they weren't what the label was looking for when they aimed for the charts, while the slower, more syrupy ballads still seemed alien to her. But as the 'Eighties opened up, her hits started to come and they were with the slow tunes, awkward as they were at the time. For hints at her true country past, this set is invaluable, and even though most of the tracks fall a little flat... it's also fascinating to listen to just in terms of being able to trace how an undisciplined, relatively directionless minor star was able to reshape herself into a hitmaking juggernaut, and the numerous false starts and experimental steps she took to get there. Hard to say what devoted Reba fans would make of this set: the material's a bit rougher than they may be used to, but it's still their gal... Overall, I wouldn't say this was all that great, but it's still kinda interesting. But since Polygram doesn't seem to be in any big hurry to reissue the original albums, this collection is probably the best way to go if you want to check out what she was like back in the Urban Cowboy years...

Reba McEntire "Reba McEntire" (Mercury, 1977)


(Produced by Jerry Kennedy & Glenn Keener)
Reba's debut, back when she was a plain ole country girl. Well... sort of. Here, she's cast as a generic softcore countrypolitan crooner, surrounded by mellow, Billy Sherrill-style strings amid amorphous, melts-like-butter ballads. The second half of the album gets a little more twangy, hinting at an interest in western swing, but overall there isn't much that's distinctive or robust about this album. Mostly it feels like the guys at the label were telling her what to do, and they best they could come up with was to cast her as just another "girl" singer, moving through the sort of soft pop ballads that had been big a few years ago, but were starting to sag in the charts in the late '70s. Gee, if only they knew... they had a superstar on their hands! But hey, everybody's gotta start somewhere.
Reba McEntire "Out Of A Dream" (Mercury, 1979)



She started moving to a more decisively pop sound, but Reba still managed to add a Partonesque country-girl song like "Daddy," which clumsily tells the saga of an Oklahoma farming family trying to hold things together (while their daughter makes it big as a star on the Grand Ole Opry!) A little overblown, but at least it had some twang. Plenty of drippy Crystal Gayle-ish countrypolitan to surround it, too, although I have to admit that I prefer these early songs to her later stuff... Jacky Ward sings a duet on "That Makes Two Of Us" a sappy, sentimental number reminiscent of the '70s sound.
Reba McEntire "Feel The Fire" (Mercury, 1980)



(Produced by Jerry Kennedy)
Still youthful, and not the overblown pop diva she would become, Reba chirps away on a cheerful, uncomplicated set of bland, pop-tinged country tunes, sounding like a young Anne Murray, with an extra little bit of twang and an amiable backbeat to buoy her up. Fans who prefer the profundity and sophistication of her later work might find this unchallenging, but folks who simply enjoy light, radio-friendly countrypolitan will enjoy this earlier incarnation. Resolutely mediocre and by-the-numbers, this offers few surprises but is perhaps better for its lack of pretensions.
Reba McEntire "Heart To Heart" (Mercury, 1981)



(Produced by Jerry Kennedy)

Reba McEntire "Unlimited" (Mercury, 1982)


Reba McEntire "Behind The Scene" (Mercury, 1983)


Reba McEntire "Just A Little Love" (MCA, 1984)



(Produced by Norro Wilson)
One of her first albums on MCA, with studio old-timer Norro Wilson producing the album. The title track opens the album, a woefully overdrawn white soul weeper, followed by a clumsy, synthy uptempo number that I think (eek) is supposed to represent her more "hard country" side. Scary thought. The album is drenched in bland, unthoughtful electric keyboard and synthesizer fills, often punctuated with generic sounding drum machines -- one of those '80s albums where they thought that just adding the synthy effects would make the record sound "modern," and hence, saleable. This also frees Reba up to croon freely, intoning over some truly goddawful, pretentious lyrics, as her considerable vocal weaknesses become fully exposed atop a sterile musical backdrop. If the truth be told, this is a really a pretty horrible record. Eminently avoidable.

Reba McEntire "My Kind Of Country" (MCA, 1984)



Hey, I almost hate to admit it, but this is a pretty good record, with Reba sticking to a nice, old-fashioned country shuffle vibe. The album had two big hits, the perky "How Blue," and a good version of Harlan Howard's "Someone Should Leave," both of which topped the charts. All the non-hit tracks are noteworthy as well... For the most part Reba keeps it simple, and it sounds pretty swell, in a Loretta Hagers/Mary Kay Place kinda way... Heck, she even covers a Connie Smith tune, "You've Got Me (Right Where You Want Me)" (!)Ê In 1996, Reba remade one song (naturally, the cheesiest thing on the album) called "Everything But My Heart," which here falls a bit flat, but at least it didn't have some dorky soprano saxophone on it, like the one she added later. There are slight hints of the slickness to come, but honestly, hard country fans could be happy & relatively unembarassed about picking this one up...

Reba McEntire "Have I Got A Deal For You" (MCA, 1985)



Wow! What a surprise. This is without a doubt one of Reba's best and most authentically "country" records ever. I actually... cough, choke... liked most of the songs on here -- the arrangements are clear and traditionally based, the lyrics and songsmithing are of a very high quality; Johnny Gimble's fiddle and Weldon Myrick's pedal steel are all over this album, and Reba's singing is pretty solid and down-to-earth. Seriously, this is a fine country record -- a keeper, even!
Reba McEntire "Whoever's In New England" (MCA, 1986)


Reba McEntire "What Am I Gonna Do About You" (MCA, 1986)


Reba McEntire "The Last One To Know" (MCA, 1987)



There are a few lingering traces of rootsiness -- a little dip into western swing here, a loping twang there -- and some of the more country numbers, like "I Don't Want To Mention Anything" and "The Girl Who Has Everything" are kind of likeable, while the slower ballads are predictably saccharine. Also includes the issue song, "The Stairs," which deals with domestic violence... Mostly this is a pretty sluggish album, an unsuccessful midway point between country roots and her more poppy leanings.


Reba McEntire "Merry Christmas To You" (MCA, 1987)



A decent commercial country Christmas album, with plenty of standards -- "O Holy Night," "The Christmas Song," etc. -- and a few new tunes. Her spoken intro to "Silent Night" is a nice little history lesson, and also lets her Dolly-ish Southern lilt come out. It's corny, cheesy material, for sure, but for the territory, this ain't bad. (By the way, if you like holiday records, you might also want to check out my Hillbilly Holiday section, which reviews plenty of other records with a holiday cheer...)
Reba McEntire "Reba" (MCA, 1988)



(Produced by Jimmy Bowen & Reba McEntire)
Totally pop, with Reba still pursuing that Sheena Easton sound. A couple of songs were okay, but not much here that moved me... Other than towards the "fast forward" button, that is.
Reba McEntire "Live" (MCA, 1989)



If you're hoping for a stripped-down, back to her roots kinda album... well, dream on, kiddo. This concert album has tons of wall-to-wall tinkly keyboards and big, big production, with a bouncy '80s synthpop feel. Oh, sure, there's fiddles and stuff on a few tracks, but she'd mostly channelling the spirit of Sheena Easton, rather than Loretta Lynn. A nice treat for fans, though, to hear concert versions of some of these tunes, and also to hear her tackle some country oldies towards the end of the album, stuff like "San Antonio Rose," "Sweet Dreams" and Dolly Parton's "Jolene."
Reba McEntire "Sweet Sixteen" (MCA, 1989)



One of her weakest albums, which kicks off with a so-so cover of the great old Everly Brother's hit, "Cathy's Clown," and then slides steadily downhill from there. On most songs, the band barely seems to be trying, and the material itself is markedly strained, and less "country" than it should be. One of the twangier numbers, "You Must Really Love Me," is kinda nice, but mostly these tunes are pretty leaden. When Reba tries to stretch out and do a little vocalese on "Little Girl," it's positively embarassing. "Cathy's Clown" was a pretty big hit, but this is a negligible album.
Reba McEntire "Rumor Has It" (MCA, 1990)



(Produced by Tony Brown)
This starts out with a couple of tunes that sound reasonably vigorous, and you might think, "oh boy -- a back to basics album!" But the rest of the album swiftly settles into the same-old tinkly keyboard, midtempo pop ballads material. So-so.
Reba McEntire "For My Broken Heart" (MCA, 1991)



Apparently this was her first album made after a tragic airplane accident that killed many of the members of her band... Another horrendous pop-country mishmash packed, naturally, with songs that shot up to the top of the charts. One slow song, "Bobby," is about a guy who goes to prison for killing his wife (because she was on life support) is pretty weird, though other than that, this is pretty standard Reba fare -- slushy, overwrought stuff, mostly pretty slow and sluggish, with vague glimmers of life here and there. Not my cuppa tea, but who am I to argue with all them Top Ten hits?
Reba McEntire "It's Your Call" (MCA, 1992)



More of her patented brand of super-strained pop-country crossover crooning, ranging from more sappy ballads to some truly embarassing R&B growling... By comparison, her perky synthpop tunes sound almost groovy. Vince Gill duets on one track, lamentably at his most Michael Bolton-eque, and by and large this is not an album I would ever want to revisit. The lyrical content on these songs is truly appalling -- amazing that Reba can get so many songwriters to write for her "voice," that half-spoken, artless delivery. Sheesh.
Reba McEntire "Read My Mind" (MCA, 1994)



Eww. Opening a country album with a soprano sax ("Everything That You Want") is a sure-fire turn-off as far as I'm concerned, and overall this album is too slickly produced and high-tech, too ballad-y and not twangy enough by half. I guess the more upbeat numbers are okay, "I Won't Stand In Line," and some of the ballads are okay as well, such as "I Wish I Could Tell You," but, really, this ain't my kinda country. The Whitney Houston-ish stuff is a drag.
Reba McEntire "Starting Over" (MCA, 1995)



Still working with MCA honcho Tony Brown, Reba trots through a series of cover tunes, many of which (song titles alone) may make all but the most diehard fans flinch. Still, some of these tracks are surprisingly good, particularly her "Please Come To Boston" and "Ring On Her Finger, Time On Her Hands..." Heck, even her "You Keep Me Hangin' On" is kinda alright. Other tracks, of course, are horrendous -- but hey, are we really all that surprised?
Reba McEntire "What If It's You" (MCA, 1996)



Ewww. An aggressively popped-out album, packed with pretentious lyrics, bulldozing arrangements and shrill crescendos; one of her most cringeworthy albums. I could kind of abide by "She's Callin' It Love," but every other song on here made me leap for the fast forward button. If you're a fan who wants a more upbeat Reba record, check this one out... but if you're an unbeliever in search of contemporary country music that isn't super-irritating, avoid this like the plague.
Reba McEntire "If You See Him" (MCA, 1998)


Mostly it's that tinky-tinkly piano stuff, but then at album's end Reba pulls out an old-fashioned honkytonk shuffle like "Wrong Night," that reminds us, improbably, that she's a real country gal after all. The title track is a weepy duet with Vince Gill that took them both to the top of the charts... and more power to 'em, I say!
Reba McEntire "So Good Together" (MCA, 1999)


Pretty glitzy, pretty glossy, pretty studio. Still, it's also pretty solid, and I suppose if you like this kinda stuff, this is a relatively strong album. I can't stand the pseudo-soul stuff though -- I find it embarassing for all concerned. And that cover of "We're All Alone" ...? Yikes.
Reba McEntire "The Secret Of Giving: A Christmas Collection" (MCA, 1999)


Reba McEntire "Room To Breathe" (MCA, 2003)


Reba McEntire "Reba Duets" (MCA, 2007)



McEntire sings with hitmakers such as Kelly Clarkson, Ronnie Dunn, Kenny Chesney and Justin Timberlake. Yikes.
Reba McEntire "Keep On Loving You" (Valory Music, 2009)


Reba McEntire "All The Women I Am" (Valory Music, 2010)



Wow...! Is this really her 34th studio album? Thirty-fourth? Not counting concert records? Or the TV show? Man, Reba has been one busy gal.
---
Best-Ofs
---
Reba McEntire "Best Of" (Polygram, 1990)


Reba McEntire "Reba Nell McEntire" (Polygram)


Reba McEntire "Greatest Hits, v.1" (MCA, 1997)


Reba McEntire "Greatest Hits, v.2" (MCA, 1993)


Reba McEntire "Greatest Hits, v.3: I'm A Survivor" (MCA, 2003)



Lucky you.
Reba McEntire "The Christmas Collection" (MCA, 2003)


Reba McEntire "50 Greatest Hits" (MCA, 2008)


Reba McEntire "Reba #1s" (MCA, 2005)



Thirty-five of her Number One hits, in a tidy 2-CD package. Yikes.
---