<! cd = 02/08/13 > <! MP3 02/08/13 > <! outside 00/00/00 > <! pix 02/08/13 > <! 208-pix: 00/00/00 > <! icons 02/08/13 > <! UPDATES: 02/08/13 - posted with new adds too > <! SUNDOWN HEAVEN TOWN album due out Sept. 16 on Big Machine Records. >
---
Tim McGraw graduated from regular-guy roots to super-mega country stardom in the 1990s... When he married Faith Hill, they became full-fledged Nashville royalty, and booked some of the biggest tour events of the decade. McGraw's way too "pop" for me, though like a lot of Nashville artists, he had some nice twang at the start of his career. Here's a quick look at his work...
---
Discography - Albums
---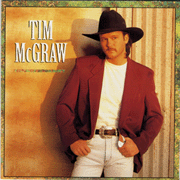 Tim McGraw "Tim McGraw" (Curb, 1993)



(Produced by Byron Gallimore, Doug Johnson & James Stroud)
In a time-honored tradition, Louisiana honkytonker Tim McGraw entered the fray with a solid album of honkytonkers, then adopted a more high-tech, ballad-oriented sound on albums to come. So here it is, his hard country debut - and the good news is, it ain't half bad! Most of the songs are pure pop-honkytonk, with simplistic word-game novelty lyrics, an unabashed embrace of the old-school commercial formulae of the 1970s and '80s... stuff that Moe Bandy woulda been proud to record, back in the day. This disc barely scratched the bottom of the charts, but it's certainly worth backtracking to, to check out McGraw's now dimly-remembered true country roots.

Tim McGraw "Not A Moment Too Soon" (Curb, 1994)



(Produced by Byron Gallimore & James Stroud)
The sideways slide starts here. The opening tracks wear their country roots on their sleeve -- the galloping, uptempo "It Doesn't Get Any Countrier Than This" is a little forced and too on-the-nose, but McGraw's tribute to his neo-trad hard country peers, "Give It To Me Strait," is an honestly enjoyable song. Unfortunately, they're both just window dressing to mask a steady slide into more pop-oriented mainstream mediocrity. McGraw made it to the bigtime, with about half the songs on here sliding into the Top 5... Unfortunately, it was the cheesier slow stuff, the overwrought ballads, that did the best, and, well, you can guess what lessons were drawn from that experience. It's a flawed sampling, though: his producers shortchanged listeners with the so-so quality of the uptempo tunes, as compared to the finely crafted, lofty, modern power ballads. The shoddiness of tracks like "Indian Outlaw" or "Refried Dreams" (both also kinda markedly un-PC), or the yuppie blues of "40 Days And 40 Nights" makes the "country" numbers stand out like sore thumbs -- no wonder the crappy pop stuff did better; it wasn't really a fair test. At any rate, the die was cast, and though McGraw would keep a low, throaty rumble and a honkytonk feel in his later albums, the money was to be made by going more pop, and that's exactly what he did...

Tim McGraw "All I Want" (Curb, 1995)



(Produced by Byron Gallimore & James Stroud)
This disc is slick, it had its hits, it has its rootsy elements... but man! Did he start to sound really irritating. There's something about the very tone of the album -- the high-end, tinny, treble tones that suffuse so many of these songs, and the way this plays into a sleek poppification of McGraw's overall sound. He's staking out new turf -- lifting himself out of the line-dancing, hat-act, good ole boy crowd and throwing in his lot with the high-concept, postmodern Nashville pop movement, the folks who wanna put country on the map as "real" art, packed with deep spiritual significance. Of course, there's still plenty of musical pandering going on, it's just that the audience manipulation is taking place on a much more subtle -- and in some ways, more insidious -- level. I personally find this kind of pop-country fusion less than satisfying; as they tart up their tunes with heavy production, newfangled musical ideas and weighty, pretentious lyrics, these Nashville folks are working three times as hard to find a singable chorus or to sculpt a song that makes your toes tap along. I'll concede that McGraw is a prime example of the best the style has to offer -- he's very skillful at it, and has a fine voice, which masks many of his stylistic excesses. Still, the Bryan Adams/Michael Bolton pop-schlock undertones that lurk just below the surface are enough to make the hackles rise on the nape of any true country fan. It may just be the still-transitional nature of this album that makes me feel this way: McGraw has leapt headfirst into a thoroughly modern sound, but there are still some kinks to work out in the mix. His fans love it, of course, so you might wanna take my crabby comments with a grain of salt.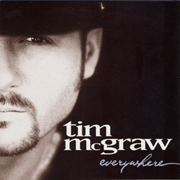 Tim McGraw "Everywhere" (Curb, 1997)



(Produced by Byron Gallimore, Tim McGraw & James Stroud)
Wow! Now, see, this actually backs up what I said before: McGraw was working his way to better things on his last record. And sure enough, here's this album, which I would have to say is a modern country masterpiece. First, let me point out that this is the first album that McGraw has a producer's credit on, and he uses the same smooth mix of true country instrumentation (particularly a warm, fluid, well-mixed pedal steel) and a flawless pop sensibility. His singing is fine, the songs are compelling and concise... the first half of this album is pretty close to perfect, considering the era it was produced in. Then, with the introduction of a couple of total clunkers in the middle of the disc -- "One Of These Days" and "Hard On The Ticker..." ugh. -- almost grind things to a total halt. McGraw regains his balance on the next couple of tunes, "Everywhere" and "Just To See You Smile," which tilt us back towards the sublime. I'd say, even with the moments of excess, McGraw has really found his creative voice on this one... But will he be able to keep the quality this high? Guess time will tell; meanwhile, give this disc a spin!

Tim McGraw "A Place In The Sun" (Curb, 1999)



(Produced by Byron Gallimore, Tim McGraw & James Stroud)
McGraw stumbled -- badly -- on this album, shifting from the sleek confidence of the Everywhere album into a woeful overconfidence on this glossy, emotionally flat, follow-up. On the plus side, he racked up several more #1 hits, but on the downside, he seems to have lost touch with the vigor and directness that made earlier albums so enjoyable -- this disc feels pompous and puffed-up, too sure of its inevitable success, and too disinterested in making the effort to meet the listeners halfway. It's a lax, studio-centric effort, with McGraw sequestered away in some remote sound booth, far away from the maddening crowd and, apparently, also far away from his true country muse. Take, for example, his embarrassingly flaccid vocal performance on songs such as "Senorita Margarita" and "Some Things Never Change," where it seems he can barely be bothered to put any effort into it at all. Was he trying to croon? Or was he just falling asleep in front of the microphone? If so, I guess he can't be blamed -- the low calibre of the songwriting is also glaringly noticeable, easily the worst of any of his albums to date... So why put too much effort into it? Even with a fine honkytonker like Deryl Dodd's "She'll Have You Back," McGraw sort of just lets the song hang there and peter out. The big hits were mostly sugary love songs, and they all have a paint-by-numbers feel to them. If the truth be told, this album's pretty lame.

Tim McGraw "Set This Circus Down" (Curb, 2001)



(Produced by Byron Gallimore, Tim McGraw & James Stroud)
This album is pretty darn pretentious and popped-up, but it's much more focused and involving than the last one... At least he's putting some effort into it! McGraw goes out on a limb with some modern production touches, like the mild electronica on "Angel Boy," and while there's a certain see-what-sticks feel to the album (several of the singles stiffed on the charts), I still think it's admirable that he's trying some new stuff out, and not all of it is icky or typical clueless crossover noise. There also some nice surprises -- it's great to hear such a strong cover of Bruce Robison's "Angry All The Time" (which was also one of the album's biggest hits), and the moody, haunting "Forget About Us" has way more darkness and depth than we'd any right to expect from a pop star on McGraw's level. It's a mixed bag, but overall, I'd put this one on the plus column. McGraw comes back from the brink to show that he's still an innovator, and he's still got his ears the rail when it comes to the hard country vibe.

Tim McGraw "...And The Dancehall Doctors" (Curb, 2002)



(Produced by Byron Gallimore, Tim McGraw & Darran Smith)
Remember when I commented on the streak of pretentiousness on some of his earlier albums? Well, what was a mere smudge back then practically blots out the sky on this one. An incredibly overblown, florid, overproduced pop/fake country melange. Packed with soaring electric guitars, massive EQ, and endlessly ponderous, lofty lyrics. I mean, there are a couple of tunes that manage to touch down and reach some measure of emotional resonance, but for the most part this is just so goddawful soulless and high-tech. It's ridiculous. Pity, too, that McGraw so readily plays into the hands of his critics -- he has the potential to help redeem Nashville from its current wave of over-poppification, but a wanky album like this is about three hundred percent the wrong way to go. Oh, well. (PS - Strange but true: McGraw actually hit the top of the charts with his sugary version of Elton John's "Tiny Dancer." Well, I guess since his "Sing Me Home" sounds quite a bit like a Jackson Browne outtake, another nod towards the '70s isn't so out of place...) A huge commercial hit, but definitely not my cup of tea.

Tim McGraw "Live Like You Were Dying" (Curb, 2004)



(Produced by Byron Gallimore, Tim McGraw & Darran Smith)
One of the landmark releases in the commercial country world, this finds singer Tim McGraw in fine form and still, somewhat inexplicably, still on the top of the heap. He's never been that great a singer, but for some reason he really connects with his audience. Here, McGraw indulges yet again in the over-the-top emotiveness that has made him famous, and the sleek, lavish production style that Top Country fans seem to love. The title track is a solid gold weeper, a song dedicated to his father, pro ball player Tug McGraw, who was battling terminal illness when the song was written... It's all about embracing life, living while you can, never looking back, jumping into the fray, etc. It's a super-sentimental heart-tugger that was destined to top the charts, a modern Nashville slam-dunk. Even better still is the fact that the rest of the album has some pleasant surprises, not the least of which is that McGraw seems to have gotten back to his roots a little bit, and is finally not taking himself so damn seriously. Oh, sure, there are several more overwritten power ballads on here, but there are also a few dorky novelty tunes like the curmudgeonly, faux-notalgic "Back When" (which plays off modern slang words, ie: "...back when a ho was a hoe...") and the workplace saga, "Everybody Hates Me," which aims for a sort of "Take This Job And Shove It"-ish common touch. As modern, prefab Nashville stuff goes, this ain't bad... In fact, it's one of McGraw's better records.
Tim McGraw "Let It Go" (Curb, 2007)



(Produced by Byron Gallimore, Tim McGraw & Darran Smith)
Please.
Tim McGraw "Southern Voice" (Curb, 2009)



(Produced by Byron Gallimore & Tim McGraw)
Northern ears...?

Tim McGraw "Emotional Traffic" (Curb, 2012)



(Produced by Byron Gallimore & Tim McGraw)
Hey, speaking of emotions, they are indeed running high between McGraw and his longtime label, Curb Records. With one lawsuit settled -- McGraw is free from his contract, but Curb gets to release this final album -- and another in the works to determine who gets all the money, this disc may be a mixed blessing for fans. Nonetheless, it's his first record in almost three years, so you know it's going to make a few folks happy, even if some fans are calling for a boycott. Sounds like classic McGraw to me: very poppy, with some woven-in twang, but more willingness to to really dig deep into some ornate, often bombastic, pop production. McGraw never met a crescendo he didn't like, and fans who feel the same way should be onboard this time around. I have to admit, even with McGraw's crossover background, I was surprised by just how pop some songs sounded, coasting almost into boy-band territory. He's still got a few country weepers in there, though, like "Better Than I Used To Be" and the gospel-ish "Touchdown Jesus," and between the two styles, I'm sure he'll have a hit or two on the radio. (Postscript: Curb mostly won the court case: they got to put the record out, and McGraw got to cash the check.)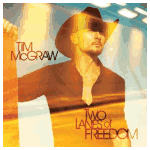 Tim McGraw "Two Lanes Of Freedom" (Big Machine, 2013)



(Produced by Byron Gallimore & Tim McGraw)
After an acrimonious split with and tooth-and-nail lawsuit against Curb Records, McGraw moves on to a new label. His music sounds pretty much the same: formulaic, contrived, maybe a little mellower and more reflective, slightly more Bolton-esque. But he is what he is -- a pop-friendly Nashville icon heading into his golden years, yet still one of the few modern country stars to have staying power beyond the first few years. Most of the stuff on this disc didn't capture my imagination -- it just seems like another parade of faux-white collar paint-by-numbers cliches about God and highways, chicks and trucks, and one of those obligatory tropical vacation songs ("Mexicoma") and a lot of wispy, aching romantic ballads. I guess this is notable for its lack of overtly "good ol' boy" material: no songs about guns or fighting in honky-tonks or ogling some chick at a bar... McGraw is resolutely gal-friendly and sticks to the sensitive-guy side of the street. Nothing unexpected or out of the blue here, which is probably just what his fans will be looking for. Still, I wonder whether his heart is really in it anymore. I just don't feel much genuine emotion in any of these songs.
---
Discography - Best-Ofs
---
Tim McGraw "Greatest Hits, v.1" (Curb, 2000)


Tim McGraw "Greatest Hits, v.2" (Curb, 2006)


Tim McGraw "Greatest Hits, v.3" (Curb, 2008)


Tim McGraw "...And Friends" (Curb, 2013)



This best-of set was put out in the midst of Curb and McGraw's big legal battle, and I'm sure McGraw and many of his fans see it only as a quick cash-out on Curb's part. But once the dust settles, folks will find it to be pretty useful. This is a collection of top-country duets with fellow contemporary country stars such as Colt Ford, Tracy Lawrence, Randy Travis and (of course) Faith Hill, as well as old-timers and off-the-beaten track folks such as Asleep At The Wheel's Ray Benson, Tony Bennett, Jerry Lee Lewis, Gwyneth Paltrow, Lionel Richie and country succubus Kenny Rogers. A lot of these tracks were one-offs that didn't appear on McGraw's regular albums, so having them all in one place is kind of handy for fans.
---
Links
---
---