<! MP3 04/15/09 > <! update 00/00/00 > <! outside 00/00/00 > <! pix 00/00/00 - NEED PIX!!!!!!!! 03/22/11- added about ten albums > <! icons 03/22/11 >
---
Norma Jean is one of the most underrated country "girl" singers of the 1960s... She joined Porter Wagoner's troupe early in the decade, but was displaced in 1967 when she ended their long-running romantic affair and Porter glommed onto Dolly Parton as his new touring partner. I think it's pretty safe to assume that once she lost Porter's powerful patronage that it became all too easy for the good old boys at RCA to put her career on the back shelf... which was a real shame. At first blush, Norma Jean does seem like a generic Nashville second-stringer; her dusty blond bouffant hairdo and bright-eyed perkiness challenge you to see her as something other than window dressing. If you give her a chance, though, she proves to be really a great singer -- not emotionally wrenching or charismatically magnetic, but solid and sincere. Hopefully hick music history will redeem Norma's legacy a bit, as the dust settles around the remains of the old-school Nashville Sound.
---
CD Discography
---
Norma Jean "The Best Of Norma Jean" (Collectors Choice, 1999)


As far as I know, this is the only Norma Jean CD release currently in print... but it sure is a doozy! Lots of up-tempo novelty numbers such as "You're Driving Me Out Of My Mind", "I Cried All The Way To The Bank" and "I Wouldn't Buy A Used Car From Him". None of these are great art, but they are fun to listen to. There are also jealousy songs ("The Shirt") and Loretta Lynn-style sass ("Don't Let That Doorknob Hit You" and "Go Cat Go") as well as some sexual come-on material ("Let's Go All The Way"). What's surprising is how little emotional doormat material she recorded; although along those lines, this 21-track CD does sort of slight her abilities as a straight ballad singer, concentrating instead on Buck-and-Loretta influenced bouncy stuff. Still, that may be what makes this disc so accessible and fun. HIGHLY recommended!
Norma Jean "The Best Of Norma Jean" (Lost Gold, 2005)


Same title, different track listing...

Porter Wagoner "In Person - Recorded Live" (RCA, 1964) (Koch, 1998)


One of the wonderfully corny, abjectly rootsy "live" albums that the Porter Wagoner road show put out in the mid-'60s. In this pre-Dolly lineup, Norma Jean sings on a couple of tracks, and as usual kind of steals the show...
Norma Jean "My Best To You" (Roma) (NJT-104)

Norma Jean "Loneliest Star In Texas" (Heart Of Texas, 2006)



(Produced by Justin Trevino)

Norma Jean "I Guess That Comes From Being Poor" (Omni, 2007)


A great best-of set...!
---
LP Discography
---
Norma Jean "The Country's Favorite" (Columbia/Harmony, 1966) (HL-7363)
Although this LP came out well after she had hit the big time with Porter Wagoner, these ten songs are actually some of her earliest recordings, made seven years earlier for the Columbia label after Norma had been "discovered" on the Ozark Jubilee TV show in the late '50s. The arrangements and the material are both not as sharp as her later work on RCA, but there's still some great stuff. If you get past weak genre material such as "The Gambler And The Lady", and onto the rolling, soft honkytonk of "I Didn't Mean It," "What Does A Poor Girl Do?" and "Someplace To Cry," you can see what all the fuss was about. Poor Columbia! They let her go just when she was starting to find her rhythm... But fame, fortune and Porter Wagoner all were beckoning...
Porter Wagoner "The Porter Wagoner Show" (RCA) (LPM-2650)
One of those great fake-live albums featuring not only Norma Jean, but the rest of Porter's cast. She sings three solo tunes and one really swell duet ("I'll Take A Chance On Loving You") with Porter... a limited role, but all of her stuff is pretty solid. Probably the most interesting aspect of this album is the comedy schtick by bassist Curly Harris... one of those Vaudeville throwbacks that still remarkably persisted in country music into the '60s. Interesting little slice of old-time showmanship.
Porter Wagoner "In Person - Recorded Live" (RCA, 1964) (Reissue: Koch, 1998)


Reissued on CD. (See above.)
Norma Jean "Let's Go All The Way" (RCA, 1964) (LPM-2961)
Her first solo album was a real doozy... down to earth country music with a strong Texas shuffle bent and on-the-mark, straight ahead arrangements. The first track is a cover of an old George and Earl tune (!), and the rest of the material is of similarly high calibre. Includes the sexually suggestive title track (but of course in this instance "going all the way" means getting married...) These recordings won't necessarily knock you down flat, but there's also not a bad track on the album... A shame this is out of print; it'd be nice to have more of her non-novelty material available. The last track, "Why?", is particularly great.
Norma Jean "Pretty Miss Norma Jean" (RCA, 1965) (LSP-3449)
Another great album, although the production is a lot starker and less layered than most RCA material was at the time. She's at her most rural here, closer to the huskiness of Melba Montgomery than anything else. An interesting stylistic anomaly, which can probably be explained by her close association with Porter Wagoner, one of Nashville's biggest unreconstructed hicks.

Porter Wagoner "On The Road: The Porter Wagoner Show" (RCA, 1965) (LPM-3509)
Norma was well-established as a solo artist by the time this one came out, so her contributions are mainly stuff from her own albums, along with a nice duet with Porter ("A Violet And A Rose"). More of the same goofy, lovable, latter-day hick roadshow stuff from Porter and his crew. This purports to have been recorded live at the Louisiana Hayride, but the vocals sound awfully smooth. Either way, this is a nice record.
Norma Jean "Please Don't Hurt Me" (RCA, 1966) (LPM-3541)
A remarkably solid, ballad-oriented heart-song album. It does have the upbeat novelty hit, "You're Driving Me Out Of My Mind", as well as other battle-of-the-sexes themed songs. But where she really shines here is on weepers such as the title track and on her outstanding version of Buck Owens' "Crying Time".
Norma Jean "...Sings A Tribute To Kitty Wells" (RCA, 1967) (LPM-3664)
Didja ever find yourself wishing Kitty Wells didn't have such a grating voice? So maybe a tribute album like this would help things out -- all those great songs without the fingernails-on-the-chalkboard stylings of Ms. Wells... Trouble is, this is a pretty lackluster album: Norma Jean sings off the beat -- usually a little behind it -- and the band is asleep on its feet. Kitty might have been shrill, but she was also passionate about her music. The tracks which do stand up are at the album's end: "You Don't Hear," and "Heartbreak USA." Mostly a disappointment, though.
Norma Jean "Norma Jean Sings Porter Wagoner" (RCA, 1967) (LPM-3700)
Tipping her cap towards her musical mentor, Norma goes through a dozen of Porter's biggest, corniest hits... Porter does 'em better, but she does 'em pretty good, too, playing up the cornball delivery, but keeping things a little more on the straight and narrow than Wagoner does. The band is pretty good, too -- really, there ain't nothing to complain about here!
Norma Jean/Bobby Bare/Liz Anderson "The Game Of Triangles" (RCA, 1967) (LPM-3764) (LP)


An oddly-assembled, but still quite pleasant album featuring several three-way collaborations between these RCA second-stringers, as well as a solo tune or two apiece. Anderson's material is most striking (although often quite hokey); at the time Bare was still stuck in the post-teen idol, sort-of folkie persona that the label had cast him in. Not a mind-blowing album, and quite a concept album, but it's got some nice stuff on it. (Norma Jean's best tracks are on the Collector's Choice CD listed above).


<! also: B004896J4U >

Norma Jean "Jackson Ain't A Very Big Town" (RCA, 1967) (LPM-3836)




Norma Jean "Heaven's Just A Prayer Away" (RCA, 1968) (LPM-3910)
A solid gospel album, with the same sort of pleasantly melodic, simple approach that Porter Wagoner took to traditional material. Sometimes the performances are a little sleepy or sluggish, but at least they never fall prey to the bombastic pop-tinged goofiness that plagued most other Nashville gospel in the sophisticated 'Sixties. Like Porter Wagoner (or the Louvin Brothers) Norma Jean was unpretentious and sincere enough to take this material at face value, and put her heart into her performances. Plus, producer Bob Ferguson stayed in the background, and left the emphasis on the vocals. Nice stuff.
Norma Jean "Body And Mind" (RCA, 1968) (LPM-3977)
Wow. This may be her best album -- solid songwriting throughout, and all pefectly suited to her plainspoken deliery. Includes a whole slew of sexually forthright, surprisingly modern, songs, such as "In The Park After Dark," "Woman Hungry" and "Once More I'll Let You In"... and of course, the title track ("...my body's with you, but my mind is on him...") Also features some first-rate upbeat novelty songs, such as "Promises, Promises" and "Truck Driving Woman"... really, there's not a bad track on here. A hidden gem from the old Nashville studio sysyem.


<! 03/11: junky image >
Norma Jean "Love's A Woman's Job" (RCA, 1968) (LSP-4060)
A sharp album, with crisp, upbeat arrangements and a "love-is-hell-on-a-woman" theme... The opening track is particularly striking, one of those matter-of-fact, us-wimmin-need-sex-too songs that she did so well. Her character is a little wussy, but only a little -- in fact, the song's almost completely sex positive, which is pretty amazing considering when (and where) this was recorded. Side One is completely solid, though Side Two slows down a bit... There's kind of a funny version of "D-I-V-O-R-C-E"... not bad, but unusually understated compared to Tammy's original. Overall, pretty swell.
Norma Jean "Heaven Help The Working Girl" (RCA Camden, 1968) (CAS-2218)
An unusual record -- it's an actual album, though it was recorded for RCA's budget reissue line. Excellent song selection, including a version of Charlie Walker's "Pick Me Up On Your Way Down", and several outstanding weepers. "What Kind Of A Girl (Do You Think I Am?)" is one of those great old gender role songs that are ripe for study by a women's studies program... But mostly, it's the music. This is a solid, very listenable album. Recommended!
Norma Jean "Country Giants" (RCA, 1969) (LSP-4146)
An album of country hits and oldies such as "Hey, Good Lookin'," "Crazy Arms," and "Tiger By The Tail"... I like Norma more when she's doing newer, less well-travelled, material, but it seems like everyone wound up doing one of these kind of semi-tribute albums at one time or another, so why should this gal be any exception? She's at a particular disadvantage, though, when given predictable "girl singer" material (like "Don't Come Home A-Drinkin'" or "Harper Valley PTA"), mostly just because the gender-based song selection is so obvious, and her participation seems a bit hokey... Overall, though, this is a solid album, offering little for us to complain about... It also includes some fairly obscure material, which is fun as well.
Norma Jean "Another Man Loved Me Last Night" (RCA, 1970) (LSP-4351)
The title track is another fine example of Norma Jean's unusual habit of recording rather erotic, sexually frank, material. Also included is the more overtly raunchy "Somebody's Gonna Plow Your Field", and the nice little bitter-ballad zinger, "You're At Your Best When You Lie"... A few of the songs could be better, but the album's only real disappointment is her version of the Freddy Fender hit, "Is Anybody Goin' To San Antone?", which for some reason was re-written as sort of an answer song in which she describes "...rain dripping down the back of his shirt..." The scene loses some of its miserable immediacy when the narrator's looking out from inside a snuggly-warm living room, rather than out in the downpour... But this is a minor quibble with an otherwise fine album...
Norma Jean "It's Time For Norma Jean" (RCA, 1970) (LSP-4446)
This isn't her greatest album, but for the times, this was pretty solid. The backup playing is by-rote studio work, and little more, but she still outdoes a lot of her contemporaries in terms of playing plain old country. There are several half-hearted stabs at a countrypolitan sound, so it's kind of halfway in, halfway out. Her version of Conway Twitty's "Hello Darlin'" may be the album's highlight.
Norma Jean "Norma Jean" (RCA, 1971) (LSP-4510)
This is also kind of a sleepy, slurpy semi-countrypolitan album, but it has its highlights. For the most part, she seems to have been cast as a Lynn Anderson-style slow balladeer -- her cover of "I Never Promised You A Rose Garden" is an unfortunate omen -- but even if this disc doesn't play up her strengths as a performer, she still hits the mark on a few tunes. Dallas Frazier's self-referential "The Song Writin' Man (Has Wrote My Mind)" is kinda cute, and "If It's All The Same To You" and "Back To His/Hers" are both pretty effective. A little on the lethargic side, which seems to be a studio-producer problem... then again, what do I know? Norma also does a sleepy cover of Hank Cochran's "Don't Touch Me," which seems to have been a warm-up for her next album...
Norma Jean "Norma Jean Sings" (RCA, 1971) (LSP-4587) (LP)


A great Hank Cochran tribute album, with such venerable hits as "Make The World Go Away" and "Little Bitty Tear", as well as several awesome weepers such as "Don't Touch Me" (which George Jones covered in 1999 to devastating effect...) This is a remarkably straightforward country album for being recorded at the height of the "countrypolitan" era: testimony to both Cochran's strength as a songwriter, and her's as a dyed-in-the-wool hick performer. Recommended!
Norma Jean "Thank You For Loving Me" (RCA, 1972) (LSP-4691)

Norma Jean "I Guess That Comes From Being Poor" (RCA, 1972) (LSP-4745)
Interesting concept album, similar to Dallas Frazier's I Just Got Tired Of Being Poor and Porter Wagoner's The Farmer from around the same time... Country music gets all sentimental and looks back on its rural poor roots, though this time there's a feminist spin to it (for instance, a cover of Loretta Lynn's "One's On The Way") and several pie-in-the-sky, but-we-suffer-down-here gospel songs. Sounds like it'd be hackneyed, right? WRONG. This is a pretty sincere, resonant effort... well worth checking out! If you're not careful, "Hundred Dollar Funeral" could put a chill down your spine.
Norma Jean "The Only Way To Hold Your Man" (RCA, 1973) (APL1-0170)

Norma Jean "Pretty Miss Norma Jean" (Roma Records, 1983)

---
Best-Ofs
---
Norma Jean "The Best Of Norma Jean" (RCA, 1969) (LSP-4227)
You can't complain about anything here. Nice song selection -- which is pretty much mirrored by the CD best-of listed below. One song on here doesn't appear on that disc ("These Flowers")... But if you're a vinyl-only kinda person, this collection should do you right.
Norma Jean "It Wasn't God Who Made Honky-Tonk Angels" (RCA Camden, 1971) (CAS-2511)
'Bout what you'd expect from this gal-oriented best-of. Skimpy on the tunes (only nine tracks) and some stuff that turns up eleswhere... Plus, do you really need to hear her cover more tunes by Loretta Lynn and Tammy Wynette? Still, it's good material, and if you stumbled across this LP someday, it's well worth picking up.
Norma Jean "The Best Of Norma Jean" (BMG/Collector's Choice, 1999)
An excellent CD retrospective (reviewed above).
---
Related Records
---

Hermann Lammers Meyer "Till The End Of Time" (Bullenschluck/Desert Kid, 1995)


Various Artists "BULLENSCHLUCK COUNTRY MUSIC ROUNDUP" (Bullenschluck/Desert Kid, 1996)
Hard country true believer Hermann Lammers Meyer is a songwriter from Germany who has made regular pilgrimages to Nashville, recording several albums with the likes of Buddy Spicher, Buddy Emmons and Tommy Hill, and guest artists galore. Among those guests is our own "Pretty Miss" Norma Jean, who contributes three nice duets on Till The End Of Time, among them the Christmastime tear-jerker, "Faith In Santa", a recitation song in the grand old tradition. Norma Jean also has a couple of tracks on the ROUND UP collection -- reprises of her big hit "Let's Go All The Way" and Porter Wagoner's goofy chestnut, "Company's Comin'".
---
Related Media
---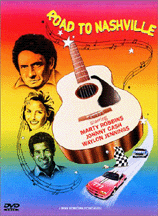 "Road To Nashville" (Crown International, 1967)



Norma Jean is absolutely riveting during her brief appearance in this treasure trove of late 'Sixties classic country... Although the film itself is lamentably rickety and shoddily produced, the wealth of talent, drawn from several major labels, is truly astounding: Webb Pierce... Johnny Cash... Porter Wagoner... Dottie West... Norma Jean... the Osborne Brothers... Bill Anderson and Bill Phillips all appear, just to mention a few. Co-producer Marty Robbins bankrolled part of this film and sings a few tunes (as well as racing his stock car at the track!)... Several fading 'Fifties stars are also seen, including Hank Snow, Lefty Frizzell, Faron Young, Kitty Wells, and the reconstituted folk-era edition of the Carter Family. Whew! Lemme catch my breath a minute and I'll tell you more... A clean-shaven, wolfish young Waylon Jennings has a great cameo; country cutie Connie Smith not only sings two numbers, she also has an extensive speaking role. There are also several noteworthy also-rans involved: Margie Singleton, Bobby Sykes, the Stoneman Family in full New Main Street Singers bluegrass-pop mode, and Don Winters as well -- one of the most underrated singers of the rock-to-countrypolitan era. Heck, radio DJ and full-time power broker Ralph Emery even makes an appearance... all that's lacking is a decent script. The flimsy plot involves the savagely unfunny Doodles Weaver as a bumbling idiot sent (inexplicably) by his grouchy Hollywood boss to organize a country music extravaganza; not only does Weaver appear in the between-song interludes, he also is frequently cut into the the performances themselves, doing unfunny things and staring in a vacant, unfunny way. The sound is poor; the video transfer cropped out a lot of the shots... but hey, this film ROCKS. Any devoted county fan will want to pick a copy as soon as they can. It's a doozy!
---
Links
---
Pretty Miss Norma Jean is Jean's own website... Hi there, Norma! Wikipedia has a nice entry...
Once upon a time, a site calledCountry.com had a nice article on Norma Jean that gave a glimpse at her career, and a little info on her work with Porter Wagoner, as well as about her planned autobiography. Unfortunately the site seems to have been swallowed up my CMT, and they took the article down, so we could read more crap about Toby Keith. Sighhhh.
---