<! MP3 04/22/09 > <! outside 00/00/00 > <! pix 00/00/00 > <! 208-pix: 00/00/00 > <! icons 03/26/11 > <! UPDATES: 04/22/09 05/25/14 - completed LP discography, broke into albums and best-ofs >
---
Bobby and Sonny Osborne, The Osborne Brothers, were exemplars of the "progressive" bluegrass scene of the 1960s and '70s, pioneering the use of drums, amplified instruments and country-grass crossovers such as the use of steel guitars in a bluegrass context. Before forming their own band in 1956, the Osbornes worked in Bill Monroe's Blue Grass Boys and Jimmy Martin's band... The Osbornes plugged away as a second-tier bluegrass act until signing with Decca Records in the early '60s, where they scored a massive hit with their dynamic version of "Rocky Top," which showcased the duo's precision timing, tight vocal harmonies and forceful, propulsive rhythmic approach. The Osbornes went on to broaden their sound, and became known as one of the most innovative mainstream bluegrass bands. Chart success slipped away, though, and the brothers were dropped by Decca after it became MCA, moving on to record for independent labels thereafter.
This page looks at their best-of collections; you can browse their original albums as well...
---
Discography - Albums | Best-Ofs
---

The Osborne Brothers "1956-1968" (Bear Family, 1995)


Bobby and Sonny Osborne were early, influential heralds of the progressive era in bluegrass... Even in their first recordings, back in the 1950s, the Osbornes incorporated snare drums (blasphemy...!!) into their band, and even tried their hands at a bit of electrified rockabilly (heard here on the 1960 novelty track, "There's A Woman Behind Every Man"). Most noteably, they crossed over into the folk scene's stilted "Froggy Went A-Courtin' " traditionalism, relatively sedate material that was balanced out by hefty doses of bluesy honkytonk material, similar to Jimmy Martin's country-flavored truegrass. This fab 4-CD set collects everything the Osborne Brothers studio work between 1956-68, including all their recordings for the MGM label, and their first recordings on Decca Records, where they had huge commercial success with their versions of "Rocky Top" and "Ruby (Are You Mad)?" Hearing all these tracks from end to end is pretty fascinating -- early on their harmonies seem strongly influenced by the Everly Brothers, though as the '50s came to a close, the Osbornes dropped down a note or two and found the unique vocal tone that makes their work so readily identifiable. Some of the folk scene-flavored material is less than thrilling -- it's not that it's bad in any way, it's just sort of by the numbers and less passionate than their more driving material. But they drift in and out of vigor; when they hit the mark, it's a delight. They were primarily a vocal and song-oriented band, but when the Osbornes dig into the instrumental breakdowns, they blend slick, note-blurring runs with a deceptively light touch. Sonny's banjo -- normally the dominant instrumental force on the vocal tunes -- both cuts loose and gives way, opening up space for Bobby's deft mandolin. The fourth CD in this set finishes up with ten tracks off a previously rare RCA-Camden LP credited to "The Bluegrass Banjo Pickers," where Buddy Spicher and Roy Huskey, Jr. are among the hotshot studio cats that back the brothers up... and it's really, really nice stuff! This set more than fills the gap left by MCA/Universal's inexplicable refusal to reissue any of the classic Osbornes material... Highly entertaining and highly recommended!

The Osborne Brothers "1968-1974" (Bear Family, 1995)


Another 4-CD set, charting their final years on Decca and MCA, with many neglected gems and an interesting blend of traditional and progressive bluegrass styles...
The Osborne Brothers "Blue Grass Express" (MCA Coral, 1973) (LP)


This LP was a nice, brief, sampling of some of their work on Decca, drawing on five different albums... Like many mid-'70s Coral releases, the musical quality is high, and track for track this is a pretty good disc. Some of the tracks were from singles, and not previously on any album.
The Osborne Brothers "The Best Of The Osborne Brothers" (MCA, 1975/1990)


A straight reissue of their old standard-issue best-of set from the mid-1970s, made after Decca became MCA (and after the Osbornes left the label...) Good stuff, though sadly out of print.
The Osborne Brothers "Our Favorite Hymns" (MCA Special Products, 1995)



The Osborne Brothers "Country Bluegrass" (MCA Special Products, 1996)



An all-too brief 10-song reading of their prime material, recorded for Decca/MCA during the duo's commercial glory days. I sure wish Universal (in whatever future form it morphs into...) will see fit to make more of these songs available to folks back here Stateside... The Bear Family boxes are swell, but who can really afford them? I more generously programmed domestic best-of package is needed to really do these guys justice. But for now, this one's okay.


<! 130 x 130 >

The Osborne Brothers "Hyden" (Pinecastle, 1998)



Named after their birthplace of Hyden, Kentucky, this album is the first of a projected four-disc series tracing the history of the the Osborne Brothers and their musical style. The series combines new recordings with archival material, and is certainly worth checking out if you are a fan.
The Osborne Brothers "Dayton To Knoxville" (Pinecastle, 2000)



The second volume of a four-part collection looking back at the decades-long career of these pop-grass powerhouses. Unless my ears deceive me, other than a couple of tracks at the end of the album, these are actually recent re-recordings of songs originally recorded between 1949-54, but not songs that are actually from that vintage. Okay, but not great.
The Osborne Brothers "Detroit To Wheeling" (Pinecastle, 2003)



The third in a nostalgic series retracing the Osborne's musical roots. This disc has some sweet, solid melodic numbers, a touch of gospel, and a couple of time-worn archival recordings that take us back to theie early '50s concert days. Livelier and more engaging than the first two albums in this series... worth checking out!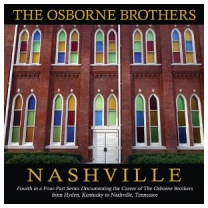 The Osborne Brothers "Nashville" (Pinecastle, 2014)



(Produced by Owen Bradley & Sonny Osborne)
The fourth in a series of archival albums tracing the career of the Osborne Brothers bluegrass duo -- this disc includes two separate sessions, a country-colored set from 1975 that was helmed by country producer Owen Bradley, and one tracks from twenty years later in 1995 that features a smaller, more compact bluegrass band. The country session includes studio pros such as Ray Edenton, Hargus Robbins, Leon Rhodes and Hal Rugg, beefing up the 'grassy twang of the Orbornes, who are also joined by fiddler Vassar Clements... It's a nice contrast between an era when bluegrass was pretty much outside the Nashville system to the current day, when top-flight pickers routinely spice up mainstream singles in the Country Top 40. The Osbornes were one of the few traditional bluegrass acts successful enough to bridge that gap, and they sound as comfortable with the old-school Nashville cats as they do with the slick modern pickers. Nice stuff!
---
Solo Albums & Related Records
---
Bobby Osborne "The Selfishness In Man" (OMS, 2000)


Bobby Osborne & Jesse McReynolds "Masters Of The Mandolin" (Pinecastle, 2001)


Bobby Osborne "Where I Come From" (OMS, 2002)



He's a bit over the hill, but it's still nice to hear him plugging away on his country-tinged progressive tunes... Mostly pretty straightforward and traditionally oriented (perhaps more country than grassy...), although a few dubious production touches -- like the orchestral swell on his cover of "The Great Pretender" -- may raise an eyebrow or two. Not as punchy or dynamic as it might have been, but still kinda sweet.
Bobby Osborne "Try A Little Kindness" (Rounder, 2006)



Bobby Osborne & The Rocky Top X-Press "Bluegrass Melodies" (Rounder, 2007)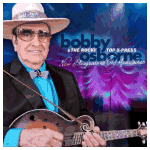 Bobby Osborne "New Bluegrass & Old Heartaches" (Rural Rhythm, 2012)



(Produced by Glen Duncan, Bobby Osborne & Bobby Osborne Jr.)
Although his brother retired years ago, Bobby Osborne has been plugging away and continues to release refined, traditionally oriented records like this one, with a strong repertoire which includes new material by fiddler Glen Duncan (who anchors this album with sweet, sympathetic accompaniment) as well as a few tunes by Jake Landers and some other writers signed up with Osborne's Rocky Top publishing company. There's also a previously unrecorded original,"The Last Bridge You'll Ever Burn," a great song that Osborne wrote in the '70s but only produced in demo form. This is more nice stuff -- the tempo is generally slow and the energy level isn't as explosive as the old days, but Osborne has found a strong vocal partner in his son, Bobby Jr., who adds that special family-harmony sound, and the musicianship is solid throughout. Definitely worth a spin.
Dean Osborne & Eastbound "I've Got A Mansion Waiting For Me" (1989)

Dean Osborne & Eastbound "When Time Is Gone" (1993)


Dean Osborne "Kentucky Son" (Pinecastle, 2000)



An outstanding album by Sonny Osborne's lad, who both sings and plunks the banjo... He has a classic bluegrass tenor, backed by a fine sense of timing and an ability to deeply connect with the material... Bobby Osborne and bandmates Terry Smith and Terry Eldredge provide a solid musical backing, while picker Richard Bennett turns in a nice, low-key and very elegant performance on lead and rhythm guitar. This is a really nice record!
Dean Osborne & Eastbound "Roads Of Faith" (2000)

Sonny Osborne "The Early Recordings: 1952-53 - v.1" (Crosscut, 2002)


Sonny Osborne "The Early Recordings: 1952-53 - v.2" (Crosscut, 2002)


Sonny Osborne "The Early Recordings: 1952-53 - v.3" (Crosscut, 2002)

---
Links
---
---
Discography - Albums | Best-Ofs
---



Hick Music Index


---

<! cd = 12/26/06>