<! cd = 09/26/13 > <! MP3 11/24/13 > <! outside 11/24/13 - WP > <! pix 00/00/00 > <! 208-pix: 00/00/00 > <! styles: Top Country(?) Hippiebilly > <! UPDATES: 11/24/13 - posted w/out any reviews >
---
One of the most successful country-rock bands of the 1970s, Poco formed out of the dissolution of Buffalo Springfield, with Richie Furay, Jim Messina and Rusty Young turning towards a country sound, while the other members (eventually) coalesced into the Crosby Stills Nash & Young hippie-rock supergroup. Poco, meanwhile, struggled for several years before really finding its footing: their first album was released in 1969 but their real breakthrough didn't come until 1978(!) when they finally had a chart-topping, Top Ten hit. Over the years, the group had a large, revolving membership, with both core members and supporting musicians constantly changing and moving on to other bands such as the Eagles, et. al. Here's a quick look at Poco's albums...
---
Discography - Best-Ofs
---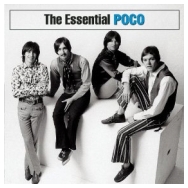 Poco "The Essential Poco" (Sony, 2005)


Poco "The Forgotten Trail: 1969-1974" (Epic/Legacy, 1990)


Poco "The Songs Of Paul Cotton" (Epic, 1979) (LP)

Poco "The Songs Of Richie Furay" (Epic, 1980)


Co-founder Richie Furay left Poco in 1974, but left behind a string of well-crafted tunes, including several of the band's defining hits. This collection spotlights his work as one of the band's principal songwriters, and is a nice encapsulation of his pre-solo creativity...
---
Discography - Albums
---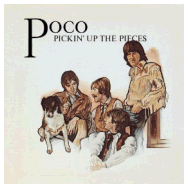 Poco "Pickin' Up The Pieces" (Epic, 1969)



At first, Poco's debut album may sound like the work of a band that hasn't really found its own identity, rooted in contemporary rock sounds and trying to prove themselves capable of matching, if not simply replicating, the work of others (including the bands that they had recently come out of...) There are plenty of recognizable hippie-rock acid riffs, especially in the Byrds-y opening tracks, but gradually the group asserts itself with a more original voice. The first head-turner is a brief melodic riff in the middle of "Calico Lady," which sounds like a typical Beatles-derived guitar-based rock rhythm, but then you realize it's coming from a pedal steel being played in an unusual and impressive staccato style: it only lasts for a few seconds, but that's enough to make the point. Then, finally, at the end of Side One, they let go of the hard-rock vibe and slip into some softer country-rock, with the gentle "First Love" and the less-distinctive but still pleasant "Make Me A Smile," which showcases some nice steel guitar. They briefly slip back into "hard" rock with "Short Changed," but after that, the country vibe takes over completely... thank god! Their twang side can sound a little forced, but if you keep reminding yourself that neither the Eagles nor the New Riders had recorded anything yet, then you'll realize just how innovative this band actually was. Yee haw, indeed.
Poco "From The Inside" (Epic, 1971)


Poco "A Good Feelin' To Know" (Epic, 1972)


Poco "Crazy Eyes" (Epic, 1973)


Poco "Head Over Heels" (ABC, 1975)


Poco "Rose Of Cimarron" (ABC, 1976)


Poco "Indian Summer" (ABC, 1977)


Poco "Under The Gun" (MCA, 1980)

Poco "Blue And Grey" (MCA, 1981)


Poco "Cowboys And Englishmen" (MCA, 1982)


Poco "Ghost Town" (Atlantic, 1982)


Poco "Inamorata" (Atlantic, 1984)


Poco "Running Horse" (Drifter's Church, 2002)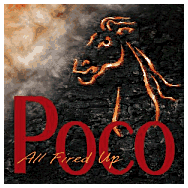 Poco "All Fired Up" (Drifter's Church, 2013)



I have to admit, I was surprised by the strength of this album from these former '70s chart-toppers... Yeah, there's a certain old-dude dorkiness quotient at play, but there are also songs here that stick to your ribs and riffs that will echo around in your head. I dunno, there's something nice about these DIY albums from folks whose hit-making days are long past -- you can tell they really just want to play music, and plus, it's not like they forgot how to craft a good song. This is probably really just a for-fans-only album, but if you are an old Poco fan, I think you'll be pleased. My picks here would be the topical tune, "Hard Country," about tough times in the heartland... Their homage, "Neil Young," about getting bitten by the rock'n'country bug bank in the day, is also kind of funny and fun. Worth a spin!


<! no producer credit >

---
Links
---
---