<! MP3 04/05/11 > <! outside 00/00/00 > <! pix 00/00/00 > <! 208-pix: 00/00/00 > <! icons 04/05/11 > <! UPDATES: 05/26/14 - changed URL, added other John Miller albums >
---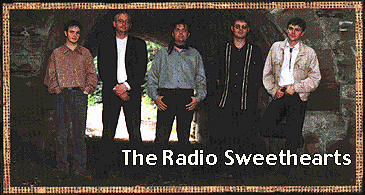 Glasgow, Scotland might not be the first place that comes to mind when you think about a hard-country revival, but late one night at King Tut's Wah-Wah Hut, a local rock club, as Dale Watson took the stage, the shaggy, drunken locals knew every song he played, and requested a million more, in thick, impenetrable Glaswegian. The previous evening, that same stage had played host to Scotland's own Radio Sweethearts, one of the best honkytonk bands of the late '90s.
I was already familiar with the Sweethearts, through their first album and a couple of singles. Still, I was hardly prepared for just how awesome a live performer singer John Miller would turn out to be. Before they went up on stage, I had been trying to understand a single word the man said -- it wasn't the beer, it was his brogue -- but suddenly, when he stood on stage, he sang in a starlingly rich, unaffected, rural American accent. Well, let me put it another way, the guy had the goods -- this was real, intensely soulful, hard country music, and I was in heaven. Anchored by BMX Bandits drummer Francis Macdonald, the Sweethearts also features outstanding pedal steel, guitar work, and occasional guest fiddling by John McCusker, of the Scottish trad group, Battlefield Band.
---
Discography
---

Radio Sweethearts "New Memories" (St. Roch/Shoeshine, 1996)


A wonderfully homespun album which highlights the skills of the band, from the graceful, looping pedal steel to the deft, economical drumming. What stands out most of all, though are the warm, husky, surprisingly "American" vocals along with the matching strength of the songwriting. John Miller's originals such as the title track, "New Memories" and the weepy "Fallen Out Of Love Again" show a strong and sensitive understanding of country roots. Francis Macdonald's upbeat contributions, particularly the clever commentary on the genre, "Every Other Song" ("...every other song I hear/'s about drinkin' too much beer...") and the doleful "Lonely Footsteps" bring an indiepop sensibility into the mix, but with admirable subtlety. And of the handful of cover tunes, the best is a sweet take on the Freddy Fender classic, "Is Anybody Going To San Antone?" As an album, New Memories has rough-hewn edges, but in a very good, very un-Nashville way. Recommended!

Radio Sweethearts "Lonesome Blue" (Shoeshine/Spit and Polish, 2000)



The Sweethearts are back, with a slightly less raucous -- but no less rockin' -- set of harmony-rich honkytonk gems. Unlike New Memories, this album is all original material, and most of it's written by Glasgow's singing brakeman, John Miller. Miller's voice continues to amaze with its flawless, soulful American accent -- and as a songwriter, he ain't no slouch, either. The band's original lineup is intact here, along with special contributions by Alex Chilton (harmony vocals on about half the album) as well as "Little" Stevie Jackson, of the band Belle and Sebastian. Another sweet album with the Joe Sixpack seal of approval.
John Miller "Popping Pills" (Shoeshine/Spit and Polish, 2002)



On his solo "debut," Sweethearts singer John Miller wrote all the songs and delivers them with a simplicity and conviction that infuses each tune with a compelling sweetness and honesty that makes this disc hard to resist. This is particularly true on high-class weepers such as "We Don't Care Anymore" and "Once Too Often Now," that reveal Miller as both a knowledgable devotee of American country, and as a master of the style. His understated delivery, thankfully shorn of the empty brazenness and rowdy affectations that plague the alt.country scene here in the States, may cause his music to fall under the radar of more trendy twang fans, but hey, that's their loss. If you're looking for a well-written, finely crafted, soulful country music album that helps bring the genre forward, then guess what? You should own this album. Miller has a gorgeous voice and golden pen, and wields them both with admirable skill and restraint.
John Miller & His Country Casuals "One Excuse Too Many" (Shoeshine/Spit and Polish, 2007)


(Produced by David Scott & John Miller)

---
Links
---
The Radio Sweethearts official website is now on-line and can be found at the following address http://www.radiosweethearts.com. The site features the band's history, discography, links to their favorite sites, and updates on their numerous musical projects.. Plus, info on how to order their albums!
You can also check out my interview with Francis Macdonald, originally published in Country Standard Time
Speaking of Francis, check out his his label, Shoeshine Records
---