<! cd = 02/23/24 > <! MP3 02/23/24 > <! outside 02/23/24 - WP > <! pix 00/00/00 > <! 208-pix: 00/00/00 > <! styles: Top Forty, Real Hicks, Hippiebilly(?) > <! UPDATES: 02/23/24 - posted - JPG for 1972 album also loaded, but not reviewed - 188 x 188 >
---
Country DJ Jack Reno (1935-2008) worked for several stations throughout the Midwest, and also scored a few modest hits on the Country charts as a singer during the 1960s and '70s... Music was a secondary career for Reno, but what he recorded sure was sweet! Here's a quick look at his work...
---
Discography - Best-Ofs
---
Jack Reno "Hitchin' A Ride To The Country" (Lucky Lady, 1990) (LP)


This European LP is a reissue of Reno's 1972 album on Target Records, with bonus tracks from the late '80s. His daughter, Sheila, sings on a few tracks.
---
Discography - Albums
---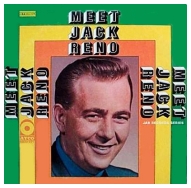 Jack Reno "Meet Jack Reno" (Atco, 1968) (LP)


Features his biggest hit, "Repeat After Me"
Jack Reno "I Want One" (Dot, 1969) (LP)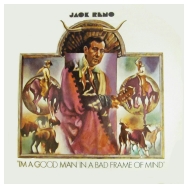 Jack Reno "I'm A Good Man In A Bad Frame Of Mind" (Dot, 1969) (LP)


(Produced by Buddy Killen)
A typically mixed bag for the era, with some good novelty songs and soft-toned honkytonkers balanced by gooier countrypolitan ballads. Some of the slower numbers, like "Loneliness All Around Me" seem like throwbacks to the Jim Reeves style, while others have a more contemporary feel. Highlights include a couple of songs about drunken, carousing husbands ("Barroom Habits" and "Won't You Come Home And Talk To A Stranger") and the go-go-delic title track, which spotlights the faux-sitar sound that Nashville session players were into around the time. The social turmoil of '69 comes through, too, on the topically-themed "We All Go Crazy," which philosophically contrasts sign-carrying peaceniks with kill-crazy soldiers in Viet Nam; the flip side of the album echoes these issues more forcefully with the explicitly anti-hippie "Simple Minded Man," a song that woulda made Merle Haggard proud. All in all, an oldie worth having -- a few songs are dreary, but most are pretty fun.
Jack Reno "Hitchin' A Ride" (Target, 1972) (LP)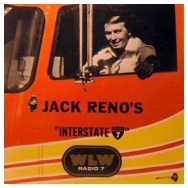 Jack Reno "Interstate 7" (Derbytown, 1978) (LP)
(Produced by Kenny Sowder)
This is a great record! Reno released a few singles on the United Artists label, circa 1973-74, but they were his major-label swan song, and none of them broke out of the back end of the Top 100. This indie album was recorded while he was working at WLS-Cincinnati, and I think the (uncredited) musicians backing him were all locals. They were good, too: the pedal steel and twangy guitars are lively and bold, the songs are fun, and Reno is into it. There's a gal singing duets on a few tracks, again, sadly uncredited though I think she might have been Brenda Sowder, who has a songwriting credit on the album, published under the same banner as Reno's own compositions on this album. Anyway, she's good too. Mostly this is good, strong, straightforward country stuff, with basically none of the gooey countrypolitan or slick urban cowboy vibe of the times. Most songs are heartsongs and uptempo honkytonk, though one novelty highlight is the gospel track, "Ye Shall Live Through Me," (again, published by Reno's company) which veers into some weird survivalist lyrics abotu stockpiling food and stuff like that. It's a diversion from the rest of the record, though, which is just your basic sweet-sounding country twang.


<! no ASIN, 02/2014 >

Jack Reno "Nine Stitches" (Eagle Records, 1990)





---
Links
---
---