<! cd = 02/01/14 > <! MP3 02/01/14 > <! outside 02/01/14 - WP, PF > <! pix 00/00/00 > <! 208-pix: 00/00/00 > <! styles: Hippiebilly, Real Hicks, Steel Guitar > <! UPDATES: 02/01/14 - posted, Crown LPs might still need date checks 07/18/17 - added review of '73 album, with ASIN updates for various reissues >
---
Orville "Red" Rhodes (1930-1995) was one of the preeminent pedal steel guitar players of the 1960s and '70s. A prolific Los Angeles studio musician, Rhodes was equally at home in rock, pop and country sessions, and played on dozens of chart-topping albums. His country-rock bona fides include a long association with former Monkees member Mike Nesmith, who was an early pioneer of the style. Rhodes also recorded several pedal steel instrumental albums... Here's a quick look at his work...
---
Discography - Best-Ofs
---
Red Rhodes "Studio 102 Essentials" (Studio 102, 2009)

---
Discography - Albums
---
Red Rhodes "Once A Day" (Crown, 1964) (LP) <! - also B00GAH1W7W >





<! WP says 1961 >

Red Rhodes "Blue Blue Day" (Crown, 1964) (LP)





<! WP says 1962 >

Red Rhodes "Steel Guitar Rag" (Crown, 1965) (LP)





<! WP says 1963 > <! Red Rhodes & The Road Runners "Blue, Blue Day and Other Steel Guitar Country & Western Favorites" (Crown, 1966) Blue Blue Day/Lonely Nights/Pack Up And Go/Write Me A Line A Day/Full Time Lover//Gimme Gimme Let Me Have/My Last Teardrop/My Git Up Has Got Up And Went/Little Wet Eyes/First But Not Last CLP-5528/CST-528 Red Rhodes "Steel Guitar Rag" (Crown, 1968) CLP-5555/CST-555 - Steel Guitar Rag/Plastic Wrapped Kisses/Queen Bee Of Honky Tonk Hive/I'll Try Again/Trouble Ain't No Stranger//Walk Right Up To Love/Palamino Rag/Bone Dry/Abilene Bomb Shell/Natural Born Lover > <! Norval & Ivy "Wingin' It With Norval & Ivy" (Imperial, 1967) LP-9349/LP-12349 Shinbone; Slowpoke; Buckaroo; Tobacco Road; Please Pass The Biscuits; Cotton Fields; Cotton Pickin'; Waterloo; Yakety Axe; Oh Lonesome Me; Trevor's Theme; Flowers On The Wall - 06-67 w. Jimmy Bryant as by Norval & Ivy NOTE: All contributions by Red Rhodes was erased or replaced on the following LP: It's Jimmy Bryant and Scotty Turner ie: Norval & Ivy. >

Red Rhodes "Live At The Palomino" (Happy Tiger, 1969) (LP) <! - pic on AM - >

Red Rhodes "Velvet Hammer In A Cowboy Band" (Countryside-Elektra, 1973) (LP)


(Produced by Michael Nesmith)
A gorgeous set of instrumental psychedelic-pop twang, emanating from the same hippiedelic stratosphere as Michael Nesmith, whose band Rhodes helped anchor in the early 'Seventies. These imaginative, adventurous, lushly-arranged, multilayered tracks are perhaps Red Rhodes's most ambitious solo work, a super-trippy "headphone" album that captures the grooviest vibes of a wildly eclectic musical era. Definitely worth a spin! (By the way, these tracks have been reissued several times, sometimes with overdubs, etc., on a variety of labels. Alternate editions include Steel Guitar Record Club No. 10 (1976), Steel Guitar (1979) and Fantastic Steel Guitar (1980), which are listed below. There may be some others that I'm not aware of... can't keep track of everything!)


<! reissued on Steel Guitar Record Club No. 10 in 1976, Alshire S-5370 Steel Guitar in 1979 and on Exact EX-221 Fantastic Steel Guitar in 1980) NOTE: Countryside CM-102/0598 "Velvet Hammer In A Cowboy Band" is not really the same as the Steel Guitar Record Club version (No. 10) from 1976. It features a total 1976 remix with overdubs, a different track order and an extra track, also remixed-reworked from the 1973 sessions, but not included on the Countryside release. It also features a shorter title as "Velvet Hammer." >

Red Rhodes "Velvet Hammer" (Steel Guitar Record Club, 1976) (LP)


(Produced by Michael Nesmith)
This is the first reissue of the 1973 album above... Apparently it's a different mix, though, as well as a different track order, and includes a new track not included on the original album.


<! >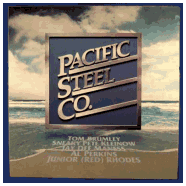 Pacific Steel Company "Pacific Steel Co." (Pacific Arts, 1978) (LP)


(Produced by Al Perkins)
An all-instrumental summit session featuring five pedal steel playing giants of the West Coast country scene's royalty: Tom Brumley (who played with the Buck Owens band), Sneaky Pete Kleinow of the Flying Burrito Brothers (and countless hippie-country recordings) along with Red Rhodes, Jay Dee Maness, and Al Perkins, all of whom played on countless sessions for a wide range of artists. Like many instrumental albums, this may appeal mainly to aficionados of the instrument in question, and this particular disc has a few rock-pop moments that may distract more country-oriented fans. Melodic/psychedelic rock and a hint of disco color these tunes, but it's solid picking all the way through -- a delight for fans of steel guitar. Although they billed themselves as a "band," each track is credited to individual soloists, and each seems to have brought his own separate backup players, although the best tracks feature combinations of more than one steel player at a time. These were the guys who provided much of the sweet soulful ooomph for the SoCal country-rock sound, and it's nice to hear them emerge into the spotlight for a while.
Red Rhodes "Red Rhodes' Steel Guitar" (Alshire, 1979) (LP)


This is apparently a reissue/remix of the 1973 Velvet Hammer album...
Red Rhodes "Fantastic Steel Guitar" (Exact, 1980) (LP)


Also a reissue of the Velvet Hammer album...
Red Rhodes "Steel Guitar Favorites" (Alshire, 1990) (LP)

---
Links
---
---