<! cd = 11/08/11 > <! MP3 04/08/13 > <! outside 11/08/11 - WP > <! pix 00/00/00 > <! 208-pix: 00/00/00 > <! UPDATES: 11/08/11 - posted 04/08/13 - some album reviews, no pix available, added 2012 album to list 12/26/20 - de-Amazoned, edits >
---
Wisconsin-born country crooner Bobby G. Rice had a handful of Top 10 entries in the early 1970s, and then slowly, slowly slid out of sight. He's got one of those thin, imperfect voices that sometimes work well on the wimpier end of the country spectrum... Like many long-lost second-stringers, his work has been out of print for years... Might still be worth looking for, though, if you cherish the lush, old-school Nashville Sound.
---
Discography - Best-Ofs
---

Bobby G. Rice "Instant Rice: The Best Of Bobby G." (GRT Records, 1976) (LP)
Lightweight, but likeable... This set collects Rice's major chart hits... Fans of Hank Locklin or Bill Anderson might like this a lot, even with the occasionally goofball country-pop arrangements. (Ah, the Seventies!) Mostly the songs are unmemorable -- "You Lay So Easy On My Mind," which hit #3 in 1973, is a standard-issue B-list countrypolitan tune, with all sorts of poetic pretensions; most of the other songs follow suit. One song that stands out is the mopey "The Whole World's Making Love Again Tonight," which has a terrible arrangement, but a strong theme -- anyone who's spent a bunch of long miserable, lonely nights wishing they could get a little lovin' can tap into the sentiment here. Look for this on vinyl: Rice is one of the many '70s-era second-stringers who've fallen off the radar and are unlikely to be digitally unearthed any time soon.
Bobby G. Rice "The Best Of Bobby G. Rice" (Sunbird Records, 1981) (LP)

---
Discography - Albums
---



The Rice Family "The Rice Family Album: Featuring Lorraine And Bobby" (Cuca Records, 19--?) (LP)
Originally a child member of a regional family country band, Bobby Rice had real rural roots... Born in Boscobel, Wisconsin, Rice and his family made nearby Richland Center their center of activity, and they were a real-deal 1950s hillbilly band that performed in gingham and overalls for several years before breaking up as the siblings got older and married off. After a high school fling in a frat rock band, Bobby G. formed a country duo with his sister Lorraine, and when that fizzled out, he set off for Nashville to become a solo star. This reunion album is of late '60s vintage, packed with covers of hits such as "Talk Back Tremblin' Lips," "Tippy Toeing" and "Company's Coming," along with a bit of polka and waltz music that was still popular in the region. Sure would be cool to also hear some of the stuff the Rice Family did in the 'Fifties when they were on the radio, but this is a pretty interesting memento of his early years.


<! #K5540 - from Richland Center, Wisconsin(!) - mostly country http://www.alancackett.com/bobby-g-rice >

Bobby G. Rice "Bobby's Best" (Jo-Cur Records, 19--?) (LP)
(Produced by John Howard)
His solo debut was a local affair, released on a label from Milwaukee, Wisconsin. The album includes a version of "Bud's Bounce" by Buddy Emmons, and a cover of Jimmy Clanton's "Just A Dream" -- otherwise the songs are all Bobby Rice originals. No info on who the session players were, though.


<! - label is from Milwaukee - includes SONGS: Break The News; Every Moment, Every Hour; Under The Midnight Lovelight; Roses Rain and Sunshine; Sun Kissed Morning; Jimmy's Girl, Betty Jo; Sugar Woman; Bud's Bounce; Butterfly Woman; Just A Dream; Sweet Lil' Ol' You; Down And Out >

Bobby G. Rice "Hit After Hit!" (Royal American Records, 1972)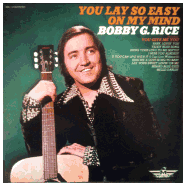 Bobby G. Rice "You Lay So Easy On My Mind" (Metromedia Records, 1973) (LP)
(Produced by Johnny Howard & Dick Heard)
A decent set of sleepy but soulful country ballads... Rice has a pretty thin voice, reminiscent of Hank Locklin, though hardly as skillful in his phrasing. He is very earnest, though, and really puts himself into these songs. This disc contains two of his best-known hits, "You Lay So Easy On My Mind" (which hit #3 on the charts, his biggest hit) and "You Give Me You," which pegged out at #8. This was Rice's commercial peak, though, and he steadily slid down into the Back Forty as the decade closed out. This is also some of his best work in terms of twang, with several moderately uptempo numbers, such as a loping version of Bill Anderson's "If You Can Live With It" and a few Texas shuffle numbers that are worth checking out. Rice co-wrote a few of the songs, too, including the title track. Fans of '70s soft country might want to check this one out.


<! 04/13: no pix 05/13: LK took pic >

Bobby G. Rice "She Sure Laid The Lonelies On Me" (GRT Records, 1974) (LP)





Bobby G. Rice "Write Me A Letter" (GRT Records, 1975) (LP)





Bobby G. Rice "With Love From Bobby G. Rice" (GRT Records, 1976) (LP)
(Produced by Gary S. Paxton)
This album is conveniently divided by style: Side One is the "Ballad Side" while on the flip, we get the "Rhythm Side," both of which are fairly bad. Well, actually a few of the (mildly) uptempo tunes are okay: "The Love She Offered You" is a nice cheating song, and there's some vintage '70s sunshine/countrypolitan pop on there as well. Side One is pretty much a total loss, though, except for the novelty version of "Somewhere Over The Rainbow," which features a little child talking to the singer/narrator, in the same style as earlier singles by Conway Twitty and Bobby Bare -- I guess that's worth checking out if you're a kitsch connoisseur.


<! 04/13: no pix >

Bobby G. Rice "Bobby's Back" (Audiograph Records, 1982) (LP)





Bobby G. Rice "Silk On Silk" (Audiograph Records, 1982) (LP)



<! Tracks are:- Last Train to Clarksville; Sugar Shack; Alaska; Mountain of Love; Silk on Silk; Sweet Caroline; Midnight Special; It Keeps Right On A Hurtin'; Kansas City; The Whole World's Making Love Again Tonight. >

Bobby G. Rice "Audiograph Alive" (Audiograph Records, 1983) (LP)





Bobby G. Rice "A New Beginning" (Doorknob Records, 1985)





Bobby G. Rice "Sugarshack" (Jukebox Records, 2010)





Bobby G. Rice "Teddy Bear" (Jukebox Records, 2011)





Bobby G. Rice "Down In Texas" (Heart Of Texas Records, 2012)





---
Links
---
---