<! cd = 10/18/10 > <! MP3 10/18/10 > <! update 10/18/10 > <! outside 00/00/00 > <! pix 00/00/00 > <! 208-pix: 00/00/00 > <! icons 10/18/10 >
---
LeAnn Rimes
---
Discography - Best-Ofs
---
LeAnn Rimes "Greatest Hits" (Curb, 2003)



Includes a few new tracks not previously included in her earlier albums...
---
Discography - Albums
---

LeAnn Rimes "Blue" (Curb, 1996)



(Produced by Wilbur C. Rimes, Johnny Mulhair & Chuck Howard)
This album opens with a grand countrypolitan ballad, a song that was written for Patsy Cline, but left unrecorded, just waiting for the appropriate time and place. Teenaged LeAnn Rimes, all of thirteen years old, tore the song apart and pinned back every ear that heard her, earning what seemed, at the time, many deserved comparisons to the great Ms. Cline. The rest of the album, however, revealed her deeper pop inclinations, and the thinness of much of her vocal technique. She could really belt it out, but after a few tunes, it felt like a one-note show... Rimes went on to become a hugely successful crossover artist, and while this is her most "country" effort, it's actually not all that country. Worth checking out, particularly as it's a major touchstone of late-'90s Top 40 country, but for folks like me, this one is hardly the hard country Holy Grail. I'd give it a C-.

LeAnn Rimes "The Early Years" (Curb, 1997)



(Produced by Wilbur C. Rimes, Johnny Mulhair)
When her first album, Blue, came out, Rimes seems to have emerged whole from the head of Zeus: the title songs was so smooth and accomplished, folks marveled how she sounded so good straight out of the gate. Well, the missing piece of the puzzle, Rimes's juvenilia, a plunky set of twangy tunes that show her country roots, as well as her weaknesses as a stylist when she was starting out. Yeah, sure, she had a really big voice for a little kid, but several of these songs show her awash in needless vocalese (the painfully prolonged vocal introduction to "Blue Moon Of Kentucky," the Whitney-inspired warbling on "I Will Always Love You..."), though it is nice to hear her be all country and sound so young on tunes like "The Rest Is History," "Sure Thing" and her perky version of Patsy Montana's "I Want To Be A Cowboy's Sweetheart." This is not that good or satisfying of an album, but it is an interesting historical footnote to a massively successful pop-country career... It's worth checking out, but hardly a keeper.

LeAnn Rimes "You Light Up My Life: Inspirational Songs" (Curb, 1997)



(Produced by Mike Curb, Chuck Howard & Wilbur C. Rimes)
A gospel set... Or, more properly, a set of "inspirational music," with some country touches like a subtle dash of pedal steel here and there. I gotta say, even though the pacing is somewhat monotonous, this album did give her the chance to stretch out and show off some vocal chops, paving the way for her subsequent jump into mainstream pop. If you like Christian pop, then this is a fairly strong release. If you don't, though, you'll definitely want to avoid this album.

LeAnn Rimes "Sittin' On Top Of The World" (Curb, 1998)



(Produced by Wilbur C. Rimes)
Sorta country, but really not. A Debby Boone for the new millennium. Yeesh... what happened?

LeAnn Rimes "I Need You" (Curb, 2001)



Ye gods. What a loada shinola. A bombastic, super-overproduced synthpop tragedy, only barely -- and only occasionally -- masquerading as slick modern Nashville pop. The expanded second edition of this album includes a slew of tunes that appeared in film soundtracks, etc., as well as some material original to the album. Rimes may have a good voice (I don't care for it much, one way or another) but she sure has terrible taste in music. If you like "country," however you define the genre, you should definitely avoid this album.
LeAnn Rimes "God Bless America" (Curb, 2001)


...And God bless you, too, LeAnn. Such a sweet child. Patriotic tunes, gospel and even something for the holidays... Apparently this disc features older stuff that Curb repackaged as a "new" album; but folks who liked Rimes' early recordings will probably be glad to hear this as well.
LeAnn Rimes "Twisted Angel" (Curb, 2002)



(Produced by Desmond Child, Peter Amato & Gregg Pagnani)



LeAnn Rimes "What A Wonderful World" (Curb, 2004)



(Produced by Peter Amato & Gregg Pagani)
Well, she hadn't really been a "country" singer for a long, long time, so the pop vocals/big band feel on LeAnn's holiday album shouldn't come as too much of a surprise to anyone. Copping a few tricks from Harry Connick, Jr. and Norah Jones, Rimes croons her way through a set of oldies and a few new tunes... Many have a wham-bam Doc Severinsen-like brassiness, courtesy of bandleader Ray Herrmann, which frankly is preferable to the slower numbers, on which she indulges in a bit of soul-inflected vocalese. It's a very slick, competent affair -- I couldn't wait to get it out of my stereo, but fans of Rimes and this brand of mainstream holiday music will definitely not be disappointed. (For more Christmas music, see my Hillbilly Holiday section)
LeAnn Rimes "This Woman" (Curb, 2005)


LeAnn Rimes "Whatever We Wanna" (Warner, 2006)

LeAnn Rimes "Family" (Curb, 2007)


Leann Rimes "Lady And Gentlemen" (Curb, 2011)






<! Lady And Gentlemen is a creative concept album co-produced by LeAnn Rimes, country superstar Vince Gill and successful writer, Darrell Brown. It features country classic songs by the likes of George Jones, Merle Haggard and Waylon Jennings, all sung from a modern female s perspective. Says LeAnn, "This album was born out of the memories of when I first fell in love with country music and in reflecting, I realized that almost all of my favorite country songs from back then were sung by men. I am honored to take a step back in time and sing these songs from a woman's perspective and hopefully help reintroduce them to a new audience." The album features the Grammy Award nominated song "Swingin " (Best Female Country Vocal Performance) along with the moving single "Give," "Crazy Women" and an anniversary edition of "Blue" as bonus tracks. >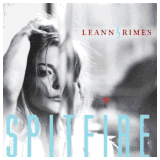 Leann Rimes "Spitfire" (Curb, 2013)



(Produced by Darrell Brown)
I was all set to get all snarky and make a prediction that this isn't going to be her big back-to-basics honkytonk/bluegrass album. But then I actually listened to it and was surprised to find that, indeed, this was her big roots-rock record! Now, I had pretty much given up on Leann Rimes about a decade ago when she went full-on high-tech pop, and figured that was pretty much it for her... But on this new album (which still has a hefty dose of overproduced pop and rock stylings) Rimes dips back into twang, though this time she's in a tough-edged party girl mode, reminiscent of Gretchen Wilson or Miranda Lambert. So, things do change, though naturally not without some controversy... Apparently there are people out there who are utterly scandalized by Rimes having recorded a few raunchy songs recently... Including some folks who don't seem to be aware that she grew up and became a legal adult a couple of decades ago. Oh, well. I say let Leann be Leann... This still isn't my cup of tea, but it's nice to hear her doing some kind of country again.

LeAnn Rimes "One Christmas -- Chapter One" (2014)

---
Links
---
---