<! cd 09/20/10 > <! MP3 09/20/10 > <! outside 00/00/00 > <! pix 09/20/10 > <! 208-pix: 06/16/14 - missing a couple > <! icons 03/29/11 > <! UPDATES: 04/30/09 - split Robison off into own profile; done: 09/20/10 06/12/14 - updated, bigger pix - all old links defunct >
---
Songwriter Bruce Robison is one of those intriguing Nashville semi-outsiders with songs placed here and there on various high-powered albums. Folks looking for a bit of old-time authenticity laced with modern country know-how oughtta check him out... You may recognize some of his songs from the "top country" charts, but Robison's own versions (and those recorded by his wife, the ever-impressive Kelly Willis) have a twangy trueness to them that'll get Americana fans tapping their toes and singing along as well. His brother, Charlie Robison is another Americana/alt-country icon, although of a slightly rougher hue; their sister, Robyn Ludwick, has also recorded some fine indie-billy albums worth checking out. Anyway, here's a quick look at Bruce Robison's solo work... And check out Willis' albums, too: she's the bee's knees.
---
Bruce Robison Discography
---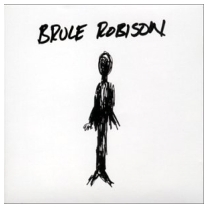 Bruce Robison "Bruce Robison" (Vireo, 1997)


Contains the original version of his masterful "Angry All The Time," which reappeared on the Wrapped album, and was later taken to the top of the Nashville charts in a 2001 version by hat-act star Tim McGraw. Robinson's version is more emotionally piercing -- great song, nice record.
Bruce Robison "Wrapped" (Sony/Little Dog, 1998)



A swell record which stands on the border between alterna-country and the faraway shores of Nashville insiders. Robison makes his living as a songwriter, so this has the pleasant but craftsmanlike feel of one of those records which also function as extended demo tapes, showing the guy's range. There's a little something for everyone as he glides between various styles... The Garth Brooks-y, sensitive stud material ("Go To Your Heart"), needlessly perky pop ("I Dream Too") and MOR/easy listening ("Desperately") are overly ornate, but it must be admitted that this stuff works better in Robison's hands than those of the hat-act stars who can transform these songs into big, chartbusting hits. On the other hand, the rootsier material and old-fashioned novelty songs, such as the title track and "12 Bar Blues," are pretty swell. Kelly Willis pitches in on harmony, as well as dueting on one number... And of course there's the absolutely stunning "Angry All The Time" -- one of my all-time favorite country songs -- an anguished ballad with a compelling chorus that appeals to pretty much anyone whose partner gets a little unbelieveably crabby from time to time. I really like Robison's plainspoken vocals... and his amazing way of wrapping it around his just-right lyrics. Recommended!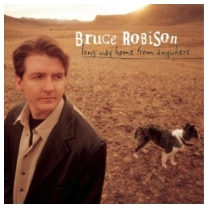 Bruce Robison "Long Way Home From Anywhere" (Sony/Little Dog, 1999)



On this album, the occasionally awkward instrumentation of the last record is done away with, in favor of a too-slick mix that buries the rough spots, but also obscures Robison's lingering indie-ish charm. It's good, but a little brusque. Has a few Texas shuffle tunes and stuff like that, but doesn't wow me that much.
Bruce Robison/Charlie Robison/Jack Ingram "Unleashed - Live" (Sony/Little Dog, 2000)



A nice live album which opens with several Bruce Robison tracks, then moves on to brother Charlie and his tales of excess and woe, then onto the harsher-toned, electrified Mr. Ingram. Bruce Robison's stuff is the most traditional sounding and pleasant, particularly on a duet with Charlie, and another sung with Kelly Willis (a different-sounding version of "Angry All The Time"). It's nice, too, to hear how Charlie connects to his jovial following of would-be rowdies; Ingram is perhaps the least appealing of the trio -- his work seems a bit blunt and overly sarcastic. A nice snapshot of these three like-minded fellers in an informal live setting.

Bruce Robinson "Country Sunshine" (Boar's Head, 2001)



A groovy self-released album from this Nashville semi-outsider. Fans of earlier albums will notice the change of tempo right off: the album art is a parody of early '70s EZ-listening countrypolitan, and while this is no Johnny Rodriguez album, it is a bit mellower and less hook-laden than, say, Wrapped... Solid songwriting, though, and definitely worth checking out. As ever, the duets with Kelly Willis are worth the price of admission alone.


<! 06/16/14: no new 208 >

Bruce Robison & Kelly Willis "Happy Holidays From..." (Boar's Nest, 2003)



A relaxed, just-for-friends 7-song Xmas EP, with Kelly crooning out a sexy "Santa Baby," Bruce clowning around on the country classic, "Please Daddy, Don't Get Drunk For Christmas" and the married couple having fun with a duet or two, including Frank Loesser's "Baby, It's Cold Outside." A mellow, just-for-fun set, which devoted fans can take as a personal holiday hello. (PS - if you like country Christmas records, I review a whole bunch of them on my hillbilly holiday page... )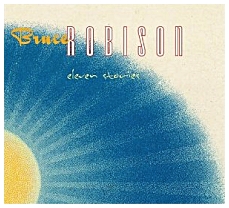 Bruce Robison "Eleven Stories" (Sustain/Universal, 2006)



Waitaminnit... Was that really Bruce Robison and Kelly Willis in that Claritin commerical on TV? It was? Wow, how weird... but good for them! How else would they be able to afford to put out such nice, understated gems such as this album? A couple of top-notch cover tunes -- of the Dreadful Grate's "Tennessee Jeb" and the old Webb Pierce hit, "More And More" -- fit in nicely with a new batch of Robison originals... There are a couple of dreamy, almost indie-rockish slow songs, as well as a few tried-and-true honkytonk tunes such as the sweetly sardonic "You Really Let Yourself Go." Another winning set by this alt-country mainstay, with nice harmony vocals from Ms. Willis. Recommended!
Bruce Robinson "It Came From San Antonio" (Premium, 2007)


Bruce Robinson "The New World" (Premium, 2008)


Bruce Robinson "His Greatest" (Premium 2008)


Bruce Robison & Kelly Willis "Cheater's Game" (Premium Records, 2013)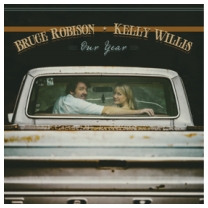 Bruce Robison & Kelly Willis "Our Year" (Premium Records, 2014)



(Produced by Brad Jones)
Another fine album from hard country's reigning duo... Honestly, I can't tell you how how much I love hearing their voices together (and solo) and of course, the calibre of songwriting and musicianship is always top-notch. In addition to more great Bruce Robison originals, this set features several interesting cover tunes, such as Walter Hyatt's homage to Detroit and American car culture, "Motor City Man," and Buddy Mize's weeper, "Hangin' On." The album's most delightful surprise is that the title comes from their cover of an old rock ballad by The Zombies (one of my favorite '60s bands!) and when Willis croons "This Will Be Our Year" to a stripped-down country arrangement -- with a banjo and pedal steel taking the place of the brass fanfare and dreamy keyboards of the original -- it's a moment of sheer brilliance. Not surprisingly, Willis and Robison have chosen perfect accompanists, with particularly strong contributions from Eamon Mclaughlin on fiddle and mandolin, and Geoff Queen playing dobro and pedal steel. This is sweet, soulful country traditionalism at its best... Another gem from these cool, collected twangcore auteurs.
---
Links
---
---