<! cd=06/11/09 > <! posted 11/03/11 > <! MP3 06/11/09, 11/03/11 > <! update 11/03/11 > <! outside 00/00/00 > <! pix 00/00/00 > <! 208-pix: 00/00/00 > <! The Roches (Maggie, Terre and Suzzy Roche) are a female vocal group of three songwriting Irish-American sisters from Park Ridge, New Jersey,[1] known for their unusual and rich harmonies, quirky lyrics, and casually comedic stage performances. The Roches have been active as performers and recording artists since the mid-1970s, at various times performing as a trio and in pairs. In the late 1960s, eldest sister Margaret and middle sister Terre (pronounced "Terry") quit school to tour as a duo. Maggie wrote most of the songs, with Terre contributing to a few. The sisters got a break when Paul Simon brought them in as backup singers on his album There Goes Rhymin' Simon (1973). They returned the favor, so to speak, by getting his assistance (along with an appearance by The Oak Ridge Boys) on their only album as a duo, Seductive Reasoning (1975). Shortly after that, youngest sister Suzzy (rhymes with "fuzzy") joined the group to form The Roches trio. Around this time, they parlayed bartending jobs at famous Greenwich Village folk venue Gerde's Folk City into stage appearances, an experience they commemorated in their song, "Face Down at Folk City" (from Another World, 1985). It was here that they met many of their future singing and songwriting collaborators. Terre was now writing songs as well, and by the time of their first album as a trio, The Roches (1979), Suzzy also began writing. Robert Fripp produced the musically sparse album that allowed the sisters' harmonies to shine through. Maggie's "The Married Men" from this album was eventually to become the biggest hit of the songwriting trio Ñ not for them, but for Phoebe Snow. Throughout the 1980s, The Roches continued to release their music to small but appreciative audiences, little or no air play, and only modest record sales. Their widest exposure in the '80s was an appearance on "The Tonight Show with Johnny Carson" in November 1985, where they performed their song "Mr. Sellack". In 1990, they returned to their Christmas-caroling roots with the release of the 24-track We Three Kings, which included the a cappella "Star of Wonder", written by Terre. After another pop album (A Dove, 1992), they recorded an entire album of children's songs entitled Will You Be My Friend?, featuring a song by brother David and a gaggle of young backup singers, including Suzzy's daughter Lucy Wainwright Roche. After a tour interrupted by the death of their father, The Roches crafted a more somber and thoughtful album, Can We Go Home Now (1995), the last original recording they released as a trio until 2007. In 1997, the sisters formally put their group on long-term hold. They continued to work on solo projects and often collaborated on albums and performances. Terre teaches guitar workshops and has released a solo album. Suzzy, who has acted on the stage and in several movies, released two of her own albums and two with Maggie, with whom she has toured. All three sisters can be found periodically participating in New York-area events. At the end of 2005, the three Roches (with brother Dave) reunited for a short but highly successful holiday tour. Several more appearances in the U.S. and Canada took place 2006-7, and in March 2007, after a 12-year hiatus, The Roches released a new studio album, Moonswept.[2] [edit] A musical family Maggie has a contralto voice that provides an unusual bass element for all-female harmonies. Terre provides a soprano that brackets the upper range of the sisters, while Suzzy fills in the middle range. While touring, the sisters accompany themselves with guitars and keyboards, frequently without additional musicians. Musical talent runs further in the family. Brother David is also a singer-songwriter with his own solo album, and has often backed up the trio on their recordings.[3][4] [5] Maggie's son, Felix McTeigue, has recorded two albums (one with his group Filo).[6][7] Suzzy's daughter, Lucy, has also contributed vocals on the Roches' and McTeigue's albums,[8][9] and in 2007 she produced an EP of her own, 8 Songs, followed by 8 More in 2008 and tours opening for acts such as Amos Lee and the Indigo Girls.[citation needed] The majority of Roches songs are written by the three sisters, alone, in every combination, and occasionally collaborating with other songwriters. They have also recorded their own arrangements of songs from a variety of New York folk artists, as well as a few covers of famous songs. Their three-part arrangement of the normally four-part "Hallelujah Chorus" from Handel's Messiah, featured on Keep on Doing [1982], is well-regarded in a cappella circles. >
---
The Roches, sisters Maggie & Terre & Suzzy Roche are one of the great undefinable, oddball musical acts of the 1970/'80s folk scene, a trio that gained recognition outside of the coffeehouse circuit, recording several major label albums that crossed the divide between confessional folk and novelty pop. Their unusual harmonies and innovative arrangements make their early albums a singular experience (and acquired taste), while later recordings show a depth and maturity that may surprise older fans. Here's a quick look at their work...
---
Discography
---
Maggie & Terre Roche "Seductive Reasoning" (Columbia, 1975)


Majorly out-of-print, this LP was their first recording other than session work, including a gig backing Paul Simon on his landmark Rhymin' Simon album.
The Roches "The Roches" (Warner, 1979)


The Roches "Nurds" (Warner, 1980)


The Roches "Keep On Doing" (Warner, 1982)


The Roches "Another World" (Warner, 1985)


The Roches "No Trespassing" (Real Live Records, 1986)


A 4-song EP...
The Roches "Speak" (MCA, 1989)


The Roches "We Three Kings" (MCA, 1990)


The Roches "A Dove" (MCA, 1992) <! (Produced by Teddy Wainwright) >
The Roches "Will You Be My Friend?" (Baby Boom, 1994)





<! kid's music >

The Roches "Can We Go Home Now?" (Rykodisc, 1995)


Suzzy Roche "Holy Smokes" (Red House, 1997)


Terre Roche "The Sound Of A Tree Falling" (Earth Rock Wreckerds, 1998)


Suzzy Roche "Songs From An Unmarried Housewife And Mother, Greenwich Village, USA" (Red House, 2000)



A new album by Suzzy Roche is usually a cause for celebration, and this one's no exception. Back in the late '70s, the Roches (Maggie and Terry, and Suzzy) almost singlehandedly saved adult folk music from the dreary pop-crossover hegemony of James Taylor, Harry Chapin and their demon familiars. Belly-flopping into the deep end along with the pioneers of new wave and punk rock, the Roches injected playfulness and big city sass into the acoustic music scene, offering some of the most original and outright oddball songs the genre has ever heard. Decades later, Suzzy keeps the faith on a bluegrass-tinged album that explores middle-aged spirituality and childlike frivolity with equal abandon. The album's most obvious highlight is the hilarious "G Chord Song," which sums up the anguish so many beginning artists feel: "Everybody writes a war song/Everybody writes a G chord song/Everybody wants to record some day.../What can you say?" The trick, of course, is to make that same old song yours, and to have a good time singing it. No problem for Suz!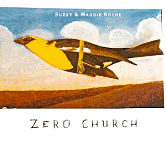 Maggie & Suzzy Roche "Zero Church" (Red House, 2002)



When the Roches hit the folkie scene in the 1970s, their style was a bit keening and odd; now the harmonies are smoother and the voices mellowed into simple beauty. Of course, the difference may also have something to do with the nature of the material -- this is an album entirely devoted to spiritual questing, running Judeo-Christian religiousity through the filter of liberal New Yorker culture. Naturally, there's some September 11th-related material as well, although the religious nature of this album was already in the work before the attacks. Anyway, this is a slightly different Roches than you may remember -- musically it's pretty solid, though if you're not into the whole God thing, this might not be for you.

Maggie & Suzzy Roche "Why The Long Face?" (Red House, 2004)



As on all their recent records -- and well, on all their records, really -- this disc has a few songs that will stand out and charm you immensely, and a whole slew of other tunes that might simply get on your nerves. These gals have always had an unusual harmonic sensibility, and the odd tones and dense melodies they delve into are probably not for your average folkie or pop fan... But in terms of their lyrics, they sure have a lot to talk about, and a distinctive way to say it... Highlights include "Who Cares," which looks mournfully at 9/11 and its global aftermath (still a high priority and an ethical muddle for these New Yorkers) and Suzzy's "Long Lonely Road To Nowhere," which skewers the self-help scene, holding it up to the cold, calm light of self-acceptance and embrace of the imperfect. There's a real maturity and absurdism at play here that you simply don't hear in much of our glib modern art... Whether the folks who will appreciate the message will also be able to put up with the atonalities and dissonant melodies of the Roche sibs is another matter altogether... But if you like folk music with substance to it, this is worth checking out...
The Roches "Moonswept" (429 Records, 2007)






<! Maggie & Terre Roche "I Gave My Love A Kerry" (Earth Rock Wreckerds, 2004) (???) no ASIN 11/11 > <! Suzzy's daughter, Lucy, has also contributed vocals on the Roches' and McTeigue's albums,[8][9] and in 2007 she produced an EP of her own, 8 Songs, followed by 8 More in 2008 >

---
Best-Ofs & Related Records
---
The Roches "The Collected Works Of The Roches" (Rhino/Warner, 2003)






<! Spanning 1979-1992, this single-disc collection gathers 19 songs from both their MCA & Warner periods, including the Robert Fripp-produced 'Hammond Song' & a live version of 'The Married Men'. >

The Roches "Rhino HiFive: The Roches" (Rhino/Warner, 2007)

---
Links
---
---