<! MP3 08/20/09 > <! update 00/00/00 > <! outside 00/00/00 > <! pix 00/00/00 > <! 208-pix: 00/00/00 > <! cd = 08/20/09 >
---
It was sad to hear that folklorist Mike Seeger (1933-2009) had passed away... One of the key figures in the 1960s American folk revival, Seeger was the son of musicologists and composer Charles Seeger, brother of political folkie Peggy Seeger and half-brother to the legendary Pete Seeger. As a young man, Mike Seeger traveled the backroads of American culture, researching the traditional music of the Appalachian Mountains and the South, collecting old 78rpm records as well as seeking out and meeting many of the regional musicians who recorded these Depression-era singles. Interviewing these old-timers and recording their songs, Seeger produced numerous albums for the Folkways label and was a founding member of the dynamic, rollicking New Lost City Ramblers, perhaps the most important band of the old-timey revival. Here's a quick look at his work...
---
Discography
---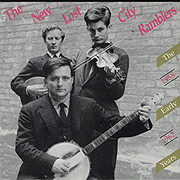 New Lost City Ramblers "The Early Years: 1958-1962" (Smithsonian-Folkways, 1991)



Possibly the best old-timey revivalists of the '50s/'60s folk scene, the NLCR were comprised of Tracy Schwartz, John Cohen and Mike Seeger. All three band members were avid collectors of old folk tunes -- they dug up old 78s in the public libraries, collected them while on the road, and traveled widely throughout the Appalachians and the South, recording rural folks who still remembered the old songs. All of this is well and fine, but what really makes the Ramblers special was that they themselves rocked! Both best-of volumes of NLCR recordings are full of inspired, entertaining music. HIGHLY recommended!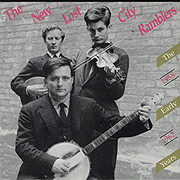 New Lost City Ramblers "Out Standing In Their Field: 1963-1973" (Smithsonian-Folkways, 1991)


Mike Seeger "Old Time Country Music" (Folkways, 1962)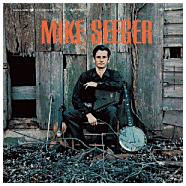 Mike Seeger "Mike Seeger" (Vanguard, 1964)


A superlative folk, blues and old-timey album, with an affectionate mix of gospel, secular and topical songs all performed (mostly) solo on a variety of instruments. Seeger plays banjo, fiddle, guitar or autoharp and sings in a simple, understated style that honors the songs rather than the singer. And what a great songlist, drawn from his encyclopedic knowledge of American and English folklore... Along with the traditional songs and ultra-oldies, there are also some more modern and playful selections, such as hillbilly singer Jimmy Murphy's "We Live A Long Long Time To Get Old" and Henry Thomas' "Fishing Blues," later popularized by hippie-blues idol Taj Mahal. Several tunes from the Carter Family and Grandpa Jones round things out, and while the repertoire is delightful, it's Seeger's overall vibe that makes this such a memorable album... The simplicity and clarity, his soulful, purposeful delivery and the sweetness of tone in his musicianship are all models of folkie elan. His wife, Marge Seeger adds some sweet guitar work on a couple of tunes, though mostly this is a solo show... and an impressive one at that! Highly recommended.
Mike Seeger "Tipple, Loom And Rail: Songs Of The Industrialization Of The South" (Folkways, 1965)



Strange Creek Singers "Strange Creek Singers" (Arhoolie, 1972)



An old-timey classic, joining Hazel & Alice later with Mike Seeger and Tracy Schwartz of the New Lost City Ramblers. They open the album with a shape-note song ("When I Can Read My Titles Clear"), just to let us know that they've got the real low-down on this mountain music... Then they gradually ease into more melodic, bluegrassy terrain. It's great stuff from start to finish, originally recorded between 1968-70.


<! 130 x 130 >
Mike Seeger "Music From True Vine" (Mercury, 1972) (LP)

Mike Seeger/Various Artists "The Second Annual Farewell Reunion" (Mercury, 1973) (LP)





<! Tracks Rye Straw The Train That Carried My Girl From Town Texas Rangers Jock Hawk's Adventures In Glasgow Cindy Blues In A Bottle Snowdrop Well May The World Go I Am A Traveling Creature You'll Find Her Name Written There Take Me Back To The Sweet Sunny South New Year's Eve Song Careless Love Old Smokey You Are My Flower Kill The Shanghai Rooster Musicians The musicians involved on some or all of the tracks of this album are; Mike Seeger - banjo, bass, mandolin, fiddle, mouth harp, jew's harp, guitar, autoharp, vocals Mac Benford - banjo Jenny Clelland - bass John Cohen - banjo-mandolin Penny Cohen - dulcimer Ry Cooder - guitar Elizabeth Cotten - lead guitar Hazel Dickens - string bass, vocals Doug Dorschug - guitar Alice Gerrard - guitar, vocals Roscoe Holcomb - banjo, vocals Walt Koken - fiddle Tex Londan - fiddle Ewan McColl - vocals Maria Muldaur - guitar, vocals Bob Potts - fiddle David Rea - banjo Lesley Riddle - guitar, vocals Tracy Schwarz - resonator guitar Peggy Seeger - lead guitar, vocals Pete Seeger - banjo, vocals Kilby Snow - autoharp Don Stover - banjo Eric Thompson - guitar >
Mike, Penny & Peggy Seeger "American Folk Songs For Children" (Rounder, 1977)


Mike Seeger/Norman & Nancy Blake/Various Artists "Fresh Oldtime String Band" (Rounder, 1988)


Mike & Peggy Seeger "American Folk Songs For Christmas" (Rounder, 1989)


Mike Seeger "Solo: Old Time Music" (Rounder, 1991)


Mike Seeger "Animal Folk Songs For Children" (Rounder, 1992)


Mike Seeger/Various Artists "Third Annual Farewell Reunion" (Rounder, 1994)


Mike Seeger & Paul Brown "Way Down In North Carolina" (Rounder, 1996)



Mike Seeger "Southern Banjo Sounds" (Smithsonian-Folkways, 1998)



A scholarly, tour-de-force set cataloging various Southern banjo styles, including several unusual approaches that may be a real ear-opener for even the most devout bluegrass/old-timey fan. Seeger continues to be one of the most authoritative stringband pickers out there... There is a whiff of the old-fashioned Folkways dryness on here, but it's still a pretty soulful, heartfelt set. For banjo fans, this is a must-hear; for the casual twangfan, although this might not be a record you'd want to put on and listen to recreationally, it'll still have plenty of delights and surprises.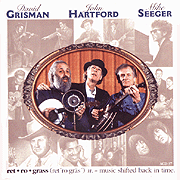 Mike Seeger/David Grisman/John Hartford "Retrograss" (Acoustic Disc, 1999)



A plunky, clunky, witty deconstruction of rock and old-timey favorites. If anyone has the chops to pull off a great, goofy album like this one, it would be these acoustic music old-timers. At the tail end of a forty-year bluegrass/old-timey revival that they helped define, when slick, fancy picking has become a formalized norm, they take a few minutes to step back, sit down on the veranda, chew on some wheat straws, and pick and plunk ackwardly, just 'cuz they want to... Included in the set list are goofy hillbilly versions of rock standards such as "Hound Dawg," "Maybelline", and Dylan's "Maggie's Farm", as well as bluegrass tunes like "Rocky Top" and "Uncle Pen." All of these songs are normally played at a breakneck pace, but the Retrograss crew slows it all to a crawl -- listening to their cover of Lonnie Mack's "Memphis," you can easily imagine the protagonist as a Cletus-type hick, puzzling over the chicken scratches left by on the wall by his distracted uncle. Anyone familiar with John Hartford's classic '70s albums will have a good idea what they're in for with this one: it's always a pleasure to hear him in such fine comedic form... And them other two fellows are no sloutches, either.
Mike Seeger "True Vine" (Smithsonian Folkways, 2003)


Mike Seeger "Early Southern Guitar Sounds" (Smithsonian Folkways, 2007)


Mike Seeger & Alice Gerrard "Bowling Green" (Five String Productions, 2008)


Mike Seeger & Peggy Seeger "Fly Down, Little Bird" (Appleseed Music, 2011)



(Produced by Mike Seeger, Peggy Seeger & Alexia Smith)
A plainspoken and touching collection of old, traditional folk music recorded by siblings Mike and Peggy Seeger, the younger brother and sister of the great Pete Seeger, and children of musicologist Charles Seeger. The Seegers shared a love of mountain music, and these barebones recordings -- the last sessions by the late Mike Seeger -- are particularly moving in their simplicity and in the palpable joy that Mike and Peggy took in singing the old songs and in performing together. If you enjoy old-style Southern and Appalachian music, particularly songs with odd topics and weird lyrical twists, then this album will be a true delight. It's a little heartbreaking that Mike Seeger is no longer with us, but the beauty and simplicity of these recordings underscores all the great work he did and the kooky magic of his musical passions. Highly recommended.
---
Links
---

<! Mike Seeger "Old Time Country Music" (Folkways, 1962) B00242VOBQ B000S98KKU Mike Seeger "Mike Seeger" (Vanguard, 1964) Mike Seeger "Tipple, Loom And Rail" (Folkways, 1965) Mike Seeger "Strange Creek Singers" (Arhoolie, 1968) Mike Seeger "Music From True Vine" (Mercury, 1972) Mike Seeger "The Second Annual Farewell Reunion" (Mercury, 1973) B001G695BC (LP) > <! Tracks Rye Straw The Train That Carried My Girl From Town Texas Rangers Jock Hawk's Adventures In Glasgow Cindy Blues In A Bottle Snowdrop Well May The World Go I Am A Traveling Creature You'll Find Her Name Written There Take Me Back To The Sweet Sunny South New Year's Eve Song Careless Love Old Smokey You Are My Flower Kill The Shanghai Rooster Musicians The musicians involved on some or all of the tracks of this album are; Mike Seeger - banjo, bass, mandolin, fiddle, mouth harp, jew's harp, guitar, autoharp, vocals Mac Benford - banjo Jenny Clelland - bass John Cohen - banjo-mandolin Penny Cohen - dulcimer Ry Cooder - guitar Elizabeth Cotten - lead guitar Hazel Dickens - string bass, vocals Doug Dorschug - guitar Alice Gerrard - guitar, vocals Roscoe Holcomb - banjo, vocals Walt Koken - fiddle Tex Londan - fiddle Ewan McColl - vocals Maria Muldaur - guitar, vocals Bob Potts - fiddle David Rea - banjo Lesley Riddle - guitar, vocals Tracy Schwarz - resonator guitar Peggy Seeger - lead guitar, vocals Pete Seeger - banjo, vocals Kilby Snow - autoharp Don Stover - banjo Eric Thompson - guitar > <! Mike, Penny & Peggy Seeger "American Folk Songs For Children" (Rounder, 1977) B0000002JF B0010V36L8 Mike Seeger "Fresh Oldtime String Band" (Rounder, 1988) Mike & Peggy Seeger "American Folk Songs For Christmas" (Rounder, 1989) B0000003EU B0010W4PSU Mike Seeger "Solo: Old Time Music" (Rounder, 1991) B0000002JX B0010UZ8Q0 Mike Seeger "Animal Folk Songs For Children" (Rounder, 1992) Mike Seeger "Third Annual Farewell Reunion" (Rounder, 1994) B0000002LT B0010SEC14 Mike Seeger & Paul Brown "Way Down In North Carolina" (Rounder, 1996) B0000002OX B0010VCYWU Mike Seeger "Southern Banjo Sounds" (Smithsonian Folkways, 1998) B00000AFQR Mike Seeger "Retrograss" (Acoustic Disc) (1999) Mike Seeger "True Vine" (Smithsonian Folkways, 2003) B00008XES0 B000S98JAG Mike Seeger "Early Southern Guitar Sounds" (Smithsonian Folkways, 2007) B000UL8UZQ B0013JK7E6 Mike Seeger & Alice Gerrard "Bowling Green" (Five String Productions, 2008) B001FBJUHM * Talking Feet (Book) Compiled with dancer Ruth Pershing (Consignment) (2007) * Talking Feet (DVD) (Smithsonian Folkways) (2007) Mike Seeger "Close To Home --Old Time Music From Mike Seeger's Collection: 1952-1967" (Smithsonian-Folkways, 1997) B000001DJW B000S9CAGK [edit] Recordings with the New Lost City Ramblers The New Lost City Ramblers "New Lost City Ramblers" (Folkways, 1958) The New Lost City Ramblers "Old Timey Songs for Children" (Folkways, 1959) The New Lost City Ramblers "Songs for the Depression" (Folkways, 1959) The New Lost City Ramblers "New Lost City Ramblers - Vol. 2" (Folkways, 1960) The New Lost City Ramblers "New Lost City Ramblers - Vol. 3" (Folkways, 1961) The New Lost City Ramblers "New Lost City Ramblers" (Folkways, 1961) The New Lost City Ramblers "New Lost City Ramblers - Vol. 4" (Folkways, 1962) The New Lost City Ramblers "American Moonshine and Prohibition Songs" (Folkways, 1962) The New Lost City Ramblers "New Lost City Ramblers - Vol. 5" (Folkways, 1963) The New Lost City Ramblers "Gone to the Country" (Folkways, 1963) The New Lost City Ramblers "String Band Instrumentals" (Folkways, 1964) The New Lost City Ramblers "Rural Delivery No. 1" (Folkways, 1964) The New Lost City Ramblers "Modern Times" (Folkways, 1968) The New Lost City Ramblers "New Lost City Ramblers with Cousin Emmy" (Folkways, 1968) The New Lost City Ramblers "Remembrance of Things to Come" (Folkways, 1973) The New Lost City Ramblers "On the Great Divide" (Folkways, 1975) The New Lost City Ramblers "Earth is Earth" (Folkways, 1978) The New Lost City Ramblers "Tom Paley, John Cohen, Mike Seeger Sing Songs of the New Lost City Ramblers" (Folkways, 1978) B00242VOWK B000RKD94W The New Lost City Ramblers "20th Anniversary Concert" (Rounder/Flying Fish, 1978) [with Elizabeth Cotten, Highwoods String Band, Pete Seeger & the Green Grass Cloggers] The New Lost City Ramblers "The Early Years, 1958-1962" (Smithsonian-Folkways, 1991) The New Lost City Ramblers "Out Standing in their Field: The New Lost City Ramblers, Vol 2, 1963-1973" (Smithsonian-Folkways, 1993) The New Lost City Ramblers "There Ain't No Way Out" (Smithsonian-Folkways, 1997) B000001DJX The New Lost City Ramblers "40 Years of Concert Recordings" (Rounder, 2001) The New Lost City Ramblers "50 Years: Where Do You Come From? Where Do You Go?" (Smithsonian Folkways, 2009) B002F3BPPO >


---



Hick Music Index



---

<! cd=07/30/09> <! posted 07/03/11 >