<! cd = 10/08/13 > <! MP3 00/00/00 > <! outside 00/00/00 > <! pix 00/00/00 > <! 208-pix: 00/00/00 > <! styles: Alt? Hippiebilly, Top 40 > <! UPDATES: 01/09/14 - posted >
---
Cartoonist, humorist and songwriter Shel Silverstein (1930-1999) was an unlikely figure to make his mark in country music, but several of his songs became standards in the 1970s, particularly the numerous songs covered by Bobby Bare. Silverstein also scored several rock hits, notably several songs recorded by the band Dr. Hook, and was of course a popular author of children's books and poems. Here's a quick look at his work...
---
Discography - Best-Ofs
---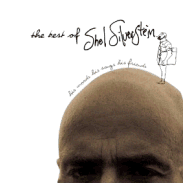 Shel Silverstein "The Best Of Shel Silverstein: His Words His Songs His Friends" (Columbia-Legacy, 2005)



Humorist, cartoonist and songwriter was a one-man pop-culture juggernaut in the '60s and '70s, with numerous artists in both country and rock covering his songs. This best-of collection combines his own recordings (which have a very unique feel) with popular recordings by other artists, such as "The Cover Of Rolling Stone," by Dr. Hook, "A Boy Named Sue," by Johnny Cash, and Kris Kristofferson's version of "The Taker." Highlights from the bard himself include the poem, "Sarah Cynthia Sylvia Stout Would Not Take the Garbage Out," which is both fondly remembered and eternal. An acquired taste, perhaps, but Silverstein's sly sense of humor seems to be standing the test of time.
Shel Silverstein "Crouchin' On The Outside" (Janus, 1973) (MP3)


A sideways best-of that combines tracks from two of his albums on the Cadet label, 1965's I'm So Good That I Don't Have To Brag and Drain My Brain, from 1967.
---
Discography - Albums
---
Shel Silverstein & The Red Onions "Hairy Jazz" (Elektra, 1959)


Shel Silverstein "Inside Folk Songs" (Atlantic, 1962)


Shel Silverstein "I'm So Good That I Don't Have To Brag" (Cadet, 1965)


Shel Silverstein "Boy Named Sue And Other Country Songs" (RCA, 1969)

Shel Silverstein "Ned Kelly" (Soundtrack) (United Artists, 1970)

Shel Silverstein "Who Is Harry Kellerman And Why Is He Saying Those Terrible Things About Me?" (Soundtrack) (Columbia-CBS, 1971) (LP)

Shel Silverstein "Freakin' At The Freakers Ball" (Columbia-CBS, 1972)

Shel Silverstein "Songs And Stories" (Parachute, 1978)


Shel Silverstein "The Great Conch Train Robbery" (Flying Fish, 1980)


Shel Silverstein "Where The Sidewalk Ends" (Columbia-CBS, 1984)


Shel Silverstein "A Light In The Attic" (Columbia-CBS, 1985)


Shel Silverstein & Pat Dailey "Underwater Land" (Olympia, 2002)

---
Discography - Tribute Albums
---
Various Artists "TWISTABLE, TURNABLE MAN: A MUSICAL TRIBUTE TO THE SONGS OF SHEL SILVERSTEIN" (Sugar Hill, 2010)


---
Links
---
---