<! cd = 10/26/10 > <! MP3 10/26/10 > <! outside 00/00/00 > <! pix 00/00/00 > <! 208-pix: 00/00/00 > <! icons 10/26/10 > <! UPDATES: 10/26/10 - posted, no best-ofs! 02/12/18 - RIP :-/ >
---
Georgia-born Daryle Singletary (1971-2018) was one of the finest neo-traditionalist honkytonkers to come up during the 1990s... Yeah, sure, he recorded some sappy stuff, too, but basically the guy showed some serious twang... Like just about everybody else in modern-day Nashville, he faded off the charts and was shown the door, but also like many other singers, he reemerged as an indie artist, playing even better, truer hard country than before! Here's a quick look at his work...
---
Discography - Albums
---

<! no best-ofs as of 11/10 (!) except first Audium cd >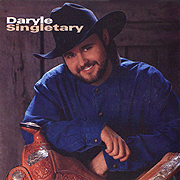 Daryle Singletary "Daryle Singletary" (Warner-Giant, 1995)



(Produced by James Stroud, Randy Travis & David Malloy)
A promising debut by a fella who's staking out his turf as a new traditionalist... After all, he was a protege of Randy Travis, who co-produced this album & contributes a song as well, so what's the big surprise? There are several hard country gems on here that oughtta make honktonk fans sit up and take notice... The album dips into banality on a few tracks, but Singletary's willingness to throw himself whatever dumb old stuff they toss his way is part of his saving's grace: witness his perky run-through of the album's opener, "Too Much Fun" -- it's a really dopey, Bubbadelic, cookie-cutter song, but you can't help tapping your toes when the beat kicks in. On the best tunes -- "Living Up To Her Low Expectations," "My Heart's Too Broke (To Pay Attention)" -- Daryle blows away half of the pretty-boy Nashville hat-act crowd, just coming straight out the gate. Better suited to rowdier numbers, Singletary falters on some of the more commercial-sounding ballads, but partly I think the problem was indifferent production: his next few albums (see below) were much stronger, and even on this disc, his duet with bluegrass diva Rhonda Vincent sounds mighty nice. Cool first album... mildly flawed, but worth checking out.

Daryle Singletary "All Because Of You" (Warner-Giant, 1996)



Even though some of the poppier efforts on here are kinda dorky, the good stuff is mighty good. The disc opens with "The Used To Be's," and other, more hard-edged numbers have a similar charm. I can do without the half-gospel goopiness of "Amen Kind Of Love," but tunes like "Hurts, Don't It" and "That's What I Get For Thinkin' " more than make up for it... He may be a lesser light, but I still find Singletary an immensely likeable performer.

Daryle Singletary "Ain't It The Truth" (Warner-Giant, 1998)



(Produced by Doug Johnson & John Hobbs)
He really hits his stride on this one... It's one hard country honkytonk pearls after another... The opening hit single, "The Note," is a little sluggish, but it hardly slows down the rest of the album. Pedal steel drenched tru country goodness. And the rich, full-sounding production really buoys his voice on the ballads in a way his earlier recordings did not. Singletary's relegation to just-moderate chart success is tragic in light of his obvious soulfulness and talent... But for fans who are in the know, he's a nice secret to keep under your hat! Highly recommended.

Daryle Singletary "Now And Again" (Koch-Audium, 2000)



(Various producers)
When Singletary moved onto the indie-ish Audium label, he apparently took his old Warner back-catalog with him. This best-of collection tilts towards the more commercial end of his sound, with six old songs and four new ones that are all kind of okay (way better than the average Nashville offering), but only hint at his strengths as a hardcore honkytonk crooner. You're probably better off tracking down his earlier original albums to hear all their hidden gems, but this set is also certainly fine standing on its own.

Daryle Singletary "That's Why I Sing This Way" (Audium, 2002)



(Produced by Greg Cole)
No new songs, but that's pretty much the point. Singletary pays tribute to his honky-tonk heroes -- Buck Owens, Conway Twitty, Joe Maphis and others -- covering songs like "A-11," "Kay," "Dim Lights, Thick Smoke," and "Long Black Veil..." Ole Possum, George Jones, gets his very own tribute song, with Max D. Barnes's "That's Why I Sing This Way," wherein the singer relates how old Jones albums were used as instruments of corporal punishment ("My mama used to whup me with a George Jones album/That's why I sing this way...") It's a good old, rollicking hard country number, much in keeping with this new traditionalist's other work. If you're looking for evidence that real-live honkytonk music is still alive and kicking, this album may cheer you quite a bit.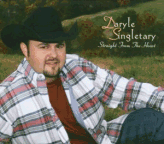 Daryle Singletary "Straight From The Heart" (Shanachie, 2007)



Where's a country boy to go, when the hits go away? Country. That's what more than a few former chartbusters have concluded recently, as the halflife of a Nashville star seems to have shortened to about the same duration as a Tulsa icecream cone on a September sidewalk. Getting no love from the major labels, many of country's finest singers have gone indie, so that they can get back to singing the kind of music they like, and forget the rest of the head-trips. Witness this stunning performance from Daryle Singletary, who remains one of the finest honkytonk singers in America today. It's mostly a set of cover tunes, each perfectly chosen to match his temperament and range, and he nails each one -- bam, bam, bam -- showing us all how this stuff really oughta be sung. Covering George Jones ("These Days I Barely Get By"), Merle Haggard ("Bottle Let Me Down"), Keith Whitley ("Miami, My Amy") and Conway Twitty ("Fifteen Years Ago"), Singletary leaves no doubt where his sympathies lie. And with duet partners like Ricky Skaggs, John Anderson and Rhonda Vincent, it's clear a lot of the right folks feel the same way. There are also some newer tunes, and they're knockouts, too, especially Larry Cordle's "Jesus And Bartenders" and Singletary's own "I Still Sing This Way," which hearkens back to his last album, where he reaffirmed his faith in keeping country country. We're right there with ya, Daryle -- keep up the good work!
Daryle Singletary "Live In Concert" (Big Bang, 2007)


Daryle Singletary "Rockin' In The Country" (Koch, 2009)



(Produced by Greg Cole & Chuck Rhodes)
A softer set from Singletary, with plenty of romantic songs with emotionally mature lyrics that portray a thoughtful, macho vulnerability. This kind of "chick-friendly" commercial country can often seem contrived, but Singletary pulls it off pretty well on this disc. He gets points for timeliness on the current events weeper, "Real Estate Hands," where our narrator visits the house he used to own before the bank foreclosed and took it away; an even more shameless tear-jerker is "That's Why God Made Me," a song that tells of a childhood love affair that turns into marriage after the girl "gets into trouble" with another boy: he volunteers to marry her, so that her parents will never know about the mistakes she made. And when the kid grows old enough to ask why he doesn't look like the rest of the family? Well, God sent daddy to help him, too. I know it's hokey, but I can't help myself... I got a little tear in my eye, too! And strangely enough, I found myself drawn to one of the most overtly pop-oriented songs, "Background Noise," which has a really catchy hook. An of course, there's Singletary's voice, one of those rich, deep rumbles, like Merle Haggard or John Anderson... Sure sounds good to me!


<! "That's Why God Made Me" "Real Estate Hands" "Background Noise" >

---
Links
---
---