<! cd = 05/24/13 > <! MP3 00/00/00 > <! outside 00/00/00 > <! pix 00/00/00 > <! 208-pix: 00/00/00 > <! styles: Top Country, Real Hicks(?) > <! UPDATES: 10/24/13 - posted, only one review. a couple of stray PF listings left out (see below, bottom of Albums) 09/20/13 -fixed some typos - in Preview, there seems to be a glitch with the portrait pic "alt" tag >
---
Cal Smith (1932-2013), not to be confused with honkytonk legend Carl Smith, was a notable also-ran of the classic country era... Hailing from the SF Bay Area, Smith performed sporadically throughout the 1950s, and only really launched his professional career in the early '60s, when Ernest Tubb offered him a job as the guitarist for his Texas Troubadours band, a gig he kept for nearly a decade while also pursuing a path as a solo singing star. In some ways, Smith's career parallels that of Mel Tillis, another journeyman country artist who was also originally signed to Kapp Records but couldn't quite make things click during the 'Sixties. Like Tillis, he finally hit the bigtime in the early '70s after signing with Decca Records, and found their bright, punchy in-house production style to be a good frame for his modest talents. Smith never made it quite as far as Tillis, but he did rack up three chart-topping singles -- "The Lord Knows I'm Drinking," "Country Bumpkin," and "It's Time To Pay The Fiddler" -- before starting to slide back into the far end of the charts. Here's a quick look at his work...


<! Calvin Grant Shofner, *07-04-1932 Gans, OK, +10-10-2013 >

---
Discography - Best-Ofs
---

<! 74459 Ernest Tubb Presents - sings on: I'LL HAVE ANOTHER CUP OF COFFEE" 74644 Country Dance Time "Oklahoma Hills," "Honky Tonks And You," and "Detour" 74681 Fabulous Texas Troubadours "Honeymoon With The Blues" "I'm A Sad Lonely Man" > <! [DL-4459] >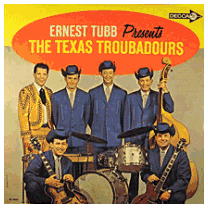 The Texas Troubadours "Ernest Tubb Presents..." (Decca, 1964) (LP)


(Produced by Owen Bradley)
Cal Smith was hired as a member of Ernest Tubb's backing band in 1961, and performed on each of their four Decca albums. He played guitar and was frequently featured as a solo singer (both on record and on stage) sharing the spotlight with Jack Greene (who played drums) and bandleader Leon Rhodes, whose propulsive lead guitar gave the band some real country kick. On this album, Smith sings "I'll Have Another Cup Of Coffee," while Jack Greene sings "The Last Letter."


<! with Jack Greene (and Cal Smith?) > <! [DL-4644] >
The Texas Troubadours "Country Dance Time" (Decca, 1965) (LP)


(Produced by Owen Bradley)
On this album, Smith sings three songs: a cover of Jack Guthrie's "Oklahoma Hills" and "Honky Tonks And You," and Jack Green sings "Another Bridge To Burn" and "What About Me."


<! with Jack Greene (and Cal Smith?) > <! [DL-4745] >
The Texas Troubadours "Ernest Tubb's Fabulous Texas Troubadours" (Decca, 1966) (LP)


(Produced by Owen Bradley)



<! with Jack Greene and Cal Smith > <! Greene: AFRAID TO CARE, > <! Smith: "I'm A Sad And Lonely Man" > <! [DL-75017] >
The Texas Troubadours "The Terrific Texas Troubadours" (Decca, 1966) (LP)


(Produced by Owen Bradley)
This was the last "solo" Troubadours album for the Decca label... Cal Smith was still in the band though he doesn't sing on this one, just plays guitar in the band. Meanwhile, Jack Greene had finally launched his solo career, and is listed as a guest performer, along with Wade Ray, Buck Evans and Bun Wilson. The band itself shows remarkable verve and versatility compared to the Ernest Tubb albums of the same era, with some poppy flair and even a hint of western swing. Fun stuff; not all the guest vocalists take their songs seriously though -- there are some straight-up ballads, though also a couple of tracks where they're just goofing around. It's okay, though -- the lighthearted mood matches the band's peppy, melodic performance.


<! - no producer listed on LP > <! Wade Ray/*Steve Chapman/+Buck Evans & Texas Troubadours aka The Adours (Steve Chapman, Cal Smith, Buddy Charleton, Jack Drake, Billy Pfender, Jerry Smith > <! with Jack Greene and Cal Smith >

Cal Smith "The Best Of Cal Smith" (Kapp, 1971) (LP)


This belated collection of his material on Kapp Records -- put out just as he was jumping ship to Decca -- includes several tracks that hadn't come out on LP before, including mild chart hits such as "You Can't Housebreak A Tomcat" and "Heaven Is Just A Touch Away," as well as "Drinking Champagne," the only one of his Kapp singles to crack into the Top 40. Some of these songs were revived during his MCA years, when they were trying to cash in on his fame during a string of #1 singles.


<! Drinking Champagne; You Can't Housebreak A Tomcat*; Destination Atlanta, GA.; I'll Sail My Ship Alone; Silver Dew On The Bluegrass Tonight*; Heaven Is Just A Touch Away*; It Takes Me All Night; So Much To Do; Jacksonville; I'll Just Go On Home; The Only Thing I Want; The Difference Between Going And Really Gone* - 01-71 (*previously unissued on album; reissued on MCA 72 in 1973) >
Cal Smith "The Best Of Cal Smith" (Hux, 2009)

Cal Smith "My Kind Of Country/I Just Came Home To Count The Memories" (Hux, 2010)


A twofer reissue of two of his later albums on MCA, from 1975 and '77 respectively.
Cal Smith "Country Bumpkin" (Gusto, 2007)





<! This is a paired-down version of a late-vintage album, originally recorded for the Step One label. Two tracks were deleted to make this a budget-line release. >

---
Discography - Albums
---
Cal Smith "All The World Is Lonely Now" (Kapp, 1966) (LP)

Cal Smith "Goin' To Cal's Place" (Kapp, 1967) (LP)


The album's title is a reference to the 1967 Buck Owens hit, "Sam's Place," which Smith covers along with various heartsongs and honkytonk tunes. Indeed, the Buck Owens-Bakersfield Sound figures prominently on this album, with a certain bounce and brightness to the production... Smith sings some pretty gloomy songs, but always with a smile on his face. But even if Buck is the most overt influence, who I'm most often reminded of here is Merle Haggard, the other pillar of the Bakersfield Sound, with Smith taking a fairly serious, reflective tone on many of the slower numbers. At any rate, for an album coming out of late '60s Nashville, this is a pretty roots-oriented record... Nice one!
Cal Smith "Travelin' Man" (Kapp, 1968) (LP)


(Produced by Paul Cohen)
Smith was still in the Troubadours when this album came out, though I'm not sure if they were backing him on this album for a rival label -- no liner notes to indicate either way. Anyway, it's nice stuff. More amiable, low-key, softened-down honkytonk, with reasonably vigorous, stripped-down arrangements, and while there isn't much "bite" to the music, the songs are all pretty good, and Smith croons through the material without sounding as maudlin or bored as folks at, say, RCA seemed to be with their sessions. And there are some great songs on here, notably the heartsongs like "I'll Just Go On Home," the Hank Thompson-esque "I Took Her For A Fool," and the stinging alcohol ballad, "You're Not Drowning The Heartache" ("...you're just teaching it to swim...") There are also some tunes from up-and-coming songwriters such as Mickey Newbury ("I Wish I Could Say Goodbye To You"), Carmol Taylor ("Did She Ask About Me") and a couple by a guy named Randall J. Colemus. All in all, a pretty strong record with confident performances and reasonably twangy picking.
Cal Smith "At Home With Cal" (Kapp, 1968) (LP)

Cal Smith "Drinking Champagne" (Kapp, 1968) (LP)

Cal Smith "...Sings It Takes Me All Night Long" (Kapp, 1969) (LP)

Cal Smith "Country Hit Parade" (Kapp, 1970) (LP)

Cal Smith "I've Found Someone Of My Own" (Decca, 1972) (LP)

Cal Smith "Cal Smith" (MCA, 1973) (LP)

Cal Smith "Country Bumpkin" (MCA, 1974) (LP)

Cal Smith "It's Time To Pay The Fiddler" (MCA, 1975) (LP)

Cal Smith "My Kind Of Country" (MCA, 1975)

Cal Smith "Jason's Farm" (MCA, 1976) (LP)

Cal Smith "I Just Came Home To Count The Memories" (MCA, 1977)


(Produced by Walter Haynes)
This was Smith's last major-label album, a pleasant if semi-underwhelming countrypolitan set, with by-the-numbers production, but some pretty good, pretty corny songs, including the title track, which was his last Top 20 hit. Smith seemed to be channelling mid-'70s Johnny Cash on a lot of these tracks, which ain't necessarily a bad thing. He recorded several songs by Don Wayne, including "Son, Run To The Spring," a morbid, mama-is-dying novelty number worthy of Porter Wagoner. There are also a couple by Max D. Barnes, a spooky gospel song by Conway Twitty ("Come See About Me") and a bunch of generic stuff that's easy on the ears, even with the occasional big vocal chorus and big, swelling arrangements. Nice romantic number with "Till Then." Not a classic, but a decent record from an iffy era. At least he didn't try and "go disco," like some other folks!
Cal Smith "Stories Of Life" (Step One, 1986)





<! Listed on PF, but not WP; no ASINs 05/13 Cal Smith "Turn Me Loose" (51 West, 1983) Cal Smith "Stars Of The Grand Ole Opry" (First Generation, 1998) >

---
Links
---
---