<! cd = 12/03/10, posted 11/05/11 > <! MP3 11/05/11 - didn't look up all CDs > <! update 00/00/00 > <! outside 11/05/11 - WP > <! pix 00/00/00 > <! 208-pix: 00/00/00 > <! icons 11/05/11 >
---
Red Sovine was the all-time king of the corny country recitations, with several sentimental smash hits that were touchstones of the 1960s and '70s: "Giddyup Go," "Phantom 309" and "Teddy Bear Song," from 1974. For an artist who was so stylistically limited, Sovine had remarkable staying power, charting well into the disco/hippie '70s. Indeed, he was one of those old-school country dudes who somehow put out countless albums, back when not every record had to be a million-seller, or else. Here's a quick look at his work...
---
Discography - CDs
---
Red Sovine "Juke Joint Johnny" (Gonna Shake This Shack Tonight series) (Bear Family, 2012)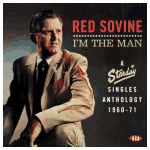 Red Sovine "I'm The Man: A Starday Singles Anthology 1960-71" (Ace, 2012)

Red Sovine "How Do You Think I Feel" (BACM, 2005)


(Available through the British Archive of Country Music website.)
Red Sovine "Classics Narrations" (Gusto, 2004)

Red Sovine "20 All-Time Greatest Hits" (TeeVee, 2002)


Red Sovine "20 All-Time Greatest Gospel Hits" (TeeVee, 2003)


Red Sovine "16 Super Gospel Hits" (King, 2000)


These later Sovine sessions show him mining Tennessee Ernie Ford territory -- poppish country gospel with a painfully earnest "oooh-waaah" chorus singing behind him. Actually, these recordings aren't so bad, although hearing Sovine in a context where he's called upon to really sing, you kinda get why he was best when he was doing recitations. Still, the songs that were more simplistically written ("Church Around The Corner," for example...) suit him well. As with many of these latter-day King releases, the liner notes are pretty vague, and it's hard to say exactly when these recordings were made... I'd guess the mid-1970s, or so.
Red Sovine "20 All-Time Greatest Hits" (Varese Sarabande, 2005)

Red Sovine "Phantom 309" (Gusto, 2004)


Red Sovine And The Girls "It'll Come Back" (Gusto, 2005)



A CD reissue of Sovine's 1974 album... I wonder who "the girls" were...(?)


<! a reissue of the 1974 album? >

Red Sovine "Christmas With Red Sovine" (Starday, 1978)

---
Discography - Albums
---
Red Sovine "Red Sovine" (MGM, 1956)

Red Sovine "The One And Only" (Starday, 1961)

Red Sovine "The Golden Country Ballads Of The '60s" (Starday, 1962) (LP)

Red Sovine "Red Sovine" (Decca, 1963) (LP)

Red Sovine "The Heart Rending Little Rosa" (Starday, 1965) (LP)

Red Sovine "Country Music Time" (Decca, 1966) (LP)

Red Sovine "Giddy Up Go" (Starday, 1966) (LP)

Red Sovine "Town And Country Action" (Starday, 1966) (LP)

Red Sovine "The Sensational Red Sovine" (Starday, 1966) (LP)

Red Sovine "The Nashville Sound Of Red Sovine" (Starday, 1966) (LP)

Red Sovine "I Didn't Jump The Fence" (Starday, 1967) (LP)

Red Sovine "A Dear John Letter" (Starday, 1967) (LP)

Red Sovine "The Country Way" (Vocalion, 1968) (LP)

Red Sovine "Phantom 309" (Starday, 1968) (LP)

Red Sovine "Tell Maude I Slipped" (Starday, 1968) (LP)

Red Sovine "Sunday With Sovine" (Starday, 1968) (LP)

Red Sovine "Anytime" (Starday, 1968) (LP)

Red Sovine "Classic Narrations" (Starday, 1969) (LP)

Red Sovine "Closing Time Till Dawn" (Starday, 1969) (LP)

Red Sovine "Who Am I" (Starday, 1969) (LP)

Red Sovine "Ruby Don't Take Your Love To Town" (Starday, 1969) (LP)

Red Sovine "I Know You're Married" (Starday, 1970) (LP)

Red Sovine "Greatest Grand Ole Opry" (Chart, 1973) <! 11/11 - no ASIN >

Red Sovine "It'll Come Back" (Chart, 1974) (LP)

Red Sovine "Teddy Bear" (Starday, 1976) (LP)





<! >

Red Sovine "Woodrow Wilson Sovine" (Starday, 1977) (LP)

Red Sovine "Christmas With Red Sovine" (Starday, 1978) (LP) <! B000EI7J7K - CD >

Red Sovine "16 New Gospel Songs" (Gusto, 1978) (LP)

---
Links
---
Wikipedia <! 12/10: no PF available WP has malicious graffiti on album titles >
---