<! cd = 11/03/13 > <! MP3 00/00/00 > <! outside 00/00/00 > <! pix 00/00/00 > <! 208-pix: 00/00/00 > <! styles: Bluegrass, Gospel > <! UPDATES: 11/03/13 - posted, barebones >
---
North Carolina-born Carl Story (1916-1995) was one of the giants of the golden era of bluegrass music, and is best known for his sweet, soulful gospel recordings. Story was an old-time mountain music bandleader: his first band dates back to the early 1930s, years before Bill Monroe's innovative "bluegrass" style emerged the style forever. Story briefly played fiddle in Monroe's WWII-era band, but after the war he went back to leading his own group, the Rambling Mountaineers, and continued on as his own boss for decades to come. Much like the Stanley Brothers, Story's sweet, melodic style subtly recalls the sentimental traditions of older, pre-bluegrass Appalachian music, and while there's plenty of fine picking t be heard in his recordings, there's less emphasis on the flashy, drag-racing dynamics of Monroe and his followers. Here's a quick look at his work...
---
Discography - Best-Ofs
---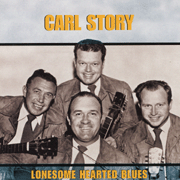 Carl Story "Lonesome Hearted Blues" (Bear Family, 2005)


Bandleader Carl Story is best known as one of the giants of bluegrass gospel; what's nice about this collection is its emphasis on his secular side, which is often neglected on reissue records. This disc is modestly programmed in comparison to many other Bear Family releases -- only sixteen songs as opposed to their usual thirty or so... That's because it focusses on Story's short 1954-55 stint on Columbia Records, when for whatever reasons he briefly bolted from the Mercury label, and did a few sessions with Columbia's Don Law, with Chet Atkins sitting in on one session, and mandolinist Red Rector anchoring the band throughout. There's some gospel material here, to be sure, but it's also nice to hear Story croaking out some good old-fashioned heartsongs, tunes like "Lonesome Hearted Blues," "Actions Speak Louder Than Words" and "Love Me Like You Used To Do..." Story was apparently considered part of the "Knoxville Sound," a rugged, down-home regional alternative to the increasing slickness of the Nashville studio system. There's a hint of the Delmore Brothers and the country boogie style that was popular a couple of years earlier (especially on the proto-billy "What A Line")... The gospel numbers are nice as well; the vocal harmonies are much sweeter and the songs have a sweeter feel, though the styles compliment each other quite nicely, and give a nice snapshot of Story's early repertoire. For those of us who've mostly heard his old Mercury/Starday material, this disc is a nice missing piece of the story... Nice stuff!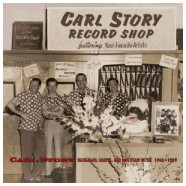 Carl Story "Bluegrass, Gospel, And Mountain Music: 1942-1959" (Bear Family, 2011)


A much-welcome and long overdue collection of classic work by a largely-ignored giant of the golden age of bluegrass. Why Carl Story has stayed so far off the radar is a bit mysterious: I've always found him to be an immensely appealing, subtle performer, with a softer melodic side than your average "high lonesome" traditionalist. Perhaps it's because Story eventually devoted himself almost exclusively to gospel material, and made himself less accessible to secular fans? I dunno. But he was definitely there at the dawn of bluegrass, as this beautiful 4-CD box set shows, collecting all of his studio work from 1947-1959, along with some previously unreleased recordings from 1942... A nice mix of secular and spiritual material, and a powerful testament to one of bluegrass music's greats. Highly recommended.


<! Carl Story began his career in the flourishing Knoxville scene and carved out a niché as the Father of Bluegrass Gospel. He made either the first or best recordings of Light At The River, Family Reunion, I've Found A Hiding Place, Keep On The Firing Line, My Lord Keeps A Record, He Will Set Your Fields On Fire, Gone Home, Angels Rock Me To Sleep and Hank Williams' Are You Walking And Talking For The Lord. Story's Ramblin' Mountaineers also recorded the version of Duelin' Banjos that became the model for the 1972 hit recording. Carl Story truly was a bluegrass pioneer, and his Ramblin' Mountaineers included Red Rector, Tater Tate, Claude Boone, Bobby Thompson, and Bud and Willie Brewster, all of them heard on this collection. This set includes every recording that Carl Story made for Mercury, Starday, and Columbia together with all of his Starday recordings from 1958 and '59, plus some ultra-rare demos recorded before World War II, proving that Carl Story was at the heart of the music that became bluegrass. The 4-CD set also includes a full-length book with Colin Escott's biography of Carl Story and Neil Rosenberg's and Eddie Stubbs' comprehensive discography. >

Carl Story "The Bluegrass Gospel Collection" (CMH, 1975)


Carl Story "Songs Of Faith: Southern Gospel Legends" (Songs Of Faith, 1980)


Carl Story "Somebody Touched Me" (King, 2000)

Carl Story "Songs For Our Saviour" (Mill Music, 2001)

Carl Story "The Late And Great Carl Story" (King, 1995)

Carl Story "Mighty Close To Heaven" (Starday, 2001)

Carl Story "Lonesome Hearted Blues" (Bear Family, 2005)

Carl Story "Complete Atteiram Collection" (Gusto, 2006)

Carl Story "Last Project Salvation Train" (Sweetspirit, 2002)


Carl Story "Mighty Close To Heaven" (King, 2005)






<! Carl Story "Gospel Revival" Carl Story (Starday, 1961) Carl Story "Songs for Our Savior" Carl Story (Starday, 1966) >

---
Links
---
---