<! cd = 09/01/13 > <! MP3 09/01/13 > <! outside 00/00/00 > <! pix 00/00/00 > <! 208-pix: 00/00/00 > <! styles: Hippiebilly, > <! UPDATES: 09/01/13 - posted >
---
James Talley is one of the great unsung heroes of the 1970s alt-country scene... He had been kicking around Nashville for several years when he started work on his first solo album record in 1973; he self-financed the record, then held onto it for a couple of years so he could get out of a contract with Atlantic's flailing country division, and then pitched it to Capitol, where it became a cult classic. A few more major label records followed, then finally Talley was cut loose and went indie, with a growing legacy of fine records under his belt. Here's a quick look at his work...
---
Discography - Albums
---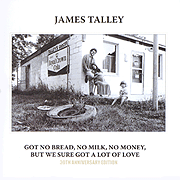 James Talley "Got No Bread, No Milk, No Money, But We Sure Got A Lot Of Love" (Capitol/Cimmaron, 1975/2006)



Wow. What a great record. If you're a fan of Merle Haggard, Guy Clark or Chip Taylor, then you simply have to get this record... it's cut from the same cloth as their best work, and it's of a similar calibre of quality. With a crisp, mellow acoustic backing, Talley hits all the right notes, in a poetic yet plainspoken, dust-blown, down-home homage to his Okie raisings, he sings nostalgically of living poor but feeling free. Along with the title track, other standouts include the gentle, wistful "Red River Memory," "Give Him Another Bottle," the jaunty "No Opener Needed," and Talley's joyful tribute to western swing impressario W. Lee O'Daniel, and the day the Light Crust Doughboys came to play a gig in Tulsa. These are all fine songs, but really it's the album as a whole that deserves your attention... This is one of those records that mysteriously never seems able to leave my CD player; it's wound up being played again and again, and every time it just seems to get better. Highly recommended. (You can get this disc -- and others -- directly from Talley's label at www.cimarronrecords.com )
James Talley "Tryin' Like The Devil" (Capitol, 1976)


James Talley "Blackjack Choir" (Capitol, 1977)


James Talley "Ain't It Somethin' " (Capitol, 1977)


James Talley "American Originals" (Bear Family/Cimarron, 1985)


James Talley "Lovesongs And The Blues" (Bear Family, 1989)

James Talley "Road To Torreon" (Bear Family/Cimarron, 1992)


James Talley "Live" (Bear Family, 1994)



A live album taken from two 1979 shows...
James Talley "Woody Guthrie And The Songs Of My Oklahoma Home" (Cimmaron, 1999)


James Talley "Nashville City Blues" (Cimmaron, 2000)


James Talley "Touchstones" (Cimmaron, 2002)


James Talley "Journey" (Cimmaron, 2004)


James Talley "Journey: The Second Voyage" (Cimmaron, 2004)


---
Links
---
---