<! MP3 04/29/09 > <! update 04/29/09 > <! outside 00/00/00 > <! pix 00/00/00 > <! 208-pix: 00/00/00 > <! icons 04/05/11 >
---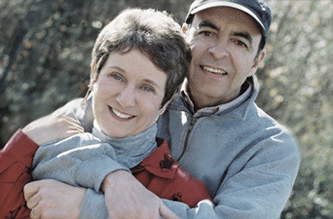 Barry and Holly Tashian have carved a unique spot for themselves within the folk music landscape, singing sweet, unpretentious, acoustic-based heartsongs in the high, tight harmony style of the early country/bluegrass pioneers. Barry Tashian started his professional music career in the 1960s, as leader of the Boston-based rock band, The Remains. The Remains were among the first and most accomplished of the American pop-rock bands that were influenced by the so-called British Invasion that came in the wake of the Beatles. Indeed, the band followed the Beatles, not only onto the Ed Sullivan show, but also on road: in 1966, Barry And The Remains were one of the Beatles' opening acts on their celebrated (and final) American tour. Afterwards, the Remains released one album on the Epic Records label, and then dissolved shortly thereafter. Tashian drifted into country music first as a studio musician, and as a member of the Emmylou Harris band. Since 1989, he has been recording with his wife, Holly Tashian, releasing a half-dozen understated, highly regarded folk-Americana albums. Here's a quick look at their work...
---
Discography
---

The Remains "Barry And The Remains" (Epic Legacy, 1991)



First, let's start with Barry Tashian's glory years as a teenage rocker... The Remains were one of the most accomplished American rock bands to spring up in the wake of the British Invasion, though sadly the band fell apart just as their star started to rise. Hometown heroes in the city of Boston, the Remains released several singles and only one album, all of which was unusually intelligent, high calibre rock. The lead single, "Why Do I Cry," has a Latin lilt and seductive feel -- the rest of the album draws you in as well. A few songs are garage rock standards, such as "My Babe" and "Diddy Wah Diddy," but most are Tashian originals that reveal sophisticated compositional sense, not stuff and preening like the Left Banke, but still operating on a slightly different plane than many of his fuzzed-out, cranked-up contemporaries. This is a fine, fine album, some of the best '60s garage pop you'll ever hear. (By the way, the sound quality on this official release is far better than any of the numerous Nuggets-y compilations that the Remains previously appeared on...) Highly recommended!
The Remains "The Remains" (Epic Legacy, 2007)


The Remains "A Session With The Remains" (Sundazed, 1996)


Tashian & Co. sounded pretty smooth on their studio recordings; their wild side emerges on this electrifying set, performed in 1966 as a live, in-studio demo for the Capitol label. The band was hoping to get out of their contract with Epic and move over to the West Coast-based major, and while that move didn't succeed, at least this sizzling session was preserved for fans in the future. Apparently they'd been up all night, playing at a gig the night before, but were bright eyed and bushy tailed for their 10am appointment in the recording booth. Pretty impressive!

The Remains "Movin' On" (Rock-A-Lot, 2002)


If you've been wondering what the boys have been up to the last few decades, well, they've been saving themselves for this fab reunion album, which shows their penchant for reverb and twisty twang intact. It's a nice set, showcasing Barry's rockin' side, and the able musicianship of his old pals Vern Miller (bass), Bill Briggs (organ) and Chip Damiani (drums), along with contributions by Holly Tashian and their son Daniel, who's a bit of a rocker himself. Sometimes '60s reunion albums can be a bit embarassing, but this one's a simple, solid, heartfelt set that should make old-time Remains fans happy as clams. It can be picked up directly through the band at Tashian.com (along with many of the other records listed on this page...)
Gram Parsons "G.P." (Warner Brothers, 1973)



In 1967, Barry Tashian headed West and fell in with Gram Parsons and his hippiebilly country scene down in LA. Tashian was an unofficial member of the International Submarine Band-cum-Flying Burrito Brothers, and was a session player on this album, Parson's highly lauded solo debut. It's a fine album, with future members of the Emmylou Harris Hot Band, such as Glen D. Hardin, James Burton and Buddy Emmons, also in tow. Tashian also joined her band, playing with Emmylou off and on for over ten years... (For more about those albums, check out my Gram Parsons discography.)
Barry & Holly Tashian "Trust In Me" (Northeastern, 1989)



Barry & Holly Tashian "Live In Holland" (Strictly Country, 1991)



A heart-achingly simple, sweet live European performance, with Barry & Holly lingering on older, traditional material, and a well-chosen gospel tune or two. Their thin, tight harmonies are a treat, and are particularly reminiscent of the Everly Brothers on this recording. The song selection ranges from old Louvin Brothers tunes and a sweet gospel song by Doyle Lawson to several impressive original tunes that sound like they were minted decades ago. Most of all it's the soulful, heartfelt presentation that makes these performances stand out -- they just don't sing 'em like this anymore! Highly recommended.
Barry & Holly Tashian "Ready For Love" (Rounder, 1993)



This is perhaps the most sentimental of the Tashian's albums, with one super-heartfelt song after another, and little of the humorous material they use to leaven other records. The individual tracks are quite nice, but the overall effect of the album is a bit cloying and overly sweet. This probably isn't the ideal album of theirs to start out on, though once you've checked out their other albums and are on their vibe, it's certainly worth picking up as well, as it is packed with lovely, Louvin-y heartsongs.

Barry & Holly Tashian "Straw Into Gold" (Rounder, 1994)



Another fine set of old-fashioned heartsongs, with simple, compelling arrangements. The Tashian duet is augmented here by a few "usual suspect" pickers, notably bassist Roy Huskey, Jr. and fiddlers Stuart Duncan and Tammy Rogers... The addition of pedal steel and dobro on several tracks is quite nice as well, as are all the new songs they've added to the country canon. Cover tunes include a nice version of Jack Clement's "I Know One," and Jimmie Davis's "I Dreamed Last Night Of An Old Love Affair," which Barry and Holly were lucky enough to sing on an appearance at the Grand Ole Opry (!) A lovely album, well worth checking out.

Barry & Holly Tashian "Harmony" (Rounder, 1997)



Possibly their most conventional album, at least in terms of the Rounder label's bluegrass audience... All but three of the songs are Tashian originals, but they most have an impressively Appalachian feel to them, particularly songs like "Wild Wind" and "It's Too Late To Pray," which sound like they came straight out of the Bill Monroe songbook. Truegrass prodigy Ronnie McCoury lends some solid mandolin support, and even Barry's old boss, Emmylou Harris, pitches in with a bit of harmony on "I'll Take My Time Going Home," another fine Tashian/Tashian composition. As far as the cover tunes go, with a song each by Dallas Frazier and Flatt & Scruggs, the Tashian's roots are sure showing, and it sounds mighty fine. Recommended!
Barry & Holly Tashian "At Home" (Copper Creek, 2002)


Barry & Holly Tashian "Long Story Short" (Rock-A-Lot, 2008)


---
Related Media
---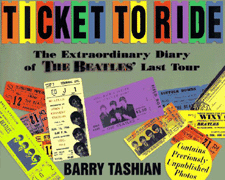 "Ticket To Ride: The Extraordinary Diary Of The Beatles' Last Tour" by Barry Tashian (Dowling Press, 1996)

When his band was tapped to open for the Beatles during their historic (and final) US tour in 1966, Barry Tashian's dad suggested he might want to keep a diary of life on the road with the Fab Four. Thirty years later, Tashian adds his voice to the massive literature abou the moptop pop toppers, interspersing his recollections and photographs that he took at the time with various contemporary accounts -- articles from newspapers and teen 'zines, etc. A nice, ground's-eye view of Beatlemania at its peak, and fitting swan song for the under-recognized Remains, as well. (This book is mostly out of print; you can surf Amazon for a copy or.... write Barry Tashian through the website listed below, and buy a copy from him... I think he's still got a copy or two looking for a good home...)
---
Links
---
---



Hick Music Index



---
Top photo credit: Karl Hofer. Used by permission.
---

<! creation date: 12/23/03>