<! cd = 11/11/03> <! MP3 04/05/09, 05/29/10, 03/14/11 > <! update 04/05/09 - some LPs listed, too > <! outside 00/00/00 > <! pix 00/00/00 > <! 208-pix: 00/00/00 > <! icons 03/14/11 >
---
Chip Taylor will probably always be best known as the songwriter who wrote the huge garage rock hit, "Wild Thing" as well as "Angel Of The Morning," one of the finest countrypolitan tunes ever recorded. But his greatest legacy is his brilliance and ingenuity as a singer and writer of infinitely original, country and folk songs. Born J. Wesley Voight (the younger brother of iconic '70s actor Jon Voight), Taylor established his bona fides as a country music outlaw/outsider in the early '70s, on the stellar album, Last Chance, then drifted into more lofty singer-songwriter terrain, retiring from show biz as the decade came to an end. Taylor apparently worked as a professional gambler for the better part of two decades, then resurfaced in 1996, as the alt-oriented "Americana" movement was hitting its full stride. His initial comeback albums, Hit Man and The Living Room Tapes, may have been a bit subtle for some, but for those of us paying attention... Well, let's just say if was nice to have him back. Really, really nice...
---
Discography
---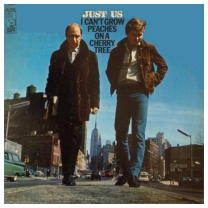 Just Us "I Can't Grow Peaches On A Cherry Tree" (Kapp, 1966)


(Produced by Chip Taylor & Al Gorgoni)
Around the same time that "Wild Thing" was taking off as a smash hit for the Troggs, Chip Taylor was trying his hand as a performer, in a folk duo with guitarist Al Gorgoni. Gorgoni was a prolific East Coast studio session player who had backed a bunch of Brill Building artists in the early '60s, so together these two had a lot of pop savvy. Nonetheless, this low-key folk-pop outing seems like a bit of a misfire -- the Greenwich Village folk scene was petering out and Taylor & Gorgoni didn't quite have the same originality or melodic ooomph as Simon & Garfunkel, who I think they were trying to sound like. Nonetheless, even though they do seem like outsiders looking in, pop guys going through the motions to try and cash in on this kooky folk fad, this is a decent, totally listenable album for the style. Plus, they managed to eke out a mild Pop hit with the title track, "I Can't Grow Peaches On A Cherry Tree," which briefly cracked into the Top Forty. Also worth noting is that Trade Martin was also sitting in on guitar, establishing early on the GM&T trio that would put out a couple of albums a few years later.


<! B001797S08 - LP The title track was a hit single in the US, peaking at #3 on the Adult Contemporary chart and #34 on the Billboard Hot 100 >

Gorgoni, Martin & Taylor "Gotta Get Back To Cisco" (Buddah, 1971)


Chip Taylor, along with his frequent collaborators, Al Gorgoni and songwriter-singer Trade Martin -- one of two albums they made as a trio.
Chip Taylor "Gasoline" (Buddah, 1972)


(Produced by Chip Taylor)
Gathering his mojo as a solo artist, Taylor goes into a mostly introspective, folkish-contemplative mode, though with some definite traces of twang in the mix. This album's kind of a transitional work between the brainy pop-folk of his Gorgoni/Martin collaborations and the outlaw genius of the Last Chance country album (below.) The title track, "Gasoline" has a nice, twangy feel, though a lot of the rest of the record is a bit more flowery. Still, he's a compelling performer and even if you're looking for something with a little more drive, the poetical ramblings are nice as well. (Indeed, fans of his 21st Century recordings might want to check this one out, as there's a lot of similarlity to enjoy...) Just in case you're wondering how Taylor was able to get labels to bankroll such odd and personal projects, it's also worth mentioning that this album includes his version of "Angel Of The Morning," a song that was a Top Ten hit in '68 and returned to the charts repeatedly over the decades... It's included here, too, just in case anyone forgot that Taylor is a proven hitmaker. Anyway, this record has a rich, multi-layered mix of material, and is definitely worth checking out... One of his stronger albums of the '70s.
Gorgoni, Martin & Taylor "G M & T" (Buddah, 1972)

Chip Taylor "Last Chance" (Warner Brothers, 1973)


A stone-cold classic; one of the foundational records of the alt-country movement, and one of my favorite country albums of all time... even to this day! A famed songwriter who dropped out of the rock scene to "go country," Taylor started out with a jaundiced view of the music biz (as heard on the wry "101 In Cashbox," which is sort of like the evil twin of Dr. Hook's "Cover Of Rolling Stone") and brought with him a love of real roots music that stood at odds with the trendy pop pretensions of the countrypolitan Top 40 establishment. His song "Wasn't Born In Tennessee" is one of the greatest anthems of the longhair/outlaw/alt-country scene, mixing drug references with a nostalgic, rueful yearning for good, old, true-blue heartfelt twang. "Clean Your Own Tables" is a wonderful singalong made in praise of a weary barmaid... The rest of the album has similar heft, although these are the catchiest, most striking songs... This is the Chip Taylor album that all others are measured against; the same goes for every alt-country record that came in its wake. It's a real landmark, watershed record, and one that you should track down as soon as you can. Highly recommended!
Chip Taylor "Some Of Us" (Warner Brothers, 1974) (LP)

Chip Taylor "This Side Of The Big River" (Warner Brothers, 1975)


Chip Taylor "Angel Of The Morning" (1975)

Chip Taylor "Somebody Shoot Out The Jukebox" (Columbia, 1976) (LP)

Chip Taylor "Saint Sebastian" (Capitol, 1979) (LP)


(Produced by Chip Taylor & John Paladino)

Chip Taylor "Hit Man" (Gadfly, 1996)

Chip Taylor "The Living Room Tapes" (Gadfly, 1997)


Although I missed Hit Man the first time around, I was floored when this disc came out. I've been a Chip Taylor fan since about 1978, and was thrilled to see him back in action... Even more exciting was to hear the high calibre of songwriting on this album.
Chip Taylor "Seven Days In May: A Love Story" (Train Wreck, 1999)

Chip Taylor "London Sessions Bootleg" (Train Wreck, 2001)





<! B00004T6LS ?? Chip Taylor "The Port Huron Statement" (PHS, 2000) I think maybe I got this one wrong? >
Chip Taylor "Black And Blue America" (Train Wreck, 2001)


A somewhat bleak, socially-conscious album... Taylor's been recording political material since the early '70s, but never quite in such a concentrated dose. To be honest, this record is almost impenetrably dense and definitely a downer; even a soulful duet with Lucinda Williams may not be enough to keep all but the most devoted fans coming back to this one. (The sound bites that open the album up don't help either: why distract from Taylor's oaken voice?) Still, Chip's sense of disgust with where we've come shows he's still a thinking, feeling human being... What other response could a conscientious liberal have after watching two terms worth of the GOP blocking all legislative progress and dragging Bill Clinton into the mud, followed by the ineffable victory of money over reason, with the election of G. Dubya Bush? It may have resulted in an album that's a little hard to take, but the reflection is true to the world outside.
Chip Taylor & Carrie Rodriguez "Let's Leave This Town" (Train Wreck, 2002)


This fine, fabulous album pairs the grizzled old-timer Taylor up with fellow singer/songwriter Carrie Rodriguez, a classically trained 20-something fiddler who he met at the South By Southwest music festival in Austin. This album marks the emergence of the pair as a full artistic partnership (Rodriguez having backed Taylor on the road, before he encouraged her to step up and share the vocal chores...) The result is nothing short of stunning, a set of lively, intelligent and remarkably catchy acoustic Americana, music that draws evenly on hard country, socially conscious folk and Texas-style western swing. In addition to revealing a remarkable new talent (Rodriguez), this album is notable for its invigorating effect on Taylor, drawing him back from the brink of humorlessness, and putting that sparkle back in his eyes. He's still world-weary and a keen observer of foolish pride and other foibles, it's just he seems to be in a better mood about it... Anyway, this was one of the best new albums I'd heard in a long, long while. Recommended!
Chip Taylor & Carrie Rodriguez "The Trouble With Humans" (Lone Star/TMG, 2003)


Less bouncy and more downcast than their first disc, but no less brilliant or soulful. A fine set of richly-written, beautifully performed songs... These two harmonize together really well!
Chip Taylor & Carrie Rodriguez "Angel Of The Morning" (EP) (Lone Star/TMG, 2003)

Chip Taylor & Carrie Rodriguez "Red Dog Tracks" (Back Porch, 2005)


Chip Taylor "Unglorious Hallelujah" (Train Wreck, 2006)


Chip Taylor "New Songs Of Freedom" (Train Wreck, 2008)


Chip Taylor "Yonkers, New York" (Train Wreck, 2009)


Chip Taylor & The Grandkids "Golden Kids Rules" (Smithsonian Folkways, 2011)


Chip Taylor & The New Ukranians "F**k All The Perfect People" (Train Wreck, 2012)

Chip Taylor "Block Out The Sirens Of This Lonely World" (Train Wreck, 2013)


Chip Taylor "The Little Prayers Trilogy" (Train Wreck, 2014)


Chip Taylor & John Prine "Sixteen Angels Dancing 'Cross The Moon" (Train Wreck, 2015) (LP)


This EP was a Record Store Day special, with duets by Taylor and Prines, as well as tracks featuring Carrie Rodriguez, Guy Clark and Jon Langford on the Mekons.
---
Tributes
---
Various Artists "WILD THING: THE SONGS OF CHIP TAYLOR" (Ace, 2009)


Spread out among the fields of pop, rock, girl-group and '60s R&B, this is a fascinating collection of songs written by Taylor, back in the goodle days. The Troggs' smash version of "Wild Thing" kicks things off, naturally, but Peggy Lee, Aretha Franklin, Barbara Lewis, Dusty Springfield and the Hollies are not far behind. Fans who know Taylor for his own alt-twang albums may find this 'Sixties pop hodgepodge to be quite enchanting.


<! 1. WILD THING - The Troggs 2. I CAN'T LET GO - Evie Sands 3. I CAN MAKE IT WITH YOU - The Pozo Seco Singers 4. TRY (JUST A LITTLE BIT HARDER) - Lorraine Ellison 5. ANGEL OF THE MORNING - Merrilee Rush 6. SNEAKIN UP ON YOU - Peggy Lee 7. COUNTRY GIRL-CITY MAN - Billy Vera & Judy Clay 8. WELCOME HOME - Walter Jackson 9. IS THAT YOU - Arthur & Mary 10. PICTURE ME GONE - Madeline Bell 11. I CAN T WAIT UNTIL I SEE MY BABY S FACE - Aretha Franklin 12. ANY WAY THAT YOU WANT ME - Tina Mason 13. A MOST UNUSUAL BOY - Patti Austin 14. HIS TRUE LOVE FOR YOU - Al McCarther 15. MAKE ME BELONG TO YOU - Barbara Lewis 16. MY JOHNNY DOESN T COME AROUND ANYMORE - Debbie Rollins 17. TOMMY - Reparata & the Delrons 18. DON'T SAY IT BABY - Dusty Springfield 19. WAKE UP JOHN - Little Eva - 20. STORYBOOK CHILDREN - Billy Vera & Nona Hendrix 21. RUN HOME TO YOUR MAMA - Evil Sands 22. I'LL GIVE MY HEART TO YOU - Kathy McCord 23. SON OF A ROTTEN GAMBLER - The Hollies >

---
Links
---
---