<! MP3 04/08/09 - a bunch of albums reissued MP3-only by Capitol! > <! update 04/08/09 > <! outside 00/00/00 > <! pix 03/23/11 - added some pix; need to review more albums to add those pix > <! 208-pix: 00/00/00 > <! icons 03/23/11 >
---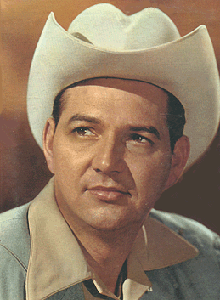 Hank Thompson (1925-2007) has got to be one of the most jovial, infectiously upbeat characters in the country pantheon. His career took off in the late 1940s with a series of national hits, based on his unique mix of western swing and honkytonk country. Never one to rise above the lure of a good novelty song, Thompson recorded some of best-known joke hits from the '40s, '50s and '60s, including classics such as "Humpty Dumpty Heart," "Blackboard Of My Heart" and (my fave, of course) "Sixpack To Go." One problem, though, was that his label, Capitol Records, concentrated on these songs to the exclusion of his also-great ballad singing. Thompson's old LPs are full of great weepers and heartsongs, but his "greatest hits" albums were always full of the funny stuff. Hank also got in the middle of one of the great country music song duels of all time -- his dismissively cynical barfly ballad, "The Wild Side of Life" led to Kitty Wells' protofeminist answer song, "It Wasn't God Who Made Honky Tonk Angels" -- the first #1 hit by a female country artist. After decades as one of their top-selling country singers, Thompson left Capitol and signed up for a series of less-successful outings on the Warner, ABC/Dot, and MCA labels. Throughout it all, he was on the road the whole time, earning his reputation as (sigh... I'll say it...) one of the hardest-working men in show business.
---
Discography - Best-Ofs
---

Hank Thompson "Vintage Collections" (Capitol Vintage, 1996)



Probably the best introduction to his work currently available. Twenty tracks of solid, stomping fun, showcasing Thompson's bouncy, jovial 1940s-'50s mix of honkytonk and western swing. This basically supercedes the standard-issue two volume "Best Of" LPs which came out in the 1960s, although it omits a few of the tiresome novelty chestnuts (such as "Squaws On The Yukon") and concentrates on Thompson as a heartsong and honkytonk singer. Several great tracks which have faded from sight over the decades are thrown in on the sly, making this a nicely-rounded collection. Plus, it's got my personal theme song, "Sixpack To Go," so what else it there to say? Pal, if you don't know Thompson already, then this is your lucky day.

Hank Thompson "Capitol Collector's Series" (Capitol, 1989)



At the start of the CD revolution, Capitol had a swell reissue series called the Collector Series, which spanned the full range of their catalog -- pop, rock, country and the like. This 20-track Thompson retrospective is no disappointment... it pretty much follows the path blazed by the two Best Of LP that were in print for so many years during the '60s and '70s... Great stuff!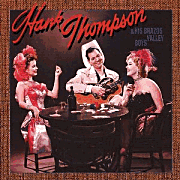 Hank Thompson "Hank Thompson And His Brazos Valley Boys" (Bear Family, 1996)


At 12 full CDs, this box set is one of those insane Bear Family Holy Grail fetish items... and, I suspect, a bit too much for any but the most rabid of Thompson fans. Still, this would pretty much settle the matter, at least as far as his Capitol years go. Me, I haven't heard this one, and I gotta admit... I'm a little scared to! (Of course, my birthday is coming up soon. so...)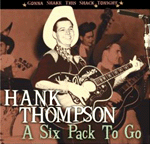 Hank Thompson "Six Pack To Go" (Bear Family, 2008)


Another top-notch, single-CD best-of set from the folks at Bear Family. Western swing-honkytonk legend Hank Thompson was one of the finest, funnest, most jovial country stars of the 1940s, '50s and '60s, and this collection boils down his best work down into one disc... and buddy, you can bet this is about as good as it gets! Includes classics such as "Whoa Sailor," "Too In Love," "Rockin' In The Congo" "How Cold Hearted Can You Get" and, of course, "A Six Pack To Go" (which I used as the theme song for my radio show for about fifteen years...) Actually, the song selection here is rather idiosyncratic -- there are a lot of other songs I would have picked first -- but with Thompson, it's all always good. Seriously. For sheer entertainment value and hard country fun, this album is hard to beat. Plus, there's that great Bear Family sound quality and fab, detail-packed liner notes... A class act from start to finish.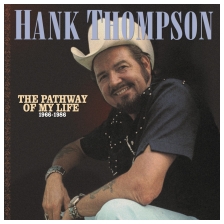 Hank Thompson "The Pathway Of My Life: 1966-1986" (Bear Family, 2013)


It took a while, but the reissue mavens at Bear Family finally followed up their epic collection of Hank Thompson's classic Capitol recordings with an 8-CD box set delving into his later years on the ABC/Dot and other labels... Another hefty helping of western swing-flavored honky-tonk and country-pop from one of classic country's most jovial icons, sure to make old fans happy and bring a few new ones on board. This collection includes all the album tracks from 1966-86, along with some bonus material and of course, plenty of the fab archival material Bear Family is known for, including a huge booklet full of old photos and extensive discographical information. Pity they couldn't also squeeze in his last two albums on Curb and Hightone, but I guess you can't have everything!
Hank Thompson "All-Time Greatest Hits" (Curb, 1990)


Hank Thompson "Greatest Songs, v.1" (Curb, 1995)



Re-recorded, stereo versions of old mono classics.
Hank Thompson "Greatest Songs, v.2" (Curb, 1995)



Hank Thompson "Sounds Of The Brazos Valley: Unissued Radio Broadcasts - 1952" (Country Routes, 1997)


Hank Thompson "Radio Broadcasts - 1952" (Flyright, 1997)


Hank Thompson "World Masters -1951-1953" (Bronco Buster)


Super fab! Three different import CDs worth of super sweet material taken from old 16-inch radio transcription discs... mainly sentimental heart songs, but also some more upbeat numbers. This is some of the plainest, most heartfelt music of Thompson's long and lovely career. He's always been one of my favorites, but it often seemed puzzling that he was considered a "western swing" player, rather than a honkytonker. FINALLY we can hear why -- these early live tracks bring it all home, with sweet, sweet material, alternately boisterous and sentimental. Plus, Thompson is such a warm performer... these recordings are a real treat, and although there's a lot of similarity, they're all worth having. In fact, for Thompson fans, these discs are all must-haves! The Bronco Buster CD can probably only be found through the label.

Hank Thompson "Hank World" (Bloodshot/Soundies, 1999)



This CD is pretty similar to the three listed above, but if you're living in the States, it's probably a lot easier to find, and just as satisying. Thompson did a lot of these radio discs, starting back in the 'Forties and continuing well into the 'Fifties. This one also draws on recordings made for the World label -- sentimental, good-spirited, and music that you will probably come to cherish. Highly recommended!

Hank Thompson "The Best Of Hank Thompson: 1966-1979" (Varese Sarabande, 1996)


Thompson's post-Capitol recordings, on the Warner, ABC and MCA labels, aren't his most highly prized material, but there are still plenty of great songs to be discovered. This CD is the best overview of this later phase of his career, skillfully sampling almost a dozen albums and several singles-only releases, effectively making the case that the Thompson Touch was still intact all the time. Sure, there's a little fraying around the edges, but songs like "The Mark Of A Heel" and "I've Come Awful Close" hold up to anything coming out of Nashville around the same time. This is definitely worth picking up if you're curious about all those old LPs you've seen floating around.
Hank Thompson "In The Mood For Hank" (Jasmine, 2000)

---
LP Discography
---
This is not -- I'm fairly certain -- a complete discography. I'm just putting it up because it seems appropriate and, as I find the time, I'll add to it and maybe even offer comments on some of the albums. Additions, corrections, clarifications and suggestions are all welcome. CD reissues are indicated by a link to Amazon, where available.
---



Hank Thompson "Songs Of The Brazos Valley" (Capitol, 1954) (T-418)



<! 10-inch LP >

Hank Thompson "North Of The Rio Grande" (Capitol, 1955) (T-618)





Hank Thompson "New Recordings Of Hank's All Time Hits" (Capitol, 1956) (T-729)





Hank Thompson "Hank!" (Capitol, 1957) (T-826)

Hank Thompson "Hank Thompson's Dance Ranch" (Capitol, 1957) (T-975)


Hank Thompson "Favorite Waltzes" (Capitol, 1958) (T-1111)

Hank Thompson "Songs For Rounders" (Capitol, 1959) (T-1246)

Hank Thompson "Most Of All" (Capitol, 1960) (T-1360)

Hank Thompson "This Broken Heart Of Mine" (Capitol, 1960) (ST-1469)

Hank Thompson "An Old Love Affair" (Capitol, 1961) (T-1544)

Hank Thompson "At The Golden Nugget" (Capitol, 1961) (T-1632)


Hank Thompson "The Instrumental Sounds Of Hank Thompson's Brazos Valley Boys" (Capitol, 1962) (T-1741)
Hank was justifiably proud of his band... They won like a zillion industry awards over the years, so it's not surprising that he gave 'em one of those dopey all-instrumental vanity albums they used to put out in the '60s. (Great way to coast through your contractual obligations, too...) Really, you gotta be a fan of instrumental records to get much out of one of a record like this... It doesn't do much for me, but I'm sure someone out there must love it!
Hank Thompson "Cheyenne Frontier Days" (Capitol, 1963) (T-1775)


This is a funny album, recorded "live" (-ish) at the State Fair rodeo up in Wyoming. The best parts, without question, are the MC announcements which bracket each of the songs. These include introductions for Hank and the band, as well as an announcer calling the roping and riding contests at the rodeo. The music is fine, too, but this was created as a piece of kitschy Americana, and it works just fine.
Hank Thompson "...At The Texas State Fair" (Capitol, 1963) (T-1955)


Hey, it worked so well up in Cheyenne, why not down in the Lone Star State, too...?
Hank Thompson "Golden Country Hits" (Capitol, 1964) (T-2089)
Hank strays from his usual role as a songwriter to cover a bunch of great country hits such as "San Antonio Rose," "Back Street Affair," and the like. Also has some of his oldies, including "Wild Side Of Life."

Hank Thompson "It's Christmas Time" (Capitol, 1964) (T-2154)



A fine, fun holiday record, with Thompson's jovial touch added to standards such as "White Christmas," "Silver Bells," "Rudolph," and "Santa Claus Is Coming To Town," as well as loopy Thompson originals like "I'd Like To Have An Elephant For Christmas" and "It's Christmas Every Day In Alaska." Thompson and longtime producer Ken Nelson bend the songs to their will, moulding each one to match Thompson's distinctive, instantly recognizable, bouncy hillbilly swing style. Best of all, is the gusto with which Thompson tackles each tune -- his delivery is vibrant and heartfelt; it may be just another goofy, cornball Christmas record, but it's lively and enjoyable, a cut or two above similar efforts by other artists. Plus, guitar whiz Joe Maphis provides a sparkling counterpoint to the band's infectious beat. Hey, even a curmudgeonly country Scrooge like myself can get into this one! (By the way, if you like holiday records, you might also want to check out my Hillbilly Holiday section, which reviews plenty of other records with a yuletide cheer...)
Hank Thompson "Breakin' In Another Heart" (Capitol, 1965) (ST-2274)


Hank Thompson "Luckiest Heartache In Town" (Capitol, 1965) (T-2342)

Hank Thompson "A Six-Pack To Go" (Capitol, 1966) (ST-2450)


Hank Thompson "Breakin' The Rules" (Capitol, 1966) (ST-2575)

Hank Thompson "Where Is The Circus And Other Heart Breakin' Hits" (Warner Brothers, 1966) (W-1664)

Hank Thompson "Just An Old Flame" (Capitol, 1967) (T-2826)

Hank Thompson "Hank Thompson Sings The Gold Standards" (Dot, 1968) (DLP 25864)
In this case, the standards include a couple of Hank's own old hits, as well as country hits such as "Sixteen Tons", "Cold, Cold Heart" and the like...
Hank Thompson "On Tap, In The Can, Or In The Bottle" (Dot, 1968) (DLP 25894)

Hank Thompson "Smoky The Bar" (ABC/Dot, 1969) (DLP-25932)

Hank Thompson "Hank Thompson Salutes Oklahoma" (Dot, 1969) (DLP-25971)

Hank Thompson "Next Time I Fall In Love, I Won't" (DOT, 1971) (LP-25991)

Hank Thompson "Kindly Keep It Country" (DOT, 1973) (LP-26015)

Hank Thompson "Doin' My Thing" (ABC/Dot)

Hank Thompson "Movin' On" (ABC/Dot, 1974) (DO-2003)

Hank Thompson "Sings The Hits Of Nat King Cole" (ABC, 1975) (DOSD-2032)

Hank Thompson "Back In The Swing Of Things" (ABC, 1976) (DOSD-2060)

Hank Thompson "The Thompson Touch" (ABC, 1977) (DO-2069)


Hank Thompson/Various Artists "Country Comes To Carnegie Hall" (ABC-Dot, 1977)


Four old-timers, each at different phases in their careers, share the stage at New York City's prestigious Carnegie Hall, providing a fascinating glimpse at live country musc during the peak of the countrypolitan scene. Honkytonk-swing legend Hank Thompson opens the show, moving through his seasoned stage routine -- boisterous, professional and full of pep, Thompson's star had long since fallen, yet like a true road warrior, he shows no signs of slowing down, and even if he's just going through the motions, he's still better that most. Between songs, he delivers an interesting aside about how his song "Wild Side Of Life" helped spark the career of Kitty Wells and, by extension, the careers of dozens of female country stars to follow. Ironically, he still refers to these woman as "girls," and takes the opportunity to make a crack about how "big" a star Dolly Parton is... Ah, me... how boys will be boys! Then there's Freddy Fender from Texas, whose career had kicked into high gear in '75 after longs years laboring in obscurity, and who was riding high at the top of the charts with hits like "Wasted Days And Wasted Nights" and "I'll Be There Before The Next Teardrop Falls." His career was about to level off soon after this concert, but here he's still at the top of his game, singing the hits as well as unapologetically dipping into his deep reservoir of Spanish-language Tex-Mex tunes. Hee-Haw host Roy Clark comes next, and lets loose with some dazzling, aggressive guitar work before sidling into a few gooey soft-pop countrypolitan vocals, and then wows the rubes with a fast, flurried version of the flamenco chestnut, "Malaguena." The superstar of the evening was crooner Don Williams, who was in the middle of a long, solid string of #1 hits and who gets the crowd singing along to his soulful, sentimental ballads, and laughing at his self-deprecating humor... One gets the sense that ABC Records might have done well to have included his full performance here, but hearing the other artists is nice from an historical perspective, and this is quite a nice album, when all is said and done. Recommended!
Hank Thompson "Brand New Hank" (ABC, 1978) (AY-1095)

Hank Thompson "Take Me Back To Tulsa" (MCA, 1980) (3250)

Hank Thompson "A Thousand And One Nighters" (Churchill, 1982)
An indie release, made in between labels...
Hank Thompson "Hank Thompson" (MCA/Dot, 1986) (MCA-39089)


Hank Thompson "Hank Thompson And Friends" (Curb, 1997)



When it came out, I didn't think that much of this duets album, but these days I see it in a different light -- sort of like a template of country music in the '90s. Especially telling is the difference between "young country" hams such as Brooks & Dunn or Vince Gill -- who can't resist upstaging their host, and fellow old-timer Kitty Wells, who barely can hold her own in the rematch version of "Wild Side Of Life"... but sounds really glad to be there. There are some nice tracks on here, but also some iffy choices.

Hank Thompson "Seven Decades" (HighTone, 2000)



(Produced by Lloyd Maines)
This one's a real jaw-dropper, just 'cause it's so darn good, and 'cause that Hank feller ain't no spring chicken. Produced by the illustrious Lloyd Maines, this record frames Thompson perfectly, catching all his strengths as a performer and storyteller, while shifting effortlessly through the various styles he excels at: bouncy western swing; sweet, boozy standards; cheerfully dopey, '70s-style, chicken-pickin' novelty songs and the like. There are old favorites aplenty, along with some new songs such as "Sting In This Old Bee" that fit seamlessly into the Thompson legacy. Most important, the band sounds like its heart is really into it, and that means a lot. This doesn't reach the heights of his late-'50s hits, but if you ever liked his stuff from the '70s, then this will certainly not disappoint you. Recommended!
---
Best Ofs - LPs
---
Hank Thompson "The Best Of..." (Capitol, 1963) (T-1878)

Hank Thompson "The Best Of, Volume 2" (Capitol) (T-2661)

Hank Thompson "25th Anniversary Album" (ABC/Dot) (DOS-2-2000)

Hank Thompson "Collector's Series" (Capitol-UK, 1989) (EMS-1349)
A fab 20-track collection which pretty much follows the tracks laid down by the Best Of discs above... which is nothing to sneeze at. Also came out in the States as a CD, which is also nothing to sneeze at.
---
Links
---
The Cool LZ Classic Country site has a nice Thompson page, and a good discography list (which helped fill in a few blanks on my own page... thanks!)
As you can tell, Thompson's catalog -- from new stuff to old and reissues far and wide -- is spread out among a bunch of different labels. The CD reviews above include links to several labels that Slipcue.Com has profiles elsewhere. It should be noted that there are a bunch of European reissues (particularly on EMI/Capitol subsidiaries) which are not currently included in this survey.
---