<! cd = 01/03/12 > <! MP3 00/00/00 > <! outside 04/09/13 - PF > <! pix 00/00/00 > <! 208-pix: 00/00/00 > <! icons 00/00/00 > <! UPDATES: 04/09/13 - fleshed out LPs, left off Harmony reissues, etc >
---
One of the great old pioneers of Texas honkytonk, Floyd Tillman (1914-2003) was a honkytonk legend's honkytonk legend, an expressive and compelling singer, as well as the guy that Willie Nelson looked up to when he was starting out as a songwriter. Tillman's musical style was profoundly understated and influential. Half Ernest Tubb, half Bing Crosby, Tillman made the most of an unremarkable voice, blending his froggy tones with curlicued jazz phrasings that were seldom heard in the boozy honkytonk of the late 1940s. He was also the kind of singer who pours heartfelt delivery into the most maudlin lyrics, with impressive results. His waltz-time weeper, "I Love You So Much It Hurts" is one of the most sincerely melancholy ballads ever written; though released in 1948, it still holds a real wallop for the unsuspecting modern-day listener. Tillman also helped stretch the lyrical boundaries of country music: "Slippin' Around" was one of the first honkytonk songs to deal openly and sympathetically with the subject of adultery. In the 1950s, as slick-sounding Nashville took over country music, Tillman was left by the wayside, and by and large his music has languished out of print for decades.
---
Discography - Best-Ofs
---

Floyd Tillman "Country Music Hall Of Fame Series" (MCA, 1991)


Out of print, but well worth looking for, this collection includes material from Tillman's 1939-1944 stint on the Decca label... In his early years he wasn't as soulful or as croony as he got later on, and his style is still very close to that of to Ernest Tubb. He's still hella cool, though, and still one of honkytonk's great neglected artists. If you see this collection, snap it up.


<! 110 x 108 >
Floyd Tillman "The Best Of..." (Collector's Choice, 1998)


Awesome! This generously programmed CD, with 24 delicous tracks, greatly expands on the scarce Best Of and Columbia Historic Edition LPs which came out in the '70s and '80s. It's a treasure trove of the best that country music has to offer -- highly recommended!


<! 133 x 130 >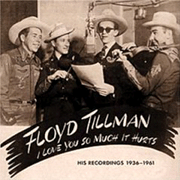 Floyd Tillman "I Love You So Much It Hurts" (Bear Family, 2004)


WOW. This ginormous, LP-sized, 6-CD box covers Tillman's work from 1936-1961... A stupendous treasure trove for Tillman fans, or students of honkytonk and old-school Texas country in general... And of course, it's got Bear Family's trademark sound quality and astonishing archival materials, including a large booklet with extensive discographical information and cool old photos. (PS - In case anyone's wondering what to buy me for Christmas...)
Floyd Tillman "The Grandest Prize" (Cowgirlboy, 1996) (LP)


And if you like Bear Family, you gotta love the Cowgirlboy label as well... This LP is worth tracking down for more of Tillman's early best. That is, of course, unless you haven't already gotten the box set above, in which case you're pretty much covered.
Floyd Tillman "Country Music Hall Of Fame: 1984" (King, 1999)


Floyd Tillman "Crazy Cajun Recordings" (Edsel, 1999)


This disc collects Tillman's mid-1970s recordings for the short-lived Crazy Cajun indie label... Tillman's Crazy Cajun LP is reviewed below... It's worth noting, though, that this CD has more than twice as many tracks on it, though I'm not sure if the rest of the tracks were released elsewhere. Anyway, a nice package for these late-vintage recordings.


<! Slipping Around; Daisy Mae;They Took The Stars Out Of Heaven; I Love You So Much It Hurts Me; I Don't Care Anymore; Cold War; Please Don't Pass Me By; Gotta Have My Baby Back; It Makes No Difference Now; Battle Of The Battle; You're In Good Hands; You Made Me Live Love And Die; Walking The Floor Over You; I'll Take What I Can Get; It's A Good Year; She Loved Me; Paper Flowers; Small Little Town; The Convict And The Rose; I Gotta Have Something I Ain't Got; Road To Nowhere; I'll Keep On Loving You; Only One Of Us; No None Can Change Yesterday; It Hurts Me; She'll Never Love Me Ð 23-02-98 >

---
Discography - Albums
---
Floyd Tillman "Floyd Tillman's Greatest" (RCA Victor, 1958) (LP)

Floyd Tillman "Let's Make Memories" (Starday/Cimmaron, 1962) (LP)

Floyd Tillman "Slippin' Around With Floyd Tillman" (Sims, 1964) (LP)

Floyd Tillman "Floyd Tillman's Country" (Musicor, 1968) (LP)

Floyd Tillman "Dream On" (Musicor, 1968) (LP)

Floyd Tillman "A Portrait Of Floyd Tillman" (Bagatelle, 1971) (LP)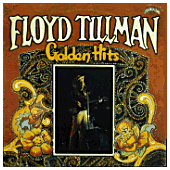 Floyd Tillman "Golden Hits" (Crazy Cajun, 1975) (LP)


(Produced by Huey P. Meaux)
Tillman reemerged in the mid-'70s to cut an album for the short-lived and idiosyncratic Crazy Cajun label... These are odd but lively later recordings, with an unruly, casual, by-the-seat-of-their pants feel. Not the greatest performances, but also thankfully free of the florid production style of the countrypolitan era. Tillman's voice had lost some of its distinctive, bluesy feel -- either that or he was consciously trying to sound exactly like late-vintage Ernest Tubb. At any rate, this is a workmanlike recording, a snapshot of journeyman country, 1970s style, and yet an album I can find affection for, mostly 'cause I'm such a sucker for Tillman's work. Worth a spin, though his glory days were obviously long past. The liner notes don't say who was in the backing band, although there are shout-outs to "Fiddling" Frenchie Burke and the Outlaws, so I guess whoever was backing him at the time... Obviously these tracks are included in the Crazy Cajun Recordings CD listed above.


<! "Special thanks to "Fiddling" Frenchie Burke and the Outlaws, and to Freda and the Firedogs" >

Floyd Tillman "Floyd Tillman And Friends" (Gilley's, 1981) (LP)





Floyd Tillman "The Influence" (Heart Of Texas, 2004)



(Produced by Justin Trevino)
Recorded shortly before Tillman passed away, this all-star guest-fest includes duets with Tillman devotees such as Johnny Bush, Merle Haggard, George Jones, Willie Nelson, Dolly Parton, Ray Price, Hank Thompson, Mel Tillis, and others. Need I say more?


<! Tillman's final album, recorded in 2002Ð2003 titled The Influence, paired him with country music artists who were influenced by his style and performing: Willie Nelson, Merle Haggard, Leona Williams, Dolly Parton, Justin Trevino, Ray Price, Frankie Miller, Hank Thompson, Connie Smith, Lawton Williams, Mel Tillis, Darrell McCall, Johnny Bush and George Jones. The project, released in April 2004, featured liner notes by Dr. Bill Malone, Bill Mack, Hank Thompson and Willie Nelson. It was produced by Justin Trevino on Heart of Texas Records. >

---
Links
---
---