<! cd = 11/11/11 > <! MP3 00/00/00 > <! update 00/00/00 > <! outside 00/00/00 > <! pix 00/00/00 > <! 208-pix: 00/00/00 > <! icons 00/00/00 >
---
Aaron Tippin
---
Discography - Best-Ofs
---
Aaron Tippin "You've Got To Stand For Something" (BMG, 1991)

Aaron Tippin "Read Between The Lines" (RCA, 1992)


(Produced by Emory Gordy, Jr.)


Aaron Tippin "Call Of The Wild" (RCA, 1993)


(Produced by Scott Hendricks)
Not since David Allan Coe first hit the scene has there been a country roughneck so heavily invested in chest-thumping, over-the-top, Hey-Look-At-Me, I'm-So-Darn-Country theatrics. (Songs include "Honky-Tonk Superman," "Working Man's PhD," "When Country Took The Throne," etc...) Still, I find it hard to take these jest-plain-folks, redneck-y, working class macho proclamations seriously, especially when they come from a guy who looks like he used to wear the hat and chaps in the Village People. He lays it on pretty thick with the rock-tinged guitars as well, and his voice isn't the greatest -- it sounds thin and nervous at times, and oddly quite a bit like Grandpa Jones -- but still, Tippin's alright, I guess. At least here, on his debut album, he's going through the motions of keepin' it country, and amid the glossy pop of modern Nashville, that's gotta count for something... Tippin sends all the right signals, and though it doesn't always translate into anything believable or engaging, his routine is still rugged enough to work well enough to fool the rubes. It'd be a lot better if he'd quit telling us how super-duper, ultra-country he is and just play the dang music, but at least he's not Garth-effing-Brooks or anything...
Aaron Tippin "Lookin' Back At Myself" (BMG, 1994)


This disc opens on a really vigorous, fun (and funny) note, with several mildly raunchy tunes about his woman's good, good lovin' (including the jovial "Lovin' Me Into An Early Grave," which kinda sums up what's best about Tippin's cheerfully low-brow approach). He starts to lose me, though, midway through the album on the dopey "Country Boy's Tool Box," which takes the sexual innuendo gimmick and bluntly pounds it to death. Then the disc sort of loses momentum and focus, with weak tunes like "Bayou Baby," and "You Are The Woman," which are thankfully somewhat balanced by slightly better material such as the moody title track and the name-droppy "Mission From Hank." It's a bummer, though that the whole album isn't as good and as much fun as the first three songs. Oh well. Overall, this is a pretty decent record; it's certainly much better than some of his later efforts.
Aaron Tippin "Tool Box" (RCA, 1995)


Aaron Tippin "What This Country Needs" (Lyric Street, 1998)


...Is a bunch more Aaron Tippin albums on the retail shelves! You tell 'em, big fella!
Aaron Tippin "A December To Remember" (Lyric Street, 2001)



Aaron Tippin "Stars And Stripes" (Lyric Street, 2002)



In the wake of the September 11th bombings, Tippin predictably landed a slot in the charts with the patriotic anthem, "Where The Stars And Stripes And The Eagle Fly..." But he also has plenty of his patented working-man hard-country ditties. I suppose, with his embrace of old-fashioned instruments like fiddles and pedal steel that I should be more appreciative of his pseudo-roughhewn style... But all the posturing seems so forced and predictable that it's hard to take any of this seriously. Everything he does is so baldly calculated and overly-obvious that it's kind of hard to enjoy. Nice voice, though.
Aaron Tippin "Now & Then" (Rust Records, 2006)



(Produced by Aaron Tippin)
The gruff-voiced Aaron Tippin, now a Nashville old-timer, walks through through his back catalog, re-recording about a dozen of his big hits, along with three brash, thumping new anthems, the best of which, "He Believed," is a half-gospel homage to his father. All the old songs are now introduced by a hardly-humble Tippin... The spoken intros -- floating monologues that are anchored onto the ends of all the preceding tracks -- make this disc iTunes unfriendly, but Tippin's fans will still probably enjoy hearing him talk about the songs (even if the intros are a bit insiderish and showbizzy, talking about songwriting partners, old TNN videos and such...) Given Tippin's tireless post-9/11 politicking, it's a little surprising that none of the new songs are patriotically themed, or for that matter, that he didn't redo his big flagwaving hit, "Where The Stars And Stripes And Eagle Fly." Oh, well. This seems like a for-fans record, and while the remakes don't add much to the original versions, it's still a robust, solid offering, one that lets folks know old Aaron is still alive and kicking.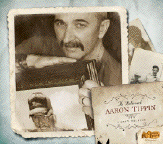 Aaron Tippin "He Believed" (Cracker Barrel, 2008)

Tippin, a Top Ten hitmaker of the 1990s, is the latest in a series of Nashville stars who've signed exclusive sweetheart deals with the Cracker Barrel restaurant chain, recording (and in some cases re-recording) a full album that'll only be marketed through the sponsor's outlets. Tippin's fans'll want to scoot down and get some chicken-fried steak along with this new CD -- it's packed with his patented formula of anthemic, more-working-class-than-thou, backbeat-heavy, rock-tinged, hyper-twangy country. Tippin is an unabashed dumber-down of his own music, he postures and self-mythologizes with the best of 'em, but with a roughnecked sincerity that sets him apart from the current crop of young'uns (Montgomery Gentry, et. al.) who seem to do the working man schtick solely out of contractual obligation. Tippin, on the other hand, is a true believer, and that's what makes his goofy tunes so much fun. Here he's going light on the patriotic chest-thumping, but he's definitely sticking up for the rednecky everyman -- indeed, he sounds more like Merle Haggard than ever before, and this disc will be a crowd pleaser, for sure. (For more info, check out the Cracker Barrel website. And can I get some homefries with that...?)
Aaron Tippin "In Overdrive" (Country Crossing, 2009)



A good, old-fashioned album full of trucker songs... Red Simpson would be proud!
Aaron Tippin/Joe Diffie/Sammy Kershaw "All In The Same Boat" (Big Hit Records, 2013)


---
Links
---
---