<! cd = 01/27/12 > <! MP3 01/27/12 > <! update 01/27/12 > <! outside 00/00/00 > <! pix 00/00/00 > <! 208-pix: 00/00/00 > <! icons 01/27/12 >
---
Singer-songwriter Jesse Winchester (1944-2014) became an iconic figure on the 1970s American folk scene, largely because of his refusal to enter the military draft, which led to him fleeing the country for Canada. He also was a very talented artist, crafting canny songs with an expansive, country-tinged feel. Here's a quick look at his work...
---
Discography - Best-Ofs
---

Jesse Winchester "The Best Of" (Rhino, 1989)



This is a fairly mellow, conservative reading of the '70s heyday of this alt-country folkie singer-songwriter (and a Vietnam-era draft dodger, who lived in Canada for many years), whose songs popped up here an there on other folks albums throughout the 1970s and '80s. I mean, where's his stoner anthem, "Seeds And Stems," after all? Cowards. Nonetheless, Winchester's relaxed pace and reflective lyrics are a rewarding combination, even if it may take a while to get in on his wavelength. "Defying Gravity" you may recognize from the Emmylou Harris version; his version's Lyle Lovett-ish vocals are profoundly echoed on "Talk Memphis" and on the tounge-in-cheek "I'm Lookin' For A Miracle." Some of his forays into more poppy arrangements are a bit too goofy (I kind of enjoy "Rumba Man," but it's definitely a guilty pleasure, and not one I'd readily admit to...) The best thing about this disc are the four songs excerpted from Jesse's mysteriously long out-of-print first album, 1971's Jesse Winchester, which is one of his most satisfying single works... And which cries out for reissue in its own right. In the meantime, this retrospective may help out a bit...
---
Discography - Albums
---

Jesse Winchester "Jesse Winchester" (Bearsville, 1970)



(Produced by Robbie Robertson)

Jesse Winchester "Third Down, 110 To Go" (Bearsville, 1972)


Jesse Winchester "Learn To Love It" (Bearsville, 1974)


Jesse Winchester "Let The Rough Side Drag" (Bearsville, 1976)


Jesse Winchester "Nothing But A Breeze" (Bearsville, 1977)



(Produced by Brian Ahern)

Jesse Winchester "Live At The Bijou Cafe" (Bearsville, 1977)


Jesse Winchester "A Touch On The Rainy Side" (Bearsville, 1978)



(Produced by Norbert Putnam)

Jesse Winchester "Talk Memphis" (Bearsville, 1981)



(Produced by Willie Mitchell)

Jesse Winchester "Humour Me" (Sugar Hill, 1988)


Jesse Winchester "Gentleman Of Leisure" (Sugar Hill, 1999)


Jesse Winchester "Live From Mountain Stage" (Blue Plate, 2001)


Jesse Winchester "Love Filling Station" (Appleseed, 2009)






<! Unreleased as of 04/11/14: "A Reasonable Amount Of Trouble" >
Jesse Winchester "A Reasonable Amount Of Trouble" (Appleseed, 2014)



(Produced by Mac McAnally)
Certainly a bittersweet affair, the final studio album from pioneering '70s singer-songwriter Jesse Winchester showcases an artist as laid-back, self-confident and soulful as ever, working his way through a rich set of originals and a few lovingly covered classics, such as "Devil Or Angel" and "Rhythm Of The Rain." Winchester, who passed away in April, had been dealing with cancer when he recorded this album and while subdued, he was hardly diminished, still exuding the calm, beatific soulfulness that was his hallmark style for over three decades. Bluegrassers Jerry Douglas and Stuart Duncan are among the studio crew, led by producer-guitarist Mac McAnally, who sculpts a warm, comfy soundscape that presents Winchester at his best. A lovely career capstone for an artist who was keenly aware of his own fragile mortality, but didn't let it get him down -- this album is gentle but not submissive or morbid and fits in with all that's come before. A real treat for longtime fans.
---
Tributes
---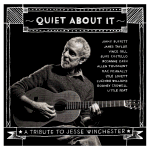 Various Artists "QUIET ABOUT IT: A TRIBUTE TO JESSE WINCHESTER" (Mailboat Records, 2012)



An all-star tribute featuring folks such as Jimmy Buffett, Rosanne Cash, Elvis Costello, Rodney Crowell, Vince Gill and Lucinda Williams and others...
---
Links
---
---