<! cd=04/02/05 > <! MP3 04/29/09 > <! update 04/29/09 > <! outside 00/00/00 > <! pix 00/00/00 > <! 208-pix: 00/00/00 > <! icons 04/09/11 >
---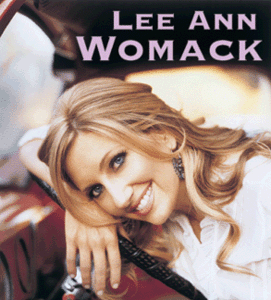 Lee Ann Womack hit the country music scene towards the end of the 1990s, with a dazzling display of modernized, neotraditionalist twang... Then she went to the top of the charts with some slicker stuff that was more in line with the fancy production and lofty songwriting of the times... But her fans have always known that Womack is a for-real hillbilly queen at heart, and when she wants to keep it country, she just can't be beat. Here's a quick look at her work...
---
Discography
---

Lee Ann Womack "Lee Ann Womack" (Decca/MCA, 1997)



(Produced by Mark Wright)
A kickass debut from a rootsy gal with a nice way with brokenhearted country weepers. Old-timers will note her Dolly-like tones right off the bat, yet Womack distinguishes herself as a fine heartsong stylist, borrowing liberally from the lush countrypolitan schmaltziness that Sherrill and Jones brought to a peak in the early '70s. Yeah, this is pretty slick stuff, but given the times, this disc was really a blast of fresh air. A few tunes don't work that well -- the glitzy trucker tune, "A Man With 18 Wheels," Jamie O'Hara's female-viewpoint psychology song, "You've Got To Talk To Me," the I-Love-Bubba ballad, "Buckaroo" -- these are all pretty forced and overly obvious. But on stunning numbers like "Never, Never Again," the bouncy, Cajun-flavored "Trouble's Here," and the soul-shaking sad song, "Am I The Only Thing That You've Done Wrong" (which Womack co-wrote), our gal proves herself a force to be reckoned with. This disc packs a real wallop: Womack's style may have been a little too rootsy and understated for some, but as far as I'm concerned, she was one of the best things to come out of Nashville during the late Clinton years. Recommended!
Lee Ann Womack "Some Things I Know" (MCA/Decca, 1998)



(Produced by Mark Wright)
On her second album, Womack proves herself a worthy successor to Dolly Parton's mantle... It's not just the strong vocal similarity, it's also the strong choice of material, the ornate-but-strong arrangements, and the general sense of someone who understands how to bridge the gap between "really country" and really slick. Her choice of collaborators is also telling: Vince Gill, Ricky Skaggs and (wow!) Buddy & Julie Miller. This is a very listenable, surprisingly rootsy mainstream Nashville album; it's not something I would feel the need to own, but I can listen to it all the way through, and not be embarassed or want to do bad things to my stereo... which is quite amazing for a modern Music City release! Worth checking out. (The song that I like the most is a crass, good old fashioned novelty number, "I'll Think Of A Reason Later..." Fun, dumb and funny.)
Lee Ann Womack "I Hope You Dance" (MCA, 2000)



(Produced by Lee Ann Womack & Mark Wright)

Lee Ann Womack "Something Worth Leaving Behind" (MCA, 2002)



(Produced by Lee Ann Womack & Mark Wright)



Lee Ann Womack "The Season For Romance" (MCA, 2002)



(Produced by Lee Ann Womack & Mark Wright)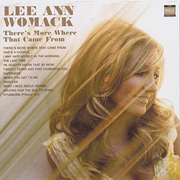 Lee Ann Womack "There's More Where That Came From" (MCA-Nashville, 2005)



(Produced by Byron Gallimore)
FINALLY...!!! A newly-minted mainstream country release that can make a hard-country traditionalist like me crank it up to top volume, and keep it blasting from start to finish... This is like capnip for an old codger like me: why aren't more modern Nashville records this good?? Womack's been down from the mountain, and she's come back again, having started out as a traditionalist and then coasting into massive success with popped-up modern material. But when it comes down to it, I guess it's more fun to sing the real stuff, and this album is a fine return to form for one of the best true-country singers of the last decade or so... The disc opens with the title track, a fiddle'n'steel-drenched, guilty-conscience cheatin' song worthy of the late, great Conway Twitty... and the rest of the album follows suit, dishing out one great, emotion-soaked tearjerker after another. Womack never shies away from tradition, either from the twang that country was built on or the slick, sleek craftsmanship of the early-'Seventies countrypolitan era... She even indulges in a few high-concept, densely constructed modern tunes (like "The Last Time" and "When You Get To Me"), but where these songs might sound trite or contrived coming from any number of her contemporaries, when Womack sings 'em, you believe 'em. This is a superior country album, the rootsy kind of stuff Nashville has neglected for the last few years -- let's hope Womack's success this time around will help usher in a new back-to-basics movement... It's been a long time, and Music City is long overdue for a breath of fresh air. Highly recommended! (By the way, note to the MCA art department: I love the use of some of the old Decca and MCA album art on this disc, like the Decca arrows and the MCA rainbow logo!)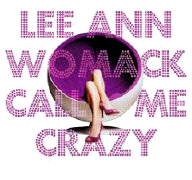 Lee Ann Womack "Call Me Crazy" (MCA-Nashville, 2008)



(Produced by Tony Brown)
A veteran of a decade's worth of hitmaking in Nashville, Lee Ann Womack is one of those precious few Music City artists who can move back and forth between twangy neotrad and slick country pop and still get it right every time. These days, she tends to alternate between the two in album-sized chunks -- and this disc is one of her more pop-oriented records, a smooth, doleful set of breakup ballads that opens strong with the clever wordplay of "Last Call" and the "Either Way," an emotionally crushing portrait of a marriage just going through the motions. The rest of the album follows in a similar mode, well-sculpted, tastefully arranged pop-twang full of heartbreak and perseverance... The disc gets to be a bit of a downer, but if you're looking for a record to feel sorry to, and really need to delve into those sad, sad feelings, this is a real high-class option. There's a change in mood midway through, where she sings an homage to fallen country martyrs, "I Think I Know (What Killed Keith Whitley)" and then doles out several stunning, low-key honkytonk weepers. "If These Walls Could Talk" ("they'd pray") is destined to be a classic, and her duet with George Strait ("Everything But Quits") is an understated gem with two likeminded neotrad modernists who are absolutely on the same page together. This album doesn't have many songs that jump out at you as big radio hits, but there sure are a lot of songs that'll grow on you and echo in your heart. Good stuff.
Download picks:

Last Call


If These Walls Could Talk


Everything But Quits (w/ George Strait)
---
Best-Ofs
---

Lee Ann Womack "Greatest Hits" (MCA, 2004)



(Various producers)
Finally! After seven years of innovative hitmaking, Womack gets the you-have-to-buy-this-because-there's-new-stuff-on-it-too greatest hits treatment. This disc tilts, predictably, toward the glossier end of Womack's work, with a hefty chunk of material coming from her I Hope You Dance album, and equal doses from the two before that. Only the title track makes the cut from Something Worth Leaving Behind, while "Mendocino County Line," a duet off of Willie Nelson's Great Divide album is included for "rarities" sake, and there's a little bit of twang in some of the early tunes. The two new songs are pretty good -- "The Wrong Girl" was the first single, but it's the second song, "Time For Me To Go," that really turned my ears around... Buddy Miller sings a duet-ish harmony, and it sounds pretty darn sweet. I personally woulda picked some more rootsy, more honkytonk numbers, but I guess that's what they make iPods for. Anyway, this disc is definitely recommended!
---



Hick Music Index



---

---
Top photo courtesy of MCA Records; used by permission.
---