<! cd = 10/03/13 > <! MP3 00/00/00 > <! outside 10/24/13 - WP > <! pix 10/24/13 - some > <! 208-pix: 00/00/00 > <! styles: Hippiebilly > <! UPDATES: 10/24/13 - posted w/ full(?) album list >
---
Although they started out on the East Coast, Jesse Colin Young and the Youngbloods became an iconic San Francisco band, a psychedelicized hippie jug band that successfully wed their folk music roots with a profound pop savvy. Their peace-and-love anthem, "Get Together," was a chartbuster in the Fall of '69, and remains a staple of classic rock radio to this day. Having scored a Top Ten hit, these San Fran-based Boston expatriates became a hot item at the dawn of the new decade. They signed with the counterculture-identified Warner Records, with a deal that gave them creative control over the albums on their newly-formed Raccoon imprint, and while the hits became fewer and faher between, the band stayed true to its ideals. Here's a quick look...


<! Corbitt left in 1969 >

---
Discography - Best-Ofs
---

The Youngbloods "Get Together: The Essential Youngbloods" (RCA, 2002)



A collection of their early stuff, posing the eternal question: where do these guys fit in? Should I really include them in a survey of hippie-era alt-country artists? Oh, why not... After all, their first chart hit was the twangy, goofball "Grizzly Bear," which is still as catchy now as it was back then... There's plenty of electrified rock on here, too, but twangfans might wanna check it out anyway.
Jesse Colin Young "The Very Best Of Jesse Colin Young" (Artemis, 2002)



I have to confess two things: I'm a little snobbishly suspicious of Jesse's solo work because I know -- for a fact -- that he delved pretty deep into the waters of gooey, post-psychedelic scene folkie navel-gazing... But on the other hand, I also have to confess that I actually kinda like some of that very same gooey, spaced-out, self-indulgent material. Go figure. Anyway, this 2-CD set includes a few early Youngbloods tracks as well as dozens of solo recordings, including catchy tunes like "Ridgetop." More on the folkie-confessional side, but still worth mentioning in relation to the outlaw scene.
---
Discography - Albums
---
Jesse Colin Young "Soul Of A City Boy" (Capitol, 1964) (LP, CD)


Jesse Colin Young "Youngblood" (1965)

The Youngbloods "The Youngbloods" (RCA, 1967)

The Youngbloods "Earth Music" (RCA, 1967)

The Youngbloods "Elephant Mountain" (RCA, 1969)


The Youngbloods "Rock Festival" (Warner/Raccoon, 1970)



This cleverly-titled, spacy live album was the first release on their newly-Christened Raccoon label... Yeah, maybe it wasn't the commercial success the Warner suits hoped for, but it sure shows the band in fine form. Their country-roots side is largely subsumed to a mellow space-jazz/jam band style, all full of love and peace vibes. Anchored by Lowell "Banana" Levinger's dreamy keyboards, the group grooves through several of their best-known songs, as well as other, loosely-formed new tunes -- perhaps as professional and competent as hippie rockers got, back in the day. Those who, on principle, hate hippie-stoner bands will find plenty to roll their eyes about here, but anyone with an open mind and an ear for starry-eyed, rambling melodies, will find it quite pleasant. Indeed, this album is probably as good an approximation of what a concert by the mellower, pothead jamband hippies sounded like at the time -- totally un-aggro and easy to groove out to, man. There's even a noodly nothing of a song, half avant-jazz/half guitar tune-up, that sounds like the kind of thing the band might play in the wee hours of the night when the party's really over, but a few folks still can't find the way home. Good stuff -- if you're checking out old-school hippie music, put this one on your list!
The Youngbloods "Ride The Wind" (Warner/Raccoon, 1971)



(Produced by Charlie Daniels)
Few records illustrate the anti-star attitude of the Youngbloods than this loose-ended, spacy live set, with six songs averaging about seven minutes in length each... It's pretty laid-back, indulgent stuff, and hardly what you'd expect from a band with a major-label contract during the height of the hippie-rock era. I'm sure it's an honest picture of the band, though I also imagine it was a bit of a nose-thumbing as well, aimed at "the industry" and the star-maker machine, and the Establishment, man. Sounded like a good idea at the time, though I'm not sure if this record really stands the test of time, other than as a timepiece and archeological curiousity. Opinions may differ, but I didn't really get too jazzed by this one. It's cool they covered Fred Neil's "The Dolphin," though!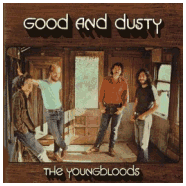 The Youngbloods "Good And Dusty" (Warner/Raccoon, 1971)



A mellow, almost acoustic-sounding set, very relaxed and low-intensity, with gentle, jam-band covers of old R&B hits, and equally soft-toned originals. It's admirable in how true the band was being to their laid-back vibe, but one also senses they might have been a little bit adrift without Jerry Corbitt's rocker vibe, and either too stoned or otherwise unmotivated to make a real effort on this one... Hard to say -- maybe a little of both things is true? The mellow, non-rockstar presentation is certainly in keeping with Jesse Colin Young's own later work as a solo artist, so a lot of the low-impact feel could have been on purpose. Doubtless the label execs were less than psyched when this landed on their desks, though.


<! no producer info on jacket >

The Youngbloods "Beautiful: Live In San Francisco" (Sundazed, 2005)


A live set from 1971 that tilts towards the rock end of the spectrum... Recorded for the legendary freeform FM station, KSAN, which stood at the heart of the SF Bay Area hippie counterculture.
The Youngbloods "High On A Ridge Top" (Warner/Raccoon, 1972)



(Produced by Stuart Kutchins)
This was the last album released as a band, recorded during the time when the group was dissolving, and Jesse Colin Young was forming his own solo band. It's another mellow, eclectic set, with competent, slightly perfunctory run-throughs of a bunch of covers of classics in a number of styles. There's some old-school R&B, blues tunes by Jimmy Reed and Robert Johnson, rock oldies from Richie Valens ("Donna" and "La Bamba") and some newer stuff from Dylan and the Beatles, a country tune ("Running Bear") and Taj Mahal's "She Caught The Katy." These are all okay recordings, but if the truth be told, it does seem like the spark has mostly gone out of the band -- they're cool and calm, they have good taste, but they definitely seem to be going through the motions, recording a tossoff album as a contractual obligation. There's only one original song on here, Young's "Dream Boat," but it's kind of a snoozer: he was saving the stuff he really liked for his own gigs. You can give this one a spin, but don't get your hopes up too high.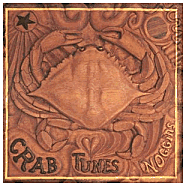 Noggins "Crab Tunes" (Warner/Raccoon, 1972)


The remnants of the Youngbloods -- Joe Bauer, Michael Kane and Lowell Levinger -- held together for one album under this incarnation, but this was pretty much it for the band, other than Levinger's solo album, which is listed below.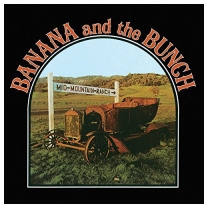 Banana & The Bunch "Mid-Mountain Ranch" (Raccoon, 1972) (LP)


(Produced by Stuart Kutchins)
A truly groovy solo album by keyboardist Lowell "Banana" Levinger, an original member of the Youngbloods... Here, he indulges a passion for old-time music, ala The Carter Family, including a gorgeous version of "Ocean Of Diamonds." I think I still have a vinyl copy of this floating around somewhere; be great if the powers-that-be put it out in digital form someday -- oh, wait! they did! -- Levinger also cut an album under the name Noggins, but I haven't heard that one yet...


<! 144 x 144 >
Jesse Colin Young "Together" (Warner/Raccoon, 1972) (LP)


(Produced by Jesse Colin Young)
On his first post-Youngbloods solo album, Jesse Colin Young drops out and gets even mellower than before -- and who wouldn't feel all ultra-groovy, recording soft country-folk tunes at home, in Inverness, CA, circa 1972? This feels like an ultra-personal record, and was certainly a departure from the rock-star expectations that the success of the Youngbloods had placed on him... Nothing really happened on the charts with this one, but I think that was kind of the idea: he doesn't seem to have had any interest in doing a real "rock" record, as underscored by his unhurried, acoustic cover of the Chuck Berry oldie, "Sweet Little Sixteen." The political meanderings of "Peace Song" -- in which he muses on the social power dynamics between various races -- is an interesting curio of the times, though less memorable musically. Lilting hippie tunes like "Lovely Day" come closer to what can be thought of as the Jesse Young solo sound, with another highlight being a sweet, simple cover of John Hurt's "Creole Belle." A nice, soft record from an era when many hippies really dropping out and getting back in touch with the quiet side of life.
Jesse Colin Young "Song For Juli" (Warner Brothers, 1973)



(Produced by Jesse Colin Young & David Bean)

Jesse Colin Young "Light Shine" (Warner, 1974)


Jesse Colin Young "Songbird" (Warner, 1975)


Jesse Colin Young "On The Road" (Warner, 1976)

Jesse Colin Young "Love On The Wing" (Warner, 1977)

Jesse Colin Young "American Dreams" (Elektra, 1978)

Jesse Colin Young "The Perfect Stranger" (Elektra, 1982)

Jesse Colin Young "The Highway Is For Heroes" (Cypress, 1987)

Jesse Colin Young "Makin' It Real" (Sheridan Square, 1993)

Jesse Colin Young "Swept Away" (1994)

Jesse Colin Young "Sweetwater" (Bean Bag, 1996)

Jesse Colin Young "Walk The Talk" (2001)

Jesse Colin Young "Living In Paradise" (Rykodisc, 2004)


Jesse Colin Young "Celtic Mambo" (2006)

---
Links
---
---