<! MP3 03/17/09, 12/07/10 > <! update 00/00/00 > <! outside 00/00/00 > <! pix 00/00/00 > <! icons 12/07/10 >
---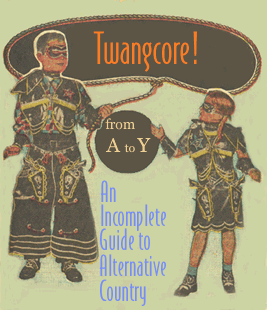 This page is part of an opinionated overview of "alt.country" music, with record reviews by me, Joe Sixpack... Naturally, it's a work in progress, and quite incomplete, so your comments and suggestions are welcome.
This is the second page reviewing various alt.country compilation albums.
---
A | B | C | D | E | F | G | H | I | J | K | L | M | N | O | P | Q | R | S | T | U | V | W | X, Y & Z | Compilations-1 / 2 / 3 | Other Country Styles | Hick Music Index
---
---
Recommended Records
---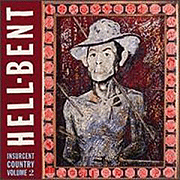 Various Artists "FOR A LIFE OF SIN: A COMPILATION OF INSURGENT CHICAGO COUNTRY" (Bloodshot, 1994)



Various Artists "HELL-BENT VOL. 2: INSURGENT COUNTRY" (Bloodshot, 1995)



Various Artists "STRAIGHT OUTTA BOONE COUNTY" (Bloodshot, 1997)



These collections are good samplers of Bloodshot Records and the label's punk-flavored "insurgent country" ethos. They also show a lot of the style's weak points, mainly the over-abundance of trailer-trash stereotypes (which I find boring) along with the variable levels of country fluency. The rockers-go-country thing is all very well and fine, but I still like it when they can actually play the music. Still, these disc include all the major players on the label, and are a nice snapshot of what these folks were up to, back in the day.

Various Artists "FRISCO MABEL JOY REVISITED: FOR MICKEY NEWBURY" (Appleseed, 2000)



An ambitious and effective, delightful if somewhat dour tribute to songwriter Mickey Newbury, whose original versions of these songs had an aridity of their own... For the most part, these covers -- from the likes of Dave Alvin, Gary Heffern, Meredith Miller and Chuck Prophet, with guitar interludes by Bill Frisell -- capture the whistfulness and whimsy, as well as the utter self-importance of Newbury's work, and add something new as well... Nice record!

Various Artists "THE GRASS IS ALWAYS BLUER" (Nettwerk, 2004)


The Nettwerk label, once a bastion of grinding, blaring, '80s-style industrial music, has recently done a major about-face, delving deep into the current crop of mellow, melodic indiepop-Americana crossovers, and has become home to several of the genre's most promising new artists. The Be Good Tanyas, Shelley Campbell, Nathan, Oh Susannah and Old Crow Medicine Show represent the newly retooled label on this fine Americana sampler, which also pulls from several other sources to include stalwarts such as Iris Dement, Emmylou Harris, The Jayhawks, Rhonda Vincent, Gillian Welch and Lucinda Williams, for a well-programmed sampler of the current wealth of rootsy singers out there today. Nice collection!

Various Artists "HAPPY BIRTHDAY BUCK: A TEXAS SALUTE TO BUCK OWENS" (Texas Round-Up, 2002)



An all-star twagadelic tribute to the late Buck Owens, with musicians such as David Ball, Libbi Bosworth, Rodney Crowell, Cornell Hurd, Jim Lauderdale, The South Austin Jug Band and the Derailers (who backed Owens in his later years at his ginormous Bakersfield nightclub, the Crystal Palace...) About as rootsy and Buckalicious a compilation as you're likely to find!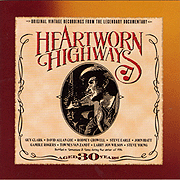 Various Artists "HEARTWORN HIGHWAYS" (Shout Factory, 2006)



Meanwhile, back in Austin... and over in Nashville... things were really starting to cook! This is an amazing historical document, capturing the early years of the Americana scene as we know it. This disc is the soundtrack to a 1975 documentary film that caught giants such as Guy Clark, Rodney Crowell, Steve Earle and John Haitt at the beginnings of their careers, compadres who formed the nexus of a scruffy singer-songwriter contingent that took its cues from the "outlaw" scene, as well as folkie friends like Townes Van Zandt and Steve Young, who had been kicking around a few years earlier. This actually includes the first recordings of Clark, Crowell, Haitt and Earle -- Guy being the most raspy and least eager to please, but each showing their own unique style, even this early on... (Amazing to think that Earle actually carried a tune like "Mercenary Song" around for more than a decade before putting it on wax!) Townes Van Zandt also adds a tune or two, and his densely-crafted, painfully earnest approach casts a long shadow on the others -- particularly on Earle. We're also treated to a few tunes from David Allen Coe, who was apparently slumming with the unsigned set, trying to build up his indie cred... Fans of any of these singers will want to check this album out and, more importantly, will want to see the film as well... Recommended.
Various Artists "HONKY TONK JUKE BOX SPECIAL" (Westwood International, 1996)



The cruder side of outlaw country, with naughty ditties such as Pinto Bennett's "Honky Tonk Asshole," Ken Carlyle's "Itty Bitty Titty Song," and other gems such as "Pukin' In The Parking Lot (We Ain't Leavin' Til We're Heavin')", "Coyote Ugly" and "It's Hard to Say I Love You (When You're Sittin' On My Face)." You kinda get the idea. Needless to say, this one's not suitable for younger listeners.

Various Artists "I LOVE: TOM T. HALL'S SONGS OF FOX HOLLOW" (Red Beet/CMHF, 2011)



(Produced by Eric Brace & Peter Cooper)
A sweet, goofy tribute to a sweet, goofy record by Tom T. Hall. Hall's 1974 album, Songs Of Fox Hollow, is one of the kookiest kids' records ever recorded, and this all-star homage brings its charms back to life. Released when Hall was still at the peak of his fame, Fox Hollow yielded the whimsical hit "I Love," but was also packed with songs about barnyard animals with lyrics that didn't anthropomorphize the critters or have them go on fairy tale adventures, but rather described them rather matter of factly: a fox that ran away from dogs, a runt chicken born with only one leg that learns to survive in the barnyard, a basset hound that wasn't particularly pretty but wound up "famous," onstage at a Johnny Cash concert. Hall lent an odd, pedestrian touch to his songs, a plainspoken tone with a bizarre self-assurance that his audience would still listen, even though he wasn't really saying anything too fantastic, and for some reason it all plays out perfectly, especially with little listeners in mind. This modern-day remake features some alt-country heavy-hitters: Gary Bennett, Elizabeth Cook, Patty Griffin, Jim Lauderdale and Buddy Miller among them, along with old-timers such as Bobby Bare and Tommy Cash, and even a couple of tracks featuring Duane Eddy(!) With steel guitar legend Lloyd Green anchoring the album, this one's a real winner, sweet in all the right ways and drenched in the oddball charm of the original album... Definitely worth checking out!

Various Artists "IT'LL COME TO YOU: THE SONGS OF JOHN HAITT" (Vanguard, 2003)


Singer-songwriter John Haitt is one of those terribly talented square-pegs who will never, ever get a fair shake in the fame factory... Everything about him, from his roots-rock songsmithing to his craggy countenance, is just a little too raspy for LA or Nashville to really latch onto. Still, he's got plenty of high-powered admirers among the performance elite, as readily seen in this great collection of songs drawn from a variety of albums. There's Rosanne Cash singing "This Is The Way We Make A Broken Heart," her ex-hubby Rodney Crowell singing "She Loves The Jerk" (the only good song off of one of his worst albums), Nick Lowe, Willie Nelson, Emmylou Harris, Bonnie Raitt, Buddy Miller... All with first-rate versions of Haitt originals. There are a couple of clunkers on here, particularly the hard-rockin' numbers by Buddy Guy and Eric Clapton, but on the whole, this is a fine, fun tribute to one of the best roots-rock composers of the post-hippie era. Recommended!
Various Artists "JAMIE OLDAKER'S MAD DOGS & OKIES" (Concord, 2005)



Drummer/producer Jamie Oldaker's name is hardly a household word, but a quick look at the lineup of performers on this disc will show you that the guy's got a lot of friends in high places. A tribute to the talent that springs forth from the state of Oklahoma, Mad Dogs & Okies features contributions from Ray Benson, Bonnie Bramlett, Vince Gill, Taj Mahal, Willis Alan Ramsay, Tony Joe White and others show that roots music -- the kind that blossomed under the radar in the 1970s -- is alive and well in the good old U. S. of A... True, Eric Clapton ain't from the Sooner State, but his association with J.J. Cale goes back a long, long way, and gives Clapton kind of honorary Okie status... Cale resurfaces as well, playing a solo track, and in a duet with Willie Nelson... Cale's laid-back Americana/blues vibe prevails, although two album highlights come from Ramsay's pen -- Clapton's dreamy version of "Positively" and Ramsay's own slow acoustic groove on "Sympathy For A Train" are the tracks I'd recommend the most... One mild disappointment is Richard Feldman's version of his own song, "Promises," a hit for Clapton back in '78 -- this version is fine as well, but it sounds so much like the Clapton single, you almost wonder what's the point. Anyway, this is a fine album, worth checking out if your a fan of old-school freeform radio, and remember back to the days when country-folk-blues-rock blends were in the aether all the time... You're doin' fine, Oklahoma!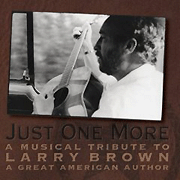 Various Artists "JUST ONE MORE: A MUSICAL TRIBUTE TO LARRY BROWN" (Bloodshot, 2007)



An interesting concept for an album, and a swell set of tunes, this collection pays homage to author Larry Brown (1951-2004), one of the finest Southern exponents of "grit lit," who wrote stories about hard-living, ground-down plain folks, people who have serious flaws and plenty of rough edges. They're the same sort of protagonists that populate innumerable Americana and alt-country songs -- charmers, scoundrels, dudes who just like to hang out with their pals, weatherbeaten men and women who sometimes get blue, and who cling to the joys found in life's little surprises, taking comfort and making friends wherever they can... Literary analysis aside, this disc is a real doozy, filled with a bunch of powerful compelling songs... Standouts include Caroline Herring's mournful "Song For Fay," Cary Hudson's "Song In C," "Blue Car" by Greg Brown and "Robert Cole" by Brent Best. Vic Chesnutt, Jim Dickinson, Alejandro Escovedo and Robert Earl Keen are among the 'mericana heavyweights who pitch in, along with several folks from Brown's native Mississippi... The album ends with "Don't Let The Door" a scabrously obscene, utterly unairable acoustic number with Brown himself on vocals, a fitting close to a set that his pals say is just the kind of mix that Brown would like to listen to while cruising along rural country roads. Definitely worth checking out!
Various Artists "KEEP ON THE SUNNY SIDE" (Amoeba, 1993)


An all-star twangcore tribute to the venerable Carter Family, featuring an early incarnation of Freakwater.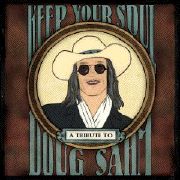 Various Artists "KEEP YOUR SOUL: A TRIBUTE TO DOUG SAHM" (Vanguard, 2008)



(Produced by Bill Bentley, Stephen Bowen, David Katznelson & Shawn Sahm)
A star-studded homage to the late, great Doug Sahm, one of the original heros of the indie/outlaw Texas scene. Sahm started out as a child prodigy, playing country music in the early 1950s, but he flipped when he heard R&B and was in the first wave of 'Fifties rock'n'rollers. He also absorbed a love of Tex-Mex border music, and brought all these passions to his work, making him a poster child for diversity in music, and his loose-limbed, genre-busting approach was decades ahead of the indie/indiebilly explorations of the last decade or so... Although it dips into music all Sahm's styles -- garage rock, the blues,country, Tex-Mex and psychedelic pop -- this disc tilts a little towards a more muscular, blues-based sound, evoking the sweaty nights playing in bars, rather than the cool licks recorded in studio booths. Dave Alvin, Alejandro Escovedo, Los Lobos, Delbert McClinton and Joe King Carrasco are among the old-timers who pay tribute here; while young'uns such as Sarah Borges, The Gourds and Sahm's son, Shawn Sahm, also join in the fun. I personally found this too blues-heavy for me, but folks who are more in the roots-rock, house-rockin' tip might dig it a lot.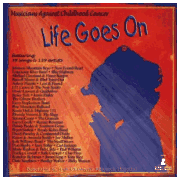 Various Artists "LIFE GOES ON: MUSICIANS AGAINST CHILDHOOD CANCER" (Rural Rhythm, 2012)



An amazingly good bluegrass benefit album features a dazzling lineup of top talent from today's truegrass scene, tilting firmly towards the traditional end of the spectrum. Great fiddling, picking and high harmony singing from folks such as Blue Highway, The Grascals, The Johnson Mountain Boys, Doyle Lawson, JD Crowe, Rhonda Vincent, Sierra Hull, Paul Williams, Tony Rice, Bradley Walker and many, many more. A strong mix of secular and gospel material, and all of it as twangy and acoustic as you could want. All the profits from this collection are donated to the St. Jude Children's Research Hospital, a worthy cause if ever there was one. Recommended!

Various Artists "LIGHT OF DAY: A TRIBUTE TO BRUCE SPRINGSTEEN" (Schoolhouse, 2003)



Nice album! I have to confess, I've never been a big fan of The Boss... Back in '78, a friend gave me a copy of The River, and I vaguely remember liking it, in an idle kind of way, though it didn't stay with me on my trip cross-country later that year... What lingering affection I may have had for Broose was later blown out of the water when he hit his bombastic "Born In The USA"-era MTV megafame phase -- he got filed away in the "way overplayed" category of my mind, along with Prince, Tina Turner, U2 and Michael Jackson... Numerous people over the years have tried to get me past my anti-Springsteenism, usually arguing that I'd be so totally blown away if I went to go see him play live... that the guy really put everything into his shows, etc. etc. But I never had the money, or the inclination, to see him rock the house down, so I've never really come into the fold. Still, even a Springsteen Scrooge like myself has to admit, this disc brings out the best in the man's work, with a fascinating parade of artists paying homage to his rootsy songwriting... For the Americana-inclined among us there are plenty of fine performances, with Joe Ely, Rosie Flores, Patty Griffin, Jason Ringenberg and Jennifer Glass lead the pack, alongside several old-school rockers like Cindy Bullens, Graham Parker and Elvis Costello, all in an acoustic/mournful mode... A few of the more rock-oriented tracks misfire, and while there are a few imitative growls, thankfully no one really goes for the full-on, over-the-top rocker howl that Bruce is known for, leaving the monster rock, stadium-bursting performances to Springsteen himself... This 2-CD set is a thoughtful, stylistically varied collection, with plenty of strong performances (and the ever-faithful fast forward button for the ones that don't suit your tastes...). Plus, this project is a benefit for two charitable organizations: The Parkinson's Disease Foundation and The Kristen Ann Carr Fund, which raises money to research and combat the group of soft-tissue cancers known collectively as sarcoma... All in all, this is a class act.

Various Artists "LONESOME, ON'RY AND MEAN" (Dualtone, 2003)



A well-produced and nicely varied tribute to the late Waylon Jennings. A few of these songs are a bit cumbersome, but others are a delight, particularly Norah Jones's spin at "Wurlitzer Prize," Dave Alvin's appropriately resonant version of "Amanda," and Guy Clark's take on "Good Hearted Woman." Also nice is a sweet version on "Waymore's Blues," done by the remnants of Buddy Holly's old band, the Crickets, an amiable and super-competent outfit who remain, curiously, unsigned and exiled on the periphery of the roots and oldies scene. The most glaring "which of these things is not like the other?" track is Henry Rollins' cowpunky stab at the title track, which, wisely enough, is buried at the end of the album, so roots fans don't have to fast forward past it. A nice tribute, though, definitely worth checking out, even if no one could do this material as well as Waylon did. He was the coolest of the cool.
---
---