<! MP3 03/17/09 > <! update 00/00/00 > <! outside 00/00/00 > <! pix 12/07/10 - need to replace Tulare Dust GIF > <! icons 12/07/10, 10/21/11 >
---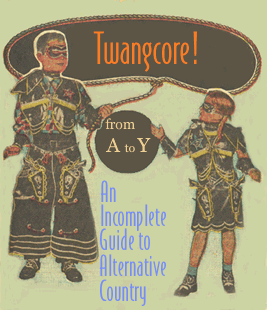 This page is part of an opinionated overview of "alt.country" music, with record reviews by me, Joe Sixpack... Naturally, it's a work in progress, and quite incomplete, so your comments and suggestions are welcome.
This is the second page reviewing various alt.country compilation albums.
---
A | B | C | D | E | F | G | H | I | J | K | L | M | N | O | P | Q | R | S | T | U | V | W | X, Y & Z | Compilations-1 / 2 / 3 | Other Country Styles | Hick Music Index
---
---
Recommended Records
---

Various Artists "MAKING SINGLES, DRINKING DOUBLES" (Bloodshot, 2002)



A swift set of singles-only rarities from the Bloodshot regulars... On board for the ride are JonBoy Landford, Kelly Hogan, Andre Williams, Moonshine Willy, the Meat Purveyors and others. For me, Rex Hobart's and Ryan Adams's numbers are the natural highlights; there are several predictably tounge-in-cheek rock and reggae covers, done inna twangcore stylee.
Various Artists "THE MAN OF SOMEBODY'S DREAMS: A TRIBUTE TO CHRIS GAFFNEY" (Yep Roc, 2009)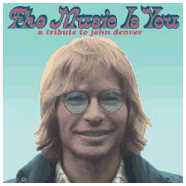 Various Artists "THE MUSIC IS YOU: A TRIBUTE TO JOHN DENVER" (ATO, 2013)



A hipster-delic tribute to an unlikely icon, this album makes a surprisingly strong case for John Denver's continued relevance lo, these decades after his hippie-era heyday. With his back-to-nature, aw-shucks, wholesome-living image, Denver was an easy target for satire and derision back in the good old days, but in cover versions by artists such as Lucinda Williams, Old Crow Medicine Show, Emmylou Harris and Kathleen Edwards on the Americana side, and Train, Evan Dando and Blind Pilot on the indie-rock tip, Denver's songs emerge out of their 1970s shadows and reveal themselves to be pleasantly durable and resonant. Of course, not all the songs were written by Denver: Amos Lee delivers a nice rendition of "Some Days Are Diamonds," a great song composed by country auteur Dick Feller...) Album highlights include My Morning Jacket's ethereal, haunting version of "Leaving On A Jet Plane," as well as Mary Chapin Carpenter singing "I Guess He'd Rather Be In Colorado" and "Take Me To Tomorrow," covered by Dave Matthews, two performances I hardly expected to be drawn into... There are a few tracks on here that cleave too closely to the twee folkie sensibility that made John Denver a cultural caricature -- I actually like the original "Rocky Mountain High" a lot, but thought that Allen Stone's bland acoustic-soul version here and Brett Dennen's gooey impression of "Annie's Song" were both missed opportunities. Overall, though, this is a very strong, very rewarding record, one that could cause a few of us cynics to reassess our old opinions of the late, great John Denver.

Various Artists "NO DEPRESSION: WHAT IT SOUNDS LIKE, v.2" (Dualtone, 2006)



A swell sampler of twangy tunes from various artists lauded in the pages of No Depression magazine... A very strong selection with Americana stalwarts such as Ryan Adams, Kieran Kane, Julie Miller and Billy Joe Shaver, along with left-of-center chart artists like Patty Loveless and Rosanne Cash, and less well-known names such as Jon Dee Graham's Resentments, or newcomers like the Drive-By Truckers. The pacing of this disc is excellent, as is the song selection: I first listened to it without looking at the track listing and was even lulled into liking a Drive-By Truckers tune(!) For a strong introduction to the genre, this disc really is ideal, each song is a gem, and they're woven together well. Nice, informative liner notes as well.

Various Artists "NOTHING LEFT TO LOSE: A TRIBUTE TO KRIS KRISTOFFERSON" (Incidental Music, 2002)



A melancholy, slowcore indie-alt homage to 1960s/'70s outlaw songwriter Kris Kristofferson, featuring modern artists such as Califone, Calexico, the Radar Brothers, Court & Spark, Grandaddy, and others. The overwhelming rock/lo-fi slant of this album makes it a bit of a fish-out-of-water curiousity. I suppose it's a good match, though, for Kristofferson's own overly-deliberate songwriting style. Don't expect much twang on this album, outside of a couple of tracks by Richard Buckner and SF Bay Area old-timey champs, the Crooked Jades. Kristofferson fans might also want to check out the more country-ish DON'T LET THE BASTARDS GET YOU DOWN collection, which was released at the same time, on a different label.

Various Artists "OLD TOWN SCHOOL OF FOLK MUSIC: SONGBOOK, v.1" (Bloodshot, 2006)



A charming, earnest, open-mikey set from the graduates of Chicago's Old Town School of Folk Music, a cultural institution apparently founded in 1957 and now about to celebrate its 50th anniversary... The strongest tracks on here are from well-known "ringers," folks like Danny Barnes (of the Bad Livers), Freakwater's Janet Bean, hillbilly smartass Robbie Fulks and Waco Brothers frontman Jon Langford... Most of the others I'm not familiar with, and some tracks are certainly better than others. Standouts include a barebones "Shady Grove" from a fellow named Colby Maddox, and "Salty Dog" by Rick Sherry... Dan Zanes also makes an appearance with a loosey-goosey version of "Drunken Sailor..." Many of the songs on here really are like listening to a friend of yours warbling away at a coffeehouse open-mic night, which is exactly as it should be: that's the whole point of folk music, right? As DIY as ya wanna be.


<! several other volumes, including two kid's records >
Various Artists "OUR SIDE OF TOWN: A RED HOUSE RECORDS 25th YEAR COLLECTION" (Red House, 2008)


My, how the time does fly. Twenty-five years gives this iconic indie-folk label a lot of great material to pick from, and they make the most of it with catchy tunes from Greg Brown, Cliff Eberhardt, Eliza Gilkyson, Lucy Kaplansky, Lynn Miles, The Wailin' Jennys and others... By and large this set sticks to a sleeker, pop-informed "adult alternative" template -- folk music that's all growed up and not still stuck in a coffeehouse ghetto. There are also a couple of charmingly dorky, heart-on-your-sleeve old-school folksongs, like John Gorka's "When You Sing" and "Old Dogs" by Bill Staines, that recall the folk world as it was when the label was founded, back in the early 1980s. It's probably the more modern stuff that will appeal to many listeners, as will some of the more modern artists, such as Ray Bonneville, who don't shy away from a more expansive sonic template and yet keep things just this side of the "rock" divide. A nice, strong sampler from one of the most vigorous, intelligent labels of the modern folk scene. Worth checking out! (By the way, if you're in my neck of the woods, in the SF Bay Area, you might want to check out the upcoming Red House anniversary show at the Freight & Salvage Coffeehouse... Here's some info on the September 26th show: http://www.redhouserecords.com )

Various Artists "THE PILGRIM: A CELEBRATION OF KRIS KRISTOFFERSON" (American Roots, 2006)


A flat-out awesome album, one of the best tribute discs you'll ever hear. Undaunted by the release a couple of years earlier of two scraggy alt-country Kristofferson homages, the folks at American Roots have rounded up some major talent, including heavyweights such as Willie Nelson, Emmylou Harris, Jessi Colter and Rosanne Cash, alongside younger artists like Shawn Camp, Bruce Robison, Kelly Willis and Todd Snider, all of whom show a strong affinity for Kristofferson's work. High marks go to rowdy gal Gretchen Wilson, who gets a plum role singing "Sunday Morning Comin' Down," and Russell Crowe who gives a surprisingly moving version of "Darby's Castle"; Waylon's boy, Shooter Jennings, acquits himself well on "The Silver Tongued Devil And I," and it's nice to hear raspy ol' Marshall Chapman ripping her way through "Jesus Was A Capricorn..." But really, it's hard to play favorites with this album... With the sole exception of a horrible track by "soul" singer Brian Knight, this disc is all killer, no filler from start to finish. Highly recommended!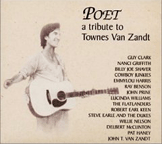 Various Artists "POET: A TRIBUTE TO TOWNES VAN ZANDT" (Navarre, 2001)


I have to confess, I've never been a big fan of the late Townes Van Zandt, although I know a lot of you out there are... So, bear with me, and take what I say here with a grain of salt. One thing about this tribute album is that it certainly captures the somewhat overblown poetic pretensions of Van Zandt's work. It takes a remarkably graceful performer to overcome the belabored craftmanship of this writing: Guy Clark does it beautifully on "To Live Is To Fly"; Billy Joe Shaver and John Prine do alright on their respective tracks. The bulk of this album, though, is awkward and heavy-handed... that is, it follows pretty closely the template set down by Van Zandt himself. If you're into Townes to begin with, you should love this. It didn't rock my world, though.

Various Artists "POR VIDA: A TRIBUTE TO THE SONGS OF ALEJANDRO ESCOVEDO" (Or Music, 2004)


This double-disc benefit album (to help cover mounting medical expenses) pays tribute to songwriters Alejandro Escovedo, the quirky, Texas-based rock-Americana songwriter who recently fell ill with hepatitis C... I have to confess, I've never been a fan of Escovedo's work -- it simply leaves me flat -- but the assembled talent on this collection is enough to turn anybody's head, so I felt obligated to check it out. What's that? Who's on it? Oh, just Lucinda Williams, Chris Stamey, The Jayhawks, Rosie Flores, Son Volt, John Cale, Lenny Kaye, John Dee Graham, Jon Langford, Jennifer Warnes (!), Cowboy Junkies and Calexico... to name a few. Escovedo's family members also pitch in, including jazz great Pete Escovedo (his dad), Shiela E. (his sister) and Javier Escovedo (his brother, who also used to be in the SF punk band, The Zeros...) Turns out I still don't like Alejandro's songwriting that much, but hearing it in new interpretations is kinda cool. High marks go to the craggy-voiced Bob Neuwirth for his spooky rendition of "Rosalie," and to the Jayhawks for the spacy Byrds-meet-Roy Montgomery vibe of "Last To Know." Those who enjoy eclectic music will find a lot to slurp up on this set.

Various Artists "PUTUMAYO PRESENTS: ACOUSTIC CAFE" (Putumayo, 2011)



A very mellow set of contemporary singer-songwriters, mostly of the wordy, confessional/coffeehouse-folkie variety... Features a few stalwarts such as Lucy Kaplansky (at her drowsy, Nanci Griffith-ish best...) and several newcomers such as Trevor Hall and the Sweet Remains, with highlight tracks from Sarah Jarosz and Justin Townes Earle. One eye-opener for me was a South African singer I hadn't heard of before, Gregory Alan Isakov, whose banjo-laced "Stable Song" was a sweet little earbender. As with many Putumayo collections, this will give you a good sense of the style, and several artists you might want to track down later.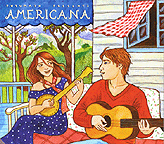 Various Artists "PUTUMAYO PRESENTS: AMERICANA" (Putumayo, 2007)


Here's a swell set of mostly-mellow, acoustic-based Americana, drawing mostly on the folk and bluegrass/stringband side of the style, and leaving the rough-and-tumble bluesy stuff behind. Although Robert Earl Keen, Tim O'Brien, Old Crow Medicine Show and Alison Brown are all top-tier twangsters, outside of the coffeehouse confines of the folk scene, most of the artists on here are pretty obscure, which to my way of thinking is a real recommendation. This disc is full of pleasant surprises and artists you'll want to explore in greater depth, the very definition of a great compilation album. Standouts include longtime cult fave Chip Taylor, whose duets with Carrie Rodriguez have lit up several fine albums in the last few years, and "Sing A New Song" by Eliza Lynn -- a track that's actually unique to this album(!)... All in all, this is a disc that's got plenty of nice new stuff on it for potential twangfans to check out. Recommended.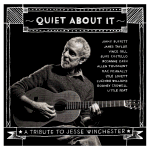 Various Artists "QUIET ABOUT IT: A TRIBUTE TO JESSE WINCHESTER" (Mailboat Records, 2012)



An all-star tribute to '70s songwriter Jesse Winchester, including tracks by Jimmy Buffett, Rosanne Cash, Elvis Costello, Rodney Crowell, Vince Gill and Lucinda Williams and others...

Various Artists "RETURN OF THE GRIEVOUS ANGEL" (Almo, 1999)


(Produced by Emmylou Harris)
This groovy Gram Parsons tribute compilation has the distinction of having been produced by Emmylou Harris herself, making it the closest thing to an "official" tribute we're ever likely to see. For the most part, it's pretty solid: highlights include Lucinda Williams' cover of "Return Of The Grievous Angel," and Emmylou and Sheryl Crow are about as perfect a vocal matchup as you could desire. Evan Dando and Juliana Hatfield may surprise a lot of folks with their resonant version of "$1,000 Wedding", while postmod-pop icon Beck plays it surprisingly straight on a pedal steel-drenched rendition of "Sin City". There are, of course, disappointments, such as a lackluster Pretenders track, and a predictably insufferable performance by Wilco. Cowboy Junkies squander the inherent hillbilly bounciness of the original "Ooh Las Vegas" in favor of generic indierock/mopecore moodiness -- they score points for originality, though the results are melodically denuded, and lamentable. Several other tracks produce similarly indifferent results. Elvis Costello, on the other hand, is in his own special league, elevating Parsons' "Sleepless Nights" into the pop ballad stratosphere, one of several bright gems which make this collection worth your full attention.

Various Artists "THE ROUGH GUIDE TO AMERICANA" (Rough Guides, 2001)


The Rough Guide collection takes plenty of admirable chances, stepping further out of the twangcore canon, picking less obvious, scragglier bands such as Hazeldine, The Handsome Family, Western Electric and The Arlenes... Maybe it's because these were the songs they could get the rights to, but it's also nice to hear some alt-ier alt.country, along with the Neko Case, Townes Van Zandt and Gourds tunes... Nice set, definitely worth checking out.


<! [NOTE: For other albums in this series, check out my a href= "../../../labels/worldlabels/roughguide.html" profile of the Rough Guide label.] >

Various Artists "SAIL AWAY: THE SONGS OF RANDY NEWMAN" (Sugar Hill, 2006)


Tribute albums are a tricky thing... More often than not, they raise the question of "why bother," since, if the honoree was so great to begin with, do we really need to hear a bunch of other folks tackle their work en masse? That's particularly true in the case of an artist as singular and singularly vexing as Randy Newman, the most potent bad-boy singer-songwriter of the 1970s, and scion of a three-generation musical dynasty that reached back to the early recesses of the Hollywood studio system. Newman was particularly notable for his scathing, taboo-breaking social satires aimed at the crew-cut legions of Nixon-era Southern rednecks; he took the elegant faux-Dixie musical motifs of Stephen Foster and grafted on some of the most scabrous and penetrating political lyrics of the era. Picking up the torch from Tom Lehrer and Phil Ochs, he brandished it as a weapon, jabbing the embers into the cyclops eye of American popular culture. Potentially, the Southern emphasis of Newman's early work lends itself to fruitful reinterpretation by country/bluegrass types who are willing to overlook the seeming slights to their culture, and appreciate his witty appropriations of country/folk musical modes... That's definitely the case with several songs on this twangly tribute disc, although other tracks fall wildly short of the mark. The songs that don't work are the ones that most nakedly simulate Newman's original recordings -- Tim O'Brien, Sonny Landreth and (sadly) The Duhks all make the fatal error of aping Newman's own intonation on songs such as "Sail Away," "Louisiana" and "Political Science." There was plenty of room for them to make these songs their own, but instead they slavishly copied the vocal inflections and phrasing that made these songs so compelling in the '70s, and come off as callow imitators. On the flipside, though, there are gems like Sam Bush's "Mr. President," which perfectly taps into the folkie broadside tradition that Newman was emulating, and Steve Earle's appropriately brash, in-your-face, punked-out reworking of "Rednecks," a performance that mercilessly pulls out every last strand of condemnation that Newman had lobbed at America, particularly at the hypocritical Yankee liberals who looked down their noses at the South while shunting the urban poor off into ghettos that were every bit as oppressive as the apartheid down South. Another welcome surprise is Bela Fleck's understated instrumental version of "Burn On," another one of my favorite Newman songs. Interestingly enough, no one wanted to tackle "Short People" or "I Love LA" -- heck, I would have settled for "Simon Smith And His Amazing Dancing Bear," instead of dumb old "You Can Leave Your Hat On..." But one thing I definitely agree with is that Randy Newman is one hell of a great songwriter, and hearing his songs again through this modern alt-twang filter is a fine reminder of just how good he really was.


<! various artists, Song of America B000T3GK8O >

Various Artists "SONGS FROM CHIPPY" (Hollywood, 1994)


An interesting, often compelling compilation album that was also the soundtrack for a theatre piece starring Jo Harvey Allen, and Jo Carol Pierce... Included on the ride are Joe Ely, Terry Allen, Butch Hancock, Robert Earl Keen, Wayne Hancock, who I believe made his debut on this album... Definitely worth checking out.

Various Artists "SWEET RELIEF: A BENEFIT FOR VICTORIA WILLIAMS" (Sony, 1993)



When Victoria Williams was diagnosed with multiple sclerosis, she found herself in that all-too-common position of many American artists: too broke to pay the medical bills, and no health insurance to make up the difference. But when you have friends and well-wishers such as Lou Reed, Matthew Sweet, Lucinda Williams, Pearl Jam and Giant Sand to help out with a benefit album, well... that's kind of nice. (Oh, and Mark Olson and the Jayhawks, too... let's not forget them.) Anyway, the songs are all written by Williams, which means they are idiosyncratic as can be, and often a bit difficult to cover, but there are plenty of magic moments. The results are variable, but certainly worth checking out.

Various Artists "TAKE ME HOME: A SAMPLER OF AMERICANA ARTISTS FOR PEACE" (Arden's Garden, 2006)


Peace hymns and protest songs have recently crept back into fashion in the folk world, as fury and sorrow over the Iraq War has bubbled up into the mainstream. Some of the artists on this collection have been at it for a while: Country Joe MacDonald evolved from an iconic '60s leftie firebrand into a tireless advocate for veteran's rights. Accordingly, here he records a tune called "Support The Troops"; other songs on this low-key set follow a similar path -- rather than fume at George Bush, per se, they extol peace as an abstract good. Some of the songs are quite lovely, some are quite sad... Along with veteran folkies such as MacDonald, Bob Brozman and Jesse Colin Young, there are plenty of relative unknowns, such as Dennis McGregor, whose reflective "Caught In Your War" opens the album and SF Bay Area local Shelly Austin chimes in with "I Wouldn't Lie To You." This disc probably won't win over anyone who's for the war or who doesn't like contemporary singer-songwriter folk, but for those listeners who are open to the message, it's a nice, thoughtful set. Worth checking out.
Various Artists "TEXAS SONGWRITERS -- RECORDED LIVE AT KERRVILLE" (Silverwolf, 2000)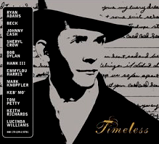 Various Artists "TIMELESS" (Lost Highway, 2001)



Yet another reason for Lucinda Williams fans to look forward to that eventual compilation of her zillions of scattered, non-album tracks. Her version of Hank William's "Cold Cold Heart" is by far and away the best track on here -- a superior rendition of a haunting old song. The rest of these Hank covers have their ups and downs... it's interesting to hear modernized updates of Hank's rather sparse sound, although some tracks (I'm not naming names) slide off in the wrong direction. Oh, fine, then: I will name names! Could Sheryl Crow have been any screechier? I thought overstated city-kids-doing-warbly-hillbilly-yodelling performances like that went out in the early '80s... and it's not like she doesn't have the range or ability to sing this stuff with the proper feeling. Overall, though, this is an album a lot of folks will enjoy; other than the Lucinda track, it doesn't move me that much, but it's not offensive, either.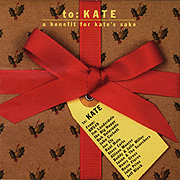 Various Artists "TO: KATE -- A BENEFIT FOR KATE'S SAKE" (Western Beat, 2005)


A mighty fine Christmas offering, with a humanitarian twist... Kate Kirk is a 3-year old Nashviller with a rare genetic disorder called Niemann-Pick Disease, Type A/B; her older sister Caroline also has the disease and doctors say it is too late to treat the 6-year old, but believe that a marrow transplant may help in Kate's case. Hence, this tribute album, which seeks to raise the money to pay for the operation. You may quibble about the person-by-person band-aid approach that a lack of a national health care plan has brought to so many lives (I have a friend here in the Bay Area that has a similar album out in his honor...), but it's hard to argue with the artistic successes of this disc... A lot of high-powered Americana types have pitched in on this one, including Joe Ely, John Prine, Buddy & Julie Miller, Jim Lauderdale, Raul Malo and Rosie Flores, and the tone of the album is surprisingly upbeat and life-affirming, considering the downbeat nature of the album's origin. Highlights include a duet between Steve Earle and Allison Moorer on his "Nothing But A Child," Jim Lauderdale's "Holly And Her Mistletoe" and a Guy Clark song covered by actor John Corbett, who has a promisingly gruff "old man" voice (and an album coming out soon...) This is a really nice record, with only a couple of songs that seem out of place (like a jarring rock song from Jason & The Scorchers... A welcome addition to the country Christmas canon, and a nice choice a holiday stocking stuffer. Recommended!
Various Artists "TOUCH MY HEART: A TRIBUTE TO JOHNNY PAYCHECK" (Sugar Hill, 2004)



(Produced by Robbie Fulks)

Various Artists "TRIBUTE TO STEVE GOODMAN" (Red Pajamas, 1985)



(Produced by Al Bunetta)
A lot of folks really loved folk-pop-twang songwriter Steve Goodman, as evidenced by this freewheeling tribute album featuring an impressive lineup of well-wishers honoring Goodman a few months after he passed away in late 1984, after a long struggle with leukemia. There are some familiar pairings, notably Goodman's great friend John Prine singing "Please Don't Bury Me" and "Souvenirs"; Arlo Guthrie crooning "City Of New Orleans"; Bonnie Raitt with "Angel From Montgomery" and David Bromberg hamming it up on "I Will Not Be Your Fool." Some of the songs were written by Goodman, others were in his repertoire, and others I guess were included just because they felt right for the time. Also in the lineup were Byron Berline, Jethro Burns, Fred Holstein, Bonnie Koloc and Richie Havens (among others) representing the cream of the folk-scene at the time... It's a little too folkie-gooey for me, though it's hard not to get a little choked up when you hear the emotion in Prine's voice as he takes the stage... Sadly, no one tried to cover "Talk Backwards" or "You Never Even Called Me By My Name," but you can't have everything, can you?

Various Artists "A TRIBUTE TO THE SOUNDTRACK OF ROBERT ALTMAN'S NASHVILLE" (Mint, 2002)



It's hardly surprising to find out that Carolyn Marks of the Corn Sisters is a big fan of the movie, Nashville, or that she could rope a bunch of like-minded folks into doing a twangcore tribute to the fabled Altman flick. But for all the insider-y wink-winking and rib nudging, this disc merely demonstrates the shortcomings of the warblier end of the twangcore crowd, rather than an understanding of what made the film so great. Robert Altman's 1975 masterpiece was notable both as a breakaway art film and as a well-timed jab at the pretensions of Music City, then at the height of the lofty and lucrative "countrypolitan" scene. It was a nasty bit of satire, remorselessly condescending yet dead-on in the details, the most remarkable of which was the music itself. Altman wrangled a few of his stars into writing their own material, and some, like Ronee Blakley, did a slam-bang job sending up the artsy overreaching of the countrypolitan songsmiths. Keith Carradine even got the last laugh when his sleazy soft-pop ballad, "I'm Easy," became an actual Top Ten hit. Unfortunately, Altman's artistic tightwire act seems a little lost on folks like Marks, who treat the film as an alt.country Rocky Horror Picture Show, worthy of rote imitation and as just another excuse to hoot and holler at the expense of the genre they profess to love. Altman's heartless lampooning of Hank Snow (through the character Haven Harcourt) is left unchanged in Dave Lang's ragged, sniggering renditions. Likewise, Dallas Good (of the Sadies) loses a golden opportunity while covering the Olivia Newton John parody, "Bluebird," which comes exactly as close to plausibility here as it did in the film; it would have been twice as funny to smooth out the song's rough edges and play the preposterous lyrics up to the hilt. Tellingly, one song that has been altered is Tolan McNeil's version of "Easy," in which he perfectly apes Carrandine's vocal tone, but warps the phrasing to make the character sound like just another drawling hick. This is particularly ironic since Carrandine's Jackson Browne-ish folk-rocker was the most talented, least affected of the film's musicians, yet its poorest excuse for a human being. But hipsters such as the Marks' crew could never leave an iconic '70s hit like "I'm Easy" untouched by their misplaced sense of irony: if anything deserves to be made fun of, it's that song! Thus they are undone by their own push towards irreverence -- when it comes to Altman's sneering send-up of country as an artform, these modern day twangsters are all giggles, snorts and stereotypes -- sadly, the same seems to be true about their grasp of Altman's insights into human nature. This half-baked homage is played so close to the vest that you might as well just get the original soundtrack, or better yet, rent the film and see what all the fuss was about.

Various Artists "TULARE DUST: A SONGWRITER'S TRIBUTE TO MERLE HAGGARD" (HighTone, 1994)



I think this may have been the first Merle Haggard tribute album of the 1990s -- it's certainly the best. Jam-packed with an all-star alt-country cast, the disc includes tracks by Dave Alvin, Dwight Yoakam, Lucinda Williams, Iris Dement and John Doe, as well as several other eminently talented folks who are in the HighTone orbit. What's most striking about this record is its overall high calibre of performances -- most tribute albums are a bit lame; this one doesn't have a dull moment! In fact, never having been a diehard Merle fan, I'd even say that in a few instances these tribute tracks manage to sound more soulful and less stuffy than ol' Hag himself... HIGHLY recommended!


<! really 109 x 108 >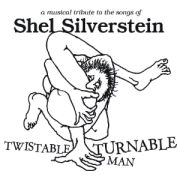 Various Artists "TWISTABLE TURNABLE MAN: A TRIBUTE TO THE SONGS OF SHEL SILVERSTEIN" (Sugar Hill, 2010)



(Produced by Bobby Bare, Jr.)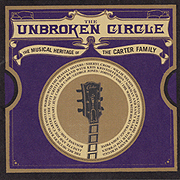 Various Artists "THE UNBROKEN CIRCLE: THE MUSICAL HERITAGE OF THE CARTER FAMILY" (Dualtone, 2004)


(Produced by John Carter Cash)
The various wings of the legendary Carter Family are joined by numerous eminent guest stars - George Jones, Willie Nelson, Ricky Skaggs and Emmylou Harris among them -- in paying homage to the legacy of the original Carter Family. Johnny Cash, June Carter Cash , Marty Stuart contribute from the family side of things, as do Joe and Janette Carter (who turn in one of the album's most resolutely rootsy, raspy, old-timey performances) and Rosanne Cash, whose plain-spoken vocals on "The Winding Stream" are an album highlight. Emmylou collaborates with the Peasall Sisters, who may finally be living up to their post- O Brother hype, on a sweet, understated version of "Sea Of Galilee"; other highlights include John Prine with a crackling electric accompaniment on "Bear Creek Blues" and Willie's sweet, sparse rendition of "You Are My Flower," as well as Sheryl Crow singing (what else?) "No Depression In Heaven" and the fine group harmonies that the White's throw on in their track with Ricky Skaggs. Heck, really, the whole album is quite good. Highly recommended!
Various Artists "UNDONE: A MUSICFEST TRIBUTE TO ROBERT EARL KEEN" (Thirty Tigers, 2009)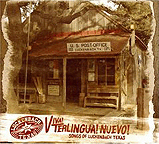 Various Artists "VIVA! TERLINGUA! NUEVO! -- SONGS OF LUCKENBACH, TEXAS" (Palo Duro, 2006)



Hell, yeah. This is a tasty live tribute to Jerry Jeff Walker's classic 1973 album Viva! Terlingua!, a landmark record that helped define the nascent Texas-based indie/outlaw scene. Three generations of true, blue Lone Star twangsters pitch in here, starting off with Gary P. Nunn and the Lost Gonzo Band (Jerry Jeff's old backup crew) and onto bearers of the flame such as Tommy Alverson, Ed Burleson, The Derailers, Cory Morrow, Jimmy LaFave and Two Tons Of Steel... If this sounds like something up your alley, you might want to scoop this one up -- apparently Jerry Jeff got wind of the project and took offense, filing for an injunction or somesuch after deciding it looked and sounded too much like his original Terlingua disc... Oh, well... I'm sure the lawyers will work it all out eventually; hopefully it won't get in the way of folks who just want to enjoy the music.
Various Artists "VOICES OF A GRATEFUL NATION, v.1" (Welcome Home Project, 2008)



An homage to the Iraq War soldiers and veterans returning home, featuring a slew of rootsy Texas musicians... This first volume features artists such as Band Of Heathens, Kevin Welch and Kieran Kane, Charlie Sexton, Jesse Dayton, Carolyn Wonderland and outlaw old-timer Rusty Weir, as well as a bunch of less well-known folks. Volume One bills itself as "Texas Rock, Blues And Folk..."
Various Artists "VOICES OF A GRATEFUL NATION, v.2" (Welcome Home Project, 2008)



...while Volume Two focusses on "Texas Country And Americana," with contributions from Ray Benson, Jhnny Bush, Deryl Dodd, James Hand, Terri Hendrix, Walt Wilkins, Gary P. Nunn and even Charlie Louvin (although isn't he an Alabama boy?) Lots of class acts on this one.

Various Artists "WILL SING FOR FOOD: THE SONGS OF DWIGHT YOAKAM" (Mercury/Little Dog, 1998)



Pete Anderson, guitar player (and production wizard) for Dwight Yoakam's best efforts, organized this charity tribute album, with proceeds going to benefit the homeless (although I'm not sure which organizations were included; the CD doesn't say...) It's a nice album, though -- among the artists donating their time and talent are alt.hick and Top Country luminaries such as Kim Richey, Tim O'Brien, Sara Evans, David Ball, The Lonesome Strangers, The Blazers. Rhonda Vincent, and Bonnie Bramlett. Generally speaking, no one can do these songs as well as Dwight did the first time around, but these folks sure give it a go! Highlights include bluegrass neotraditionalist Rhonda Vincent pounding out "I Sang Dixie," and a typically sublime Gillian Welch/David Rawlings duet on "Miner's Prayer." Good stuff.
Various Artists "WAYLON JENNINGS, THE RED RIVER TRIBUTE COMPILATION" (Omaha, 2003)


A hometown homage to outlaw patriarch Waylon Jennings, recorded from a two-day tribute concert held in New Braunfels, Texas, with the elite of the contemporary and classic outlaw playing one great Waylon song after another. Artists include Jason Boland, Wade Brown, Cross Canadian Ragweed, Eleven Hundred Springs, Doug Moreland, The Red Dirt Rangers and many others, as well as old-timers and family folk such as Jessi Colter and Shooter Jennings, Ray Wylie Hubbard, Billy Joe Shaver and Jerry Jeff Walker. Wow.
Various Artists "WHY THE HELL NOT? THE SONGS OF KINKY FRIEDMAN" (Sustain Records, 2006)






<! all-star lineup... Jason Boland, Kevin Fowler, Lyle Lovett, Bruce Robison, Charlie Robison, Dwight Yoakam >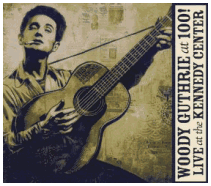 Various Artists "WOODY GUTHRIE AT 100! LIVE AT THE KENNEDY CENTER" (Sony Legacy, 2013)



A concert CD/DVD set that coincides with a PBS special in honor of folk icon Woody Guthrie... The DVD includes over a half-dozen performances not included in the TV special with Americana newcomers such as Old Crow Medicine Show joining a slew of esteemed elders, including folks like Jackson Browne, Ry Cooder, Judy Collins and Donovan, bluegrassers Tim O'Brien and Tony Trischka backed by the Del McCoury band and roots-rocker John Mellencamp singing the good old "Do Re Mi." Highlights include Rosanne Cash with two soulful ballads, "I Ain't Got No Home" and "Pretty Boy Floyd" and a touching performance from Guthrie's longtime compatriot, Ramblin' Jack Elliot, an old-timer who's still hanging on and singing the great old songs as best he can. Elliot's impassioned rendition of the labor anthem, "1913 Massacre" forms a palpable link back to Guthrie's heyday and the historical context these early folk troubadours came from. A fitting tribute to one of the great American musical trailblazers.
Various Artists "YOU DON'T KNOW ME: REDISCOVERING EDDY ARNOLD" (Plowboy Records, 2013)


---
---