<! MP3 03/19/09, 12/07/10 > <! outside 00/00/00 > <! pix 00/00/00 > <! icons 12/07/10 > <! UPDATES: 12/15/13 - added Chuck Wagon page; still need one for Slaid Cleaves? Clumsy Lovers not updated - too pop? >
---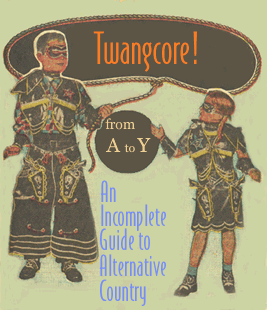 This page is part of an opinionated overview of "alt.country" music, with record reviews by me, Joe Sixpack... Naturally, it's a work in progress, and quite incomplete, so your comments and suggestions are welcome.
This is the second page covering the letter "C"
---
A | B | C / C-2 / C-3 | D | E | F | G | H | I | J | K | L | M | N | O | P | Q | R | S | T | U | V | W | X, Y & Z | Comps | Other Country Styles
---
Kasey Chambers - see artist discography
Marshall Chapman - see artist discography

Chatham County Line "Chatham County Line" (Bonfire, 2003)



Indiebilly types who bend their hands at bluegrass, these Chatham boys seem dutiful and earnest, maybe a little too on-their-sleeve-y at times, but with their hearts in the right place. Highlights include a whiz-bang instrumental, ("Butterwheel") and a goofy, loopy tribute to John Hartford (called, appropriately enough, "Song For John Hartford") which has the same sort of imitative oddness as, say, Don Bowman's word-for-word cover version of "Alice's RestaurantÉ Bluegrass purists may scorn these guys but they're certainly worth checking out, regardless. What with schedule conflicts playing in Tift Merritt's band and all, it seems doubtful they'll really stick it out as bluegrassers, but as genre-straddling albums go, this one's worth checking out.


<! 144 x 144 >

Chatham County Line "Route 23" (Yep Roc, 2005)



Chatham County Line "Speed Of The Whippoorwill" (Yep Roc, 2006)



Wow. These guys have grown up... a lot since their first album... Not that they weren't good before, but this album really hits the nail on the head... Some really soulful, richly inventive space folk/Americana, with a dash of the bluegrass twang they previously specialized in. There are several songs on here that are simply enthralling -- maybe not "great" songs or classics that I'd find myself singing along to for years to come, but there's something arresting about them -- the skillful, assured musicianship along with the thin, urgent, intelligent vocals -- that lets you know these are real country fans, fully committed to their music, and capable of taking it in new directions. We need more records like this -- musically mature, culturally adept and full of sly, sensual depth. I'm impressed!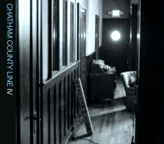 Chatham County Line "IV" (Yep Roc, 2008)



(Produced by Chris Stamey)
There are some artists that hone and perfect their sound, then keep fans happy by doing the same durn thing, year after year; then there are others that are more restless and keep experimenting and evolving, driven by forces that only they can understand... North Carolina's up-and-coming Chatham County Line seem to be one of the second kind of bands, moving from strength to strength until they arrive someplace entirely new. And here we are, on their fourth album, IV, which is an elegant bluegrass-newgrass album that crosses over in ways that seem fresh and entirely new... Several songs have pop-tinged arrangements that are surprisingly unique, with sound combinations that I simply haven't heard yet from the decades-old "progressive bluegrass" scene... The results are exhilarating and enchanting. "Chip Of A Star," "The Carolina," "One More Minute..." The album unfolds with one memorable song after another, and while a tune or two seem out of place -- the protest lyrics of "Birmingham Jail," the Bela Fleck-ish hippie-funk of "Let It Rock" -- the album as a whole is admirably diverse and adventurous. Striking a fine balance between tradition and innovation, Chatham County Line have marked out a new path for bluegrass fusion that is a refreshing change of pace, avoiding both the gooey romanticism of Alison Krauss and the note-heavy jazz-fusion of the newgrass elders. CCL are closer to the indie-rock camp, but whereas a banjo lick or pedal steel dropped into a rock record has become commonplace, a truegrass band that has a truly alt-y sensibility is a more precious thing altogether. These folks elegantly straddle the line, and while I'll be enjoying this album for quite a while, I'm also looking forward to what comes next. Definitely worth checking out.
Chatham County Line "Wildwood" (Yep Roc, 2010)


Chatham County Line "Sight And Sound" (Yep Roc, 2012)


Dave Childers & The Modern Don Juans "Jailhouse Religion" (Little King, 2006)


Gritty, earnest, energetic, blues'n'billy-tinged barband rock, from the Blasters/Dave Alvin side of the street. Packed with original material, this is a nice addition to the genre... Pretty good, if you like the style!


<! several other albums >


Chuck Wagon & The Wheels - see artist discography



Bryan Clark & The New Lyceum Players "Southern Intermission" (Rainfeather, 2012)



Brash, powerful, bluesy roadhouse roots tunes, with lots of electric guitar and impassioned vocals... Personally, I'm gettin' kind of old for this kind of high-energy record, but fans of Two Tons Of Steel, The Blasters or various "red dirt" bands should give this a shot... Strong stuff!


<! Bryan Clark "Gossip Inspiration & Slander" (xxxxxxxxxxxxx, 2008) B001MIFXPQ Bryan Clark "Multicolored Blue" (xxxxxxxxxxxxx, xxxxxxx) Bryan Clark "Nebraska House" (xxxxxxxxxxxxx, xxxxxxx) Bryan Clark "Work Songs of Love" (xxxxxxxxxxxxx, 2007) -- SAME GUY?? -- >


Guy Clark - see artist discography



Mickey Clark "Winding Highway" (Ear-X-Tacy, 2009)



(Produced by Jim Rooney)
A thoroughly charming Americana outing from songwriter Mickey Clark, who composed several tunes recorded by others, and who is a true American troubadour, having plugged away on the folk and indie circuits for many a year. This is a nice record, with a warts-and-all cragginess, with plenty of dusty country wit and grit, and a slew of high-power guest performers. Swapping verses with Clark on the delightful "Don't Piss On My Boots (And Tell Me It's Raining)" are three alt-twang luminaries: Kinky Friedman, John Prine and Jerry Jeff Walker, who all take great and obvious delight in the song's raunchy good humor. Walker also sings on "Goodnight Loving Trail," which was written by the late, great U. Utah Phillips, and is one of the few songs on the album not written or co-written by Clark. Other highlights include the bittersweet "Sarah," and the robust "Tijuana Tequila." Another nice record for those who are looking for an earthier alternative to the pop slickness of the Nashville charts, particularly those country fans who enjoy Jerry Jeff's brand of relaxed, ribald tunesmithing.

Neil Cleary "Numbers Add Up" (Diesel Only, 2004)



Another mellow, brainy East Coast power-popper who's slowed down a bit and delved into the country vibe... A Vermonter now living in Brooklyn, Cleary crafts low-key, unpretentious, slice-of-life songs that have a lulling, inviting effect. This is a nice, listenable record, laced with a lazy, pleasant, plausible pedal steel... The songs don't blow you away, but they aren't bombastic and over the top, either. Pretty nice, actually... worth checking out!


<! 144 x 144 >

Neil Cleary "I Was Thinking Of You The Whole Time" (Doozy, 2007)





<! country?? >

Slaid Cleaves "Promise" (Broken White, 1990)


Late 1980s recordings....
Slaid Cleaves "For The Brave And Free" (Broken White, 1993)


Slaid Cleaves "Life's Other Side" (Broken White Records, 1993)


This set of early works, songs from 1989-93, is heavily rooted in the coffeehouse folk scene tradition. For the most part, the songs are pretty mannered and derivative and, if truth be told, not that distinctive. Part of it is the thin-sounding arrangements -- mostly strummy-twangy acoustic guitar and maybe a tambourine or two -- and in such a sparse setting, Cleaves' voice sounds plaintive and thin. The lyrics are often overly clever and self-consciously clever; many feel like writing exercises, attempts to capture the magic of singer-songwriters gone before, with whiffs of Dylan, Loudon Wainwright III and others coming to the fore, and socially themed songs like The Gun Song," "Justice" and "Live Free" seem particularly strained. He also dabbles a bit in country and blues, but again, the songs don't really resonate. Fans will definitely want to check this out -- it's always fun to check out an artist's juvenilia, but it's not really that meaty of an album.


<! 130 x 130 >

Slaid Cleaves "No Angel Knows" (Rounder-Philo, 1997)



Slaid Cleaves "Broke Down" (Rounder-Philo, 2000)



This guy was born to have an pedal steel back him up...! Indiebilly producer Gurf Morlix plays guitar and lends a full, smooth sound to this fine album, performed at a slow, lazy pace with a laid-back band. Some of Cleaves' best vocal work and most compact compositions to date. There's still a measured, craftsmanlike aspect to his writing, but he's also learned how to frame a chorus well, and most of these songs are quite seductive and memorable, particularly the hook-laden title track and the languid "Horseshoe Lounge." His continued inclination towards penning old-fashioned topical folk tunes (like the John Henry-ish "Breakfast In Hell") is admirable for the nod towards tradition, but I have to admit my attention starts to wander. This disc is about 50-50 for me, but all things considered, that ain't bad!


<! 144 x 144 >

Slaid Cleaves "Holiday Sampler (EP)" (Rounder-Philo, 1990)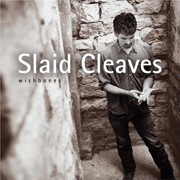 Slaid Cleaves "Wishbones" (Rounder-Philo, 2004)



(Produced by Gurf Morlix)
A well-crafted, emotionally resonant set of modern-day earnest folk music... Cleaves settles into a Woody Guthrie-ish mode, concentrating his fire on longer story-songs about immigrant workers, doomed horse jockeys and others bit by the hard-luck bug. As a rule, I'm not terribly drawn to coffeehouse folk tunes like this, but as the genre goes, this is one dang fine record. Credit is due in part to the fine backing band, which includes Austin scenemaker Gurf Morlix, who once again produces and plays guitar, and a sharp rhythm section that never flags or hits a false note. Pretty good stuff... definitely worth checking out!

Slaid Cleaves "Unsung" (Rounder, 2006)



Finding himself at the top of the heap in the contemporary American folk scene, the melodically gifted Slaid Cleaves decided to spread the wealth and record an album entirely made up of other people's compositions, focussing mainly on small-fry songwriters who few people have heard of. It's funny how "folk" music, once the domain of traditional material has so closely followed pop/rock into the era of the singer-songwriter, so that a project like this stands out as such an anomaly. Regardless, this is a swell record, maybe not as magical or cohesive as Cleaves' last two records (which featured his own original material), but it's still a great collection of songs, each brought to life with his passionate, intimate vocal style and keen vocal phrasing. Various off-the-radar Austinites get a lion's share of the playtime here, and it's pretty cool of Cleaves to shine a light on their work... If you like contemporary folk music (or are a Slaid cleaves fan), you'll definitely want to check this one out.


<! 144 x 144 >

Slaid Cleaves "Live At Blue Highways" (EP) (Continental Record Services, 2009)

Slaid Cleaves "Everything You Love Will Be Taken Away" (Music Road, 2009)


Slaid Cleaves "Sorrow And Smoke: Live At The Horseshoe Lounge" (Music Road, 2011)



A 2-CD live set...
Slaid Cleaves "Still Fighting The War" (Music Road, 2013)



Clothesline Revival "Of My Native Land" (Paleo Music, 2002)



An unusual roots album that blends old-timey themes (and even some remixed archival recordings from the Library of Congress, such as the original Leadbelly vocals on "Cow Cow Yicky Yicky Yea...") with oddball, modernized sonic backgrounds. Arrangers Conrad Praetzel and Robert Powell use a few electronic "beats," although many tunes seem more ambient or even world music-ish. It's certainly a novel approach to the material, reverential yet strikingly innovative. The opening tracks, particularly those featuring vocals by Bay Area honkytonker Tom Armstrong, are pretty cool, though the second half of the album seems to meander and lose focus. Still, this album opens up some really interesting possibilities for a new approach to this old-fashioned American music.


<! 144 x 144 >

Clothesline Revival "Long Gone" (Paleo Music, 2005)



Praetzel and Powell refine their formula, adding electronic-ambient layering over old folk and blues field recordings. This could easily be a hippie-folkie cultural trainwreck, but it's not... it's actually pretty engaging and intelligently constructed. Familiar old folk/blues/gospel themes like "Shortening Bread" and "Strange Things Happening" float to the fore, while the newfangled production techniques don't call too much attention to themselves. This could easily be a hippie-folkie cultural trainwreck, but it's not... it's actually pretty engaging as well as intelligently and reverentially constructed. More consistent and solid than the first album, with some intriguing aural surprises... It's not for everyone, sure, but it may be worth checking out!


<! 144 x 144 >
Clothesline Revival "They Came From Somewhere" (Paleo Music, 2010)


The Clumsy Lovers "After The Flood" (Nettwerk, 2004)



An aggressively upbeat mix of Celtic folk, bluegrass and spazzy, They Might Be Giants-ish indie dorkpop... It's a little too gimmicky and punchily bright for me, but I could certainly see the appeal. Fans of Ben Folds or Camper Van Beethoven might also like this.... I think this is actually the fifth album(?) by this Vancouver-based ensemble.
The Clumsy Lovers "Smart Kid" (Nettwerk, 2005)


---
Alt.Country Albums - More Letter "C"
---