<! MP3 03/20/09, 12/07/10 > <! outside 00/00/00 > <! pix 12/07/10 -need new corn sisters GIF > <! icons 12/07/10 > <! UPDATES: 00/00/00 - Ray Condo needs PIX >
---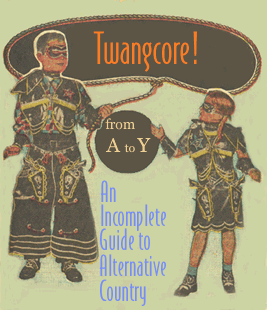 This page is part of an opinionated overview of "alt.country" music, with record reviews by me, Joe Sixpack... Naturally, it's a work in progress, and quite incomplete, so your comments and suggestions are welcome.
This is the third page covering the letter "C"
---
A | B | C / C-2 / C-3 | D | E | F | G | H | I | J | K | L | M | N | O | P | Q | R | S | T | U | V | W | X, Y & Z | Comps | Other Country Styles
---
The Coal Men "Nowhere's Too Far" (Vazkaleedez, 2004)


This three-piece Nashville-area band crafts thoughtful, mid-tempo roots-rock, mainly written by singer-guitarist Dave Coleman. If you liked the old, twangy version of Wilco, or other alt-roots types like Dave Alvin, then this disc might really get ya going, too. No flashy monster guitar riffs or dumb fake-hick lyrics, but lots of sorrowful, soulful and sincere songwriting... Give 'er a spin!
The Coal Men "Beauty Is A Moment" (Vazkaleedez, 2007)


The Coal Men "Kids With Songs" (Vazkaleedez, 2007)


The Coal Men "Escalator" (Vazkaleedez, 2013)


The Coal Porters "The Gram Parsons Tribute Concert" (Prima Records, 1999)



A concert tribute album released as a side project of Sid Griffin (from the Long Ryders...) A little too ragged-edged for me, but it does seem like a very earnest effort.
The Coals "Bring Your Love On Back" (Self-released, 2010) (MP3)

The Coals "A Happy Animal" (Self-released, 2013)


Bruce Cockburn "Speechless" (Rounder, 2005)



This all-instrumental album is a real treat, especially for those of us who have treasured the musical side of Canadian folk-pop poet Bruce Cockburn's as much as his lyrical strengths... Gathering instrumental tracks from numerous albums (including one from a Japan-only release that came out a while ago), this disc is emminently listenable, and surprisingly shies away from the occasionally florid aspects of Cockburn's music... I was particularly pleased to hear "Train In The Rain" and "Sunrise On The Mississippi," two bright gems that were highlights of his 1994 Dart To The Heart album... They also serve as centerpieces here, with chiming, sprightly warmth and a crystalline tone. Although there is some experimentation, Cockburn's approach on most of these tracks is acoustic and direct, hewing to simple melodies that reflect the same life-affirming warmth as the rest of his work. Recommended!


<! 144 x 144 >

Thad Cockrell "Stack Of Dreams" (Miles Of Music, 2001)


(Produced by Chris Stamey)

Thad Cockrell "Warmth & Beauty" (Yep Roc, 2003)



(Produced by Chris Stamey)



<! North Carolina >

Thad Cockrell & Caitlin Cary "Begonias" (Yep Roc, 2005)


Thad Cockrell "To Be Loved" (EP) (Dualtone, 2008)





<! B000V6OM3E = MP3 Ray Condo & The Hardrock Goners >

Ray Condo & The Ricochets "Condo Country" (1991)



A roots-rock revivalist from Canada's great white North, the late bandleader Ray Condo was one of the hardest working, most tireless road warriors in the Americana scene... Condo and his crew mixed hard country, rockabilly and old-fashioned R&B with some of the most authentic sounding hillbilly boogie this side of Sid King or the Delmore Brothers. Condo showed he knew his history, but also popped out some great original material... And he will be sorely missed...!
Ray Condo & The Hardrock Goners "Hillbilly Holiday" (Fury, 1993)



A scrappy, silly, sometimes sinister set of rock-and-billy hybrids from this esteemed Canadian crew. The production, particularly the vocal mix, is sometimes rickety, but the music is vibrant and alive. The use of the violin in a rockabilly/hillbilly boogie context is interesting and unusual; might not make the snobbier, purist elements of the rockabilly scene happy, but it's kinda cool from an alt-country perspective.
Ray Condo & The Hardrock Goners "Come On!" (Fury, 1994)



Condo's best...!! A must-have for alt-country fans. Guitarist Jimmy Roy, of the 5 Star Hillbillys, sits in on several tunes and the disc kicks off with a rollicking version of one of Wynn Stewart's best teen-themed tunes, "Come On," slathered with a richly textured mix of alt-country & hillbilly goodness... The song selection lingers in the early 'Fifties range, includes some old Wayne Raney, Harmonica Frank Floyd and Webb Pierce tunes... While Condo plays the stump-the-obscuro-lovin'-collector-nerd retro game, he does it with great aplomb -- this is one of the musically richest of all his albums... a real keeper!

Ray Condo & The Ricochets "Swing Brother Swing!" (Joaquin, 1996)


These Canadian cut-ups lead the '90s retrobilly dance scene, where ducktailed, sideburned rockabilly enthusiasts (and their gingham-clad galfriends) tore up the dancefloors until the yuppies spoiled the fun. On this disc, they dip deep into the R&B traditions of the 1940s and '50s, drawing the connections to western swing and hillbilly boogie, all laced together with nice, mellow steel and guitar work... There are also several direct nods towards Cab Calloway's Depression-era heyday, bringing that expansive, hi-de-ho showmanship into play as well... The vocals are a little on the goofy side, though, which both signals their unpretentiousness, yet also undercuts the accomplished feel of the band itself. But as a seminal, indie-as-all-heck release that helped fuel the "Americana" scene of the '90s, this disc still holds its own all these years later. Definitely worth a spin!

Ray Condo & The Ricochets "Wall To Wall Maniac" (Joaquin, 1997)


Snazzy, ragged retrobilly, with a healthy dose of pre-rock country boogie and a few jazz/swing standards thrown in for good measure... I'm not so big on the rockabilly revival tip myself, but the loopy pedal steel riffs and Les Paul licks keep my attention if it starts to wander, and Condo and his crew certainly hold their own next to compatriots such as Big Sandy & The Fly-Rite Boys. What with all the rough edges and stuff, I think this might be my second-favorite Condo album... At least it seems like the most hick-alicous.

Ray Condo & The Ricochets "High & Wild" (Joaquin, 2000)


Although there's still plenty of chicken-pickin' country on here, the influence of the swing cance revival is pretty apparent... The band is still diverse, but much slicker and more professional sounding. Ray kind of addresses the faddishness of the swing thing on "Whatcha Gonna Do When There Ain't No Swing," but I guess in the end I prefer hearing the band be a little raspier and twangier... Still, this is a pretty fine record, and despite the silly name, Condo took roots music more seriously than the twangcore crowd... Worth checkin' out!

Cooder Graw "Cooder Graw" (Three-To-One Records, 2000)



Some Texas fellas who have a good rowdy streak, though at times it's tempered by a slick, maybe-we-can-make-it-big, poppy side. Still, as heirs to the long Lone Star state tradition of great, funny, under-the-radar bar bands, these guys sound pretty good. Highlights include the rompin', stompin' trucker tune, "18 Wheels Of Lovin'," "Two More Tears For Texas," and the deliciously snarky "My Give A Damn Is Broken." Fans of Jerry Jeff, Pat Green, or Cornell Hurd may find similar comfort here.

Cooder Graw "Segundo" (Three-To-One Records, 2001)


Oh, now I finally "get" their band name! Duh. On this live outing, these Texas smartalecks prove themselves as fine a country bar band as you could ever require... There's about a 50% overlap between this disc and their first studio album... and in many ways, the live versions are a lot more fun!
Cooder Graw "Shifting Gears" (Three-To-One Records, 2001)


Cooder Graw "Live At Billy Bob's" (Smith Music Group, 2002)


Cooder Graw "Wake Up" (Emergent, 2004)


Ry Cooder - see artist profile
Elizabeth Cook - see artist profile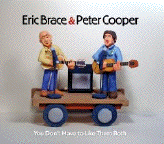 Peter Cooper & Eric Brace "You Don't Have To Like Them Both" (Red Beet Records, 2008)



(Produced by Eric Brace & Peter Cooper)
A nice folkie/twangy outing from two fellas from the band Last Train Home... A rewarding blend of laid-back honkytonk and strummy folk musings, including a piercing foray into topical material ("The Man Who Loved To Hate"). There's a wide variety of styles, with some songs that are essentially solo works alongside fine duets with Everly-esque harmonies. And of course it never hurts having the ever-reliable Lloyd Green playing pedal steel... he always hits just the notes, literally and figuratively. The songs are a mix of strong originals with well-chosen covers of Jim Lauderdale, Paul Kennerley, Kris Kristofferson and others, all material that Brace and Cooper hold close to their hearts. In every song, they sing with feeling and conviction -- a nice, low-key DIY Americana disc, well worth checking out.


<! "The Man Who Loves to Hate" > <! "I Know Better Now" >

Peter Cooper "Mission Door" (Red Beet Records, 2008)






<! - album cover shows a pile of LPs laying on the floor, including an old Marshall Chapman album... and an Emmylou Harris LP framed on the wall... >
Peter Cooper "The Lloyd Green Album" (Red Beet Records, 2010)



(Produced by Peter Cooper & Lloyd Green)
Sort of an odd album... Alt-twangster Peter Cooper is a core member of the band Last Train Home, though here he does a solo set without his usual collaborator Eric Brace on the marquee. Instead, he shares the spotlight with pedal steel whiz Lloyd Green, one of the most venerable Nashville studio pros of the 20th Century... What's odd is the discursive, confessional folkie feel of many of the songs; Green provides thoughtful, multi-textured accompaniment, beautiful coloring to songs that nonetheless seem a little out of his usual field of endeavor. The songs themselves are often compelling, with Cooper musing on the pathways of his life ("Dumb Luck" and other tunes) and while the pace is generally downtempo, the sentiments are sweet, and several songs are quite resonant. A nice set for the folkily inclined, with plenty of lacy steel guitar riffs dripping through the verses...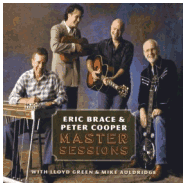 Peter Cooper & Eric Brace "Master Sessions" (Red Beet Records, 2010)



(Produced by Eric Brace & Peter Cooper)
Rockin' folkies Eric Brace and Peter Cooper bring in a couple of old pros from the Nashville and bluegrass worlds to back them up, including steel guitar master Lloyd Green and dobro whiz Mike Auldridge, who are musicians of the highest calibre and regard. Although they have two roots music legends on hand, the album has a more rock-ish feel to it, and Auldridge and Green seem more like hired hands than deep collaborators. Still, if you're gonna bring in ringers, you might as well pick from the best. Certainly worth checking out, if you like Cooper & Brace's other stuff.
Peter Cooper & Eric Brace "The Comeback Album" (Red Beet Records, 2013)


Peter Cooper "Opening Day" (Red Beet Records, 2013)


Tim Cooper "On The Road To Nashville" (Tate Music Group, 2012)





<! others? >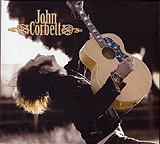 John Corbett "John Corbett" (Fun Bone, 2006)


The guitar-god pose on the cover may be a little embarassing, but the music within is surprisingly solid, in a journeymanlike way... Actor John Corbett is best known as "Chris the DJ," the smarmy, omniscient narrator on TV's long-gone cult classic, Northern Exposure... Apparently, he also had a long-running romantic role in Sex In The City, but I would deny knowing anything about that until my dying day. Anyhoo, here he plies himself to roots music and Nashville-styled twang, getting funky on some tunes and playing it straight-up Top 40 on others. Is he making a serious play for mainstream success, or at least putting this disc out there as a Music City demo? Sure, why not? He's got that voice, after all, and it lends itself well to the deep, velvety growl that's so popular among the current crop of Nashville purty boys... He might fit right in... Then again, maybe he's just having some fun. Either way, lots of folks might be surprised by this one... Yeah, it's formulaic and sometimes even a bit forced, but he hits the right tone on a few tunes.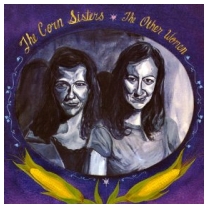 The Corn Sisters "The Other Woman" (Mint, 2001)



Pacific Northwest lo-fi collides with alt.country DIY as Neko Case and Canadian rocker Carolyn Marks joins forces for a rowdy live performance at a Seattle venue... They play the hick schtick a little bit broadly for my tastes: echoing some aspects of her Maow days, this disc is full of exaggerated accents, clattering Loretta Lynn covers and various white trash stereotypes... Still, their performance is undeniably high-energy and the crowd seems into it. This is actually an older performance, from a gig in 1998, and in many ways it's mainly Mark's show -- most of the original material is hers, only one song is by Case. Not my cup of tea, but it's got a scrappy DIY vibe that may resonate with the cowpunk crowd.

Elvis Costello "Almost Blue" (Columbia, 1981)



At the peak of his powers as an angry young punk/wave icon, UK rocker Elvis Costello turned his image on its head and delivered this fine set of countrypolitan ballads. He pays homage to the lush Nashville Sound production style of great producers such as Owen Bradley and Billy Sherrill, and throws himself with surprising sincerity into the milky pathos of country music. Costello went to Nashville and hired Sherrill himself to produce the album (although he used his own backing band, the Attractions, rather than a battery of Nashville studio vets...) The song selection is flawless: Hank Williams, Gram Parsons, Merle Haggard, Charlie Rich, even a stellar cover of the old George Jones hit, "A Good Year For The Roses." While some of Costello's rock-oriented fans saw this as a disappointment, a betrayal, or merely as the first instance of Costello slumming in other musical styles, as a diehard, lifelong country music fan, I gotta tell you guys, this record stands up over the years. It was really good when it first came out, and it's really good now. Elvis knew what he was doing. There are several versions of this record that have come out over the years -- the original 12-songs LP, the Rykodisc expanded version of the late '80s and the re-expanded reissue on Rhino years later -- they are all good, and the core of the album remains the original Sherrill-produced sessions. Recommended!


<! CD link is to OOP edition > <! 144 x 144 >

Elvis Costello "The Delivery Man" (Lost Highway, 2004)



Hailed as a back-to-basics roots-rock album, this is less a country-rock outing than a return to Costello's old fondness for tortured, James Carr-ish soul wailing... There's some slap-happy electric blues and Memphis-styled reverb-a-billy, but little in the way of the countrypolitan twang of the Almost Blue variety. Frankly, as an old Costello fan from the '70s and '80s, I now find his ceaseless, by-rote wordsmithing mildly impentrable, not because I can't understand what he's saying, but because I don't really want to... This album sounds okay, but it doesn't seem to be saying anything new, and Elvis mostly appears to be going through the motions. It's not like he actually needs to express deep feelings anymore, it's just that that's what you do when you make records, so let's crank up the irony machine again and see what comes out. Aurally, this is a perfectly adequate, listenable album... It's just that nothing really stands out as particularly new or emotionally resonant. There are a couple of notable duets: Lucinda Williams delivers a remarkably insincere vocal performance on the negligible "There's A Story In Your Voice," while Emmylou Harris brings gravity and heartbreak to "Nothing Clings Like Ivy," a song that may be the album's highlight. I suppose this record is good enough, but it's not an album I'd see myself revisting over the years.


<! 144 x 144 >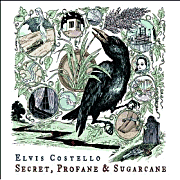 Elvis Costello "Secret, Profane & Sugarcane" (Hear Music, 2009)



(Produced by T Bone Burnett)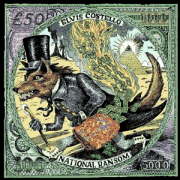 Elvis Costello "National Ransom" (Concord Music Group, 2010)



(Produced by T Bone Burnett)
The second set of Costello's country-roots explorations with his amorphous new twangband, The Sugarcanes, which includes Americana icons Jim Lauderdale and Buddy Miller, bluegrassers such as Mike Compton, Jerry Douglas and Stuart Duncan, as well as rootsy rockers like album producer T Bone Burnett, guitarist Marc Ribot, and a guy named Steve Nieve who used to be in a rock band called the Attractions. This disc has a more relaxed, simpler, less self-consciously "country" vibe than the last one, and feels much mellower and more listenable (at least for me...) I still have absolutely no idea what Costello is singing about (haven't for years) but I did enjoy this album. Definitely worth checking out!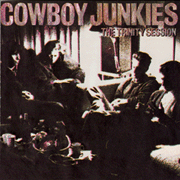 Cowboy Junkies "The Trinity Sessions" (1988)


Cowboy Nation "Cowboy Nation" (Demon, 1997)

Cowboy Nation "A Journey Out of Time" (Shanachie/Western Jubilee, 2000)


Cowboy Nation "We Do As We Please" (Paras, 2001)



Cowboy Nation "Cowgirl A-Go-Go" (Paras, 2002)



Alt.country-ish slowcore from some longtime SoCal musical bad boys The actual "cowboyness" of this latest offering by Tony & Chip Kinman (formerly of Dils/Rank&File/Blackbird punk/indie infamy...) is fairly obscure. Twang-tinged, droning, drifting tunes in which their vocals sound remarkably like Hoyt Axton. A few songs are too repetitive, though on the whole this has a lulling, narcotic feel.


<! 144 x 144 >

The Cowlicks "Hey, Hey We're The Cowlicks" (Tres Payasos, 2009)



Fun, funny, electrified hippie-novelty twang, with a great goofy sense of humor. These Northern California nutballs obviously have a strong grasp on the country and classic rock repertoires, and remind me a bit of Commander Cody Or Bill Kirchen, that sort of vibe. There's a little too much guitar-hero electric leads for my tastes, but I bet it's fun to hear live... Highlights include a hippie-era tall-tale ("Jimi Hendrix Owes Me $10") and the go-off-the-grid anthem, "Store No More," which is a hoot. Rock fans might also get a kick out of their bluegrassy cover of Aerosmith's "Sweet Emotion": I love that song, but I gotta admit this is the first time I actually heard all the lyrics!


<! 144 x 144 >

The Cowslingers "Americana-A-Go-Go" (Shake It, 1999)



Loud, garage-y punkabilly. Too clangorous for me, but not bad for the style.


<! 144 x 144 >

Samantha Crain & The Midnight Shivers "Songs In The Night" (Ramseur, 2008)



(Produced by Danny Kadar)
This one's best suited for the indie-rock/folk-freak crowd, although there is an undeniable element of twang, 'billy and blues in there as well. Not quite my cup of tea: the music is original and compelling, but I can't get past Crain's vocals, which seem a bit too mannered and slurry, reminiscent of the whole Be Good Tanyas/Jolie Holland vortex. Interesting as they are, I find it hard to concentrate on the lyrics, and the overall effect is mildly frustrating. Of course, artsier music fans might go ga-ga over this one -- I think Crain is a unique and compelling artist and, at the tender age of twenty-two, she'll continue to have a lot to offer the indie scene. Worth checking out.


<! 144 x 144 > <! Samantha Crain "The Confiscation" (EP) (Ramseur, 2008) B001AZI21I B001CMQPNG Samantha Crain & The Midnight Shivers "Songs In The Night" (Ramseur, 2008) Samantha Crain "You (Understood)" (Ramseur, 2010) B003G1BWNE B003O5YEZK Samantha Crain "Kid Face" (Ramseur, 2013) B00AXGX5D0 B00BFHVMHW >

Crazy Joe & The Mad River Outlaws "Chopped, Slammed, & Twangin' " (Atom, 2004)





<! 12/2013: old MP3 ASINs defunct >

Crazy Joe & The Mad River Outlaws "Sweatin' Bullets Over You" (Atom, 2005)

Crazy Joe & His Mad River Outlaws "The King of Nerd-A-Billy" (Atom, 2006)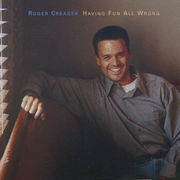 Roger Creager "Having Fun All Wrong" (Dualtone/Crystal Clear, 1998)



(Produced by Lloyd Maines)
At the forefront of latest crop of Texas indiebillies, songwriter Roger Creager bears more than a passing musical resemblance to Robert Earl Keen, Jr., matching wordy writing and craggy, uneven vocals with a rich hard country sound. Creager shies away from overly-introspective or poetic songsmithing, though, in favor of booze-soaked loser lyrics, ala Jerry Jeff Walker. At the more playful, rowdy end of this spectrum there's "The Everclear Song," a paean in praise of that most frat-boyish of drinks -- on the more reflective sides, there's the softer "Until The Thought Of You" and the album's bouncy title track, in which his debt to Jerry Jeff becomes more clear. Overall, a fine debut from one of the Lone Star State's most promising newcomers! (Produced by Lloyd Maines, who also plays on the album.)


<! 144 x 144 >

Roger Creager "I Got The Guns" (Creager Music, 2000)



(Produced by Lloyd Maines)
Despite the rowdy-sounding album title, this disc is much mellower and more poetically inclined than Having Fun was. Oh, sure, there's a duet with John Evans on "Mother Was A Redneck, Too," but other than that, the main preoccupation on this album seems to be romantic (as in broken-hearted and forlorn), with an on-the-road song or two thrown in for good measure. It wasn't as much fun, if you ask me, but it's still nice stuff, in an Americana-y kinda way. Lloyd Maines produces and plays again...


<! 144 x 144 >

Roger Creager "Long Way To Mexico" (Dualtone, 2003)



(Produced by Lloyd Maines)
His best album, at least in musical terms. The outlaw angle is still kinda tined down, but his vocals are the best they've been, both in terms of delivery and how they fit into the sound mix. Producer Lloyd Maines sculpts a fine, full sound, and nestles Creager's rugged voice into the environs. It sounds pretty nice, and the songwriting is pf a higher calibre as well. Radney Foster duets on one of the few rowdy tunes here, "I Say When I Drink What I Think When I'm Sober," (which would have been pretty funny if it weren't so sadly offensive...) and Maines plays, of course, throughout. If you like Robert Earl Keen, Jr., then you'll want to check this one out!


<! 144 x 144 >

Roger Creager "Live Across Texas" (Dualtone, 2004)






<! 144 x 144 >

Roger Creager "Here It Is" (Fun All Wrong Records, 2008)


Roger Creager "Surrender" (Thirty Tigers, 2012)


The Crickets "...And Their Buddies" (Sovereign, 2004)



Hey, everybody loves Buddy Holly, right? What's not to like? So when Holly's old bandmates -- who've still been playing together off and on for years since his untimely death -- asked various rootsy types to guest star on their record, you can bet a bunch of them leapt at the chance. Thus country dudes like Rodney Crowell and dino-rock guitar god Eric Clapton rub shoulders with indie-altie types such as Nanci Griffith and John Prine, as well as many names from the past, such as Peter Case, Johnny Rivers, J.D. Souther and Bobby Vee... Albert Lee delivers a gemlike version of "Learning The Game" and the late Waylon Jennings (who was also briefly in Buddy Holly's employ) rasps out an earthy rendition of "Well... All Right." (And isn't that Lucinda Williams, singing uncredited on a fine version of "Love You More Than I Can Say"?) All in all, this is a pretty nice, heartfelt, almost DIY-ish tribute album that also highlights the undiminished talent of some 'Fifties pickers who never stopped rocking. Worth checking out!


<! 144 x 144 >


The Crooked Jades - see artist profile




The Bart Crow Band "Finally..." (Smith Music Group, 2007)


The Bart Crow Band "Desperate Hearts" (Smith Music Group, 2008)


The Bart Crow Band "Heartworn Tragedy" (Smith Music Group, 2009)


The Bart Crow Band "Brewster Street Live" (Drift-Ring Records, 2011)



A live album of impassioned "red dirt" country-rock, recorded live at one of those fab, fabled venues in Texas. This disc was a little too bar-band and rock'n'roll for me, with tons of ringing guitar and a nonstop driving tempo that ran from song to song... But Mr. Crow really seems into it, earnest and imploring, and the crowd sounded like they were right there with him... So what do I know? This guy's been around for a while; looks like this is his fourth album... You can pick this record up through his website at www.bartcrowband.com... Tell 'em Joe sent you!
Rodney Crowell -- see artist profile
---
Alt.Country Albums - Letter "D"
---